David P. King: Organizational change is necessary for the long haul
In this photo from the cover of "God's Internationalists," children run around their school building in a Tanzanian World Vision Area Development Program. 
In the first comprehensive study of the history of World Vision, the author of "God's Internationalists" says that organizations should be ready to listen, change and come together as the world around them changes.
Tuesday, September 3, 2019
The founder of World Vision -- one of the world's largest Christian relief agencies -- was just a young traveling evangelist with a vision.
Bob Pierce began his journey in Christian leadership as an international "ambassador" with the evangelical Protestant movement Youth for Christ. Awakened to the poverty and suffering of the people he met around the world, he began to challenge American Christians to help.
Within three years, he had established World Vision, a small agency through which collected funds and resources could be distributed overseas. Through the years, Pierce and his team grew World Vision to an organization with 40,000 employees and a budget of more than $2 billion.
But it wasn't always easy. As it grew, World Vision had to adapt and reimagine its work to adjust to the ever-evolving patterns of social and religious change.
The story of Bob Pierce, World Vision, and organizational revival and restructuring is told in in David P. King's new book, "God's Internationalists."
"Oftentimes, the word 'evangelical' is such a fractured word, because there's not one way that we can define that word," King said. "In my story of World Vision, that word changes over time, and it's a question from inside and outside the community, too."
King spoke with Faith & Leadership's Katie Rosso about his book and how to maintain the connection between theology, practice and organizational leadership. The following is an edited transcript.
Faith & Leadership: This work was part of your Ph.D. dissertation at Emory. Tell me about the process of writing the book and how your experiences culminated in the final product.
David P. King: I would say one of the biggest lessons I learned was how to work with an organization like World Vision. I had to gain access and credibility as both a scholar and a practitioner, and so in many ways it was years in the making -- to develop relationships and gain access to documents and interviews and for us to develop trust with one another -- so that I'd know how to accurately represent the story. But also with that time, I had the freedom and credibility to offer up interpretations that I thought were important.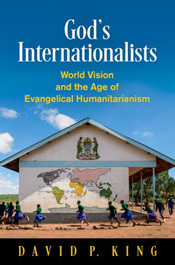 I would say that for me, World Vision told a broader story. Even though it begins as a bit of an organizational story, World Vision is in some ways a character that moves in and out of different contexts and communities and changes over time.
World Vision continued to evolve, and so did the book, so it was a number of years in the making.
F&L: What inspired you to do work in this area?
DPK: I was always fascinated with global stories, and as an American religious historian by training, I wanted to help retell America's religious history through a global lens. Early on in my studies at Duke Divinity, I worked with Grant Wacker, and I had done a lot of work on global missions. While that was a very interesting part of my research, I felt that religious humanitarianism had been undertold as part of how Americans see the world. That was why I wanted to engage in that question.
When I was in college, I lived overseas in Gaza for a summer. As a Baptist from Alabama growing up as a middle-class white kid -- that was an eye-opening experience for me. It changed how I saw the world, and a lot of my own leadership research led me in that direction after that experience.
F&L: World Vision let you in when they had never done that before. Why were they interested in an outsider's perspective?
DPK: My goal was to represent the organization fairly and tell their story as part of a larger story. So I think I made an interesting and important case to them about what my goal was. I wanted to dig into their organizational history and dig into the complexities of religious identity within organizations. I think the story is often told as one where the organization loses its religious identity over time. Maybe it secularizes and changes its perspective, and it's complicated. That's part of the story I wanted to tell of World Vision, and it's amazing that World Vision [leaders] were willing to participate.
I think World Vision is an organization that has, within leadership, been really reflective on its own history. Like any organization -- like any of us -- there's always bad with the good, and they've really owned their own story, which is helpful. My goal, as a person of faith with a religious leader background and as an ordained minister, was to be the caretaker of their story and tell it from both an insider's and an outsider's perspective.
F&L: There's a theme in the book of organizational restructuring, and that's something that our audience is highly interested in. What can readers take away from World Vision's organizational restructuring?
DPK: I think the organizational restructuring process is something that any organization cannot ignore. An organization that exists beyond its first generation needs to attend to the fact that change is necessary and should be an intentional process. But sometimes it can happen when you least expect it, and I think there are usually going to be significant pain points that you don't want to paper over. With change, there is loss, and any organization needs to make space to grieve that loss even as they change.
I think another lesson from World Vision is to listen. Any organization can do well to listen. For World Vision, that is true on two particular points that are translatable. First, World Vision needed to open up and listen to a nonmajority leadership voice. A significant organizational change happened for them as their theology changed: they included more leaders from the global south, and they even led the way among many large secular humanitarian organizations. They shared global leadership, not just because of its good organizational strategy, but because it became an important part of their theology. In that sense, theology, practice and organizational leadership may not be separate spheres or sectors; oftentimes, they're intertwined.
The other part is that nothing is translatable for larger organizations if there are competing interests within that organization. For World Vision, oftentimes the people in the field doing development work and the fundraisers and marketers sharing those people's story with donors had to come together on the story they were going to tell. They could tell a story of child sponsorship, for example, because it's a great fundraising practice and one of the most successful fundraising ventures in World Vision's history.
But at the same time, others on the ground could make the claim that [child sponsorship] would not allow them to share the full strategies and practices of development on the ground.
When they weren't telling the same story, in some ways, they were at an impasse. They needed to think through how they could be true to who they are and also successful as an organization to do the important work they needed to do.