Editor's note: Eleven days after Russia invaded Ukraine, Carol Guzy flew into a suffering country — again. It was her birthday, and Guzy, the recipient of four Pulitzer Prizes for photography from dangerous and destabilized corners of the world, had planned to stay home this time.
Guzy shared photos taken in the cities of Bucha, Irpin and Borodyanka as the country's Orthodox Christian churches celebrated Palm Sunday and Easter during the invasion's early days. (For most Orthodox churches, the calendar for Palm Sunday and Easter is not the same as for Western churches.)
A recipient of journalism's highest honor for images she captured in Haiti, Kosovo and Colombia, Guzy described some of her work from last year and her experience of that season in Ukraine during a conversation with Faith & Leadership's Aleta Payne. Her comments have been edited for length and clarity.
I only remember the date because I'm like, "Well, I won't forget this birthday."
I had such a hard time deciding to even go, because I was afraid. I didn't know, really, what to expect. And I'm older now. I have terrible lungs. I can't run fast, much less run fast with cameras and a flak jacket and a helmet and all that. It was really a hard decision whether to go or not.
But it was so big. Some stories are so epic. They're bigger than all of us. At a certain point, I couldn't not go. But my compromise with myself was I wasn't going to do front lines. I was just going to do features.
Initially, I was just going to go to the border with Poland and do the refugees, the exodus, which I did for a little while. But then there's this creep, and you start moving to other places. So that's what happened. I mean, everywhere is the front line is the problem. It's like all of Ukraine, with this random shelling, is dangerous. It's just levels of danger.
I think it's important to show up — whether it's Easter or whatever the pictures are — just show the world a different viewpoint …, because I think the world community is forgetting that this is happening. And there's also compassion fatigue. Or they just don't want to look at rubble and bodies anymore. And the horror of it. People just can't digest that.
Giving them a breath of fresh air, of hope and this kind of beauty, I think, is so important.
Bucha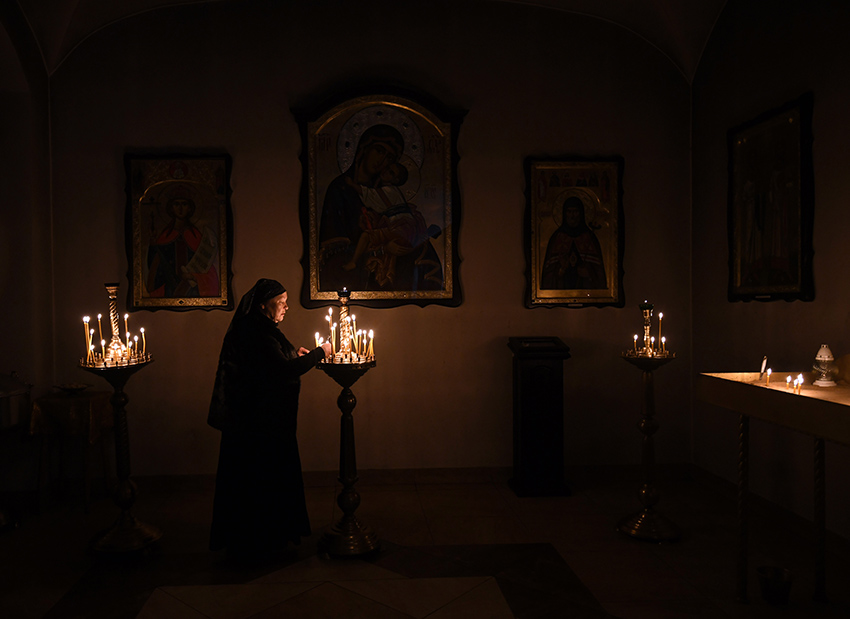 This one shows the Bucha church with the famous mass grave behind it. I headed up to here because they were ringing the bell when I first got there, and I only had a second to shoot.
I had covered the exhuming of bodies from the mass grave and all that horror. I knew they were going to have a service at that church. I went there, and then we looked for other places that we had been photographing. They were all liberated towns that had been occupied. But there were celebrations. Any church that was standing, I think, had a celebration in it.
Just the fact that people are still doing this in the middle of a nasty, horrific war — I hate to even call it war; it's terrorism. It's uplifting that they still want to have some normalcy to life.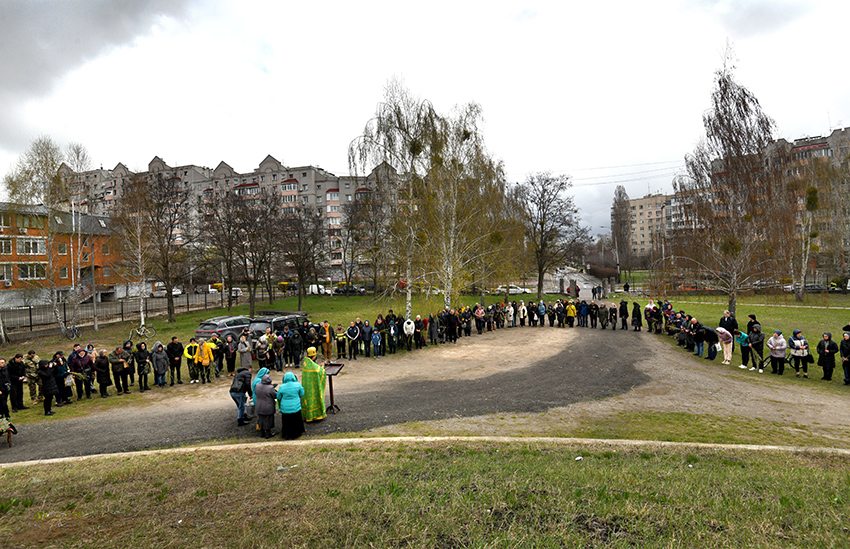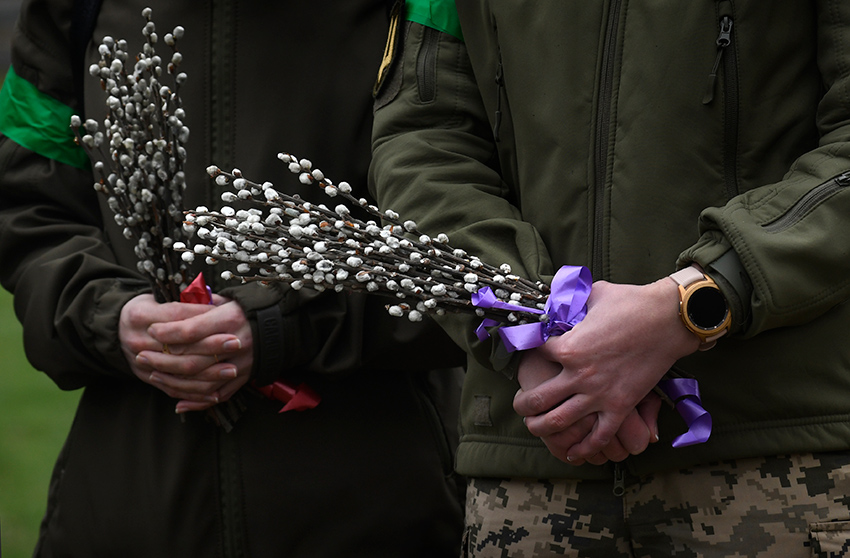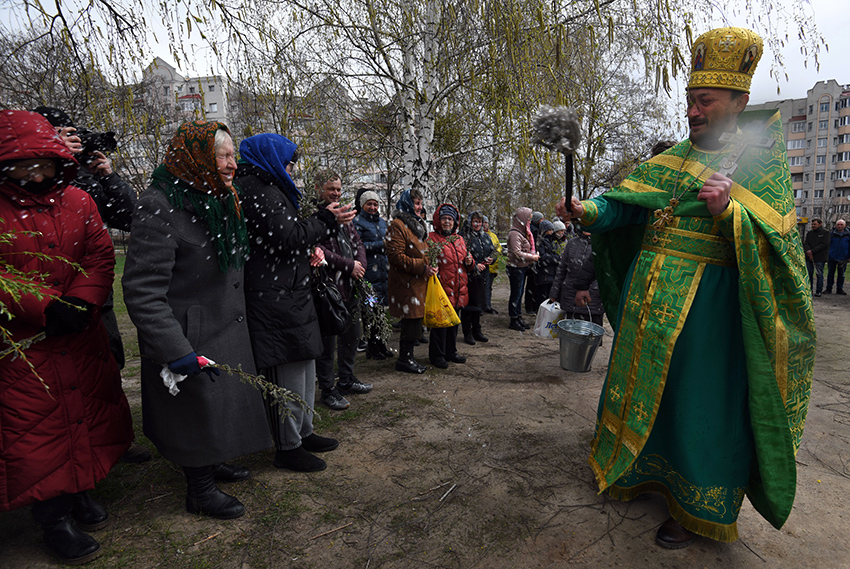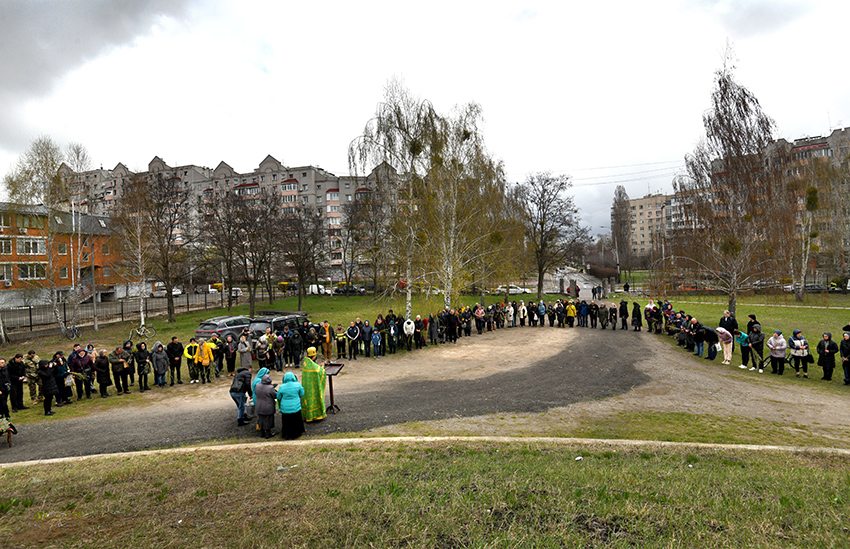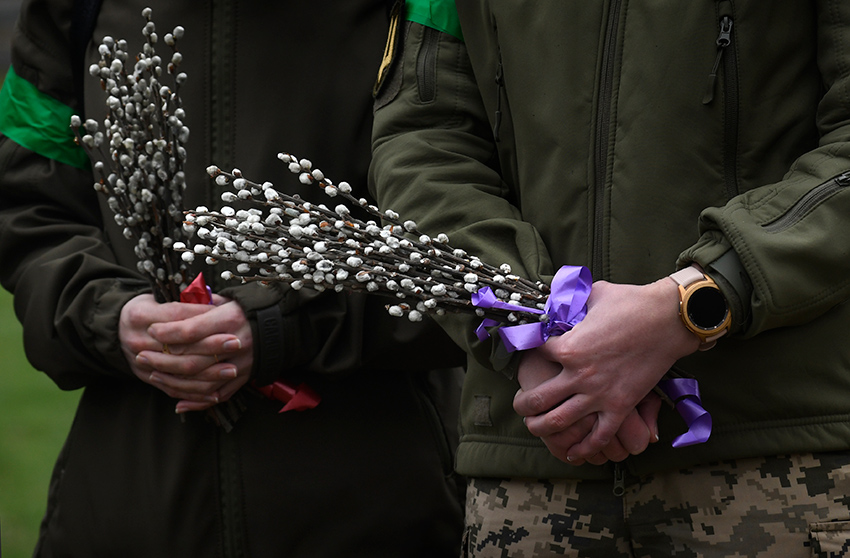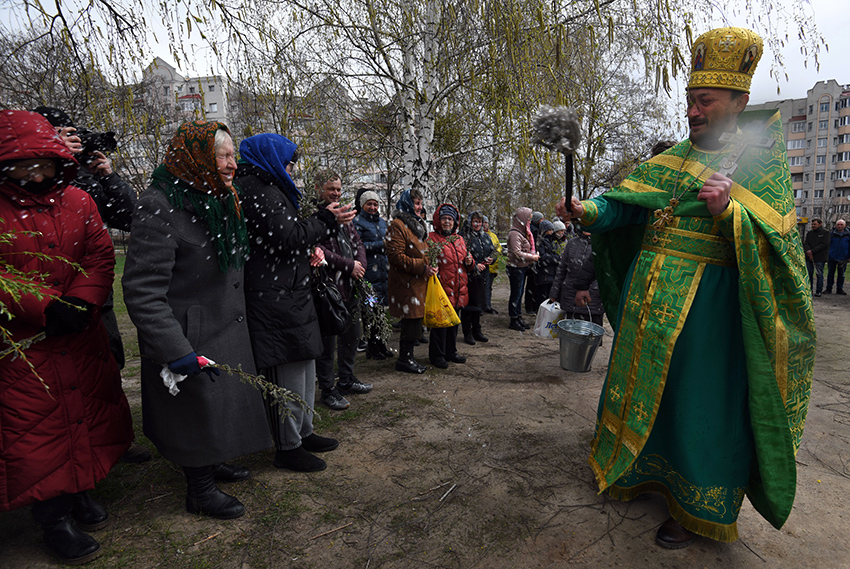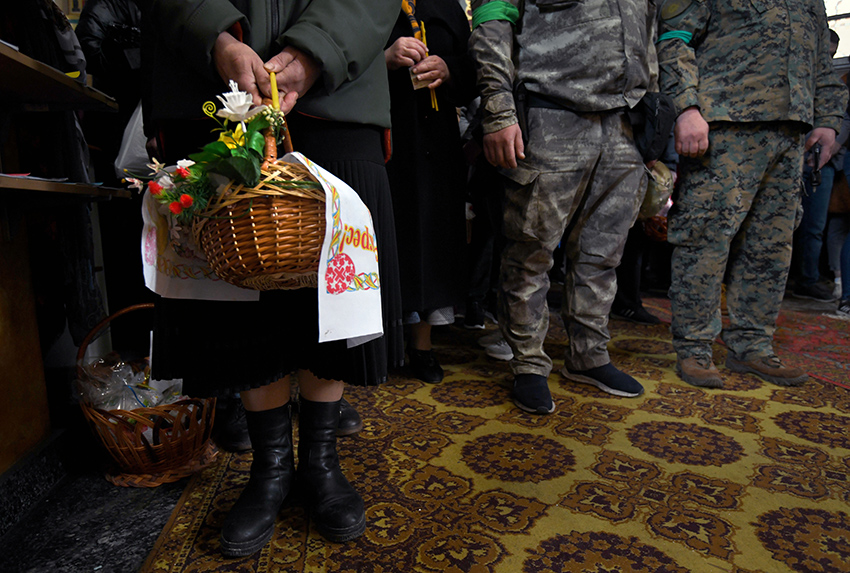 The rays of light were just so spectacular in these churches. They're really beautiful and ethereal. It was amazing. Shockingly, they seem to be not targeting churches in Ukraine. There has been damage to churches, but not [like the damage to] schools and hospitals and everything else they seem to aim for.
And it's always nice seeing people all dressed up like this, because so many of us are shooting pictures in the rubble.
There are little babushkas, and seeing women all dolled up for church and stuff — it's another little piece of normalcy that everybody's hanging on to. It was pretty sweet. It was very joyous, Easter services.
In general, throughout Ukraine, they're still having weddings; they're still living life. I mean, the spirit is so amazing. There can be a shelling that morning, and people come with their shovels, they clean up, and then everybody just goes about their normal life.
And I asked people about that along the way: "How can you be so brave? How can you just still want to live normally?" And they said, "We're so used to suffering. This is not the first time."
They've had generations and generations and generations of it, problems with Russia. The war's really been going on since 2014. This is just a new phase of it.
It's almost an act of defiance, I think, to live with joy still.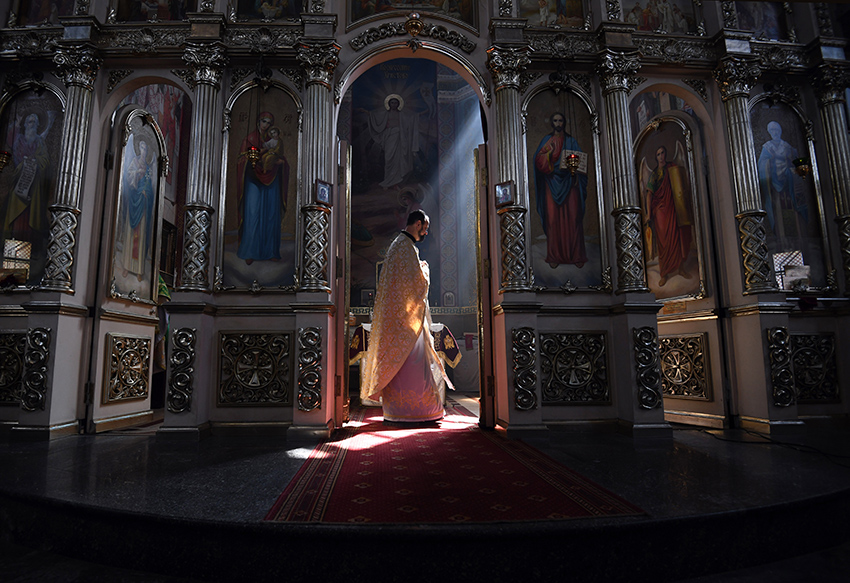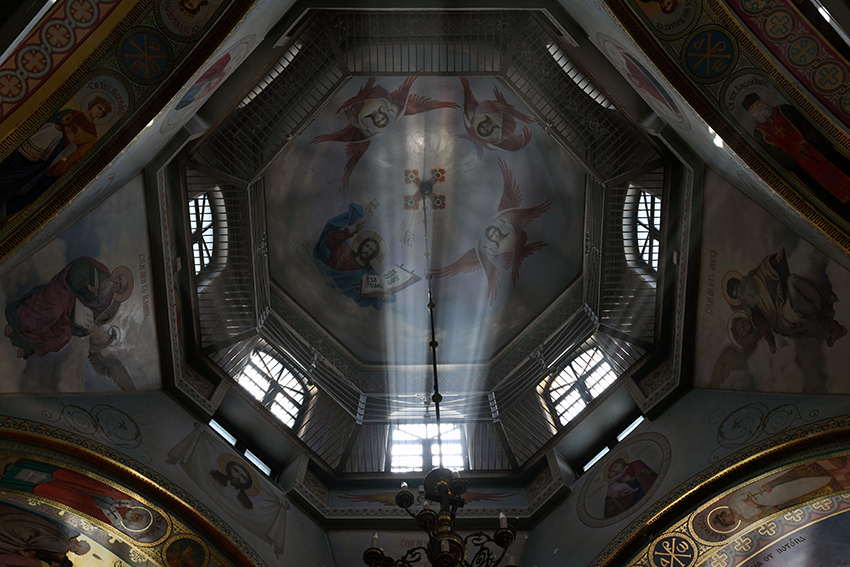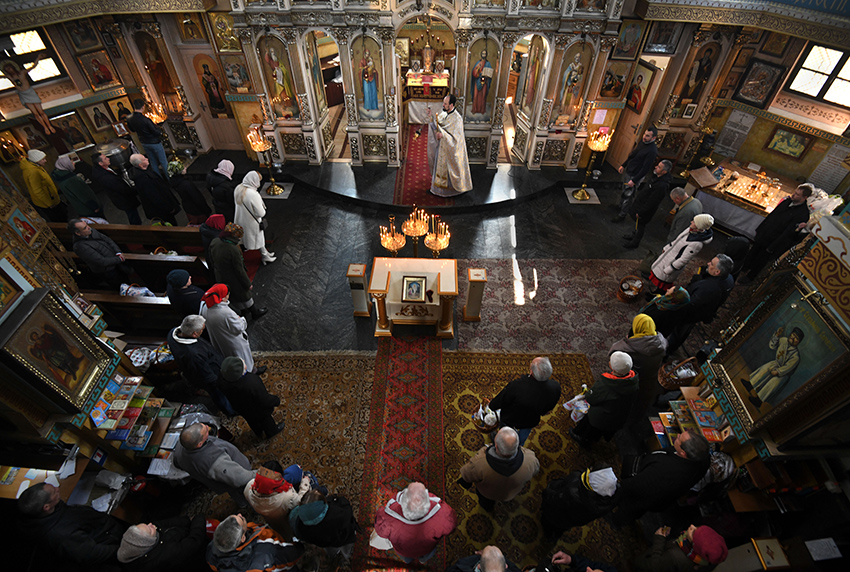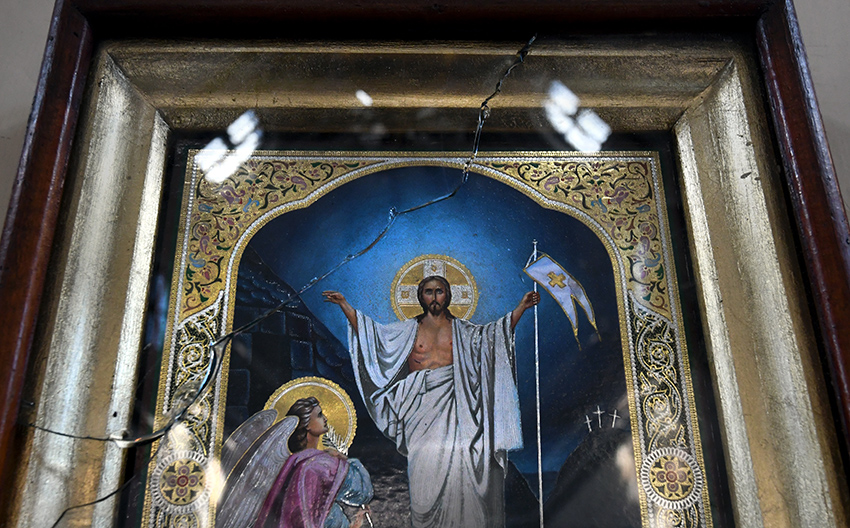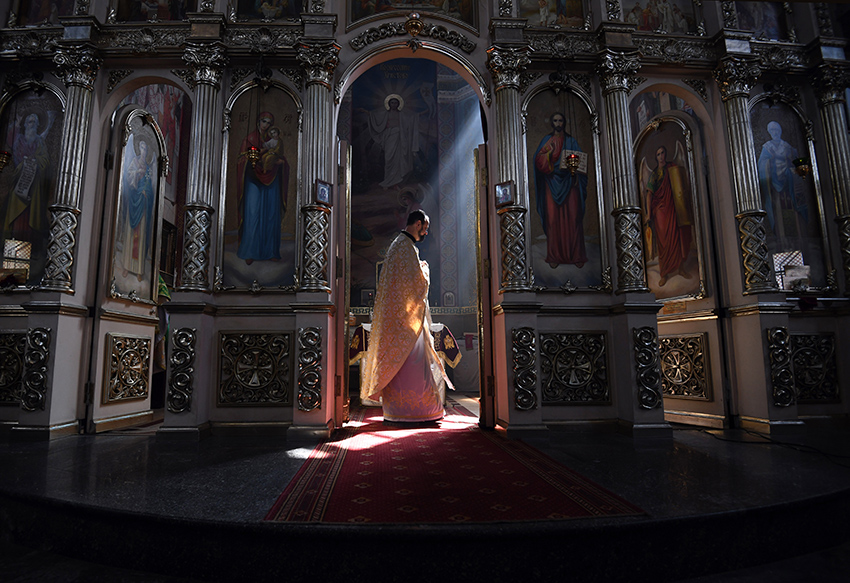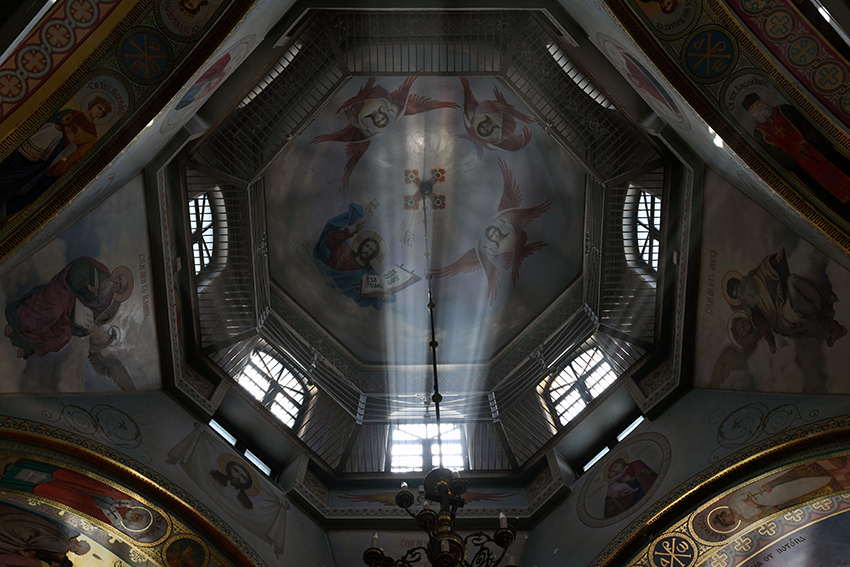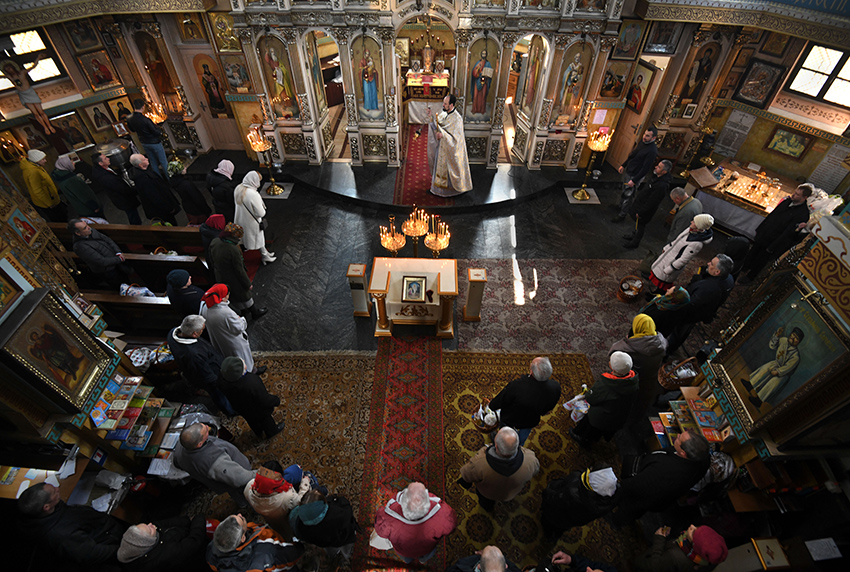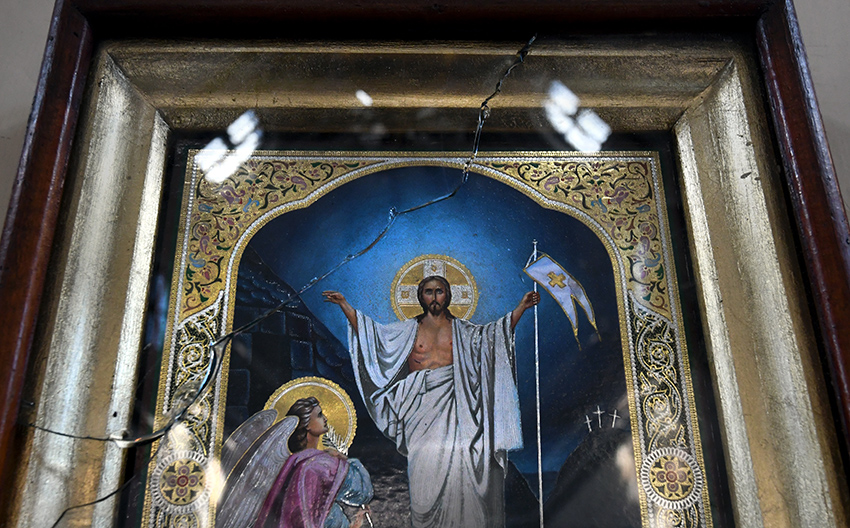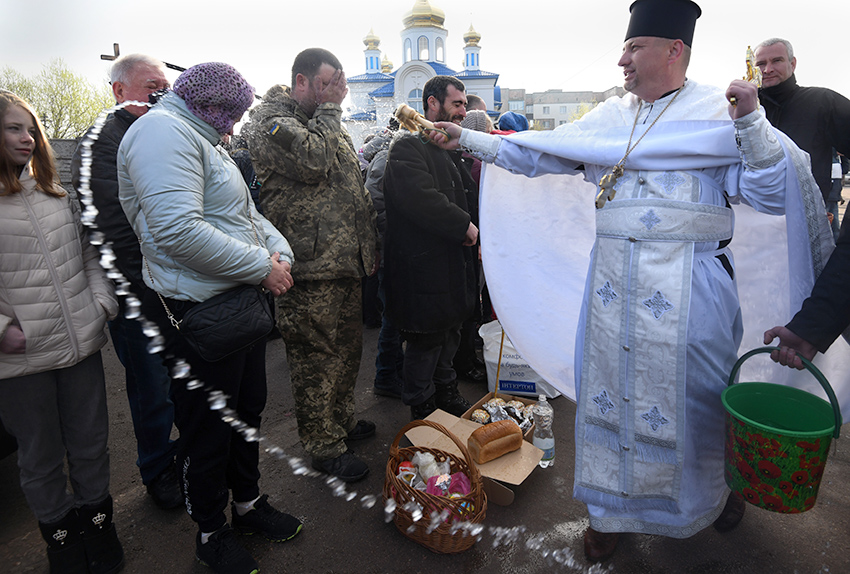 They gave me one of their Easter cakes. And then I went up to one of my babushka families, and we celebrated Easter there with them. Everybody comes with their baskets. I think they're just to be blessed to go there and celebrate Easter. And then they eat — all these kinds of cakes they all have.
[The dog] was so funny. He was just waiting patiently with all this temptation everywhere on his level. I'm like, "Wow, what a good dog." He didn't try to raid any basket, just stood there and stared.
There have been very few places I could even think of where faith isn't something that's sustaining people in times of crisis and living through such horror. I covered Haiti for decades, and it may not even be in a church, but their faith was so strong. To live, even when it's anarchy and natural disasters, whatever is affecting them, they seem to be able to, I don't know, have that radiant smile like in Ukraine.
The spirit in Ukraine is — I can't even describe it. I haven't spent time with the military; I've been with the civilians. But everywhere across Ukraine has been the same. They're so sweet and so kind and so thoughtful. It almost makes it harder to document, because they are such amazingly good people that I've met.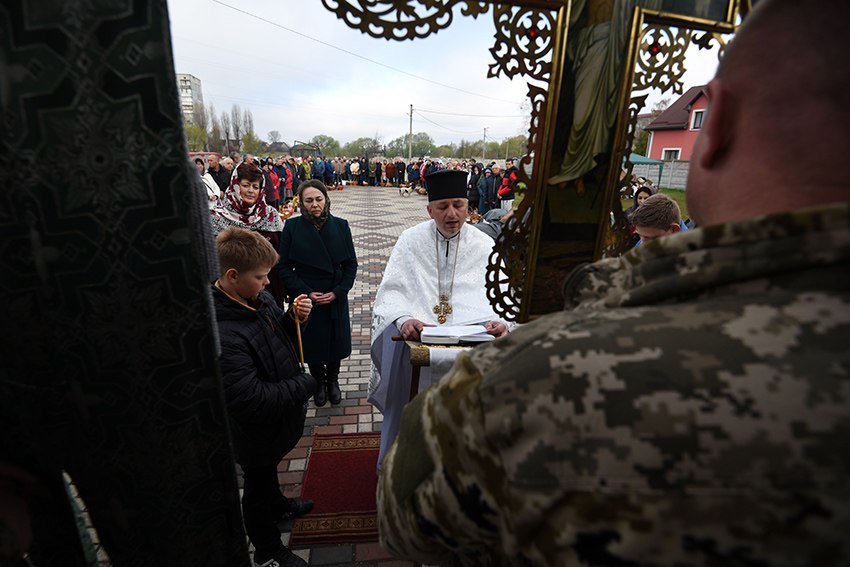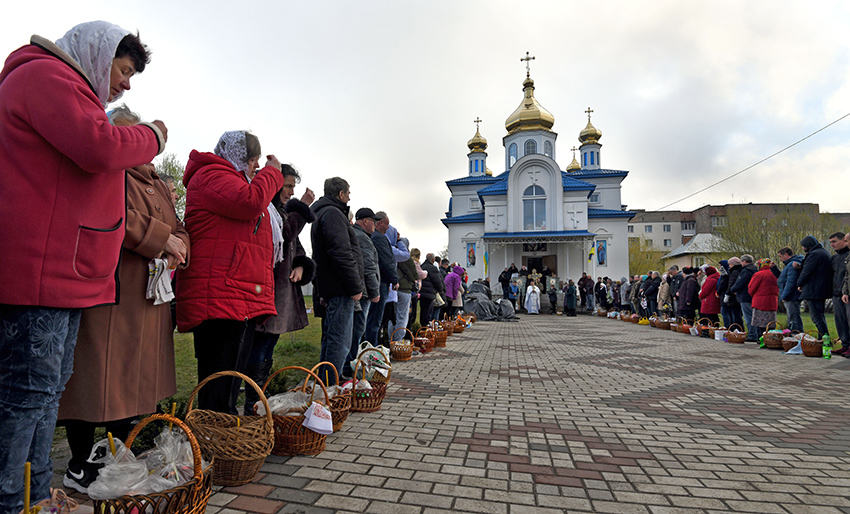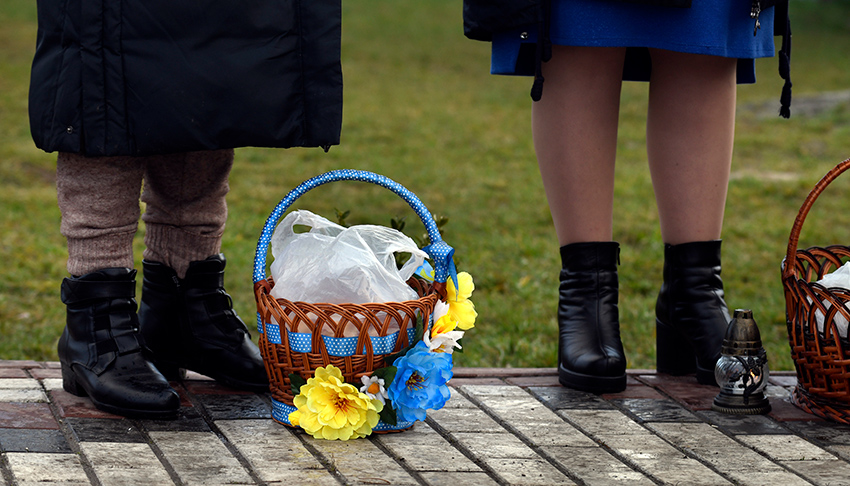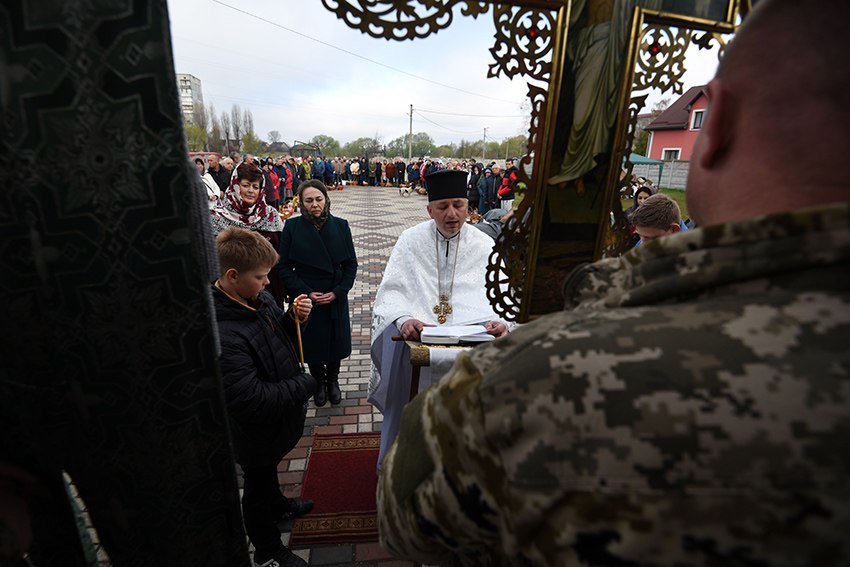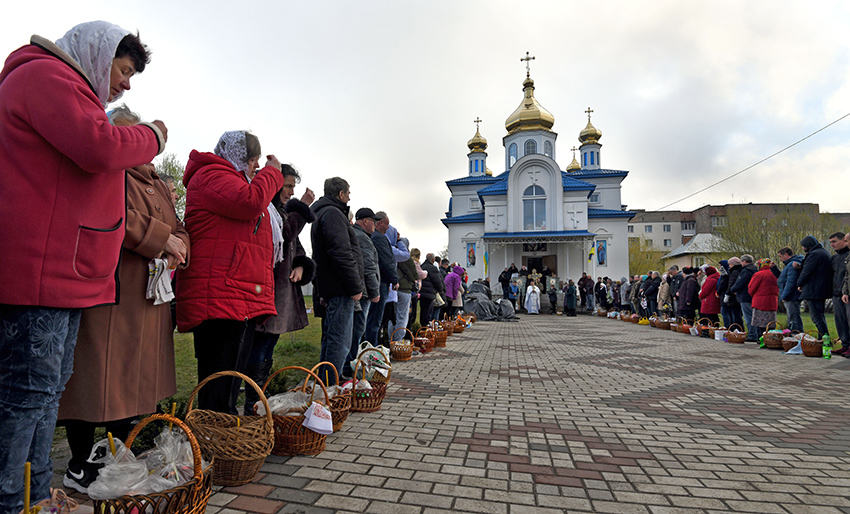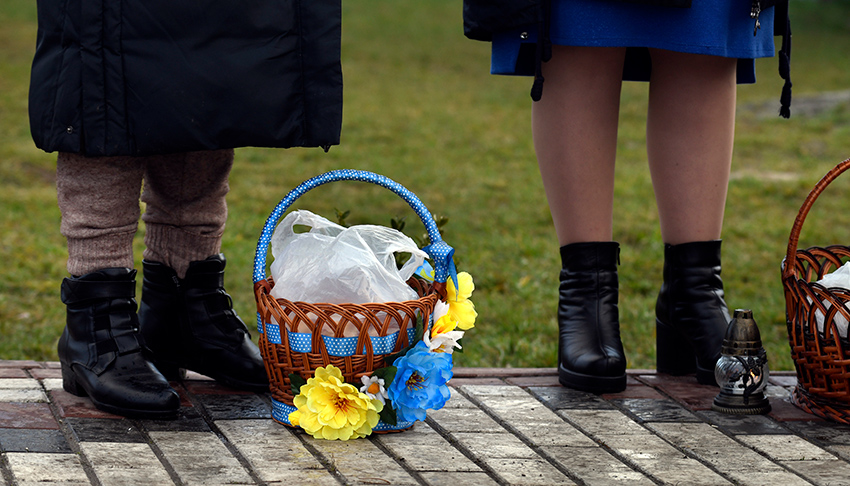 They all seem to have a strong sense of spirituality and something that gives them strength. And again, I think church is a place of refuge, almost, for their hearts and souls — to come and have a sense of community and be able to share what they're going through.
On this day, to share just pure joy again. People cry during the sermons. There are some pictures in there where people cry. It's obviously still a really tragic time for them. But it's pretty inspiring to me that the human being, our human species, can still rise above this kind of evil that's being perpetuated. It is evil, what's happening.
As a journalist, you're supposed to be objective. But it's also pretty clear when you see babies killed and apartment buildings shelled constantly, over and over and over and over again, schools — it's evil what's happening to these people. This is not a war. Like I said, it's daily terror. They live not knowing if they're going to wake up the next day. It could be their building that gets hit, but they just … Whatever it is, and I'm sure faith is a huge, huge part of it that keeps them going, it's pretty humbling to witness and document.
Faith & Leadership would like to acknowledge Nicholas Denysenko for his expertise in the preparation of this story. Denysenko is Emil and Elfriede Jochum University Professor and Chair at Valparaiso University and author of "The Orthodox Church in Ukraine: A Century of Separation."