Editor's note: Mowtown Teen Lawn Care and Youth Ministry Innovators in Vancouver, Washington, are among the organizations honored with the 2016 Traditioned Innovation Award from Leadership Education at Duke Divinity.
On most Saturday mornings, the Rev. Matt Overton, owner of Mowtown Teen Lawn Care, is up before dawn. He hooks up his landscaping trailer and loads it with mowers, shovels, chain saws, buckets, garbage cans, rakes and other tools, readying himself for another day of youth ministry.
Landscaping and pastoral work might sound like a strange mix, but the two fields aren't as incongruous as one might think.
Overton serves full time as associate pastor of youth and family ministries at Columbia Presbyterian Church in Vancouver, Washington. Mowtown is the business arm of Columbia Teen Enterprises, a new youth ministry and jobs program Overton founded with the help of church members.
The high-school-age crew works on Saturdays, earning fair market wages as part of Mowtown's business model. But the jobs aren't separate from the ministry -- working for Overton involves much more than earning a few extra bucks raking leaves.
With the blessing of his congregation, Overton hopes to use the landscaping business to reboot the way his church reaches out to Generation Z: youths and young adults born at the turn of the 21st century.
"In youth ministry, we attract kids all the time with Cheetos, couches and games," he said. "Why not attract them with jobs and work and life skills?"
Using gifts for social good
The idea for Mowtown emerged during the renovation of Overton's house.
The Overton family's move to the Pacific Northwest was preceded by the loss of their home in Northern California, one of the hardest-hit regions during the Great Recession. So when Overton and his wife, Anne, were eventually able to buy a home in Camas, Washington, three years ago, the house they could afford was a fixer-upper.
Many of Overton's church members turned out to help work on the renovations, including a number of teens he knew from his ministry.
Before long, he noticed that interactions with his students on the job site were better than those he had in church youth group gatherings. The collaborative project was almost like an extended mission trip; teens were more open and relaxed there than in church settings.
A number of adults from his church also showed up on Saturdays to help. Some of these adults didn't come to church regularly or volunteer for youth groups or any other church teams, yet here they were, many bringing their own tools and lumber and expertise.
Overton was gratified to see his dilapidated house transformed, but he also was intrigued by why this interaction was happening among the people involved.
"The answer was that I had provided people an outlet to use their natural gifts and talents for a greater social good," he said. "It was social entrepreneurship in a nutshell."
Adults could see a link between their work and the church's mission to help others. For teens, it was a rare opportunity to contribute and be treated as responsible young adults. And the job site provided a place for all of them to engage with each other.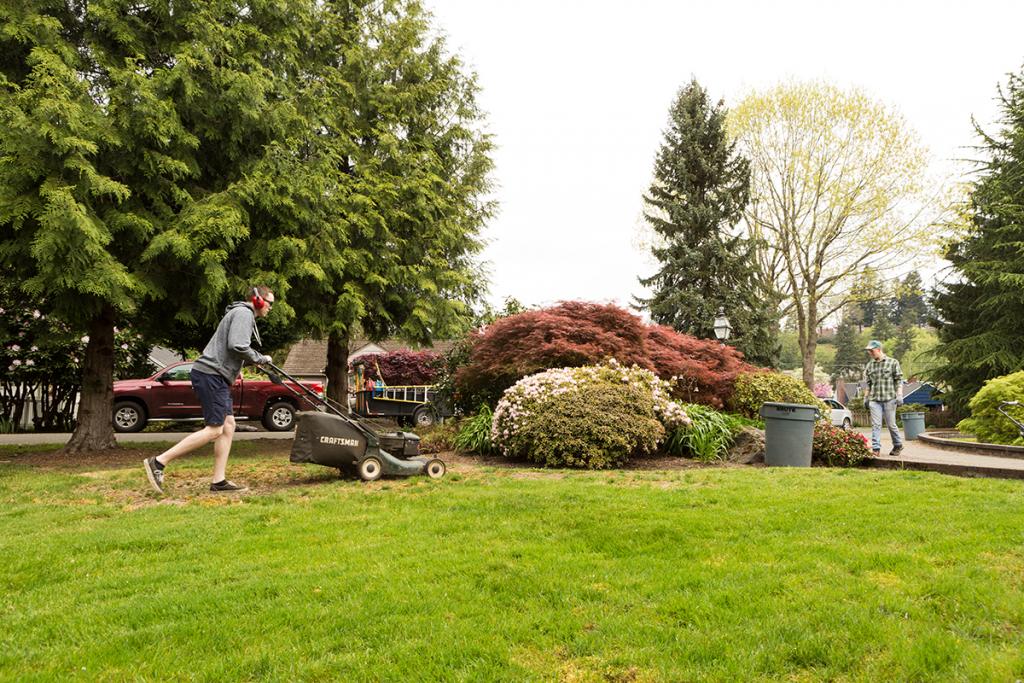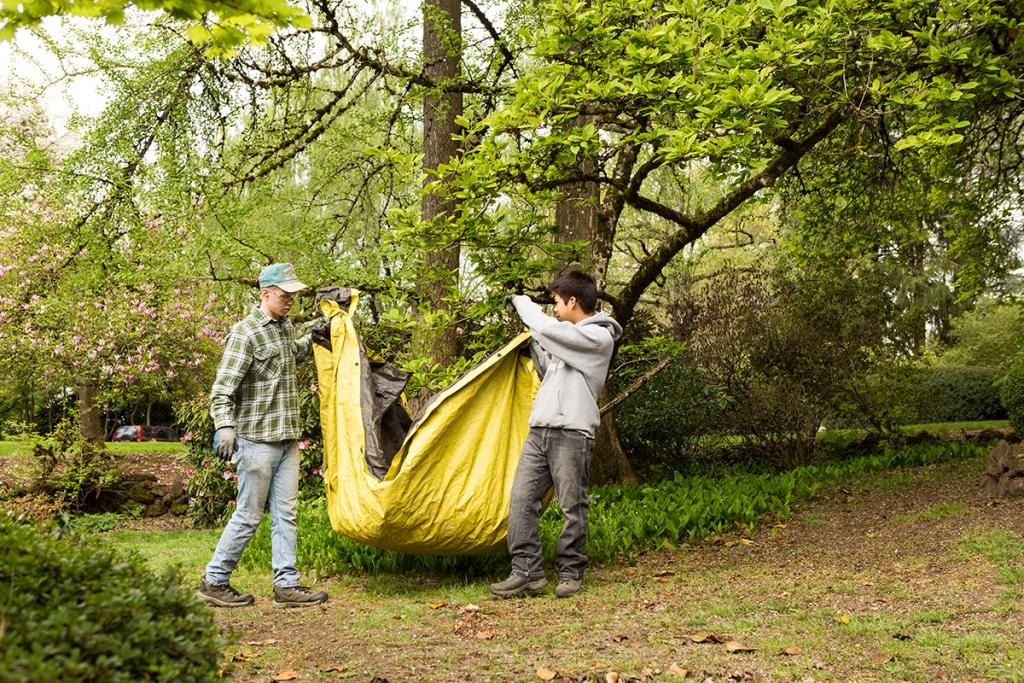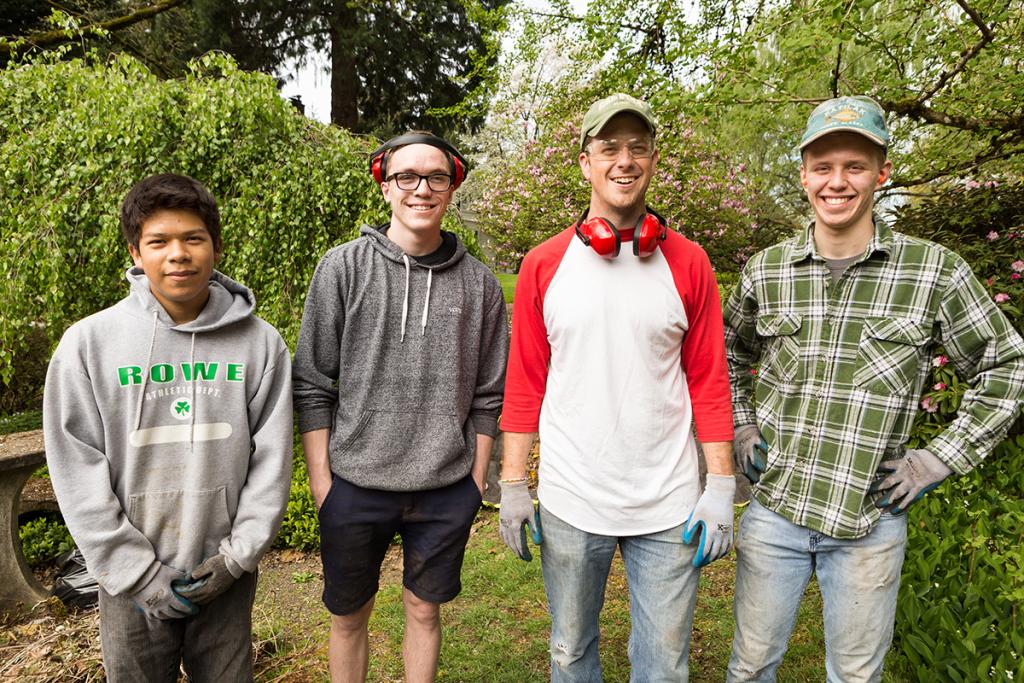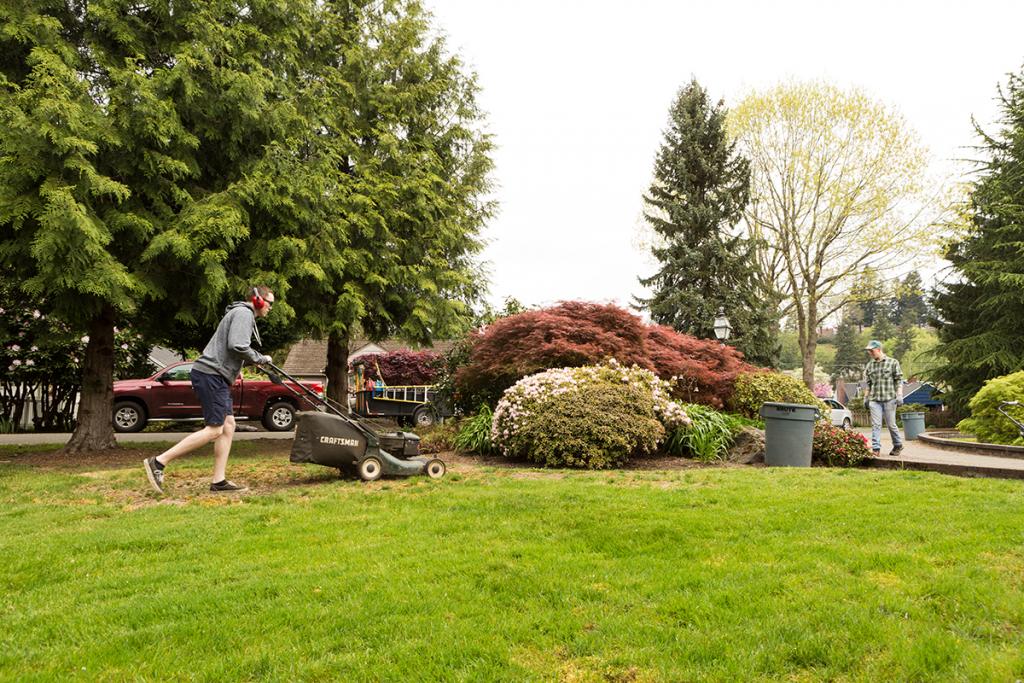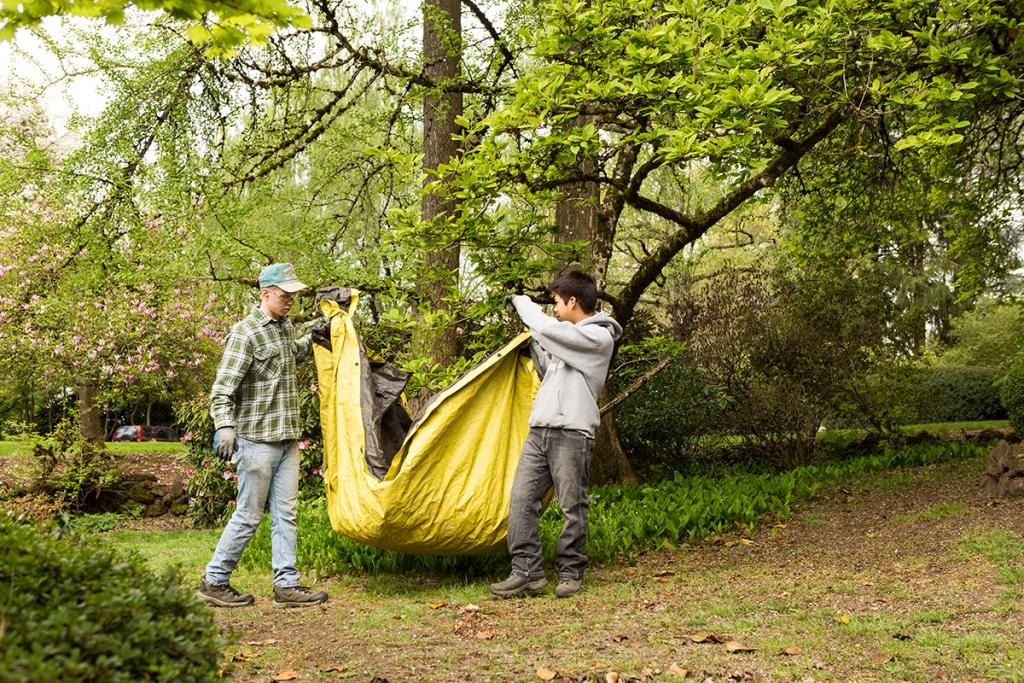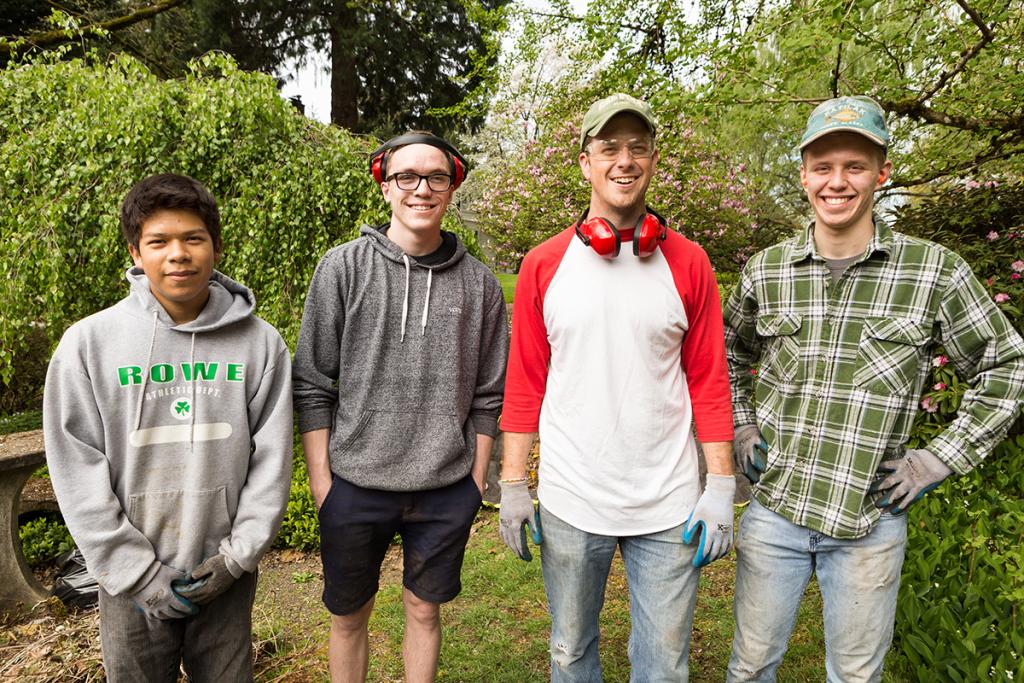 Tools to thrive
The insight about his home renovation meshed with other observations Overton had made about the ways the American church practices youth ministry.
In his view, the standard "sit and receive on Sunday night" ministry doesn't help teens tap into their God-given gifts, much less discover or hone them.
Upper-middle-class assumptions built into youth programs are flawed as well. They don't address the needs of teens whose families struggle with poverty or domestic abuse, and a "zero tolerance" society leaves little in the way of grace for teens who need the chance to fail, to solve problems and to learn through correction from trusted mentors.
How might skill-building and mentoring ministries meet the needs of young people across social classes in your community?
With these thoughts in mind, Overton assembled a team of church members to explore ways to bring about his vision of combining a jobs program with his work in youth ministry.
After taking teen labor laws into account, the team determined that landscaping would be a better (and safer) fit than the remodeling business Overton had first envisioned. During monthly meetings with church colleagues, local business owners and parents, they honed a vision for the program and developed a business plan.
"What the team realized early on is that just throwing kids into jobs wasn't really our goal," said Rachel Grice, one of seven church members who worked with Overton to define, refine and implement his new idea. "Giving them tools to thrive in work, life and faith was what we wanted to do," she said.
Another team member, former hardware store owner Bryan Ableidinger, had volunteered with the Columbia Presbyterian youth group for many years. Working with high schoolers on mission service trips each summer, he had observed how unprepared many students are for getting and holding down jobs. A major factor, he realized, is their busy school and extracurricular schedules.
"In my generation, we worked during school, but that's not always the case now," he said. "They aren't learning what life and work require of them. We are trying to help them with both of these issues."
Drawing from their own professional and life experiences, the team planned a series of training modules in professionalism (What do employers expect of me?), goal setting (Where am I going, and when will I get there?), personality and life gifts (What am I good at?), and personal finance (What do I do with money?).
The training would be required of all Mowtown employees but also would be open to any interested teens and families in the Vancouver and Camas area. Sessions would be conducted by members of Mowtown's planning team, including Grice on professionalism and Ableidinger on goals training.
When the time came to pitch the idea to Columbia Presbyterian's elders and lead pastor, the Rev. Fitz Neal, Overton stood ready to defend his proposal against the inevitable pushback -- which never materialized. He still can barely believe it.
"A lot of church elders who had business experience reacted with, 'Finally, something in the church makes sense to me!'" Overton said. "After hearing the business plan and addressing concerns about funding and liability, they told me, 'It sounds good. Go for it.'"
An arrangement was made allowing Overton to devote 4 to 8 hours of church time per week to Mowtown over an initial six-month period.
Neal said the congregation's enthusiasm for this innovative idea came from a "culture of honoring vision and risk openness" that they had carefully been building for years.
What practices might you employ to create a culture that honors vision and is open to risk?
"So when Matt's idea came along, the leaders could all see immediately how it was attached to a picture of our future that was already in their hearts and minds. That made it easy to make a decision right away, instead of killing it with a study or a committee," Neal said.
The first teens to complete training were ready to go to work in June 2015.
Teens and college-age adults were recruited through Columbia Presbyterian and surrounding high schools; the program is open to anyone regardless of faith or economic status.
'Windshield time' with youth
On a recent Saturday, Overton picked up student-employee Alex Neal at Columbia Presbyterian. They drove to a nearby apartment complex to pick up Bryant Flores, rounding out the day's crew, and traveled several miles to a home in the heights of Vancouver.
Both Alex and Bryant are 15 and have family connections to Columbia Presbyterian. This is their first formal job experience, and both are eager to help their families and explore where their talents may lead them.
Alex and Bryant carried folders, along with sunglasses, iPhones, gloves, drinks and lunches.
"[The folders are] part of their training," Overton said. "They keep track of things they're thankful for over the last year, things they've accomplished, things they've failed at and the things they want to accomplish in the next year."
Driving together to clients' homes provides "windshield time," a chance to talk individually about their progress and concerns.
"We're trying to develop a list of 'windshield' questions that correspond to the trainings we do during the year," Overton said. "We can send crew bosses out with those questions to bounce off the kids as they're going. Quite often, there's plenty to talk about just naturally, and we'd almost prefer to do it that way."
At the job site, they pile out and set to work unloading tools, pulling on gloves and surveying their canvas: an early 1970s residence with established trees, shrubs and extensive landscaping, all in need of a trim after a record-setting wet winter.
Overton hands Alex and Bryant pruners and hand clippers and demonstrates how to trim conifers and shrubs to the proper shape, and soon the teens settle into a quiet, methodical rhythm as Overton takes his power trimmer to camellia trees in the backyard.
Before long he's back, coaching gently but still giving them space: "My dad always says, 'Only God and another tree can make more wood.' Just be careful of what you cut on these conifers!"
He next works alongside Bryant, and conversation flows freely. Job-related instructions and exchanges lead smoothly to topics of home life, school and more.
"You doing OK with that assignment?" Overton asks. "Did you have a good reason for turning it in late? No? Did you admit that to your teacher? Just go in and own it -- you gotta have that conversation."
How does Overton's understanding of mentoring challenge traditional conceptions?
These are the moments when the job site offers better mentoring opportunities than a youth group -- and better spiritual outcomes, Overton says, because of what he calls the "dignity principle."
"What I'm offering is a process that [invites] them to engage fully, in a way that treats them equally, gives them more dignity," he said.
"I want kids and young adults to leave Mowtown knowing what their gifts and talents are, how to hold down a job, and knowing what they're good at," he said. "Maybe they'll respond in faith, or maybe not, but at least I've blessed those teens' lives with the ability to sustain themselves. The culture around us values security and job experience for their kids, and I want to provide an environment where we do that with grace and love."
A new model for youth ministry
Most passers-by would have no idea this isn't just a typical landscaping operation. And in one respect, Mowtown is exactly like other landscaping outfits: it's a for-profit business.
One reason Overton set it up as a business was that a for-profit structure was easier than a nonprofit, with no financial or liability risk for the church. Seed money came from Overton's own pocket -- his initial investment of $10,000 has grown to nearly $25,000. He has purchased tools, trailers, liability insurance and a work vehicle.
The program functions as a business, yet it is not completely cut off from church oversight; every six months, a team reviews Mowtown's financials, and other youth workers make sure the enterprise is still advancing the mission of the church.
There were also philosophical reasons for structuring the program as a business, Overton said. He is concerned about the long-term financial sustainability of the church -- and in particular, of youth ministries. In addition, youth pastors are paid so little that they often can't afford to stay long enough at their jobs to do them well.
So Overton is excited about refining a hybrid nonprofit/for-profit model -- something he calls "missional entrepreneurship."
In 2015, he attended the "Hatch-a-Thon" at Princeton Theological Seminary's Institute for Youth Ministry, where he got feedback and suggestions about his still-evolving business model. He also shares his experiences and thoughts on his blog.
"If youth pastors could run small businesses that also employ youth, they could supplement their incomes while providing work experience and having more meaningful mentoring to the youth in their churches," he said.
"What breaks my heart is, a lot of churches are jettisoning their youth workers. I'm trying to develop an economic engine, so the guy from the outskirts of Albuquerque, New Mexico, who wants to do youth ministry in a small church will have a model to say, 'I could build a small business that benefits the community, and I can do relational work with teenagers at the same time, plus help support my family,'" he said.
Mowtown has been able to turn a profit, but Overton doesn't draw a salary from the business. Once payroll and operating expenses are met, all profits are used to continue the Mowtown experiment.
Overton realizes that many people have a natural bias against the idea of for-profit enterprises in the church. And he acknowledges that there are potential pitfalls -- that's why he considers this very much an experiment and a work in progress. But he also thinks that something has to change.
"I have seen that the more deeply embedded people are in the church, the harder it is for them to understand how you can do business and do good at the same time," he said. "But that needs to change if we want to make a difference in the way we help our youth and engage our congregants."
Because Mowtown is a real business, Overton treats the teens like real workers -- another part of the "dignity principle."
"I can say to the students, 'Look, we bid out a job; if we don't get it done the right way, with efficiency, this thing goes under. That affects the next nine students who need work. So you've got to do your job, and I've got to do my job.' It's a good exchange."
Alex and Bryant have been working steadily for the past three hours and ask about lunch.
"Most people with day jobs like this get a half-hour lunch every four hours and a 10-minute break every two hours," Overton said. "Kinda brutal, but I don't make the rules. I just bend them once in a while."
He bends the rules a bit for his tired, hungry students and breaks for lunch as soon as most of their trimmings are loaded.
They talk over sandwiches and Gatorades. "Hey, I think we'll have Mowtown t-shirts soon," Overton said. Alex and Bryant love the idea. So what kind of boss is Overton, anyway? "He's a great boss, the best," Bryant said . "Yeah, but we haven't messed up yet," Alex said, to peals of laughter.
After lunch, it's time to clean up. Overton goes to work with a leaf blower, and Alex and Bryant pile more branches in the trailer and truck bed. Tools are loaded up, yard debris gets a final tamping down, and all three Mowtowners take a moment to step back and see the result of their labors.
"I've learned in my ministry that people are never finished," Overton said, "so it's nice to step back after a job is done and see how good the yard looks. If my mission as a follower of Christ is to bless the world around me, I can't think of a better way to do it than this."
Questions to consider
Questions to consider
How does Overton's understanding of mentoring challenge traditional conceptions? What needs do you perceive in the mentorship of the young in your setting? Does Overton's innovation answer some of those needs?
Mowtown Teen Lawn Care blends business entrepreneurship and ministry in a unique way. How might a business enterprise reach young people otherwise averse to church? What possibilities does this ministry model inspire in your setting?
How might skill-building and mentoring ministries meet the needs of young people across social classes in your community? Why might this be considered part of a congregational youth minister's work?
Are you intentionally cultivating a "culture of honoring vision and risk-openness" in your ministry so that innovations such a Mowtown Teen Lawn Care might flourish? What practices might you employ to cultivate that kind of culture?