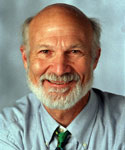 Gilbert T. Rowe Professor Emeritus, Duke University
Stanley Hauerwas is the Gilbert T. Rowe Professor Emeritus of Divinity and Law at Duke University. Hauerwas has sought to recover the significance of the virtues for understanding the nature of the Christian life. He emphasizes the importance of the church and narrative in understanding Christian existence, and his interests range widely, including systematic theology, philosophical theology and ethics, political theory, and the philosophy of social science and medical ethics.
Hauerwas' book, "A Community of Character: Toward a Constructive Christian Social Ethic," was selected as one of the 100 most important books on religion of the 20th century by Christianity Today. In 2001, he was named by Time magazine as "America's best theologian," published "The Hauerwas Reader" and delivered the Gifford Lecture at the University of St. Andrews in Scotland.