When Whitney Bauman decided to become a religion professor more than a decade ago, he pictured himself giving lectures and leading seminars at a small Christian college or seminary.
He did not imagine that he would be teaching at an urban public university, much less one where most of the 50,000 students are non-native English speakers and are among the first in their families to attend college.
But that's where he got his sole job offer: at Florida International University in Miami. And that's where Bauman, now 37, found himself floundering a few years ago with little training in how to teach and no natural support system to help him learn.
"In graduate school, the focus is all on research and scholarship," said Bauman, who teaches on religion and ecology. "Then they just sort of throw you in the classroom and say, 'Oh yeah, you have to teach, too.' So I didn't have any background in pedagogy or anything like that."
Help came in the form of a peer-to-peer workshop, offered by the Wabash Center for Teaching and Learning in Theology and Religion in Crawfordsville, Ind. There Bauman built a durable network of colleagues in a relaxed setting, free from the all-too-familiar pressures to outperform and impress at every turn. In the process, he became a confident experimenter and a more relaxed teacher.
More than 1,000 religion faculty members have gone through Wabash's workshops since the center was founded at Wabash College in 1996 with funding from the Indianapolis-based Lilly Endowment Inc. Currently, for each cohort's 14 participants, it involves a summer week in Indiana at Wabash, then a winter weekend retreat on Texas' Mustang Island, followed by a final summer week in Indiana.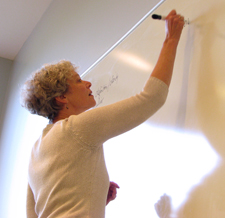 "We basically have them think collaboratively about what it means to teach in this field," said Wabash Center Director Nadine Pence. "What do they help their students learn about religion that helps them as teachers say, 'I'm doing good work'?"
Teaching tomorrow's Christian leaders
The Wabash Center aims to help those who teach tomorrow's faith leaders -- both ordained and lay -- be as effective as possible. The process isn't about imparting quick fixes. It's about enabling educators to discern their current vocations, analyze the needs of their scholastic environments and design course assignments to meet specific objectives -- even in a time when goals are changing fast.
Much has changed in theological education over a generation, and faculty young and old must constantly adapt to the unexpected. As institutions ask them to teach more and more students online, for instance, some professors feel disenfranchised of their dreams to forge face-to-face relationships or to be a charismatic, sage presence on campus, according to Wabash Center Associate Director Paul Myhre.
Competition for religion teaching jobs is so fierce that those fortunate enough to get hired have largely forgotten how to be collegial, said Patricia O'Connell Killen, the academic vice president at Gonzaga University, who has led eight Wabash workshops.
They're habituated to focus myopically on their research and personal ambitions, she said, yet teachers must collaborate if they're to improve in their craft. Wabash workshops give them that opportunity.
"For people coming into the career, things are different now," Killen said. "Sixty-plus percent of courses taught in colleges and universities today are taught by adjuncts. That was not the case 30 years ago. So new people moving into careers teaching theology and religion are doing so in a really difficult environment. And that difficult environment tends to push them toward being very self-oriented."
What's more, Killen added, religion scholars face unique pressures to continually justify their jobs at institutions that often are either struggling to survive or cutting back on religion departments. And a rapidly changing church landscape means faculty get bombarded with mixed messages about how best to train tomorrow's faith leaders.
"What is the church you are preparing them for?" is a question that comes up often at Wabash workshops, according to Wabash Center Associate Director Tom Pearson.
"We don't really know what we are preparing them for," Pearson observed, noting that many students plan to do church ministry in emergent settings, outside traditional parish environments. "There's a real sense of change."
Learning to teach
With so much pressure and change afoot in their professional lives, religion educators welcome a chance to get away, work through exercises that compare pedagogies -- and play. Sessions allocate time for recreation, whether it's canoeing, badminton or jogging as a group on a Texas beach. Such activities help teachers relax, Myhre and Pearson said, and rekindle passion for teaching, even if it's not in the forms or settings they once anticipated.
"It was interesting information," Mumford said, "but it had nothing to do with how they should perform as preachers."
A similar process brought Florida International's Bauman to think critically about when to assign reading and when to assign something else. In one course, for example, he was hoping that students would rethink their consumption habits in light of heightened environmental awareness and religious values. Reading alone wasn't getting the job done, he found, so he swapped out some reading for online exercises. Those have made a bigger impression.
Now students run applications, enter data about their lifestyle habits and receive a lesson. The exercise tells them, in effect, "Here's how much the earth would suffer if everyone on the planet lived as you do."
"I ask, 'What are the ideas that lead a student to construct this way of being in the world versus that way of being in the world?'" Bauman said. "Those are the types of exercises I've found more helpful for students than [reading] all theory."
In Mumford's classes at Louisville Seminary, preachers of tomorrow are no longer merely told how a good sermon comes together, as they were before Mumford's Wabash experience. Now they see more examples of how it happens, both in YouTube videos and on campus.
Mumford has started letting students watch her process as she exegetes a text and otherwise prepares to preach in the school's chapel. Students then attend the service and see how elements in her preparation bear fruit in the holy assembly.
In revising his syllabi over time, he realized he needed different insights than what his older white colleagues could provide. He found those in a Wabash workshop where he was one of only two white men. Several in the group were African-Americans and Korean-Americans.
"It was a really good switch for me," Garber said, "because [before Wabash] I had not been able to hear the stories of minority professors and their experiences of their students."
Since then, Garber has made adjustments to suit his school's student body, which is ever-more diverse, not only in racial terms but also theologically and in terms of age. He now assigns readings written by African-Americans, Latinas and others who represent a diversity of backgrounds. He also works with white students to consider how their perspectives on biblical texts can reflect their privileged status in American society.
Institutions benefit from Wabash experience
Those who've done Wabash workshops are now leaving fingerprints on their institutions. At the Lutheran Theological Seminary at Philadelphia (LTSP) and Luther Seminary in St. Paul, Minn., alumni of Wabash workshops have played key roles in recent overhauls of their respective schools' curricula, according to deans at both schools.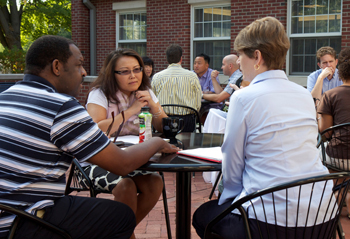 Results have been bold. At LTSP, students had said they needed more flexibility to take courses whenever they could find time among competing work and family responsibilities. Hence, this year, for the first time, students have no prerequisites for any of their courses. It's part of a radical redesign that moved forward in large measure because Wabash-coached faculty kept their eyes on the endgame and dared to try it.
"They had gained insights from Wabash and their wider contexts," said LTSP Dean Jayakiran Sebastian. "They now recognize it is their institution, their future -- and their input was important."
Take-aways from Wabash trickle down to students, many of whom are apt to play active roles in congregations or denominations over their lifetimes. If those at Florida International absorb what Bauman is trying to share, for instance, they'll learn how to put together and manage their own learning communities -- not only in college, but in religious life as well.
Perhaps the Wabash influence that endures longest is the network the participants create. Workshop cohorts reunite once a year, usually over dinner at the annual American Academy of Religion conference. Between reunions, participants stay in touch around their teaching triumphs and challenges. Such collegial habits will always pay dividends and never become obsolete, Wabash leaders say, no matter how much their field might change in years to come.
"When you come out of a Wabash workshop, you have another 13 people all over the country who you can now call up, email or text and say, 'I'm doing this on Tuesday. Got any ideas?'" said Gene Gallagher, a Connecticut College professor of religious studies and Wabash workshop leader. "And you know they'll respond."
Questions to consider
Questions to consider:
How is the changing profile of your audience affecting how you deliver services? Who helps you and your colleagues make these adjustments?
To whom do you turn to refine the craft of your ministry? What do you do to nurture those relationships?
Multiple dynamics of a profession and an institution often reinforce tendencies to be "self-oriented." What is needed to counteract such forces?
Reframing and re-creating work requires emotional, physical and spiritual space to explore. Who invites you to such spaces? What is required to accept the invitation?
Teachers are on the front line of educational institutions. Wabash invests in nurturing their vocations and over time this investment affects the institution. Who is on the front lines of your institution and how do you invest in those people's vocations?