Ann Helmke: Working together at the intersection of society and faith
San Antonio skyline. Matthew LeJune / Unsplash
As a 'faith liaison' for San Antonio, the ELCA minister connects the city government to its faith community through activating partnerships and networking.
Tuesday, October 15, 2019
When a city employee struggled to craft a job description for San Antonio's new position for a community faith liaison, she asked the Rev. Ann Helmke for help.
Helmke agreed under one condition: that she could apply for the job.
"I saw all sorts of potential. She thought I had lost my mind," Helmke said.
For two and a half years now, Helmke has held the position, working to connect the city to its faith community. She helps the city understand the concerns of its congregations and other faith-based groups, and vice versa.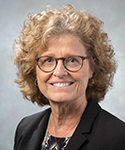 Helmke is an ordained Lutheran (ELCA) minister who helped found the all-volunteer San Antonio peaceCENTER some 25 years ago. She also served for several years as director of spiritual services at Haven for Hope, a San Antonio homeless shelter.
Helmke spoke about her work for the city, its challenges and its rewards with Faith & Leadership's Chris Karnadi. The following is an edited transcript.
Faith & Leadership: What is your role at the San Antonio Department of Human Services?
Ann Helmke: My full-time job is as a faith liaison for the city of San Antonio in the Department of Human Services. It is also in [my faith] tradition what's called a synodical or bishop's call. So this is also my role within the synod here at the ELCA.
Half the time, people are asking me, "Oh, this is so great what you're doing -- where's your congregation?" I'm like, "Oh, I would not have time for that." I'm working here with 1.5 million people in San Antonio. I mean, that's my congregation. To be even more specific, we have about 1,400 congregations in San Antonio of all kinds: Christian, Jewish, Buddhist, Hindu. Any group of folks who gather regularly within a religion does fall in my parameters. That's my congregation.
There are other things that I do, but people often say that my life is so integrated, [my work is all interconnected] -- which I'm grateful for, because that's what I want in my life. It's taken me a long time to get here, and I don't just mean in terms of career.
Growing up, everything was separate. We worked at home; I worked the farm. So there was work at home, there was school, there was church, and they all kind of had their spot and place. And as I got older, I asked myself, "Why do these things feel separate to me?" I really have spiritually worked and physically worked to get all my life integrated.
So for the work I still do within the San Antonio peaceCENTER, it's really difficult to know whether I'm doing city work or peaceCENTER work, because [the peaceCENTER] is an all-volunteer organization.
It does confuse people at times, and sometimes it confuses me. But I feel my life is integrated in that way, especially since I've had this position, which has been two and a half years now. I would have never guessed I'd be working for the government, ever -- but it's where I am.
F&L: What is your role as a faith liaison?
AH: One, it does look like a lot of driving around town and going to different congregations to talk with them about efforts and programs that they are looking to do. I try to make connections for collaboration between congregations, so there are a lot of meetings to make coalitions, not just within the congregations but with nonprofits, the government.
The mission of this initiative that includes me as a faith liaison is to improve the lives of families and communities most in need. And the how-to of that mission is through relational collaboration and activating partnerships and networking services intentionally between the San Antonio faith community and government agencies and nonprofit organizations and community groups.
It's very relational, partnering and working together. That's a lot of my job; it's as a connector.
F&L: Can you give some examples of the work you do?
AH: We just had about a half-dozen congregations who wanted to see if they could get bus passes at a discounted rate. In those conversations, part of my role is connecting them to the right people within the city structure and also connecting them with nonprofits to bring strength to their voice. So my role wasn't actually to lead that project forward but to help equip and empower those who wanted to do that for their community.
Just this past July, those efforts did pass. They asked for a 50% discount and ended up with 25%, but they got a discount that didn't exist before, so that's a really good example of how the work looks.
Another very current and very large connected effort that we have right now is with this migrant influx. We have a group, Interfaith Welcome Coalition, that's been around now a good half-dozen years, which welcomes migrants at the bus station and airport -- offers hospitality and welcomes them, helping them make their connections, giving them a backpack with some basic things in it.
We've had 20,000 or 30,000 people come through here in three months, and something else needed to happen, so the city stepped up and partnered with that coalition and then set up another site, a migrant resource center within a block's walking distance, which has helped the process as well. It's also connected with a very large building, a Methodist church that works as an overnight shelter. It's very strategic. I'm very proud of it.
All of that was done with high-level, broad partnerships to meet many needs. You can see the breadth of the work and the beauty of it as well, and so those are two really good examples.
F&L: Why is your work as a community faith liaison important?
AH: As a faith liaison, I'm kind of standing in the middle of an intersection between faith and a society that has a culture of separation between church and state. But what does it look like to work together in that separation? I spend a lot of time at that intersection teaching the faith community and translating the city's direction to the faith community, and vice versa.
I hear people of faith of all different kinds who say, "Well, isn't that the city's job?" to provide whatever we're talking about. It's not a big voice, but I will hear individual voices every once in a while. I will ask them, "Really? When did that become just the city's job?" I think both the city and the faith community need to be working together.