Next month, Francis Cardinal George, the archbishop of Chicago, will be one of 11 American cardinals traveling to Rome for the papal conclave that will elect a new pope.
And though many American Catholics have definite opinions on what qualities they might want in a successor to Pope Benedict XVI, George said he will be taking a broader view as the College of Cardinals selects the next pontiff.
"What we need from the pope is that he be pope," George said. "There are 1.3 billion Catholics in the world, and fewer than 70 million are in the United States. So in a certain sense, from Rome, our concerns are pretty relativized -- and should be."
What Catholics expect from the next pope is "simply that he be the successor of Peter," George said.
"In the end, what matters is that he be true to that office," he said. "Whether or not people always appreciate it, that's what keeps the church together visibly -- and has for 2,000 years."
George said that the 12 years he spent earlier in his ministry traveling the world as vicar general of the Missionary Oblates of Mary Immaculate helped him have a more universal vision of Catholicism.
"Americans are a great people, but like any great people, we can imagine we're the world, and we're not," he said.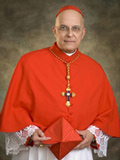 Before his appointment as the eighth archbishop of Chicago by Pope John Paul II in 1997, George was bishop of Yakima, Wash., and archbishop of Portland, Ore. The first Chicago native to serve as archbishop of Chicago, he was president of the U.S. Conference of Catholic Bishops from 2007 to 2010.
He has a master's degree in philosophy from the Catholic University of America, and in theology from the University of Ottawa, and a doctorate in American philosophy from Tulane University.
George spoke to Faith & Leadership while at Duke University to give a lecture as part of the Religions and Public Life initiative. The following is an edited transcript.
Q: Just yesterday, as we talk, Pope Benedict XVI announced his resignation. What are your thoughts on his papacy?
First, he will be remembered for a very long time for his extraordinary teaching -- his theological synthesis of all doctrine and moral teaching around the notion of charity. His Lenten letter this year is on faith and charity, so his teaching is extraordinary.
[Also] his courage in facing the pastoral challenges of the day -- the new evangelization in the face of secularism, his meeting with the victims of sexual abuse and his assistance since 2001, when those things began to come to Rome because the local bishops weren't taking care of it.
His concern for unity, but at a spiritual level, where we recognize that maybe some of the conversation isn't so much doctrinal or moral but rather cultural. He's moved the interfaith dialogue to the level of culture.
Also his social teaching. Not everybody appreciates that, but he said when he was elected he wanted to be a peacemaker. He's done it in ways that perhaps not everybody realizes, but they will in time.
There are just many ways in which his teaching and his pastoral heart will continue to be well-thought-of, and we thank the Lord for the gift that his papacy has been.
Q: A Commonweal editor had a piece in The (London) Guardian today about what America needs or wants in a pope. How do you answer that? What qualities are you going to be looking for?
What we need from the pope is that he be pope.
There are 1.3 billion Catholics in the world, and fewer than 70 million are in the United States. So in a certain sense, from Rome, our concerns are pretty relativized -- and should be.
The church is dynamic and joyful and growing in many parts of the world that regard the United States as their enemy, and not the church. In this country, the church is the enemy of some people, sometimes for reasons that are of their own making, but sometimes for other reasons that aren't so good.
So what we expect as Catholics from the pope is simply that he be the successor of Peter -- that he be faithful to the charge given him and be the rock who will keep us from floating away into the sea of relativism that is often what we live in, in this particular kind of postmodern culture. That's the biggest gift he's going to have.
Beyond that, his ability to listen, to understand the problems and the concerns [people have] and where they're coming from. Somebody from Western Europe or Canada or this country would be better able to do that, perhaps, than people in Africa or Latin America or Asia, but it doesn't really matter. In the end, what matters is that he be true to that office.
Whether or not people always appreciate it, that's what keeps the church together visibly -- and has for 2,000 years.
Q: Speak some to the role of Catholic institutions beyond the parish in developing and forming Catholic culture and Catholic leaders in the United States over the past century.
It was built up by a lot of volunteers -- the sisters, primarily, and priests who got practically nothing but room and board, and then by the pennies of immigrant peoples.
But they're not just social institutions. They're religious institutions that are as much part of our life as the proclamation of the gospel or the worship of God.
The corporal works of mercy are part of the church's understanding of the call to be a disciple of Christ. They're integral to our faith.
[Catholic institutions] are not just there to serve people. They're there because Christ wants us to serve them in his name. You do the social work, and you educate the ignorant, and you heal the sick, etc., but you do it because Christ told us to do it. Therefore, it's a religious act and not just a service to people who are unlettered or who are unclothed or hungry or who are sick.
The appreciation of those institutions as properly religious institutions is something now that is challenged in a new way because of the demand that if you're going to have a public voice, if you're going to act in public, you have to do it on the government's terms and not on the terms of your own religion. That's a challenge we're now facing for the first time in this country.
Q: Similarly, what about the role of Catholic institutions globally, particularly in underresourced areas?
Catholicism and the Christian faith is a universal institution. Now we're talking about globalization as a phenomenon that's also characterized as not just the faith but economics and culture and sports and music, so we're, in a sense, at home with globalization. We were born global at Pentecost, born universal.
And globalization, which is magnificent in its expanse but also troubling in its isolating of individuals, is something that the churches have to speak to to keep the relationships alive -- particularly relationships with Christ, so that people don't close in on themselves and use the new marvelous means of communications and social communications as just a means to fill their dreams and not take part in the larger narrative that is Christ's love for us and his sacrifice for our salvation.
That's a big challenge that we can face with God's grace, but we don't have a final solution to it. We just have to keep trying and see what works and what doesn't.
Q: What are the biggest challenges in raising up leaders for Catholic institutions in the coming decades? What kind of bishops will the church need?
There are lay leaders in the world that have roles that are as important as bishops are in the church. The bishops' job is, particularly, to teach and to worship, to make available the sacraments, and to govern in Christ's name.
The world is in the charge of laypeople. It is in their hands, and this is where perhaps we have to do a lot more work, so that the baptized can understand their responsibility for creating a just and charitable world, while we continue to try to bring together people who can serve as bishops.
The bishop is a father, so somebody who cannot see himself as a father and a husband is not called to priesthood. He's married to the church as Christ is married to the church. His bride is Christ. So that means that, even though we call people who are called to celibacy, we call people who are at home in the world of adult men and who can be fathers to their people and husbands to the church, bridegrooms.
If they can't do that, if they can't govern, then it really doesn't matter how smart or pious or talented they might be. They shouldn't come forth and present themselves for ordination to priesthood, and that's what we have to look at again.
It's not a function; it's a relationship. If you don't have people who are capable of assuming those relationships, then you don't have candidates for the priesthood. But as that becomes clarified, we're getting a certain number more than we had 10 years ago or so.
Q: You've been archbishop of Chicago in a very stormy period for the church, for Chicago, for the country. How does one lead in such divided and contentious times?
Well, a bishop is an overseer, so you have to kind of say, "Here's the box in which we play, and here are the lines," and then you have to listen carefully to people who don't like those lines anymore and want to go beyond them.
You bend as much as you can, but in the end, you're not free to betray the Lord or to go around the tradition that unites us to him. So you have to be kind and loving. That's your first obligation, but you also have to speak the truth.
Saint Paul talked about speaking the truth in love. Truth and love are the only weapons that the church ever carried into any battle. That's what Jesus told Pilate. It's not power.
You just keep preaching the truth and trying to love everyone, even if they don't love you -- or I assume they don't, from time to time. And you find people who will gather round, and you go forward with them, and then you pray that eventually the number will continue to increase, but that's in the hands of the Lord.
Q: Looking back across your life and ministry -- you entered seminary at age 15, and now you're 76 and a cardinal -- what are your thoughts about how the church has changed in America and the world?
Well, I belonged to a missionary congregation (Missionary Oblates of Mary Immaculate), and for 12 years, as vicar general, I was part of the general government of that congregation.
We're everywhere in the world in small numbers -- not well-known, but we're there. And so I spent 12 years visiting the poor, and the poor are the first in the kingdom of heaven. That's who we have to look to if there's going to be genuine renewal that is in the mind of Christ.
And I found that universal vision of Catholicism that I got because of the grace of being called to a missionary congregation extraordinarily useful in relativizing a lot of our problems here.
Americans are a great people, but like any great people, we can imagine we're the world, and we're not.
So I had an advantage to say, "Well, I'm sorry. I understand where you're coming from, but that's not where we're going -- not only because the church doesn't say that, but also because the vast majority of the human race wouldn't agree with you."
So I can say that with some conviction, because I've talked to a lot of people in their own languages, very often, or with people who know their languages and could translate for me.
And I've lived among them. I never stayed in a hotel in 12 years. I always lived with people who lived with the poor and liked the poor, and that was a tremendous formative influence in the way I think about the church and the way I think about social problems.