I think I met the Charles Wesley of the church of Sudan.
Just as Charles' hymns powered the Methodist movement across the British Isles, the Americas, and now the Global South, so too did Mary Alueel Garang's songs power a revival in the Episcopal Church of Sudan (ECS), helping to bring in millions of members during that country's brutal two-decade long civil war. "I just found myself singing," she explained when asked how she wrote so much and so movingly. If songs come to her, she writes them down, "if they are meaningful." She herself describes their themes this way: "During the war there was suffering, we ran from place to place, but we encouraged people not to give up and to come to church. You can't save your life on your own."
One can hear her songs' power even in translation from Jieng (often called Dinka by outsiders) to English:
Let us give thanks.
                Let us give thanks to the Lord in the day of devastation,
                and in the day of contentment.
                Jesus has bound the world round with the pure light of the
                        word of his Father
                When we beseech the Lord and unite our hearts and have hope,
                then the demons have no power
                God has not forgotten us
                Evil is departing and holiness is advancing,
                these are the things that shake the earth.
I went to Sudan with one question at the forefront of my mind: How did a church battered and on the run "in the bush" as they say, hiding from government soldiers and bombers, grow like the ECS did? When I asked the Sudanese, they gave me some answers I expected: Tertullian was right ("the blood of the martyrs is the seed of the church"), there are no atheists in the bush, indigenous Christianity was a way to resist Arab and European colonialism. But they also gave me an answer I did not expect: the singing.
I caught a glimpse of the impact of song on the ECS at a Jieng parish called Emmanuel in Juba. This service, in a former movie theater, had easily 1000 people inside and as many people out. And most of the worship was singing, without hymnbooks, songs that went on for 10, 15, 20 minutes (a people until recently without literacy still have long memories). They were Mary Alueel's songs mostly, telling of God's faithfulness as people were on the run, and of hope for a new and glorious day in Sudan. They are the people's songs, intersected with God's song, and as they sang from memory and swayed, I gave thanks for the songs and their composer.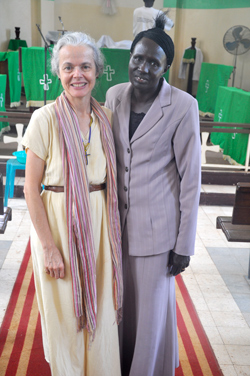 Mary Alueel (on right) with Professor Ellen Davis
at All Saints Cathedral in Juba, Sudan.
Mary herself is an unassuming woman, quiet, hard to coax into talking about herself. She talks more easily about her new work, as director of a church and development office in charge of gender equity. She tries to convince parents to send their daughters to school, and -- not surprisingly for those who've met her --  she has been successful: "I tell them educated girls can still get married, they can bring a bigger dowry, they can help with in-laws and build houses for their old age." She reported that the girls in Bor, a key Diocese in the ECS, are all in school now.
Mary has been in school as well, studying theology in Kenya for five years, as much as any leader I met in the ECS. This is a great advance, for while the ECS has not been opposed to ordaining women in principle, there simply aren't many who are ordained (I met none). In that setting Mary stands out as a sort of mother of the church, one whose songs joined with the Spirit's power to lure a people to freedom in Christ.
Mary says she hasn't written songs for years. She sounds like she misses it though: "When I write them I feel free." The song-writing was a gift from God: she had studied no theology at the time, and had only recently converted herself. Yet God gave her a song.
"I don't know why a song works. But when I have a problem, or a happiness, I continue singing. All days are the same to God."