Update: Gail Song Bantum is the current lead pastor of Quest Church.
On a Sunday 10 years ago, the Rev. Ray Bartel stood before his congregation at Interbay Covenant Church to mark its 50th anniversary. But even as Bartel reflected on the past, his mind was on the future.
"It's humbling to realize that we are standing on holy ground, where important life moments -- great and small, little-remembered and much-remembered -- have been shared and celebrated," Bartel said.
Then he preached about what it would take to keep the church "alive in 2055."
"Certainly, this building won't be here, and the church might have an entirely different name -- these things are all temporal," Bartel said. "We can continue to have an impact on this community for another 50 years, but we must be open to change. We must be kingdom-minded to do this."
A decade later, much of Bartel's prediction has come true. Interbay Covenant Church (ICC), an Evangelical Covenant congregation located along a rail yard north of downtown Seattle, no longer exists. Its buildings have been renovated by a young pastor and congregation. Bartel is no longer the senior pastor of the congregation -- Quest Church -- but rather one of its associate pastors.
The resulting blended congregation -- diverse, multiethnic, focused on mission and social entrepreneurship -- illustrates the kingdom-mindedness that motivated Bartel and Quest Church's senior pastor, the Rev. Eugene Cho.
"Quest brought us to life in the seriousness of our Christian walk," said Barbara Lundquist, 80, former chair of the ICC leadership team. As a member of the elder board, she was deeply involved in leading ICC through the merger process and is spiritually satisfied with the way things have evolved.
"This church has become a mirror of the kingdom of God. We have all ethnicities, all ages," she said. "We're rich, poor, smart and not so, all shapes and sizes. Everyone is here. Diversity is what America is and always has been, and it simply must be the way the kingdom of God looks."
The Lord's purpose
Research indicates that somewhere around 3,500 U.S. churches close their doors every year.
In that atmosphere, many church leaders naturally focus on doing what it takes to keep the doors open.
For Bartel, the focus was on what would be best for the future of the larger church. "When you ask what is right for the kingdom of God," Bartel said, "you come up with a different answer."
Bartel's approach reflects Proverbs 19:21, "Many are the plans in a person's heart, but it is the Lord's purpose that prevails" (NIV).
The fact that Quest, founded in 2000 as a nondenominational church plant, was already renting worship space from ICC seemed like divine providence. Not long after the anniversary service, Bartel sat down with Quest's pastor, Eugene Cho, to share what was in his heart.
"I asked him to pray with me about ICC embracing the new and giving ourselves -- that is the terminology I used -- to Quest Church, to the next generation," Bartel said. "I told Eugene, 'I like your energy and your diversity, and I want to see if it is possible for us to be the wind underneath your wings.'"
Bartel recalls Cho "nearly falling out of his chair."
By the time the two churches ultimately did become joined in 2007, the vision of the larger kingdom truly seemed to be fulfilled.
"There were people in the ICC congregation who were excited for an influx of new life," said Melinda Anderson, a Quest congregant since 2003, "just like we were excited to gain the history and wisdom of their older perspective. I was amazed at the ICC group's humility and willingness to change."
Needs fulfilled
In December 2000, Cho, then 30, and his wife, Minhee, hosted a meeting at their Seattle home to discuss a plan for a nondenominational church plant. Eight people came.
That night led to a weekly Bible study group, which blossomed into regular Sunday evening services held at a church in the city's University District. Soon, the primarily Asian-American congregation was faced with finding a new location.
The search for a suitable rental space led Cho to ICC, even though he'd never even heard of the Interbay neighborhood and in fact drove right past the church the first time he went to visit.
When Cho returned a second time, Bartel, a former aeronautical engineer, was more than willing to meet with him. Bartel was then in his late 50s, with graying but still-thick hair, a direct gaze and a warm handshake. "We were very open to sharing our space," he said.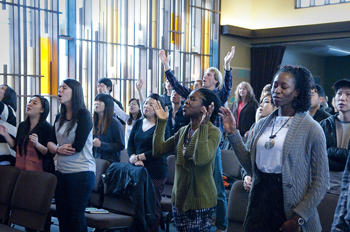 At first, however, Cho was concerned about the Interbay building; the ICC sanctuary had a high-arching timbered ceiling and rows of dark wooden pews. The young pastor with trendy black eyeglasses and a fashionable flip in his dark hair was reserved as he viewed the traditional space.
"My initial thought on showing them the sanctuary was that [Cho and his assistants] were not that impressed," Bartel said.
But the deal was sealed when Bartel took Cho next door to an empty 4,500-square-foot warehouse owned by the church. Cho noticeably brightened when Bartel unchained the metal doors; the building seemed full of potential for Quest.
"We were kindled by the possibilities of what that space could look like," Cho said, "if we could somehow resurrect it."
A church declines, another flourishes
Interbay Covenant Church, established as a self-supporting congregation in 1953, began in 1942 as a youth outreach plant of First Covenant Church in downtown Seattle. It was part of the Evangelical Covenant Church, which has more than 800 congregations in the United States and Canada, and is one of the fastest-growing and most multiethnic denominations in North America.
But in 2001, ICC's congregation of about 70 people was starting to decline, with members moving or passing away. ICC's older, mostly white congregation stood in contrast to Quest, with its Korean-born pastor and rapidly growing, young, urban base.
The contrast was not lost on the Interbay members.
"They were not at all territorial. They weren't at all insecure about it, but I think they began to ask what anybody would ask: 'Why are they growing -- and why aren't we growing?'" Cho said of this time.
A new rental agreement set off a flurry of jointly funded renovations that transformed ICC's empty warehouse into a triple-function building.
Under one roof, Quest established a nonprofit coffeehouse called Q Café, a live music venue and a church worship space. Today, a large, iconic lighted "Q" marks the front doors, and interior walls painted in warm, modern earth tones -- mustard, brick, sage -- feature works by local artists and photographers.
"They signed a 10-year lease, raised a substantial amount of their own money and did a lot of the work themselves," said Bartel. "Then they just really grew in that space."
Once settled into the former warehouse, Quest was able to increase their worship schedule from a single evening service to three Sunday services. A low stage used during the week for coffee shop entertainers also provided room for a large group of praise musicians and singers, whose loud, rocking music inspired the congregation's 20- and 30-somethings.
In 2002, Quest left their nonaffiliated status behind and became an official Evangelical Covenant church, putting them in denominational synchrony with the Interbay church.
"They saw the value of being affiliated with a denomination," Bartel said, "and the theology and mission of the ECC reflected the same intentional diversity, justice and compassion that Eugene was championing."
A friendship blossoms
Bartel had been leading ICC since 2000. Before taking on full-time ministry, he had served for 15 years as a bivocational pastor while working as an engineer at aerospace manufacturer Boeing.
He had received his degree in aeronautical engineering from the University of Washington and earned a master of divinity degree from North Park University in Chicago.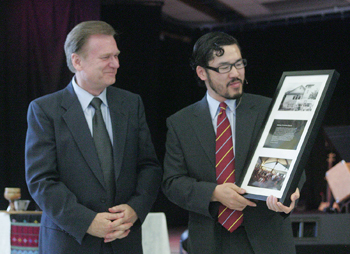 Despite the rather large age and cultural differences, and beyond their relationship as landlord and tenant, Bartel and Cho connected as colleagues.
The men spent time together, often sharing coffee in Bartel's office while discussing theological issues, as well as concerns over their respective flocks.
"He was a solo pastor," said Cho, "and I was a solo church planter. [Our relationship] began out of a deep mutual respect … and this commitment that we were in it for the long haul, for the larger kingdom."
"And I'm not shy in telling people that he's been like a pastor to me, someone that I can confide in and go to for collegial support as well."
The shared vision and mutual respect was the basis for the "radical grace and generosity in this story," Cho said.
The kingdom vision
For Bartel, broaching the idea of giving away his church to Cho was just the beginning of a long process. "I've always been open to letting God do a new or different thing," Bartel said. "And I knew that it was my job as a pastor to talk about things like this [kind of change] and to lead people forward."
After his initial conversation with Cho, Bartel knew he would need to be thoughtful in introducing the idea to his leadership team of nine congregants. He gently brought it up at a regular monthly meeting, sharing a devotion that had to do with how the kingdom of God is so much larger than a local church.
The leadership group's initial response, however, was not encouraging. Bartel did not push, and the idea was quickly shelved.
Quest was continuing to grow, and small changes in the way the two churches interacted opened a path toward unification.
"We got the kids together first," by merging children's ministries, Bartel said. "The older folks in the [ICC] congregation just loved having children around, and that started to draw more people together."
At another leadership team meeting, the tide suddenly seemed to turn in Quest's favor. An informal show of hands gave Bartel the green light to draft a plan for what a merger would look like.
"I felt like momentum was finally building," said Bartel, who vowed to the group that he would accept only a unanimous vote to move forward with exploring such a huge change.
But when it came to a vote, the Quest merger outline was rejected 9 to 1. Resigned to the decision, Bartel promised that he would never bring it up again of his own accord.
"Eugene was very disappointed," Bartel said.
But Cho said he understood the hesitance. "When it became closer to reality, it was really frightening. As [would be] expected. To be in a position to give away everything, to die to yourself, to dissolve the constitution, to no longer be Interbay Covenant Church, to give away the land and building … was a very frightening proposition."
Time for change
Bartel was hoping to leave the pulpit within a year or two and retire, and he knew he needed to initiate a fresh discussion of ICC's future options.
He kept his vow not to bring it up again, but at a monthly leadership meeting, a whiteboard at the front of the room displayed a now-dwindling list of alternatives.
Someone spoke up, saying there was one option not listed that needed to be added: merging with Quest.
"That moment is what brought the merger back onto the table," Bartel said.
The rest of 2005 consisted of many conversations, back and forth, between Bartel and the leadership team, pulpit exchanges, a joint Good Friday worship service and other efforts.
"[I] felt like I was going through a round of interviews," Cho said, "which was absolutely legitimate."
Their respective leadership teams met on numerous occasions and worshipped at each other's churches, which were literally just across the parking lot from each other.
Coming together
During more than a year of prayer and discussion, the congregations got to know each other, and began to work out the logistical issues as well. For example, they agreed that selling the property would not be allowed for the first five years and that any future sale would require the approval of the Evangelical Covenant Church; decided what would happen to the pews (they were removed); and even settled on what the church would be called following ICC's dissolution (Quest Church).
In April 2007, the ICC leadership team voted 9 to 1 in favor of the official ICC Transition Plan, which was then approved by 90 percent of the congregation in a subsequent vote. (Once the church leadership brought up the merger idea, Bartel no longer felt bound to have 100 percent support.)
Cho described the process as organic; for Lundquist, the former board chair, "What eventually turned the whole thing around was time.
"For change to happen, it's sometimes necessary for the Holy Spirit to have time, to give people time to come to acceptance," she said.
One of the few dissenting votes -- and the sole dissenting vote on the leadership team --was from a founding member of ICC.
"Carl was literally one of the original members that [First Covenant Church] sent from downtown to start the Interbay church," Bartel said. Despite the fact that he couldn't endorse the merger, he and his wife joined the new Quest Church.
The merger brought together 30 ICC members, mostly in their 50s and 60s, with 400 Quest members, average age 27.
Both groups called it a merger, but ICC was the partner who gave it all. The congregation not only generously relinquished their church institution and name but also gave all of their assets to Quest, including property valued at approximately $7 million.
"We really firmly believe that the building, the assets, they don't ultimately belong to us," Cho said. "It belongs to the kingdom, and [Ray] wanted to have loose hands with that."
Bartel gracefully stepped down to become an associate pastor at the new, combined church.
When asked about this ability to so completely put his own ego aside, Bartel credited his first mentor. "Pastor Bob Bennett [at Faith Covenant Church in Renton, Washington] was so humble and deeply caring, he put people before programs -- people before anything. I only ever wanted to be a pastor like him."
The ICC administrative staff was incorporated into Quest's staff, and the two leadership teams blended. And Bartel, who had planned to retire years ago, continues to serve the congregation he began envisioning on that Sunday a decade ago.
"Every year I have to let him know, 'Man, I need you. I need you on our staff. How much stock options can I give you to keep you here?'" Cho said, joking.
Seven years after absorbing ICC, the Quest congregation is diverse in every way -- age included. There has recently been talk of seeking out a new space in which Quest can continue to grow, taking its mix of old and new, traditional and contemporary, along with it.
Sally Hicks contributed to this report.
Questions to consider
Questions to consider:
This willingness of an established congregation to trust that God is doing a new thing and to stay involved is central to this story. How could you engender trust in the midst of change?
A lay leader of Interbay Covenant Church said that one key to accepting the change was simply time. Are there changes you want to see that might come about if you are patient?
Ray Bartel proposed radical change, but stepped back when it was not supported. Yet he continued to hold to his vision without forcing it. Could this approach be applied in your context? How do you discern when to push and when to step back?
Bartel and Cho agree that they should have "loose hands" with assets. Do you have assets that could be given away or repurposed for the benefit of the kingdom?