For 33 days in 2018, the Rev. Terence Lester walked through the South. He was in a constant state of stress and anxiety.
Some truck drivers tried to run him off the road; others followed him closely for miles as he walked -- mostly alone -- 386 miles from Atlanta, Georgia, to Memphis, Tennessee.
The walk, called the March Against Poverty 2018 (MAP18), commemorated the 50th anniversary of the assassination of Martin Luther King Jr.
"Imagine almost being in a car accident -- bracing yourself for impact. That is how I felt every second of that walk," said Lester, who is black. "Confederate flags on decals or displayed proudly on automobiles and in yards. Being called the N-word."
In addition to being afraid, Lester was frustrated; many of the people who threatened him were the people he was marching for -- men, women and children living in or near poverty.
"Their ignorance frustrated me," he said. "But then I began to consider that maybe they have ignored the truth of their reality or they have been blinded by the world they live in, where they have never engaged or encountered 'othering.'"
Working to dispel ignorance -- in particular, ignorance about poverty and homelessness -- was one of the purposes of the march and of Love Beyond Walls, the organization Lester co-founded with his wife, Cecilia.
Love Beyond Walls began as a nonprofit ministry with and for the homeless in 2013. After a few eye-opening encounters with men and women living on the streets, the Lesters realized that their mission was to focus on ending poverty and raising awareness of it.
After MAP18, Lester decided to turn his experience into a new project called the Dignity Museum.
Housed in a 40-foot shipping container purchased through the generosity of anonymous donors, the Dignity Museum is a traveling exhibit that offers visitors an immersive experience of what it's like to live in poverty.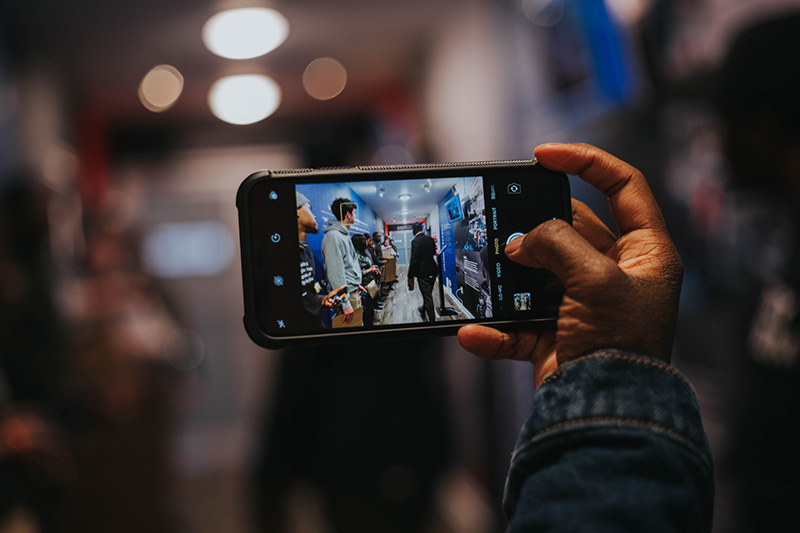 Lester used his background in media production and storytelling to design the museum, which is built around real experiences from people that Lester and others encountered during MAP18 and an earlier march in 2016.
"We conducted interviews where we asked each of them to tell us exactly what they wanted people to know about them and their experiences. We also asked them what they thought people needed to be educated about the most," Lester said.
The goal, he said, was to create "an immersive learning experience where we challenge stereotypes, create empathy and inspire action -- from policy change to simply respecting those experiencing this plight to maybe even giving what resources they have to help someone that is affected."
Lester and his colleagues at Love Beyond Walls chose a shipping container in part because of its symbolism. It's transient, as are many people experiencing homelessness, Lester said, and is a surprising place to find value and meaning.
Since opening this spring, the museum has hosted more than 3,500 visitors. Currently located at the Love Beyond Walls office just outside Atlanta in College Park, it's open one day a week and is also available for scheduled tours. Love Beyond Walls is in talks with the National Center for Civil and Human Rights to move the container temporarily to the center's property in downtown Atlanta.
Torrie Shepard, 25, the digital media coordinator at the Center for Civil and Human Rights, visited the museum recently after learning about it through Lester's Instagram account.
Inside the shipping container, Shepard looked at photographs and listened to stories through an app developed for the museum on her cellphone; visitors have the option of a video or audio recording.
"I think 'sobering' is the right word," she said. "Walking in, you realize, 'This could be me. I could be here.' Just being a millennial with so much student debt and living the paycheck-to-paycheck lifestyle, you realize how close you are to poverty and homelessness."
In one audio recording, a woman explains how her life spiraled downward after she lost her job. She sold her belongings to pay her bills, but was evicted when she no longer had anything left, and ended up selling herself. Hearing this kind of story helps listeners understand how a real person actually became homeless, dispelling the myth that they chose the lifestyle or that their situation is solely their fault.
After receiving a brief introduction and overview of what they will experience, visitors are given pieces of cardboard and a prompt: "What would you write on a piece of cardboard if you were trying to get money to pay for a shelter? What would you write if you were a single parent asking for food for your child or children? What would you write if you needed money for lifesaving medication?" Lester said.
Shepherd said she found the experience powerful and moving.
"I said to Terence, 'This is incredible.' Seeing how a person begs for the basic necessities. Learning what it is like for homelessness to be your reality. I don't know -- it hits so close to home," she said. "It gave me so much wisdom, so much love."
Shepard's testimony reflects the theology of the Dignity Museum -- that all are included, that to see people is to see them as beloved and included, not as "others."
"There is a [national poll] that states that Bible-believing Christians see poverty connected to sin and immorality," Lester said. "But this is antithetical to the views of Jesus. Church leaders must shift the dominant narrative on poverty."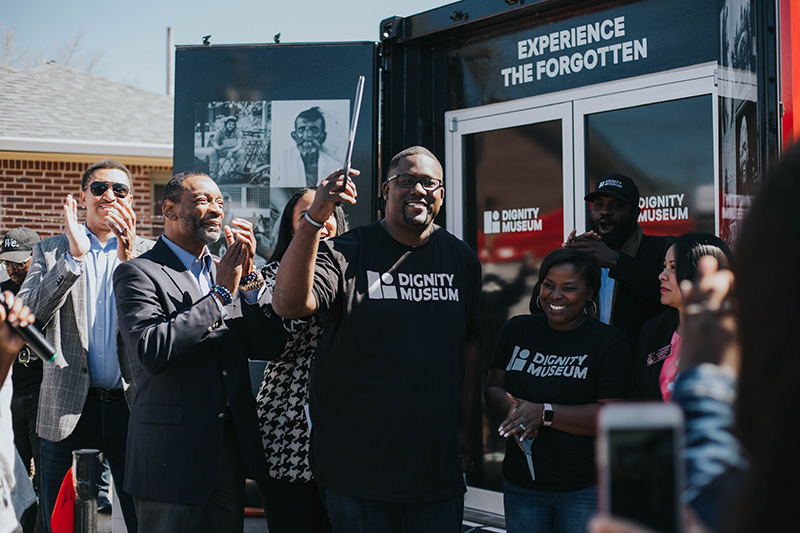 Michael Fye, a Love Beyond Walls volunteer, has been involved with the organization for about six years. It has helped him understand that everyone has a unique story, he said, and he hopes that the Dignity Museum will break down assumptions that cause people to dehumanize the poor and overlook the problem of poverty.
"We all have a story, we all have needed help, and LBW has shown me that we all have a duty to listen to these stories and lend a helping hand where we can," he said. "The Dignity Museum is a heart-challenging experience, one that influences and almost immediately calls you into action."