Almost two years after the #MeToo movement caught fire on social media, churches and denominations are still grappling with how to support survivors of sexual misconduct in a faithful way -- and to prevent future harassment and assault.
#MeToo -- a phrase originally coined by civil rights activist Tarana Burke -- is a movement focused on empowering survivors and interrupting sexual violence.
Sexual misconduct involves abuse of power, and the church has not been immune from such abuse. Prominent examples include the continuing scandal of abuse of minors in the Catholic Church; the revelation, by the Houston Chronicle, of more than 100 Southern Baptist youth pastors charged with or convicted of sex crimes; and the resignation of Willow Creek senior pastor Bill Hybels after allegations of sexual harassment.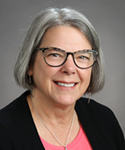 For Becky Posey Williams, the senior director for sexual ethics and advocacy for the United Methodist Church, finding ways to support survivors of abuse in the church is a full-time job. She has been in the position since 2014, developing resources for sexual ethics and healing, among other things.
In early January 2018, the General Commission on the Status and Role of Women in The United Methodist Church released the free #MeToo Toolkit, a booklet detailing resources, prayers and discussion starters related to sexual misconduct and sexual ethics.
"Sexual misconduct is fueled by deeply rooted attitudes and beliefs about power, gender, and authority," the booklet says in the introduction. "The resources in this toolkit are offered to promote the conversations and self-reflection necessary to transform these harmful beliefs."
Posey Williams spoke with Faith & Leadership's Katie Rosso about the development of the toolkit, as well as the church's role in combating sexual misconduct. The following is an edited transcript.
Faith & Leadership: Tell me about the #MeToo Toolkit.
Becky Posey Williams: This is a resource that our agency -- one of the 13 general agencies of The United Methodist Church -- developed as a result of our receiving calls from clergy and laity. They were people throughout the Methodist Church, primarily in the U.S., who were asking for information and tools that would help them facilitate conversations within their ministry settings about this issue.
In other words, how do we even go about talking about this?
I think that's one of the things I would say that #MeToo has encouraged for us -- to no longer stay quiet and not talk about it, but for us to get proactive and talk about it early, rather than waiting until something happens to acknowledge it. It's very much designed as a prevention resource.
F&L: How did you choose what kinds of resources and prayers you were going to put into the booklet?
BPW: It was done very quickly. We had a lot of calls, and we knew we had to pull something together. We had an amazing intern, and she was able to help us pull together these resources and get it organized.
We wanted the liturgical resources to be as diverse as they possibly could be, and we pulled from the materials that we use every day in our work around sexual ethics. The resource section in the back of the toolkit ranges from our own resources to the Social Principles of the United Methodist Church to the work of the FaithTrust Institute to the Time's Up Legal Defense Fund to RAINN (the Rape, Abuse & Incest National Network).
So we began putting together in an orderly fashion everything we had at our disposal.
F&L: Going forward, will this be updated?
BPW: I am the only person in the United Methodist denomination whose job is 100% designated to help develop resources for prevention of sexual misconduct within the life of the church, and to develop resources to help bishops and district superintendents respond well when there are formal complaints of sexual misconduct.
This is my day in, day out life. My work is saturated with it, so this was not a one-time response to the problem of sexual misconduct.
I think it's important in the life of the church that we always name sexual misconduct, what sexual misconduct is. What we're saying is that it is not an affair.
Sexual misconduct is always about the abuse of power, and that is a never-ending educational piece that we put out there. And absolutely, as we update materials, we will be updating this.
I think certainly in the life of the church when you're talking about two people of a similar age and you're talking about all the #MeToo stories -- nonconsensual sexual behavior between two people of the same age is not an affair.
In the back of the booklet, you'll notice that there is a joint letter that was written by the Council of Bishops and our agency. That was dated in January 2018, immediately following the [time when the] #MeToo movement was really gaining strength and recognition.
It's dated, but my hope and prayer is that the message in this will never, ever change. That our Council of Bishops will always say, "This will not be tolerated. We want you to come forward. We want you to share your story with us. We know this happens in the church, and we name this as a sin."
---
What can you do to support #MeToo survivors?
Here are six avenues to explore
Resources from several denominations offer ideas, support and materials to help address the issue in various ways, including prayer, worship, public statements, regulatory steps, and healing spaces -- both concrete and online.