It was 10:10 on a Monday morning in mid-November, and the free community lunch at the Cathedral Church of St. Paul in Boston wouldn't begin for more than an hour. But some 20 homeless men and women were already gathered around folding tables in the downstairs hall. They had work to do.
The big task of the day: putting handwritten stickers on hundreds of the shiny foil blankets that are given to runners at marathons. They planned to hand out the neatly folded packets to help other homeless people -- 7,000 in Boston by last year's census count -- survive the impending winter.
"From a friend, to a friend," one sticker read. "Stay warm," read another.
"What happens if someone says, 'Oh, can I have five?'" asked the Rev. Cristina Rathbone, a St. Paul's missioner whose ministry focus is helping homeless people discover their gifts and become leaders. "If he's going to pass them out, is that cool? Is that beautiful? Totally beautiful!"
This "Cloak Project," which takes its name from Exodus 22, is one of several service projects pioneered and sustained by several dozen homeless and recently housed individuals in Boston, with help from St. Paul's staff.
The ministry began as a typical soup kitchen at the historic church, which was founded in 1819 as the third Episcopal parish in Boston. But the effort has evolved into an innovative ministry that has turned recipients of assistance into providers of help. It has also turned volunteers into equal partners and learners at the feet of the vulnerable.
The standard church outreach model has been a service-delivery model "for way too long," said Tony McDade, the executive director of the Greenville (S.C.) Area Interfaith Hospitality Network.
"Ministry in a purer sense has to do with engaging homeless people and having them involved in key decision-making opportunities that impact their own lives," McDade said. "That's one of the things that [St. Paul's] is doing."
Questions to consider
Questions to consider:
What are the untapped gifts of those whom your organization or ministry seeks to serve? How well are you using them?
Where could your organization benefit by relinquishing control and accepting new and imperfect systems? 
What can you do to ease and perhaps even erase the distinction between guest and host in your church or organization?
What is the task that only you, your church or organization is uniquely equipped to do?
The group was gearing up for an active month ahead. Some would serve and welcome guests at an upcoming Thanksgiving meal. Others would be putting out a new edition of The Pilgrim, a literary journal published by the ministry's Black Seed Writers Group.
A salt-and-pepper-haired woman named Diana, who carries a full backpack by day and sleeps in a salon doorway by night, stood up and proposed a new project: sending cards to Boston's homeless who've landed in jails, hospitals or other lonely situations.
"A lot of people don't hear from a lot of people," said Diana, who, like other homeless persons interviewed for this story, asked that only her first name be used. "They would think it's a big deal [to get a card]. It'd be very cheerful to them."
A ministry responds to community needs
What began as a feeding ministry more than 25 years ago has evolved over the past four years into a worshipping, serving community within the church. It took root organically when the Great Recession hit. As the numbers seeking a free meal nearly tripled, cathedral workers enlisted homeless individuals to help serve the burgeoning ranks of people in need. The new community is known as MANNA: Many Angels Needed Now and Always.
"We realized we needed to be organizing members of the community to help us serve the dinner, to help keep the peace and help welcome," said the Rev. Canon Steven Bonsey, who supports MANNA as part of his ministry. "That was a transformational change for us, and that was when MANNA was born."
Around the same time, Rathbone, an author and former New York Daily News reporter, joined the Cathdral staff. She brought, in her words, "a desire for opening up the Cathedral to the homeless community" through a new model of shared ministry -- one that would replace "a traditional notion of Christian charity" in which the wealthier side gives and the poorer one receives. Shifting relational dynamics at the Monday lunch gave her a running start and a promising foundation to build upon.
The core of MANNA includes 50 to 60 individuals who either are homeless or have recently transitioned from homelessness to housing and want to help those who still have no roof. Staff support consists of Rathbone, who works half time, and two other pastors (one Cathedral staffer and one contractor) who contribute a few hours a week.
Rathbone said it's hard to know how much it costs to run all of MANNA's various programs. Most of the expenses are borne by the Cathedral, she said, with small grant supplements from the Episcopal Diocese of Massachusetts and Eastern Bank. The Pilgrim is funded by subscriptions.
Broadly understood, the MANNA community includes hundreds of Boston's homeless who find rest and nourishment at the cathedral, a Greek Revival-style building directly across from Boston Common and a block from the Massachusetts State House.
MANNA doesn't presume that homeless individuals have the wherewithal to run all of its programs, which depend on staff and volunteers for administrative follow-through. But it does provide an open invitation for community members to take on responsibilities as they feel able.
One middle-aged man, for example, sets up MANNA's eucharistic altar and acts as cantor during worship. Others lead meditation exercises for churchgoers at the cathedral as well as an "emergent" church nearby.
Getting involved isn't always easy for people with myriad stressors in their lives. When asked whether she'd head up the card-writing ministry, Diana hesitated, apparently unsure whether she wanted a new responsibility. But she agreed at least to encourage card writing when the leadership team meets on Monday mornings.
"I've never done a card ministry," Diana said, "but I can share whatever information that I have," in order to help it succeed.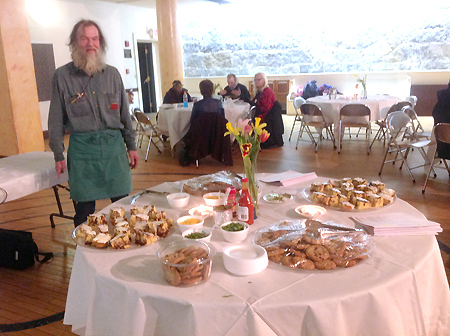 Dave prepares to serve at the Cathedral Church of St. Paul. / Photo courtesy of Cathedral Church
Adapting to change
To see MANNA's distinct partnering approach in action, one needs to stay for lunch, which on this day was spaghetti. A group of retiree volunteers from Trinity Episcopal Church in the nearby town of Concord brought the meal, as some of them have been doing for more than 25 years.
Trinity's long-time volunteers have needed to adapt to change. The challenge has been to relinquish control and accept some new and perhaps imperfect systems in exchange for higher, albeit less tangible, outcomes.
The serving line, for example, no longer consists entirely of folks from Trinity but now includes people such as Stephen, who spent 18 years in prison and has been homeless for most of the past two. On the meal prep squad is Pat, who has also done prison time and who spent several years homeless in Las Vegas.
On this day, the meal for some 125 hungry adults (mostly men) came off without a hitch. Volunteers delivered plastic cups filled with the pasta, followed by peaches from a can.
Behind the scenes, organizers acknowledged that the systems they perfected over a quarter-century of ministry have had to be modified -- sometimes at the expense of efficiency and familiarity -- to accommodate more cooks in the kitchen.
"Sometimes we're elbowing each other," said Jerry Lauderdale, the leader of Trinity's volunteer team. "We're used to doing it our way, and they have a different way of doing it. But so far it's worked fine. We're glad to have the help, and I'm sure it helps them to become involved."
Such power sharing can be hard, experts say, for church volunteers who like being in control of operations. Yet it's essential for creating an atmosphere of social equality, in contrast to one that sharply distinguishes guests from hosts. It's also a key step in empowering guests to help themselves and one another.
"Where there's a clear guest-host relationship, it remains hierarchical," McDade said. "The long-term goal that's best, especially in ministering with homeless people, is a sense of mutuality. People who come as 'guests' are respected and heard. Some volunteers bring a casserole; others who are guests bring their stories. Both are of equal value."
Because MANNA is part the Cathedral community, homeless people now form "an important pillar of Cathedral life," Rathbone said. At Eucharist on any given Sunday, those serving as greeters, readers, crucifers, vergers and subdeacons include some who slept outside or in a shelter the night before.
For those in the pews, homelessness is no longer a mere issue, but a personal challenge faced by friends.
"It is not surprising anymore to see homeless people riding up in the elevator, [or] to go into the kitchen and see a couple of [homeless] guys in there making coffee for some event," Rathbone said. "It used to be 'the homeless' -- one word for all of 'those people.' Now they have names. People have worked together on church events with people who live on the street. So everything changes."
For Stephen, volunteering has become a way of life since Ash Wednesday of 2011. Rathbone was marking passers-by with ashes on a city sidewalk. She whispered in Stephen's ear: "Do one good deed a day for 40 days of Lent." He's been doing so ever since, he said, in part by volunteering at church-run soup kitchens around the city.
The work teaches him patience and restraint, he said. His physical abilities are limited. A prison riot left him with a damaged forearm, which means he can't lift kitchen pots, so he always gets the job of handing out food to visitors. But even that has its hazards. He has a scar on his arm where one guest at another church scalded him.
"The guy in front of him got an extra meatball, so he threw his soup on me," Stephen said. "Because I represent the church, I can't get mad. They threw him out, but I said, 'Why don't you at least let him eat his lunch first? He doesn't know where his next meal is going to come from.'"
Eager to leave the shelter where he lives and where fights are all too common, Stephen is leveraging his MANNA experience. In applying for housing, he's collecting references from St. Paul's staffers who can vouch for his reliability. The ministry has given him a setting to both prove and improve himself.
'We're not an improvement community'
But Rathbone is quick to note that MANNA is not about fixing people. Rather, it is a place where they can know themselves as beloved and gifted. What comes of that might sometimes mean a job or a place to live, but not always -- and that's OK.
In some cases, "the path that ended up leading to work for them was being involved in our community," Rathbone said. "But that's not our aim. We're not an improvement community. We don't want to take people that are homeless and make them into something. We just want people to get in touch with who they are, which is beloved and essential."
After the meal, about 20 guests stayed for Eucharist, a service reflective of a community that's learning to spread its wings, exercise individual gifts and rehearse hope.
Adornments on the room's folding-table altar suggested a longing for simpler days of childhood. Each piece came from a bin of items donated by the congregation, and it was Eddie's job to set them up. He arranged stuffed toys -- an eagle, a bear and an elephant -- in front of a juice pitcher. On each arm of a portable wooden cross he carefully placed a miniature dinosaur. Then worship began.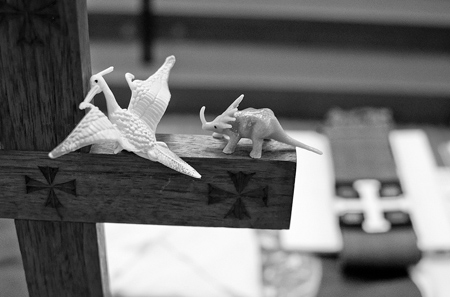 Photos above and lower right  by Roy Goodwin
During prayer requests, worshippers lifted up problems that were anything but childlike. An immigrant named Solomon, whose depression had made work impossible for months, asked that Christ would intercede before his eviction hearing in court the next day. In passing the peace, men exchanged forceful, back-slapping hugs. All heard reassuring words of Jesus read aloud: "My yoke is easy, and my burden is light."
Sometimes congregants preach at this service, though this time they heard a seminarian intern's homily. For leadership team members, it was the second one they'd heard on this day.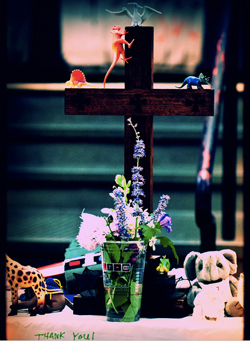 Earlier, Bonsey had put the Cloak Project in context. He observed that homeless people had come up with the idea and promoted it and would now carry it out -- in part by knowing where to find people in need of blankets and how to approach them.
"Every one of those steps in that project could only have been done by homeless people," Bonsey told the MANNA leadership team. "You are the only people on the planet who could do this."
Turning individual gifts into community blessings is a MANNA theme and priority. It was on a 35-mile MANNA pilgrimage from Boston to West Newbury in 2012 that the Cloak Project was born. A homeless man was chatting with a suburban church member and said, "Why not give everyone the covering that marathoners get when they finish a race?"
Soon fundraiser emails were asking congregations to buy the "cloaks" on Amazon.com for less than $1 and have them shipped to St. Paul's. But homeless team leaders were not out of the picture. Several underwent communication training through the Leadership Development Initiative of the Diocese of Massachusetts and then gave fundraising talks about homelessness at area congregations. By November, 8,000 cloaks had arrived at St. Paul's for homeless individuals to distribute among their peers.
After dark on this mild night, the sidewalk in front of the cathedral felt relaxed. Professionals headed home from work. Young adults sauntered by. Chimes from nearby Park Street Church filled theneighborhood with the sounds of subtle hymn tunes, including "He Leadeth Me" and "Blest Be the Tie That Binds."
Inside, however, those who know the hardships of homelessness were gathering once again for volunteer work. David, who lived under a Cambridge bridge for years, and Paul, who sleeps in entryways from night to night, were among those getting ready to hit the streets and put blankets into the hands of those who'd soon face harsh weather.
"Why not have homeless helping homeless?" asked David, who now has a home and continues to be active in MANNA. "It might save someone's life."