We are in desperate need of creativity. It can help solve problems. It has the potential to bring people together. It generates joy. Yet often, we lack creative confidence and choose the tried and tested path.
How can we activate creativity? Recently, my godson Tobias and I created a Lego challenge in our neighborhood. Through it, I discovered several key lessons about igniting creativity and building creative confidence.
(Before we begin, let's address one burning issue: What's the plural of Lego?)
Tobias and I texted this message to our neighbors:
The Lego Challenge:
You are invited to join a Lego competition. If you say yes, we will bring you 1 mixed-up bag of Lego with approx. 50 pieces of Lego. You will have 24 hours to build something, anything you can imagine! Creations will be collected and judged by a 5 year old. The winner will get a Lemon Drizzle Cake. Any takers?
We had obviously stumbled onto something good, because much to our delight and surprise, almost everyone said yes! And what came back was incredible.
Some of the creations: a superhero car transporter, a "garage and destroyer," a London float for a charity parade and a California wind-powered police station with a flamethrower built into the wall.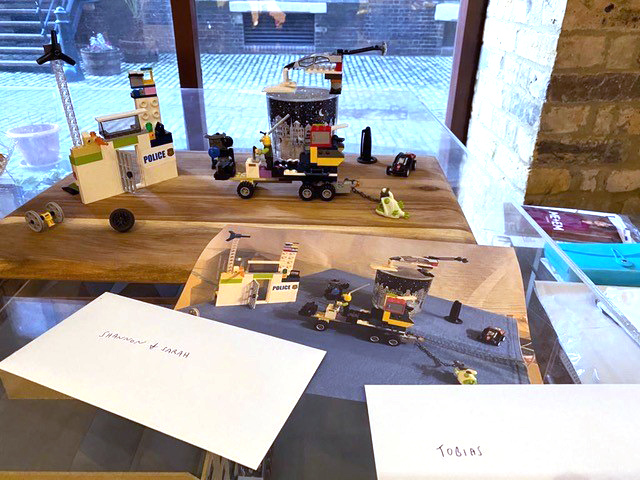 Tobias was so excited to see what people had made! He's a precocious 5-year-old who has spent eight of the last 12 months in lockdown because of COVID restrictions in the U.K., where we live. While he did not understand why adults would need 24 hours to create something, when we finally went to collect all the creations, he was actually in a bit of awe.
Deciding on the winner didn't come easily. There were many good things about all the creations, but finally it came down to what appealed most to Tobias. The police station-flamethrower got the prize!
In addition to the joy sparked by our "competition," the ensuing conversations have been fascinating to me. People seemed to genuinely appreciate the invitation to do something different, to use a different part of their brains and to come together in a new way.
This simple activity increased contestants' confidence in their creative abilities. It gave something to everyone, not just the excited 5-year-old.
If we know that the world needs our creativity, that indeed we ourselves need it in our lives, how might we go about cultivating it? This Lego challenge gave me some ideas about how to boost creative confidence.
Start small. Starting small allows you to take action fast. You might think that creativity and innovation have to be about the big idea. But often, it is the small ideas that unlock potential, get people engaged and provide momentum that can take off into who knows what.
Starting small allows you to just try something. It helps your activity feel like an experiment. That can make it easier to get people involved, plus it opens up the possibility of feedback. Finally, starting small lowers risk.
Have fun. Don't underestimate the power of fun! Fun counterbalances stress and generates good feelings, and the energy boost that comes with fun improves cognitive function.
It can help reengage the inner child and reignite childlike imagination and curiosity. One way to begin is by asking, "What if …?" or, "How about …?" (Or, like me, you can enlist the help of an actual child.)
Use what you have. Forcing yourself to use what you have brings a helpful constraint to a project — and is also easy on the pocketbook! You might think that total freedom is best, but in fact most people struggle when faced with a blank sheet of paper.
Starting with the question, "What do we have that we can leverage?" can be incredibly generative. It also makes you aware of your own abundance.
Lego as a company is a great example of taking one thing — a brick — and building an empire. Out of this one building block (literally), Lego instills creative confidence in countless kids as they see what is possible and are empowered to create whatever they want.
As for us, we didn't have to buy anything. We bundled up the Lego pieces we had in the house and distributed them to the neighbors. For the prize, we baked a cake, all with ingredients we already had.
Involve others. Engage collaborators from the beginning. It would have been a totally different experience if we had just done the challenge ourselves. The fun and energy came from inviting others to take part and seeing what they came up with.
Don't be shy in asking people to join you in some wacky challenge or worthwhile effort. Many people are looking for a way to say yes. Our challenge ended up bringing joy to everyone, and a greater sense of community to our little neighborhood.
Post-pandemic, I wonder whether it might just be the little creative activities that will help us reemerge and chart a new way forward together. We are all creative; we have creative potential.
And the world is in desperate need of our creativity as we seek to make more good in our world. Get started by injecting a little fun into the mix!