Three hundred fifty high school students file into neat rows in a lecture hall at the University of Notre Dame. As they enter the room, they join in an enthusiastic chorus of the folk hymn "Down in the River to Pray."
The voices swell, and for several seconds after the song ends, the final words echo off the walls.
"Good Lord, show me the way."
As teens, the students are drawn to technology, to cliques, to being cool. But for this one week in July, they are being called to something entirely different: discipleship. They are participants in Notre Dame Vision, an intensive program that helps young people from across the country explore their faith -- and perhaps lay the groundwork for a sense of vocation that will last the rest of their lives.
One of many youth formation programs launched more than 10 years ago by Lilly Endowment Inc. at colleges and seminaries across the country, ND Vision, like virtually all the programs, seeks to make the Christian faith accessible and alive for young people as never before.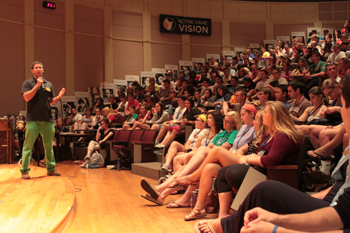 "The high school students are able to enter in through the portal of their own experiences, their own questions, their own struggles," said Leonard DeLorenzo, the director of ND Vision. "This wouldn't work if there was any kind of preaching or lecturing."
That portal is accessed through personal reflections on topics that affect young Christians, from eating disorders to pornography addictions to feelings of jealousy to uncertainties about prayer. The students explore all that and more in small group discussions, musical and theatrical interpretations of Scripture, and participation in the sacraments.
The week is meant to be fun and entertaining, but underneath is theological substance, adapted to the needs of teenagers. One evening, while ruminating on discipleship and conversion, the high school students perform an examination of conscience -- a traditional prayerful review of thoughts, words and actions, but tailored to the experiences and difficulties of modern teenage life:
"Have I been open to your presence in the people around me, especially those who are different from me?"
"Am I grateful for the gift of my sexuality and committed to using it according to your will? Or have I used my sexuality in selfish ways, or in ways that disrespect others?"
'Mentors in faith'
With about 1,400 participants over the course of four one-week programs each summer, Notre Dame Vision is by far the largest of the Lilly-related youth academies. But what really sets it apart is the unique role that Notre Dame undergraduate students play, serving as "mentors in faith" to the high schoolers.
Regarded by many as the key to Vision's success, the college-student mentors are what intrigue and draw the high school students, 90 percent of whom are Catholic. Carefully selected from a competitive pool of about 400 applicants, the 70 mentors are purposely diverse, so that every teenager can find someone to relate to, and are joyful in a way that is infectious and irresistible to the campers.
Madeline Lewis has seen Notre Dame Vision from both perspectives -- twice as a camper and, this summer, as a first-year mentor in faith. Being mentored by a college student was a powerful experience when she was a camper, she said, because the mentors knew and understood what the teens were going through.
"It felt really personal coming from a college student who had very recently experienced a lot of the same struggles I was experiencing," she said. "Seeing someone just a few years older than me using their gifts so well and so passionately stuck with me a little more than hearing an adult talk about it."
Sean Soper, a first-year participant from Mater Dei High School in Santa Ana, California, agreed, calling the mentors an essential component in making the lessons relatable and interesting.
"We look up to [the mentors], but they're also going through a lot of the same things we are," he said.
The mentors are essentially role models who have been equipped with a vocabulary to speak authentically about what living the faith looks like, along with the pastoral skills to lead a group of malleable minds. They receive extensive training that not only prepares them to mentor the high school campers but also gives them a start on becoming future leaders of church ministries themselves.
The training begins six months before the summer sessions and entails far more than typical camp-counselor preparation. In addition to 12 hours of pastoral training and 10 hours of small group experiences, the mentors must take a three-credit Notre Dame theology course, "The Christian Experience: Vocation and the Theological Imagination."
"One of the main goals of the course is that we in modern life have to create or re-create the space in our imagination to think along with the tradition, with God's revelation," DeLorenzo said. "There are all manner of obstacles, particularly in our time and place, that obstruct that."
Diagnosing the milieu
The course is a rigorous experience for the students, because it forces them to diagnose the very milieu in which we all live and the assumptions we all make, DeLorenzo said.
"Without accusing the students, there is a sort of self-indictment," he said.
In the class, the mentors-in-training assess how things like binge drinking, the hookup culture and technology could be affecting their relationships with God. Once they've gained wisdom from Scripture and foundational texts, they move on to authors who have lived great, inspired lives of faith, including Dorothy Day, Flannery O'Connor, Thomas Merton and St. Augustine.
The third and final part of the course ties everything together, solidifying all that has come before. Once the students comprehend the underpinnings of their faith and understand the examples of the saints, they begin to explore what they can do with their specific gifts to reach for sainthood.
The training forms the college students to see how their own stories are part of the grander story of the human vocation to praise God, Lewis said.
"ND Vision was the first time it was presented to me as a young person that sainthood was an attainable dream," she said. "Both as a camper, but especially as a mentor, it has made me more attentive to what specific gifts and specific experiences I can offer to God. Because ND Vision forms you in opening yourself to this desire for holiness, it also forms you in the desire to want to be the person you were created to be. That really helped me into a more authentic relationship with God, because it made me aware of how intimate that relationship should be."
As the college students prepare to shape and form others, they too are shaped and formed. That transformation is one of the most beneficial outcomes of the entire program, said John Cavadini, the director of Notre Dame's Institute for Church Life, the office that oversees Notre Dame Vision.
"You end up with 60 or 70 very visionary undergraduate students who are in the process of thinking about how to help younger people think about these issues, and are thinking about them themselves," Cavadini said.
'Witness talk'/testimony
One way the mentors process and then share their stories of faith is by giving a "witness talk." These talks -- basically, "testimony" in Protestant terms -- are meant to illuminate the difficulties and joys of living a life of faith.
When she was a camper, Lewis took home the theme of "finding beauty and blessedness in the brokenness of life." It seemed like a simple enough call until she learned that her father would be going to prison.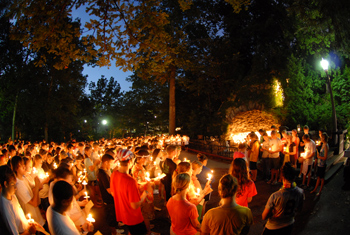 Now, when she gives her own witness talk as a mentor, she discusses the difficulty of finding blessedness amid her family's struggle. Her goal, she said, is to be an example for campers who may be experiencing grief and to tell them and others that faith is not always easy but has peaks and valleys.
"That's where the real beauty of the experience comes out: in the credibility of the witness of the college students," DeLorenzo said. "The college students can shape the experience for the high school students."
The college students, he said, present a picture of a life of faith in progress, with trials and successes, times of reflection and of fun. It's compelling to the high school students that these college mentors, though just a few years older, seem to have a grasp on what direction they should be heading and why. That curiosity is meant to extend beyond one week, into their everyday lives.
For Soper, that one short week this summer has already increased his desire for a long-term relationship with God.
"Before, I wasn't very strong in my faith," he said. "I went to church with my family, but I wasn't trying that hard to foster the relationship. But I came out with a better understanding of how I want to relate to God."
Largest and most successful
ND Vision was conceived in late 2000 when Notre Dame, along with Duke University and eventually 86 other universities and colleges, received funding from Lilly Endowment Inc. to help young people explore vocation. With the $2 million award, Notre Dame designed a three-pronged initiative aimed at the university's undergraduates, recent alumni and high school students.
That last focus -- Notre Dame Vision -- was intended to be the smallest of the three programs and was initially designed only as a weeklong summer conference. But by hiring a recruitment coordinator and sending promotional materials to every Catholic parish and high school in the country, Vision grew to be the largest and most successful.
Now, 13 years later, the program is 80 percent self-sufficient, with the other 20 percent of funding coming from Notre Dame's Institute for Church Life, Cavadini said. After the initial grant, Notre Dame received a sustaining grant of $500,000 to create ND Vision CYM (Campus and Youth Ministers). Held concurrently with ND Vision, the four one-week sessions each summer offer training for a total of about 200 lay ministers, typically those who work with students enrolled in Vision.
Although CYM is a separate initiative, it supplements and strengthens the Vision program, Cavadini said. In addition to giving lay ministers training and theologically rich programming, it helps boost Vision recruitment by encouraging the adults to bring their teenage students with them. It also helps Vision staff monitor whether and how the high school students are taking Vision back to their schools and communities.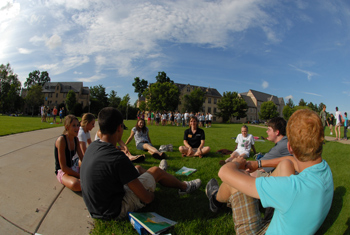 One CYM participant, for example, told Cavadini that one of his popular students was struck by a mentor's talk about feeling left out. When the student returned to school, he worked with the principal to create new programs to foster a more cohesive and welcoming community for everyone. It was one small act of kindness, one sign of what a student learned at Vision, he said.
Beyond such anecdotal accounts, the program is trying to develop more solid measures of success. They are planning to conduct a study later this year to determine the number of mentors who enter a religious vocation, volunteer with a service organization, continue in theological studies or simply become more faithful parishioners, DeLorenzo said.
But the biggest task, he said, is just to keep young people in the church.
That's one of the great challenges ND Vision tries to address: How do we keep young people actively involved in the faith?
A place to practice gifts
To Lewis, part of the solution is to give youth somewhere to practice their gifts in the parish. A student who wants to be a writer, for example, might not connect his or her professional and spiritual aspirations. The church should provide opportunities and encouragement to practice such gifts, perhaps letting the student write for the parish bulletin.
DeLorenzo echoed those sentiments and said that the church has to offer a sense of belonging and community that young people can buy into. It needs to be a place that addresses human ills and seeks to heal them, even in its teen members, he said.
Cavadini sees the crux of faithfulness as being a love of the church. Young adults must be encouraged to see beyond its faults so they can discover the beauty of the traditions of Scripture, devotional language and the images of the saints.
"You stick with the things you find harder because of the things you find beautiful," he said.
If young people can become submerged in that beauty, they'll understand the depth they will lose if they leave. It's a theory they're testing at Vision, where the participants are surrounded by posters of the saints and engage in Catholic practices like eucharistic adoration and the rosary.
Time will tell what kind of impact Vision will have on the Catholic Church in the long term, but for now they're happy to have an impact on 1,600 or so people each summer through the two programs.
Now at capacity for both housing and meeting space, Notre Dame Vision does not have any immediate plans for growth. Although they've partnered with smaller groups to help them conduct similar initiatives, replicating the program would be difficult, DeLorenzo said.
"The thing that makes it unique is that we have this incredible access to the college students, and we spend an enormous amount of time and resources on them, and they become, in many ways, the primary leaders of the summer," he said. "That's something you can't quite reproduce."
Questions to consider
Questions to consider:
What lessons does Vision offer about "overinvesting in the young" for the renewal of the church?
How can Vision's vocational discernment model -- exploring Scripture, tradition, saintly examples and personal story -- be adapted for use in the local church?
Where and how does your community and ministry offer opportunities for authentic conversation like Vision's "witness talks"? How might you cultivate such opportunities?
Do young people have a place to practice their gifts in your congregation? How can these places be nurtured?
What are the "things you find beautiful" about the church? What practices can help submerge people in the beauty of the Christian faith?