The key to making a drop of blood glisten is a delicate J-shaped stroke of white paint.
Sarah Crow, the artist-in-residence at St. Gregory's Hall, demonstrates this touch in a sacred painting workshop held in the parish cultural center on Chicago's North Side. About a dozen students have gathered on a former convent's top floor, now an art studio, to watch Crow paint the sacred heart on her small canvas so they can create their own to take home.
None of the people present — those asking occasional questions, requesting more paint, listening to Gregorian chants over the speakers — are parishioners at St. Gregory's. Some attend nearby churches; others had just been looking for something interesting to do that weekend.
When they leave, Crow gives participants a printout of steps for installing the images they've created in their homes (known as an enthronement ceremony) and then follows up with an email about the traditional feast of the Eucharistic Heart of Jesus, plus information about future events at St. Gregory's Hall.
St. Gregory's Hall was once a stand-alone parish called St. Gregory the Great. But in 2020, it became part of the newly formed Mary, Mother of God Parish, along with two other congregations. The merger came about as part of the Chicago Archdiocese Renew My Church initiative, which consolidated local churches in response to dwindling congregations, priest availability and cash flow.
St. Ita in Edgewater and St. Thomas of Canterbury in Uptown merged in 2019, with St. Gregory the Great in Andersonville — renamed St. Gregory's Hall — joining in 2020.
St. Gregory the Great had long been known as an artistic church, boasting artists-in-residence, a theater and choral conductors who performed at the Vatican. Built in 1924, it is a Gothic Revival masterpiece known for its beauty and acoustics and filled with sacred art, much of it contributed by parishioners.
Renew My Church's massive restructuring of the Chicago diocese has been difficult for many parishes and believers. But Mary, Mother of God's three congregations have avoided some of the disruption by leaning into their individual identities while forming a new whole.
What transitions is your faith community discerning with intentionality?
Bringing communities together like this requires "intentionality," said Mark Franzen, who directs St. Gregory's Hall, now the parish's cultural center. The notion of one parish with three different church buildings may be hard to reconcile with prior ideas of what a parish community looks like.
"But if you think of them as all part of the same parish and you give people an opportunity to be in them together, you can," Franzen said.
The parish community has decide the change is not just a merger, but an opportunity to welcome new members to the revamped church.
"I think, increasingly, as the church [has] gone through a transformation, our mission is evangelization," said Don Haider, a parishioner with St. Ita since the 1990s who served on the merger committee.
"To bring people into the Catholic faith through Catholic beauty, traditions of Catholicism — the soft entry spots of Catholicism — it's not just grabbing someone and saying, 'Let's go to Mass.' That turns off a lot of young people."
Three churches, three charisms, one parish
On a sunny late July afternoon, Mary, Mother of God Parish held its annual Tastes of Summer International Food Festival. The St. Ita church parking lot was full of people gathered to dance and socialize, snacking on Vietnamese and Mexican food. Parishioners and priests danced to a DJ blasting music; Eritrean, Filipino and Ecuadorian dance groups took turns performing throughout the day.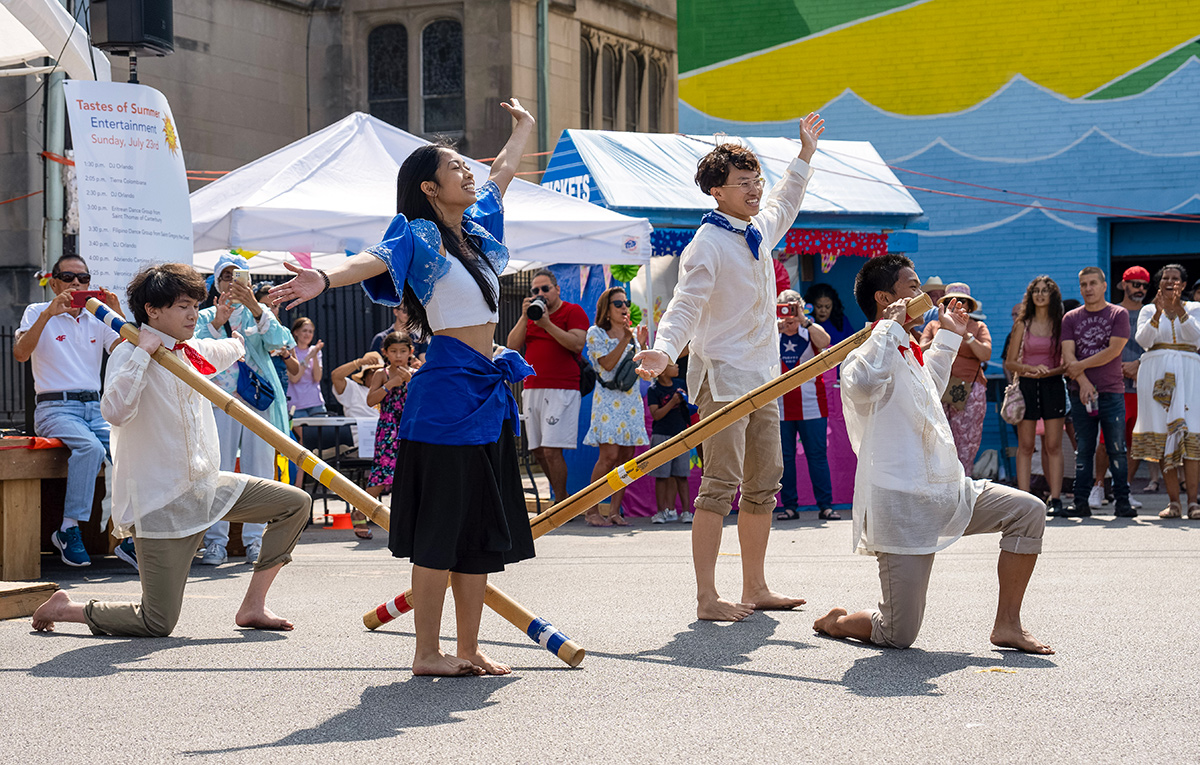 With the parking lot located on busy Broadway Avenue, the fest doubled as a type of marketing for the parish, demonstrating one community made up of diverse cultures, celebrating together while honoring their individual gifts.
Haider, the longtime St. Ita's parishioner, is a professor emeritus of strategy at Northwestern's Kellogg School of Management, with professional experience in mergers and acquisitions. Like other Renew My Church parish committees, the Mary, Mother of God merger group was tasked with presenting the archdiocese with ideas for their best-case merger scenario.
Working with St. Ita's then-pastor, the Rev. Bob Cook, the committee proposed that Mary, Mother of God make St. Ita's church building the main parish hub, with the other two churches keeping their distinct missions and holding a reduced number of regular Masses per week.
"The Archdiocese's Renew My Church team accepted the proposal," said Haider. "The cardinal affirmed each church had a separate difference; that's what's so unique and different."
Now, art classes, tours, special choral Masses and discussion groups are held at St. Gregory's Hall, rechristened to reflect its more secular-friendly artistic mission.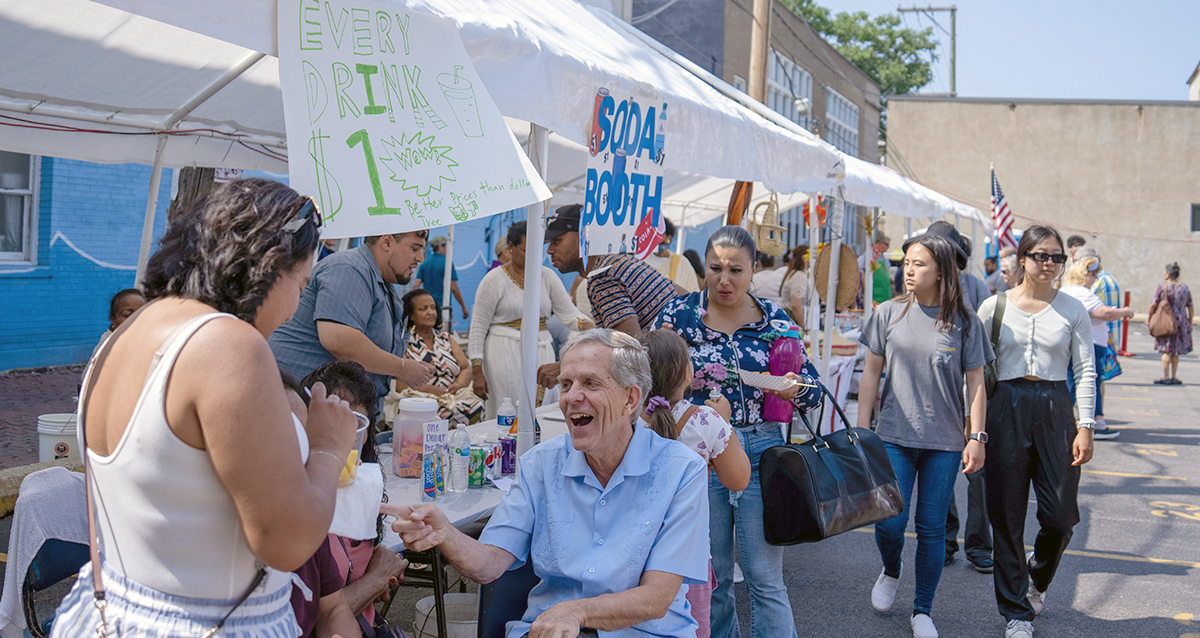 St. Thomas of Canterbury remains a refuge for immigrants, refugees and the food insecure. It is known as "the parish that speaks five languages" for serving the numerous populations in the Uptown neighborhood and offering help through its longtime meal program and food pantry.
And St. Ita's role is as the pastoral center.
"St. Ita is like the brain. The heart is St. Thomas Canterbury, because it's the food pantry. The soul is St. Greg," said Susan Silvano, who joined St. Gregory the Great as a parishioner when she and her husband moved to Chicago from the Philippines in the mid-1970s.
Art as evangelism
St. Gregory's Hall offers programming open to the public, like Crow's painting workshops, a seminar on Shakespeare comedies taught by a Franciscan, a T.S. Eliot discussion group and regular tours of the three churches.
Amy Alznauer, a writer, was attracted to the St. Gregory community before the merger by its cultural offerings.
"We discovered St. Gregory through a poetry and jazz series. They brought in some really big names, like Mark Stein, Mary Kinzie," she said. My husband and I came to this reading, and we were like, 'What is this church? It's so gorgeous.' We were there to hear poetry that's fairly secular."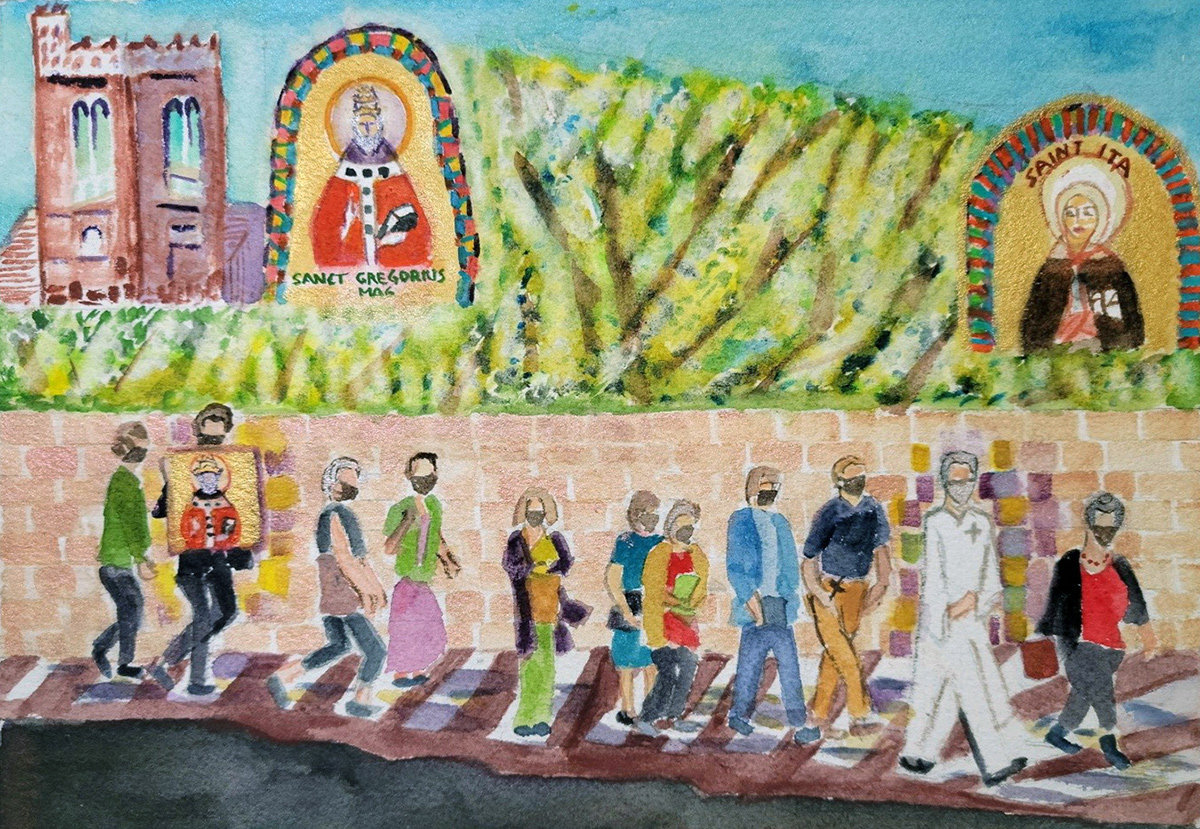 Nonreligious but curious, she and her husband attended a Mass, fell in love with the community and converted. Alznauer served for a time as the parish's writer-in-residence.
"I saw myself as someone who could be fostering storytelling within our church," she said. She helped develop the Montessori-based curriculum that the parish still uses as its Catechesis of the Good Shepherd.
It pained her when St. Gregory the Great had to merge with the other churches, but she believed in the vision of Cook, the St. Ita pastor, that the parishes could keep their separate charisms and work together.
"At one point," she recalled, "Father Bob said, 'Imagine a night where we serve at the soup kitchen, have vespers at St. Gregory's and then discuss a book.'
"This idyllic image of what being a believer could be — I think that's a beautiful vision," Alznauer said.
Ronald Carrier, a librarian at Northwestern University, had fallen away from religion until he returned to Catholicism in 2021 and began attending Mass at St. Ita because it was close to his home.
Since joining the parish, Carrier has volunteered as a Eucharistic minister and is now preparing to join the Order of Secular Franciscans for laypeople living out the Franciscan tradition in their daily lives. He also volunteered in the St. Thomas of Canterbury food pantry and soup kitchen as part of his conversion instruction.
"I like the interaction with the regular volunteers, with our regular guests. We have all-day adoration taking place in the church upstairs," he said. "I will go upstairs after cleanup and we'll do vespers and benediction. That's a nice way to wrap things up."
I saw myself as someone who could be fostering storytelling within our church
Navigating uncharted waters
Silvano and her husband, Tony, had started as "holiday" parishioners at St. Gregory the Great in the 1970s before becoming more involved with the church. Tony served as president of the Filipinos of St. Gregory, a group heavily involved in fundraising and organizing events like the annual Santacruzan pageant, which honors the Virgin Mary with a procession, music and food.
After decades of being part of the local tradition, she felt lucky about St. Gregory's fate when she spoke with friends at another parish that had to close its doors.
"My friends were so unhappy when they were telling me their story. I felt bad [for them]; I did not lose my point of worship," she said.
Still, there were some growing pains and hard feelings among Mary, Mother of God parishioners along the way. The Renew My Church committee seriously explored merging with other nearby parishes, which didn't work out. Alznauer, who worked on proposals for the merger, confessed to feeling "a little negative" about the realities of Renew My Church.
"There was one [scenario], and we'd have to get with the program or else we'd have to close," she said.
Soon after the new merged parish debuted, Cook had to relocate to Milwaukee. The Rev. Alejandro Lopez arrived from Australia to serve as the new Mary, Mother of God pastor.
Silvano recalls lamenting to Cook about what felt like cold practicality on the part of the archdiocese and her sadness that Cook had to leave when the parish finally came together.
"Father Bob said, 'Why are you sad? You are the church,'" she said.
Silvano credits Franzen, the St. Gregory's Hall director, for his emphasis on making the long-standing communities know that their input to St. Gregory's is valued. Franzen, 37, a St. Gregory parishioner since 2008, had served for over a decade as a coordinator for the Lumen Christi academic institute on Chicago's South Side before taking up the work at St. Gregory's Hall.
What is needed to cultivate an optimistic vision while overcoming traditionalist ideas?
"He's reaching out to people like me," she said. "We don't belong to the same age group, but whenever he needs a lector, he emails me and I say yes. During the Santacruzan, he involves his kids." Franzen's wife, Lauren, is involved too, volunteering with the catechesis program and the parish community gardens.
"They're not distancing themselves from activities; they're inside activities," Silvano said.
Haider said Franzen was a natural fit to run St. Gregory's Hall because of his nonprofit leadership experience, his dedication as a relatively recent convert and his energy. And his making sure that long-standing groups were not erased by the church merger has been crucial to community buy-in, Haider said: "People still have their own societies, their own feast days."
Franzen couldn't find a template to follow when he agreed to take on the St. Gregory's Hall programming and execution.
His team briefly considered running St. Gregory's Hall as its own 501(c)(3) but decided on the idea of a cultural center serving as a ministry with a wide scope and audience offering programming based on faith formation as well as evangelization.
"Not in a mode of a parish running its ministries but lay-led engagement with Catholics and non-Catholics introducing and reintroducing people to aspects of Catholic tradition that will hopefully engage them in their faith more deeply and draw them into a community that has more than just Mass on Sundays or fish fries," Franzen said.
Involving lay stakeholders also serves a practical purpose: "Right now, it's mostly me" running the place and executing the programming, Franzen said, with the input of a board of consultants that includes five priests. Franzen depends on volunteers like Haider to help figure out fundraising through grants, fees and activities.
Silvano currently serves on the pastoral council, despite her initial reservations when Cook asked her to join.
"It took me a while to say yes," she said. "I told myself, 'My goodness, it's another meeting. You have to prepare, set aside a time, a date and your resources.' At the same time, I was thinking, 'I still have my church.'"
Keeping her church, she says, takes work. "If you're afraid of losing something, you hold on to that and you work on it. It's taking care of your loved one."
The mystery of the faith
What are ways you can activate your divine imagination and create models when there are no models?
Deacon Gerry Keenan, who works with the archdiocese on Renew My Church transitions, says that being under a shared Franciscan leadership and vision helped the parish's merger go relatively smoothly.
"Some unifications go well. Some don't. All of them take time," he said. Other parishes that merged relatively smoothly seem to have unified around a particular mission, he said. "You need to have a theme or a vision around which everyone can gather. It's not your way or my way; it's a new way."
Otherwise, merging churches run the risk of a situation like the St. Edmund congregation in suburban Oak Park. A group of its parishioners posted an online petition to express their dissatisfaction with the archdiocese.
So far, anecdotal evidence indicates that the Mary, Mother of God merger is going well; but there are no metrics or benchmarks to measure whether its new structure is successful.
If your congregation is discerning a merger, what common theme can unite people in the process?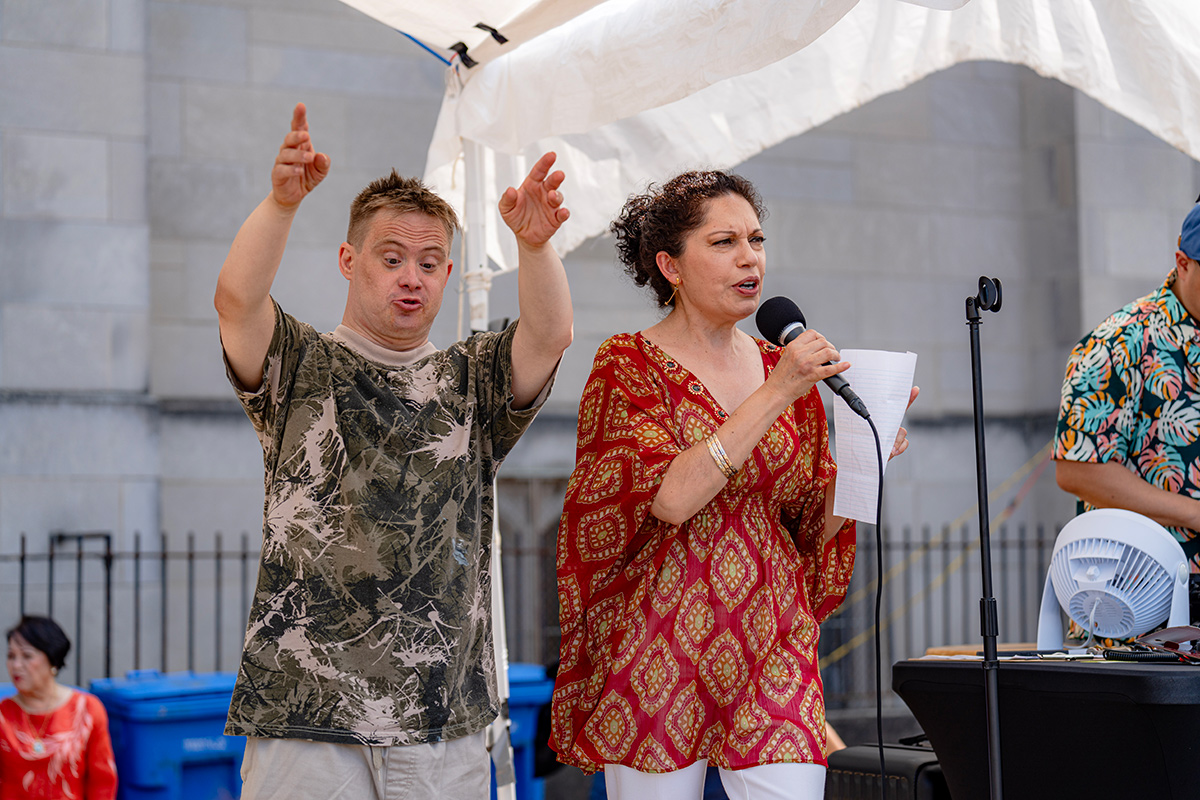 It's not just "butts in seats," Keenan said, or seeing whether funerals outpace baptisms.
"We need pathways for people to fall in love with Jesus — to have a personal encounter. That's what creates lifelong Christians. We're not looking to trick people to get in and get envelopes," he said.
"At the end of the day, we don't have a real handle on the church census," Haider said. "Are we still losing people? Have we stemmed the flow? Are we actually drawing people in? All we can do is look at these programs and see if they're growing or not."
He sees growth in the catechesis for young families program and is optimistic about more people hearing about the music and art offerings.
He says change can be hard on older Catholics, but evangelization through the arts and social justice and community building "is something we ought to do, and any progressive and dynamic parish should do. We're offering something to distinctive communities, to distinctive groups to participate in, whether they're Catholic or not. I think it's been a terrific venture. God knows whether it succeeds or not."
How is your faith community creating pathways to help people fall in love with Jesus?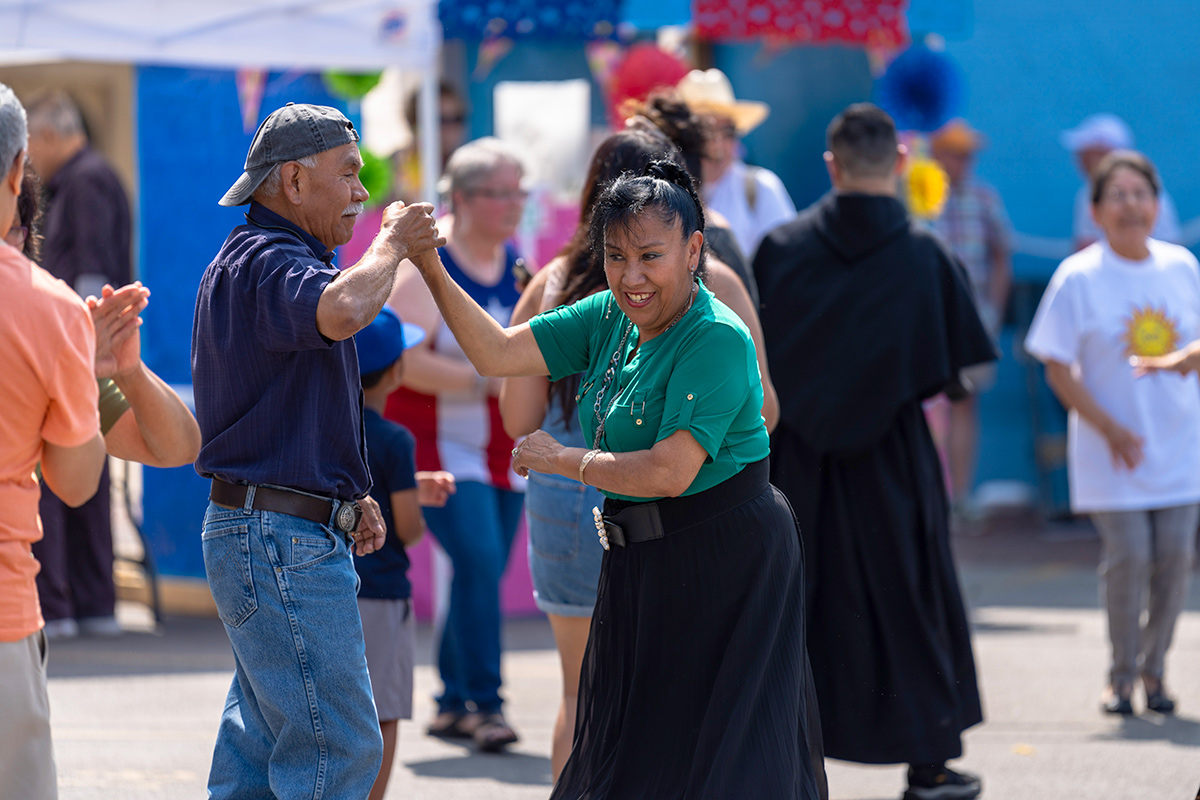 Silvano, as a longtime parishioner, sensed that the merger was a success during the 2022 holiday season, when the traditional Filipino Simbang Gabi Mass was held "on three consecutive nights at three different churches in one parish," she says. It felt like making lemonade out of Renew My Church lemons.
Franzen is optimistic when he sees more people embracing Mary, Mother of God as a parish, and not, "It's just St. Ita Parish, and we're subsumed under it."
Carrier, the Northwestern University librarian, joined the parish after the unification process had begun, and he appreciates the whole of the parish.
"There is a physical presence and the spiritual presence that contributes to things going as well as they do," he said. "God meant me to be in this parish."
Questions to consider
What transitions is your faith community discerning with intentionality?
What is needed to cultivate an optimistic vision while overcoming traditionalist ideas?
What are ways you can activate your divine imagination and create models when there are no models?
If your congregation is discerning a merger, what common theme can unite people in the process?
How is your faith community creating pathways to help people fall in love with Jesus?