As Stephanie Freemyer's family gathered for dinner one winter night in 2019, they all took turns praying about WonderSpace. After months of planning, Freemyer's vision for a free indoor play space in Grant County, Indiana, was finally becoming a reality.
When it was his turn, Freemyer's son, Tate, prayed "that WonderSpace will help children to smile."
Freemyer was touched by the simplicity of his prayer. "I remember thinking, 'Oh, that's a sweet prayer. Of course everybody's going to smile. That's what you do when you're playing,'" she recalled.
It wasn't until the next night, during the grand opening of WonderSpace, that the significance of that prayer hit home.
As they all had hoped, WonderSpace was a hit. In a county with limited options for indoor play experiences, dozens of children and their families arrived to use big blue blocks, pieces of cardboard and other loose materials to construct spaceships, buildings and creatures spurred by their imaginations.
Among the children in the crowd were several troubled youths, who were exhibiting signs of play deprivation, Freemyer recalled.
"We had been praying for these boys for years," said Freemyer, who also is the children's ministry director at College Wesleyan Church. "They just have had difficult life experiences. Our team rallied around and tried to help them engage in this play space, because they didn't know how to."
Later that night, a mentor to the boys walked over to Freemyer to show her a picture she had taken on her smartphone.
"She zoomed in on one of the boys' faces and said, 'This is the first time I've ever seen him smile,'" Freemyer said. "That's when I remembered Tate's prayer from the night before. I knew we would see smiles, but I didn't know that one smile would be so significant."
Nurturing an idea
In its first year, WonderSpace, which offers one-day or two-day pop-up play events hosted in open spaces in schools, churches and businesses, attracted more than 600 attendees. In its fourth year, it welcomed more than 5,000 individuals to 10 events.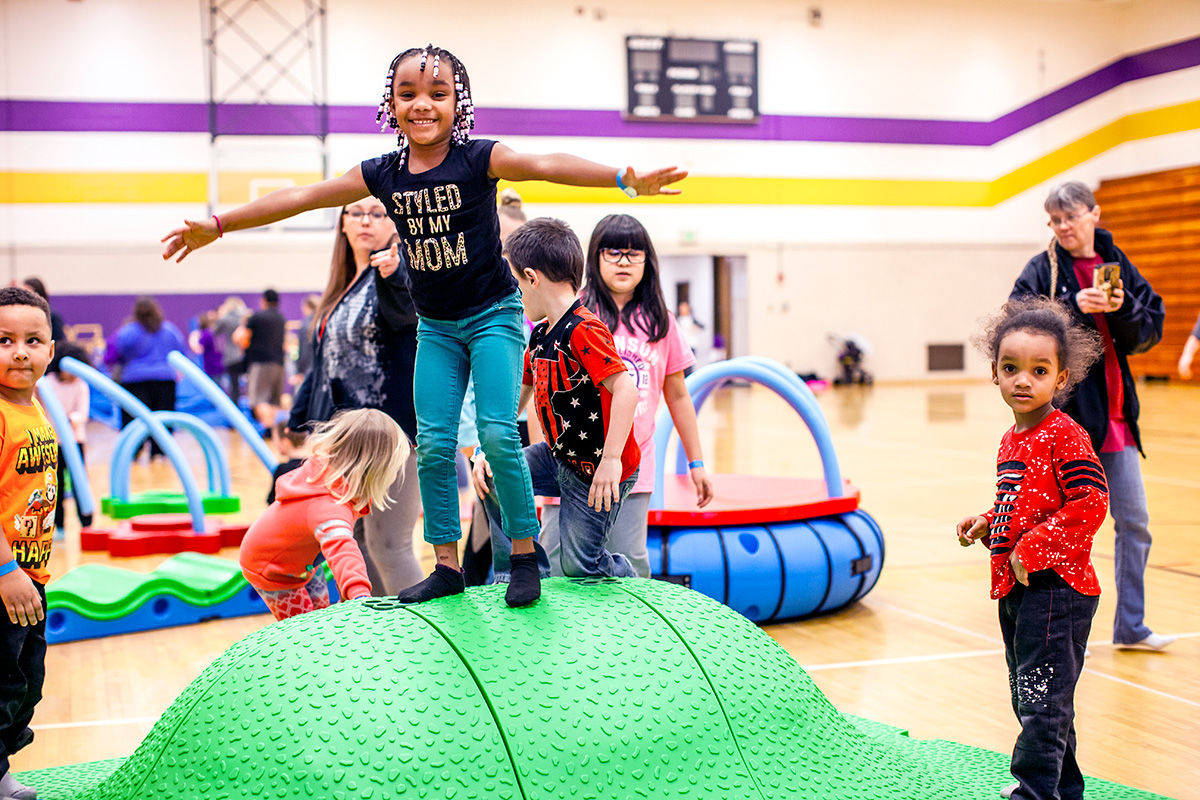 On a typical day of an event, the WonderSpace team, including Freemyer's husband, Dan, shows up at 6 a.m. Using a 26-foot trailer to haul the materials, they spend several hours preparing four designated play areas in a donated space. They open the doors at 10 a.m., welcoming hundreds of visitors until 2 p.m., when they start the two-hour breakdown process.
The WonderSpace experience includes four different curated spaces. Cardboard City invites participants to build tunnels, ships and more with cardboard and child-safe tools. Imagination Playground is an area of "loose parts," including large blue blocks, that encourage children to build their own play experiences. In Snug Play, an area with large, colorful components, children are invited to collaborate as they design, build and arrange the soft structures on which they roll, climb and jump. Finally, High Flyers is an interactive play station that includes a custom-built airplane launcher along with other devices that propel balls, scarves and paper airplanes.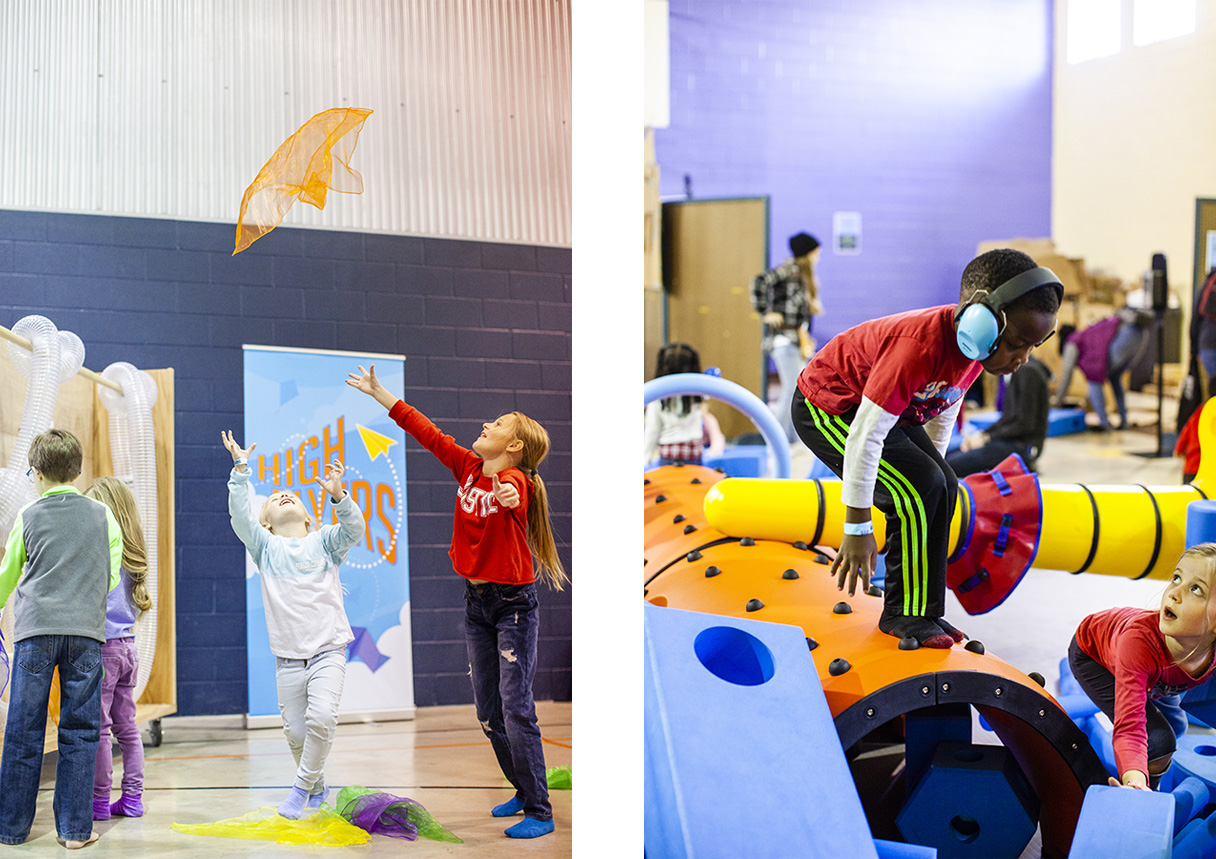 The impact WonderSpace has had in this county of 66,000 residents, many of whom live in underserved communities or remote rural areas, goes far beyond giving children "something to do" during the long winter months, according to parents who have attended the free events.
Ashley Barber, a parent of three children, ages 5 to 12, said WonderSpace filled a void in an area that lacked opportunities for positive social support for youth and their families. "It's my favorite place to come so that my kids can have fun and meet new and old friends. It's great," she said.
Monica Nall, a longtime Grant County resident and the parent of a 2-year-old and a 5-year-old, said it is encouraging to see the creativity and imagination displayed when children explore the building blocks and materials.
"It's an unparalleled opportunity," Nall said. "We simply don't have clean, safe spaces in our communities that engage their creativity in the same way. It's vital, particularly in an area that is low income. Many parents are not able to drive an hour away to a children's museum. The opportunity for them to experience that in our own community is huge."
What is your community doing to spark imagination?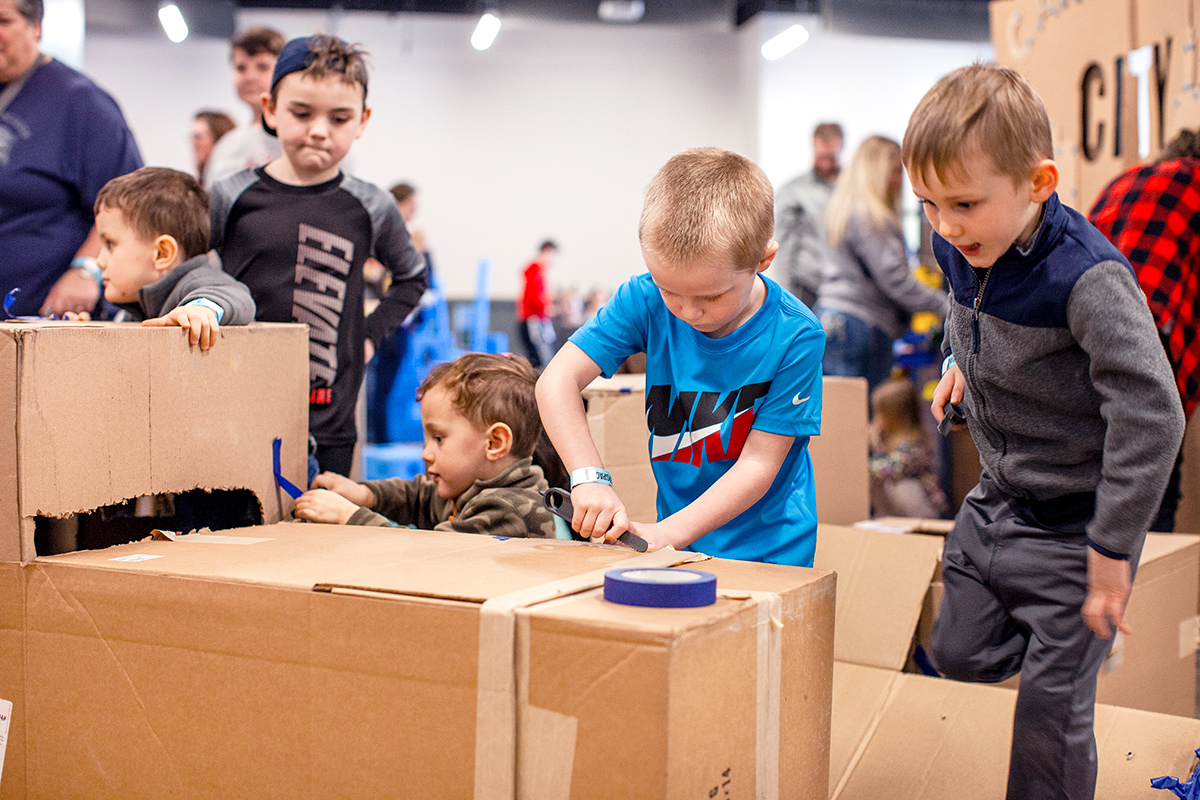 The idea to create WonderSpace came to Freemyer after she moved back to Marion, Indiana, with her family.
When winter set in, the differences between their previous experiences living in North Carolina and California became more stark. Instead of playing outdoors nearly year-round, the children were stuck in the house for months at a time because it was either cold, raining or snowing.
What clean safe spaces does your community offer? What spaces are missing?
Freemyer started thinking about the indoor children's spaces the family had visited, including the Skirball Cultural Center in Los Angeles. The visit was especially memorable because of a storytelling component and an interactive playground experience with animals made of repurposed materials, including purses, spools and old violin cases.
"At the end, the storyteller guided the children into the room and reminded them that everything in the room had been given a second chance — 'even you,'" she recalled. "It was very powerful."
With the nearest indoor children's museum or center more than an hour's drive away from Marion, Freemyer started thinking about what it would take to introduce a similar experience to Grant County. She shared her idea with community members and friends, including Angela Leffler, an associate professor in education at Indiana Wesleyan University.
When sharing her dream with Leffler, Freemyer emphasized the importance of storytelling.
"I wanted a space that invites you into a relationship with God," she said. "Skirball did that so beautifully. Could we replicate that? Could it be a space that reveals God's character to families?"
Without a multimillion-dollar budget, Freemyer and Leffler had little more than inspiration to transform the idea into reality until attending a 2018 Hatch-a-thon run by Ministry Incubators, which helps people launch ministry-focused ideas.
During the three-day retreat, Freemyer often felt they were the underperformers.
"A lot of the groups already had their ideas in motion. We were sitting there with a little inspiration and no idea of how to move it forward," she said.
The night before their final presentation, they stopped trying so hard. "We were totally stuck, and I was exhausted, mentally and physically," Freemyer recalled. "We realized we had talked so much about play but we hadn't actually played."
They grabbed some cardboard from a nearby Walmart dumpster, laid it all out at her home and invited their kids to join them in play for a couple of hours.
At the end of it all, they had gained some inspiration for presenting their idea to the Hatch-a-thon judges. The WonderSpace team walked away with a $500 prize for their efforts — enough to keep them moving forward by securing the nonprofit's name and registration. Next, they launched a fundraiser to buy $11,000 worth of WonderSpace play materials.
"The funny thing about this journey is that we never really knew what the next step was. Something would happen to inspire us to take another step," Freemyer said. "We raised exactly what we needed to buy those blocks, not a penny more. So there we are again — it was just enough to make us take that next step."
How do seasons affect your organization's ministries? How do your ministries adapt to different seasons?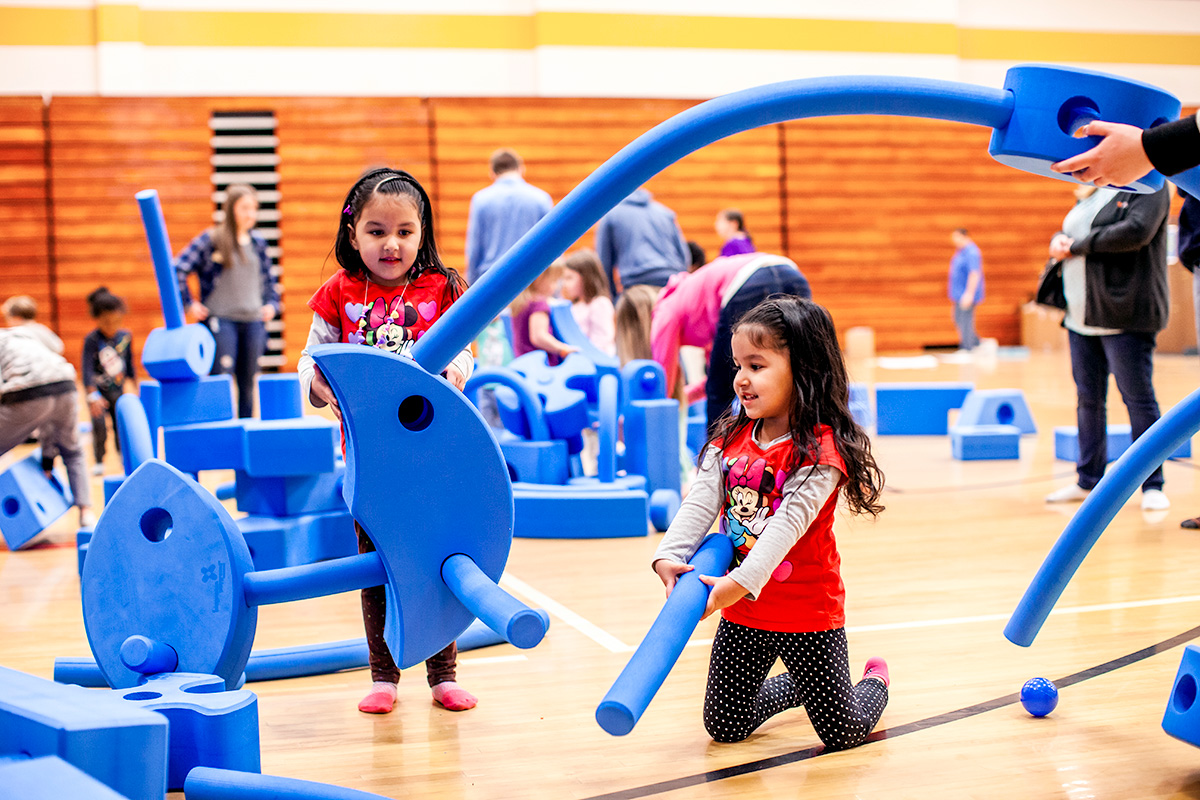 Inevitably, they felt stuck when they started considering a building to house the indoor play space. "As soon as we would look into getting a building, we were talking about needing millions of dollars," Freemyer said. "That felt unrealistic and impossible."
Drawing on advice from Hatch-a-thon coaches, Freemyer and the team challenged themselves to find paths around obstacles. They could have been tempted to give up and walk away from the idea. But they decided to adopt a mobile model, Freemyer said.
"We bought equipment that could be packed up, put onto a trailer and moved around the city. And then we found spaces that were willing to host us at no cost," she said. "We slowly added pieces until we have what's known as WonderSpace."
Building up Grant County
Henrik Söderström, an associate professor at Indiana Wesleyan University, was among the Marion Design Co. collaborators in the design of WonderSpace. Söderström, who lives in Grant County with his family, said it fulfills a huge need in the community.
"Its impact has been enormous and multifaceted," he said. "We love our community, but there's not an indoor space that kids can just run around and be around other kids. They so accurately perceived this need for the community, in which parents could actively engage with their own kids and meet other families," he said. "It brings families together who wouldn't otherwise encounter each other."
Tara Griffin, executive assistant at WonderSpace and a former teacher, said the free component, as well as the mobility of WonderSpace, ensures that children from all backgrounds are able to participate.
"Our goal is to enhance the mental, physical, social and educational development of the children," she said. "With our loose parts play, you're not just handing the children a coloring book or a toy car. Everything is open to being something different when they imagine it and create it. It builds their mental capacity."
WonderSpace also provides a space for parents to interact with their children and with other families —and as a result, to build community.
"It's not a drop-off play space where parents leave and come back in two hours," Griffin said. "They stay and engage with them. You see parents getting down on the floor with their children to create things."
WonderSpace also has encouraged socialization among young children who weren't able to play with other children during COVID-19 lockdowns and social distancing, and it provides a safe place for children under the care of child protective services, Griffin pointed out.
"They can forget about the outside trauma and be able to play, smile and have fun," she said. "We want to reach each of those kids as well."
Longtime Grant County resident Shayona Funches, who has served as a consultant and board member for WonderSpace, worked to ensure that the team was connecting with diverse groups and families from throughout the area.
How does your organization determine next steps?
"There's not a lot for families to do here," said Funches, who supported WonderSpace in its infancy, including getting firsthand feedback from her husband and three children. "We don't have indoor play spaces, so I knew it was going to be very beneficial."
Funches said she has seen the area slowly decline over the years as plants and businesses have shut down. Grant County's population currently is about 66,000, according to the 2021 U.S. Census estimate, down from 84,000 in 1970. In 2015, Grant County had the state's highest rate of children living in poverty. Today, 27.5% of the nearly 14,000 children in the county live in poverty according to the Indiana Youth Institute.
In the future, Funches said, she would like to see WonderSpace land a permanent home that continues to attract an increasingly diverse group of families, including single-parent families, Spanish-speaking families and hearing-impaired families.
A story of steps
In its first season, though the WonderSpace team was operating smoothly, hosting play days throughout Grant County, Freemyer was troubled because she felt that a significant part of her vision was still missing.
"I remember sitting back and thinking, 'God, what about the story? What about this experience that we originally dreamed about? Is that gone?'" she recalled. "I was OK with that possibility, because WonderSpace obviously was meeting needs in the lives of our families in Grant County."
It wasn't until 2021, several years after the launch of WonderSpace, that her husband found inspiration in chapters 40-42 of the book of Ezekiel. The chapters give an in-depth account of measurements for a temple. Freemyer wasn't initially convinced, but when she continued to read, she saw how all the minute measurements led Ezekiel to a bigger vision.
In many ways, this story of Ezekiel represents Freemyer's journey with WonderSpace, during which she learned to trust in the small steps.
"God really helped us see the connection between all these random things that we had purchased years before," she said. "We would think about the next easiest step and then take that step. It always gave us the inspiration to take another step. I hear a lot about these five-year plans, but we never knew where we were going. Not once."
Who are the community partners tackling childhood poverty in your area?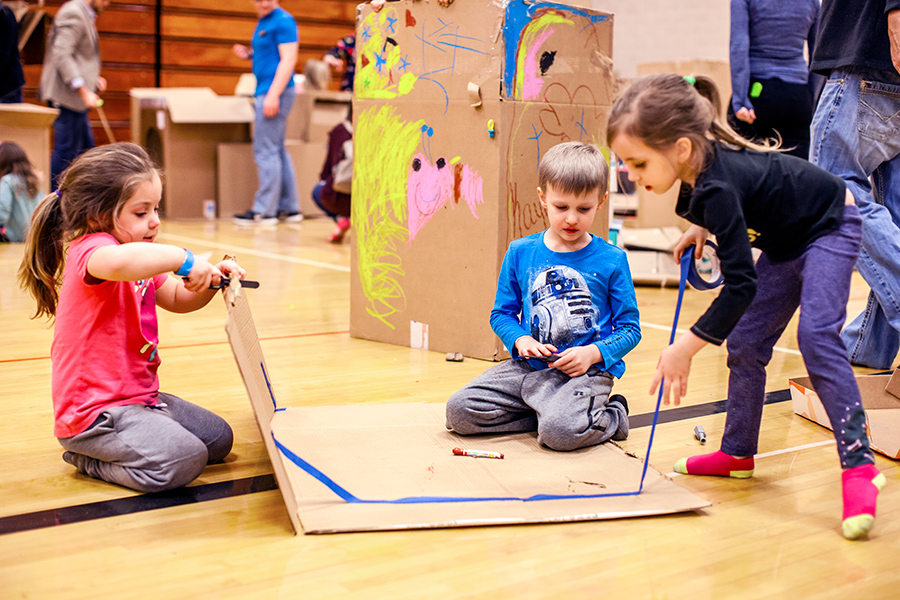 As part of the WonderSpace experience, attendees now hear that story from Ezekiel before they're encouraged to build their own celebration place for God's kingdom, using all the loose play materials in the play areas.
"Don't think you have to know where you're going," Freemyer said. "We invested in four random, disconnected play space pieces. And three years later, we watched God bring it all together in a perfect story. Because we didn't know where we were going, it left room for God to lead us."
Are there parts of your original mission that are missing in your ministry?
Questions to consider
What is your community doing to spark imagination?
What clean safe spaces does your community offer? What spaces are missing?
How do seasons affect your organization's ministries? How do your ministries adapt to different seasons?
How does your organization determine next steps?
Who are the community partners tackling childhood poverty in your area?
Are there parts of your original mission that are missing in your ministry?