During the COVID-19 closures of 2020 and 2021, the leaders of Dorcas Ministries decided to remodel their popular thrift shop to look and feel like a T.J. Maxx, the off-price retailer with discounted items from name-brand fashion to home decor.
The shop, located in a former grocery store in Cary, North Carolina, was already a treasure trove for bargain buyers. The new look made it even more enticing.
The Dorcas Thrift Shop space is mostly taken up with lightly used clothing, rack upon rack, neatly organized by type. At one end of the cavernous building are multiple shoe shelves arranged by size. Handbags, belts and scarves line a wall.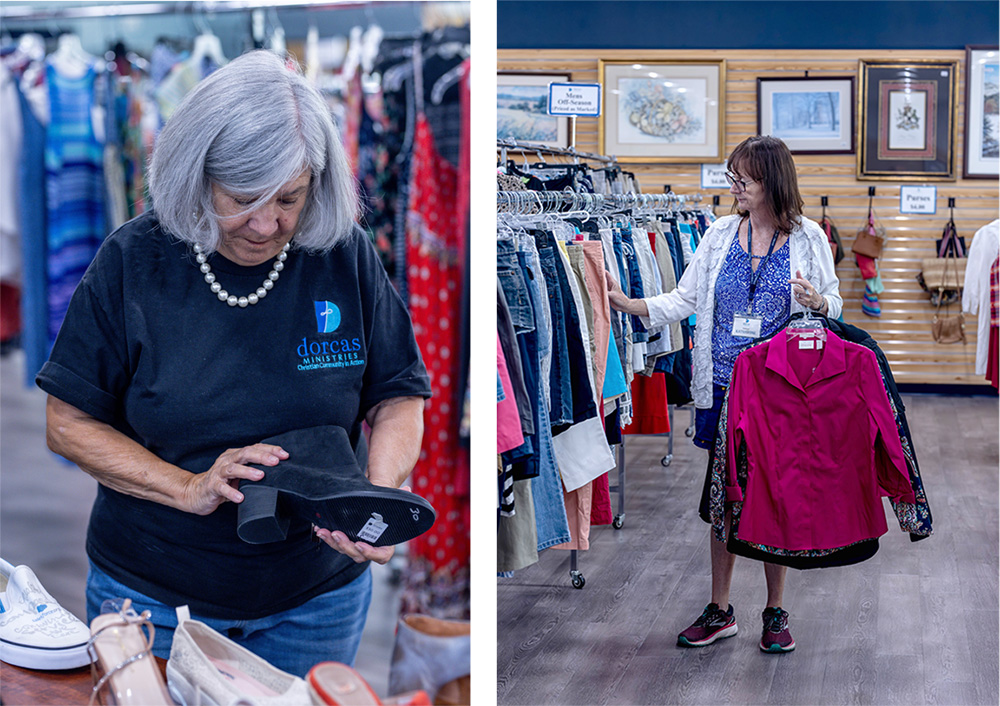 Closer to the checkout points are seasonal items — right now, Halloween costumes — and farther down, toward the rear of the store, shelves stocked high with housewares. In between, glass cases sparkle with vintage jewelry.
Customers flock to the shop from all over Wake County and the surrounding region. After browsing with shopping carts or tote bins, they pay in cash or with credit or debit cards.
The average cost of an item? $2.50.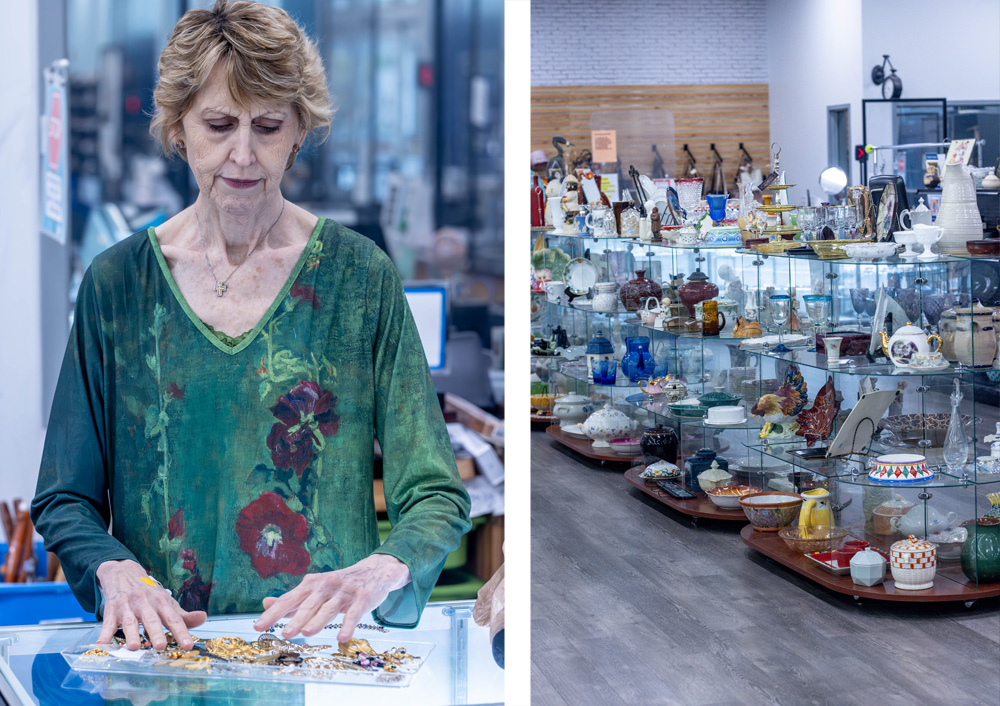 There's a reason the thrift shop, which anchors a plaza owned entirely by Dorcas, tries to model its services on professional business practices.
The ministry sees that as a way of treating people of all income levels fairly and eliminating barriers to social mobility.
"Our job is to treat everyone like God's children, with the compassion, dignity and respect they deserve," said André Anthony, the ministry's CEO. "That's our primary focus."
Volunteers help neighbors thrive
That formula appeals not only to low-income shoppers but also to a healthy corps of middle-class volunteers from Cary and Morrisville, affluent suburbs of North Carolina's capital of Raleigh, who have helped make the ministry a success.
The ministry takes pride in having earned Top 10 ratings in the "Best Thrift Shops" category on Yelp, the crowd-sourced review platform. On a typical weekday morning, several dozen people wait outside the shop ready to make their way in as soon as the doors open at 11 a.m.
Started 55 years ago by a group of women from nearby churches, the ministry takes its name from the seamstress Dorcas, mentioned in the book of Acts as "always doing good and helping the poor" (Acts 9:36 NIV).
Last year, the shop generated $3.2 million in sales. It used that income to provide $2.2 million in financial assistance to the area's poor, becoming a premier social welfare agency for a region of more than 200,000 people.
Dorcas employs 27 full-time staff, but it relies on 600 dedicated volunteers, without whom it could not fulfill its mission of "helping neighbors thrive." Its volunteers, many retired from careers as IT specialists, corporate executives and health care professionals, are eager to give back to their community.
What compelling vision does your organization use to inspire volunteers?
Some 500 of those volunteers take one or two weekly three-hour shifts sorting, cleaning, fixing, pricing and labeling the avalanche of donations that accumulates daily at the shop's rear dock.
Impressive as it is, the thrift shop is just the foundation of a vast set of services that Dorcas offers with income from the store. That's where about 100 additional volunteers with experience working with people in difficult life circumstances apply their talents.
In 2022, Dorcas helped 2,000 families (or about 5,800 individuals) with emergency financial aid and other services at its crisis center located in offices next to the thrift shop. Those helped are typically low-wage workers living paycheck to paycheck who, because of divorce, illness, the birth of a child and/or lack of paid parental leave, fall behind on their rent or are facing eviction.
"Dorcas is probably the most significant social ministry in our area in terms of how many people they serve and the kind of services they provide," said the Rev. Wolfgang Herz-Lane, the senior pastor of Christ the King Lutheran Church in Cary, one of 40 area congregations that regularly donate financially to the ministry.
Christ the King provides Dorcas with a steady stream of volunteers and refers people in need. So much so, Herz-Lane said, that he thinks of it as a "social ministry arm of our congregation."
Helping people in crisis
Like the thrift shop, the Dorcas crisis center is modeled on an ethic of respect and dignity for all. A receptionist greets people and directs them to private rooms where they meet with case workers to assess their needs and come up with plans to address their financial difficulties.
How do you communicate your vision and invite potential volunteers to be part of it?
Clients at the crisis center receive checks — usually within 48 hours — to help pay for rent or utilities. Dorcas may even help pay for veterinary care (addressing the No. 1 reason pets wind up in shelters — families' inability to pay veterinary bills).
But the aid doesn't stop there. Clients receive ongoing counseling and other services for a period of three months to a year. That may include one-on-one career coaching, cash stipends for those willing to enroll in workforce training classes at the local community college, or preschool scholarships for children.
"We don't just hand them a check for rent assistance; we hand them a check and say, 'OK, let's talk through some changes that can be made,'" said Sally Goettel, a former Dorcas board member who continues to volunteer there. "By getting that holistic approach, it's just so much more effective."
At the crisis center, clients can also take advantage of a mobile University of North Carolina nursing clinic that provides free basic preventive care, including school physicals, every Tuesday morning and twice a month on Saturdays.
But the most basic form of support the ministry provides is food.
Food assistance for families in need
Similar to the T.J. Maxx-inspired thrift shop, the Dorcas food pantry, located a few doors away, is modeled on a high-end food store. Dorcas clients can take a cart and browse a wide selection of prepared foods as well as fresh fruits and vegetables, dairy items, baked goods, paper goods, diapers and even cat food. Grocery shelves are labeled in English and Spanish. Recently, the pantry started a Taco Tuesday meal kit. (About 8% of Cary residents are Hispanic.)
Here, too, the idea is to treat people with respect — not just to give them a handout. While anyone can shop at the Dorcas thrift shop, the pantry is reserved for families in need who have gone through its client services intake.
"It's not a preselected bag of food," Anthony said. "It's very much client choice. It's intentionally set up where, when you walk in, you feel just like anybody going to a grocery store."
If you have an idea for Christian social entrepreneurship, could it be supported with an active volunteer base?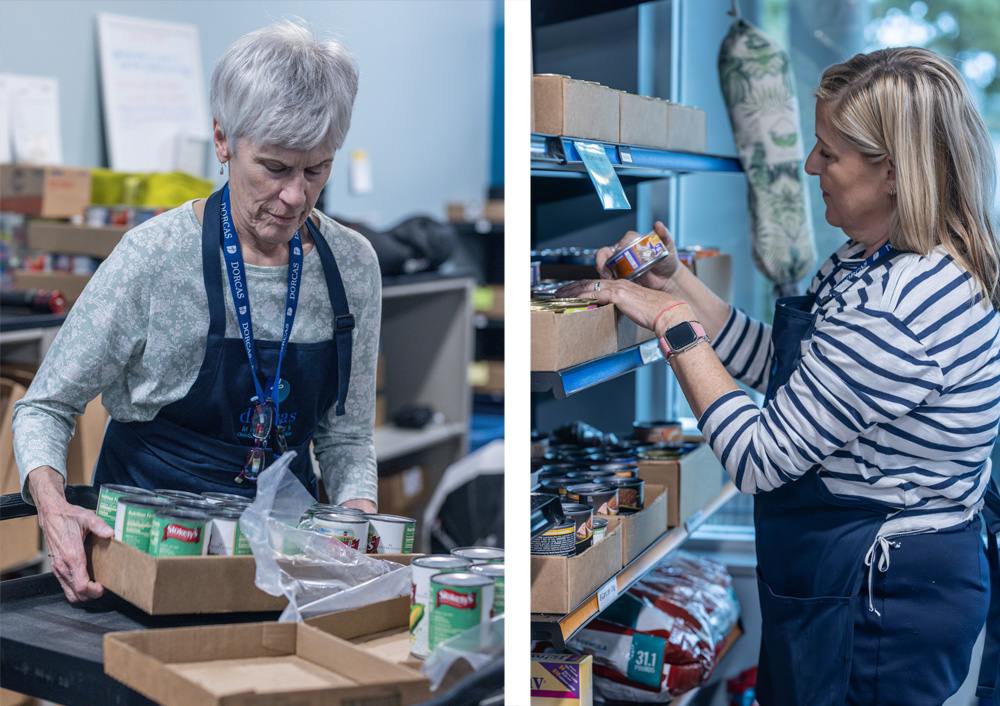 Sallie Whelan, a retired schoolteacher, said it's the interaction with clients that makes the food pantry such a satisfying volunteer experience.
"I wanted to do something in my retirement that would go towards my philosophy of helping people," said Whelan, 67. "We're working directly with the people that are shopping — helping them find something that they're looking for or explaining the process to them."
Founded on faith and dignity
While the ministry is motivated by the Christian faith of its founders, the employees and volunteers do not ask clients about their faith and only mention its Christian roots if asked. Among the 40 congregations supporting Dorcas, one is a synagogue; another, a Hindu temple.
"Whether they're Christian or whether they're Hindu or whether they're purple or whether they're green, if you want assistance and you live within the geographic region that Dorcas supports, they can assist you along a path," said Barbara Bostian, 66, who volunteers as a career coach and serves as vice chair of the ministry's board of directors.
That desire to help neighbors is how Dorcas got its start. In 1968, a group of mostly white women from Cary's downtown churches that had been meeting for a Bible study decided to add a service project.
Southern schools were still segregated in those days, and the women decided to form a class for Black children who didn't have access to kindergarten.
They drove through town, stopping at homes where they spotted a clothesline with children's clothes or toys on the front lawn. About 40 children eventually enrolled and met at a local predominantly Black church.
Thus was born Christian Community in Action, still Dorcas' legal name.
How does your faith community offer support while maintaining the respect and dignity of its neighbors and clients?
Soon after the program began, people started donating clothes for the children, and a small clothing closet was set up. To help preserve people's dignity, CCA began charging people a nickel or a dime for each item. This was the start of the Dorcas Thrift Shop.
"They started putting money in a jar," said Jill Straight, Dorcas' senior director of client services and advocacy. "And then when one of the families they were working with needed help with a light bill or water bill, they used the jar of money to help with the bill."
By 1972, the thrift shop transitioned from a church closet to a downtown apartment. The kindergarten program ended in 1980, but the thrift shop continued to grow.
After moving half a dozen times, the ministry bought an old strip mall in 2008 and invested more than $4.5 million in building upgrades. It rented out adjacent spaces to other nonprofits, including a Habitat for Humanity ReStore, an after-school literacy program and a behavioral health care management group.
Dorcas Plaza also includes a few for-profit businesses — one of which, a pool hall, has been a good neighbor to the ministry, contributing money through fundraising drives.
These sound business decisions have helped the ministry boost its volunteer roster. Each week, a Dorcas staff member conducts an orientation tour for potential volunteers. On a recent Tuesday, those included a handful of retirees and a young man with developmental disabilities.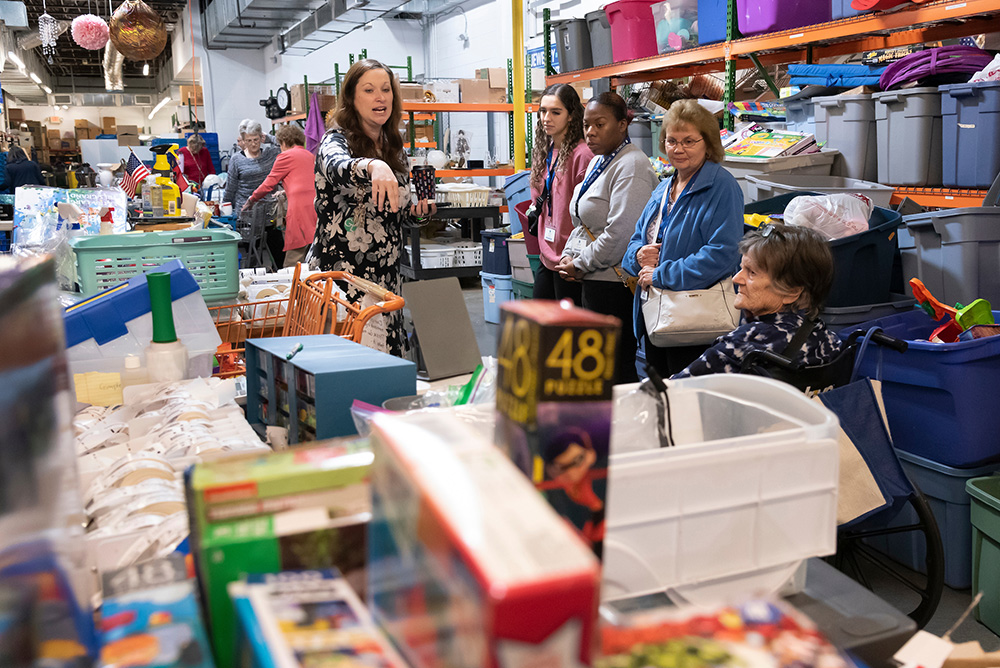 Shelley Hobbs, Dorcas' director of marketing, gave the group a behind-the-scenes tour of the thrift shop, the food pantry and the crisis center.
All were familiar with the Dorcas Thrift Shop, and several said they had shopped there for years. One of them, Carolyn Jungclas, had recently retired from a career as head of procurement for First Citizens Bank.
Jungclas, 60, described herself as a crafter who loves to sew. She wanted to volunteer to sort through the linens and fabrics the thrift shop receives. A friend had told her that Dorcas could use her help.
"I'm a firm believer, from the Gospel of Luke, that to whom much is given, much is expected," Jungclas said.
But what impressed her most was the ministry's emphasis on treating people with dignity.
"To me, that just is so key," Jungclas said. "I'm hoping to start as soon as possible."
How do your volunteers describe the work of your organization? How do they describe working for your organization?
Questions to consider
What compelling vision does your organization use to inspire volunteers?
How do you communicate that vision and invite potential volunteers to be part of it?
If you have an idea for Christian social entrepreneurship, could it be supported with an active volunteer base?
How does your faith community offer support while maintaining the respect and dignity of its neighbors and clients?
How do your volunteers describe the work of your organization? How do they describe working for your organization?