Emiliano Lerda: A growing Nebraska nonprofit with faith roots focuses on free legal aid for immigrants
Emiliano Lerda speaks at a rally at the Nebraska Statehouse in September 2017 to support DACA recipients in response to the Trump administration's decision to end the DACA program. Photo courtesy of Immigrant Legal Center
The executive director of the Immigrant Legal Center discusses his own journey as an immigrant and the rapid growth of the legal center founded by Methodists.
Tuesday, September 17, 2019
When lawyer and executive director Emiliano Lerda looks back on his own immigration from Argentina to Nebraska, he sees how crucial moments and people made it all possible.
Through fortuitous meetings, he received full scholarships for both his B.A. and his J.D. A financial aid director took special interest in helping him attend the University of Northern Iowa, and a law professor urged him to apply to Drake Law School. Both directed him toward dreams and supported him with the resources to attain them.
"That was the genesis of this very, very strong desire to pay it forward," Lerda said.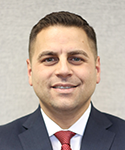 Decades later, he has dedicated his life to other immigrants at the Immigrant Legal Center based in Omaha, Nebraska. He aims to be a similar source of help for immigrants who need legal aid and cannot pay for it.
The organization, started in 1999 as an initiative of the United Methodist Committee on Relief, has expanded into an independent legal center with 48 full-time staff and 3,800 cases last year.
The success of the organization has been a result of keeping sight of its "true north": free, quality legal aid for vulnerable immigrants.
Lerda talked to Faith & Leadership's Chris Karnadi about the organization's growth, the importance of keeping its mission sharply focused, and how "The Bridges of Madison County" started him on his journey to Omaha. The following is an edited transcript.
Faith & Leadership: What's the goal of the Immigrant Legal Center?
Emiliano Lerda: Our mission is to welcome immigrants to the community by providing high-quality legal services, education and advocacy. We primarily function as a nonprofit law firm.
We also do educational presentations to the immigrant community and to the non-immigrant community. The immigrant community presentations are "know your rights" presentations, emergency preparedness. The presentations for the community are typically more about the realities and basics of the immigration legal system and how it works. We also have done a lot of presentations on how to help immigrants, if people are in positions [to do so] or maybe are service providers.
Also, we have attorneys that work with state and national leaders that may be elected officials, legislators that are drafting a bill or amendments to bills that impact immigration. They oftentimes, whether they are Democrats or Republicans, will reach out to us and ask technical questions about the language to be included. We have testified in a lot of bills that impact immigrants.
F&L: Was the original vision to be a broad-ranging organization centered on legal aid for immigrants?
EL: The organization was started in 1999 as Justice for Our Neighbors of Nebraska. We still have that name of the organization, but we changed our legal name to Immigrant Legal Center and are doing business as the Immigrant Legal Center as of 2018.
Justice for Our Neighbors was started by the United Methodist Committee on Relief back in 1999, and Omaha was one of the first sites. They started with a group of volunteers from a local United Methodist church hosting visiting immigration attorneys. It was very much a ministry of the church.
Eventually, they were able to hire full-time attorneys that were church and community workers who were paid through the United Methodist Committee on Relief. Then in 2006, Justice for Our Neighbors in Nebraska decided to incorporate into an independent 501(c)(3) nonprofit.
That was the way it was structured in large part until 2011, and that was when I started. At that time, the organization was just emerging from a difficult transition where the executive director had left and the only attorney they had at that time had left.
At the time, it was just one lawyer -- myself -- and two paralegals. The operating budget was approximately $200,000 to $250,000 a year. We were providing services to approximately 500 cases a year at that time.
And frankly, because of the transition that we went through, our reputation was not very strong in the community or with our funders. When I say it was not very strong with the community, it was not very strong with the nonprofit community service providers, but also with the immigrant community. So for the first year, we worked on the nuts and bolts of cleaning up and basically building a strong foundation internally.
We did our very first strategic plan in September 2011, which said that over the next three years we were going to lay the foundation to become an immigrant justice center.
Eight and a half years later, we now have 48 full-time employees. And we just finished a $3.3 million capital campaign that allowed us to buy a building that is a home of our own now. We also opened eight satellite locations across the state of Nebraska and in southwest Iowa. Our operating budget for this year is approximately $3.6 million.
This is not important but for the fact that it allows us to help a lot more people that really need access to our services, because not having access to competent immigration legal representation can result in a family being separated, in a victim not being able to leave a very dangerous relationship, an abused or abandoned child who is not able to find a home. So to us, all of this was done understanding that our "North Star" was our clients and our immigrant neighbors. Last year, in 2018, we were able to serve more than 3,800 cases for immigrants from, I think, 55 different countries.
And even with all of this additional capacity, we're still not able to meet all the needs. There's still major need for our services. We do not charge anything for our services. We help individuals that are within 150% of the federal poverty guidelines. That's about a $35,000 income for a family of four.
F&L: Over the course of time, how has the vision of the organization changed?
EL: The vision continues to be the same: welcoming immigrants to the community by providing immigration legal services, education and advocacy. What changes is an understanding, at least in our organization, that we have to choose one priority: our newest neighbors, our clients in the immigrant community that we serve.
Having that clear understanding of our No. 1 priority, that is something that has changed since 2011 when I started here. One of the risks that you run when you begin and run a nonprofit or an organization as a ministry of a church, is [determining] what is "true north."
There were a lot of people that had two priorities. One was serving immigrants, low income immigrants, with immigration legal services, and one was the experience of volunteers, of members of the church. And not to minimize that experience -- because that's a great way to change hearts and minds in the community -- but we decided early on that we will never do something that will benefit the volunteer and the members of the church at the expense of the well-being or the best interest of the client.
And when you start making decisions with that clarity, I think a lot of things change.
F&L: You are originally from Argentina. What brought you to Nebraska?
EL: I was an exchange student in Wilmington, Delaware, and the movie and book "The Bridges of Madison County" [featuring covered bridges in Iowa] was emblematic of a relationship that I had then. So I basically wanted to do a pilgrimage to see the covered bridges in Iowa, and the University of Northern Iowa offered this intensive English program that I could come and study and improve my English skills for three months, from October 1999 until December.
That crazy idea of just wanting to see the covered bridges basically opened the door where I randomly met the director of the financial aid office at the University of Northern Iowa. I briefly told him who I was and how I wanted to study in the U.S. but couldn't afford it.
And I remember he leaned back and said, "A lot of people need help; I can't help everybody. But for some reason, I get the feeling that you're going to do something great with your life. I'm going to follow my heart. I'm going to help you."
So he helped me secure a scholarship. And because of that, he basically changed my life trajectory, because that was the only thing that made it possible for me to study here.
And then something similar happened when I went to law school. Through the place I was working, I met a professor at Drake Law School who convinced me to apply. I only applied to Drake. I was so lucky that I was given the Public Service Scholarship.
When life does this to you, and they pay full tuition and fees for three years, you just feel like once again you have to pay it forward.
Later, I was living in Des Moines. I applied for this job at the Justice for Our Neighbors of Nebraska, which later became Immigrant Legal Center. It was a perfect fit, because of the focus on immigration.
So that's how I came to Iowa from Argentina -- because of the covered bridges of Madison County -- and then I came to Omaha because I was following my heart and my passion and I wanted to work at a nonprofit.
I think it's important to highlight that my own journey was very privileged, and it was unlike the journey of most immigrants in this country. And I say that because I feel like I have to own it and I have to recognize it.
Without going much further, my grandmother passed recently, and I can't be there with my family. These things happen when you're an immigrant, and it's really difficult. But that's nothing compared with the challenges and difficulties that most immigrants face when they come to this country.
I think it's important to recognize my privilege, how many people helped me. It makes me think about how we impact the other people that come in and out of our lives.
I am grateful not only for the help but for how they inspired me, how they made me believe that I could do something meaningful. At a crucial time in my formative years of my life, someone convincingly told me, "I think you're going to do something great, and I'm going to help you." I mean, after that, you'd better do something great.