As a certified addiction counselor and substance-abuse professional, James Patterson knows that addiction is sometimes viewed as a moral failing rather than a medical disease. He hopes that the stigma that persists around substance-use disorder, especially in some faith communities, can be erased.
"I had a friend say addiction is kind of the modern-day leprosy," Patterson said. "Those are powerful words."
Patterson's concern led him to participate in the Opioid and Stimulant Outreach, a collaborative effort of the Oklahoma Conference of Churches and the Oklahoma Department of Mental Health and Substance Abuse Services. He served as a panelist at the Opioid Summit for Communities of Faith, a virtual event hosted by the outreach program.
As founder and chief executive officer of an outpatient addiction treatment facility in Oklahoma City, Patterson sees the collaboration as a much-needed partnership to help individuals and families affected by substance-use disorder.
"I believe everyone should be involved in this, because I really think one of the things that makes addressing this hard is the stigma and the shame and the guilt and everything else that is associated with it," Patterson said. "I personally think that when the church and other social groups get involved — especially the church, because they do have so much influence in society — I believe that benefits everyone."
The Rev. Shannon Fleck, the executive director of the Oklahoma Conference of Churches, agreed. Fleck, an ordained Christian Church (Disciples of Christ) minister, said her organization was excited to partner with the state's mental health and substance abuse agency when the department reached out in 2019.
In Oklahoma, a state often referred to as the "buckle of the Bible Belt," the church coalition viewed the partnership as one way to fulfill the nonprofit's mission to aid houses of worship by "meeting them where they are."
Fleck said state officials offered much-needed funding to educate faith leaders and their congregations about substance-use disorder, particularly as it pertained to opioids.
"Honestly, I felt that was a no-brainer, because I know that as clergy, we're not educated on these issues and don't necessarily feel like we have the authority or the capacity to comment on them publicly," she said. "Therefore, I know it's not something that's actively talked about in pulpits. It's kind of hidden in a culture of shame in our faith communities. A big step toward recovery and hope for people who are struggling with addiction is to eliminate that curtain of shame."
When Michael Eric Owens joined the statewide ecumenical organization as director of programs and special events in January 2020, the work of the Opioid and Stimulant Outreach initiative began in earnest.
How are faith leaders uniquely situated to reframe substance-use disorder from a moral issue to a medical issue?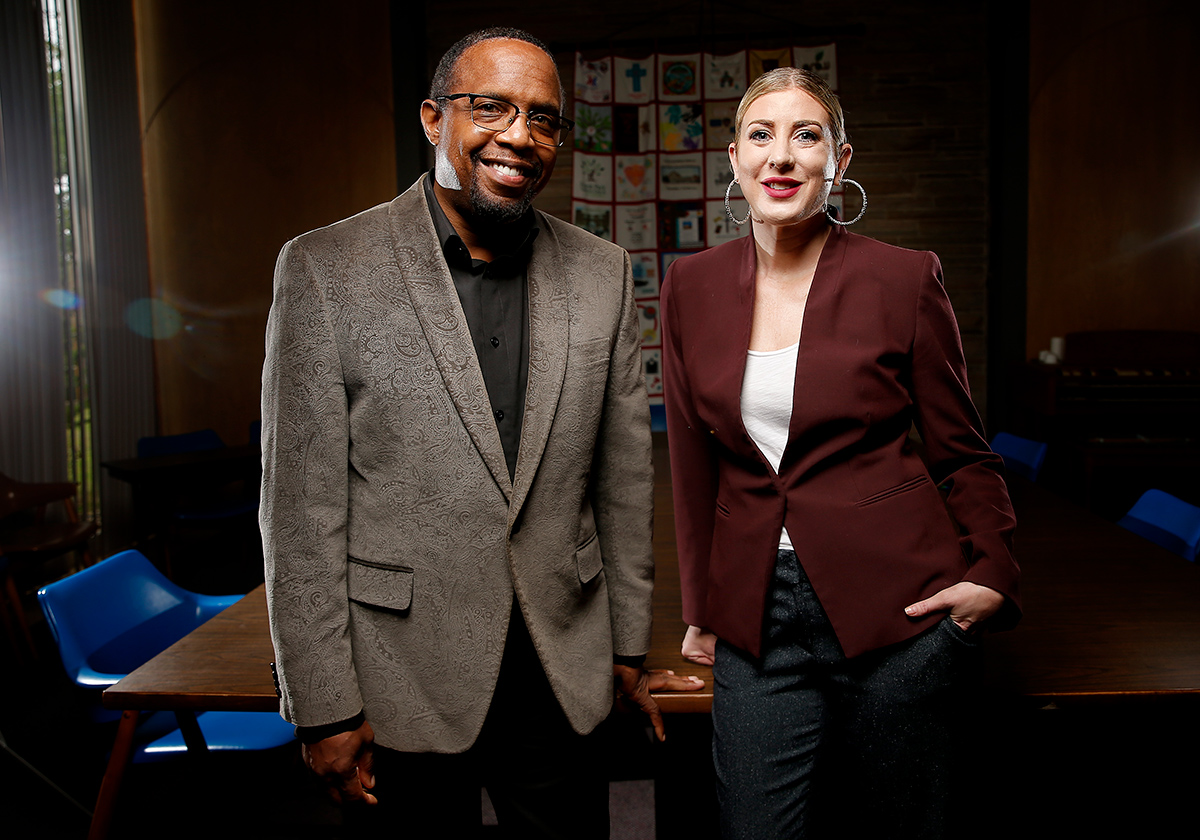 After conducting a community needs assessment, the coalition brought together counselors, social workers, people who had recovered from substance-use disorder and others for the virtual summit. The idea was to provide an overview of assistance and programs available to faith communities.
Challenging the stigmatization of substance-use disorder became a main focus of the program.
"I've been pretty consistently saying addiction is a medical issue, not a moral issue," Fleck said. "And if we're having blood donation drives in our churches, heart health clinics in our churches, if we're doing things like that, there's no reason we shouldn't be doing the work of addiction assistance."
Owens thinks the church coalition is uniquely positioned to have some of the tough conversations surrounding substance-use disorder as well as to provide assistance like grants to congregations that are working to dispel myths.
"We want to do prevention and treatment, but we [also] want to remove the stigma, because we have found that this is the biggest hurdle to any kind of work like this in the faith community," he said.
Young Onuorah, with the Oklahoma Department of Mental Health and Substance Abuse Services, said his agency realized that the faith coalition was made up of many of the people the health department hoped to reach: spiritual leaders and their congregations.
"I call them the gatekeepers," Onuorah said. "We know Oklahoma is a 'faith state,' so why don't we intentionally engage with the faith community?"
Similar mission
The North Carolina Council of Churches began addressing the issue of substance-use disorder and overdose response before its Oklahoma counterpart.
Elizabeth Brewington joined the council in 2018 specifically to work in this area of ministry, focusing on the overdose response component for the organization's Partners in Health and Wholeness program. She said the council is working to help faith communities navigate the complexities of substance-use disorder — gratifying work that can lead churches to become more involved in combating the overdose crisis.
Clergy breakfasts have been an integral part of the program, Brewington said, and they have continued, primarily virtually, during the pandemic. When in-person, the events are held at local houses of worship. Spiritual leaders are invited for information gathering and training. The events provide opportunities for council staff and volunteers, clergy, and lay leaders to get to know one another. Over these informal meals, conversations about each community's particular needs and concerns seem to flourish.
What is the prevalence of substance-use disorder in your community? How are members of your congregation and surrounding community affected by it?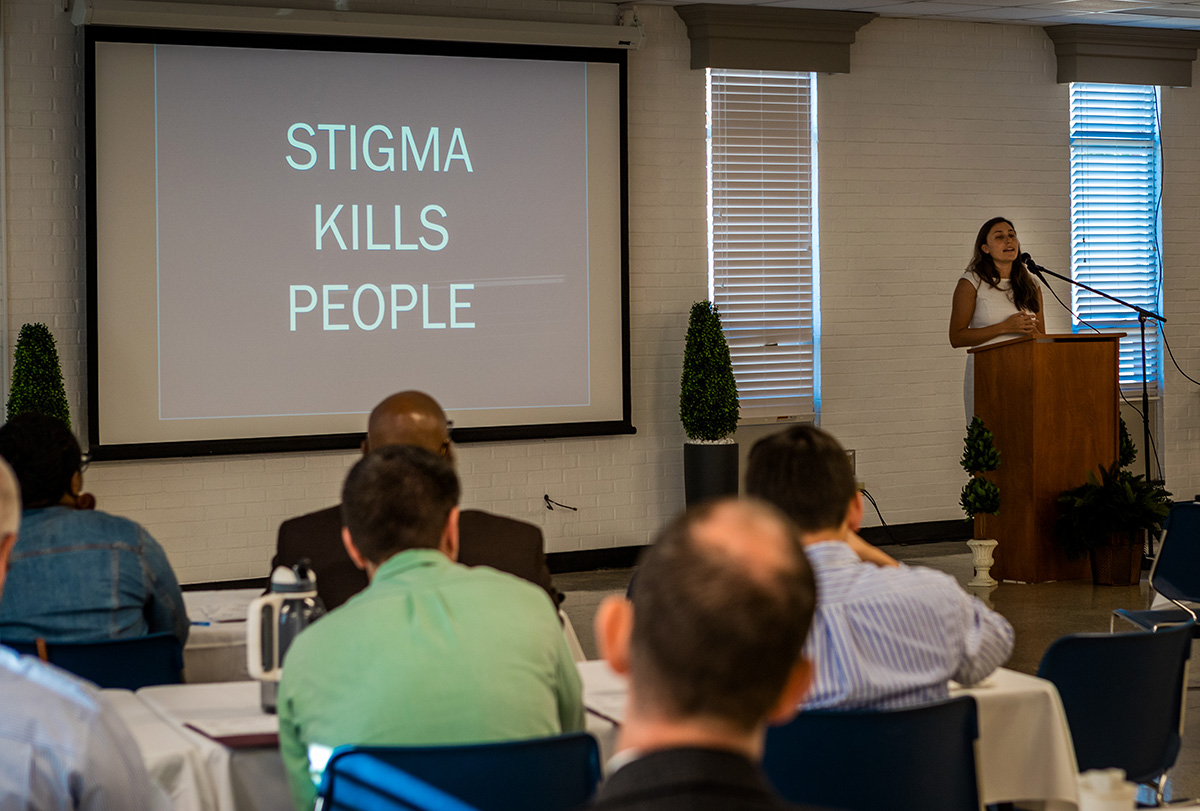 Participants typically are offered handouts full of information, along with harm-reduction training — practical strategies designed to reduce negative consequences associated with drug use. These may include instruction in administering medications such as naloxone and Narcan, which help reverse opioid overdose.
In her work with faith communities on substance-use disorder, Brewington has heard a lot of language about sin; her program intentionally uses terminology describing the problem as a medical disease, modeling stigma-reducing language as a matter of course.
The program also offers naming ceremonies, which can go a long way toward helping people shed the shame associated with substance-use disorder.
"The naming ceremony basically invites anyone who has lost someone to an overdose or who knows someone who is struggling with substance use or someone who has been impacted by the war on drugs to lift those names up in that space, and we bless them," Brewington said.
"It always starts off very quiet — a lot of that stigma and shame — but then names just come like popcorn in every single space we go into. It's really heart-wrenching that there are so many names, but it opens the conversation, and people realize that the person sitting next to them also knows somebody or has had a similar experience.
"I think, because substance use has been stigmatized for so long, that when I have been able to open space for people, people have been really relieved to be able to have someone to talk to," she said.
How might confronting the shame and stigma of addiction from the pulpit and in congregational life open up new ways of meeting and following Jesus for every member?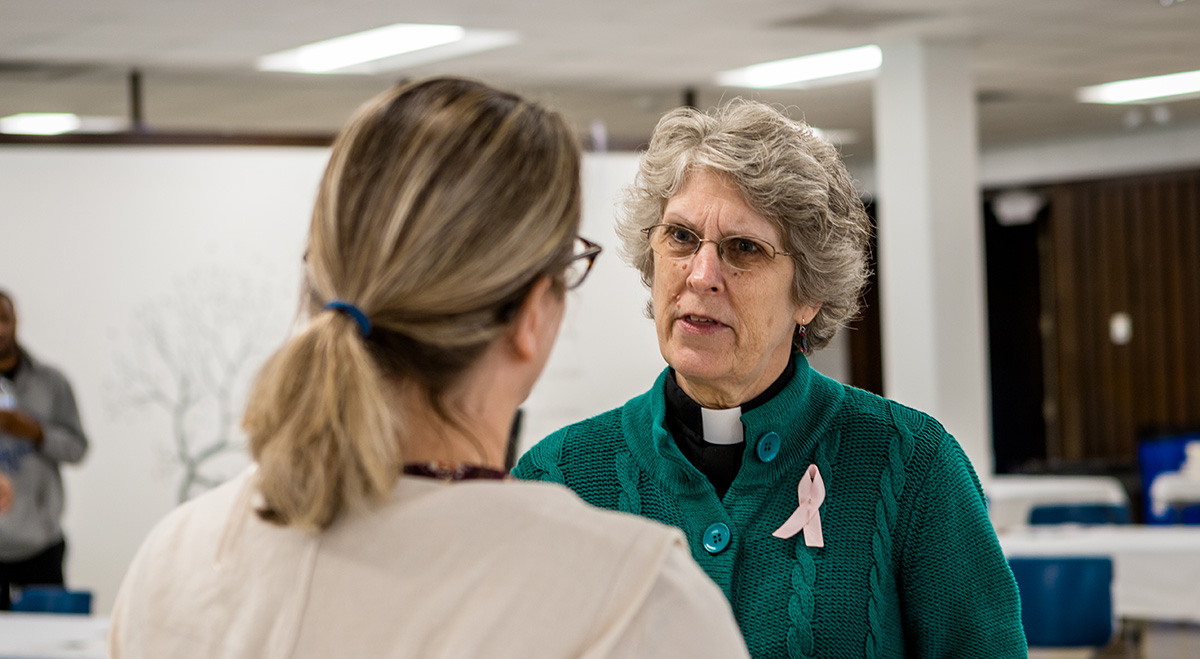 Overcoming pandemic challenges
Owens, with the Oklahoma Conference of Churches, said he has been able to distribute grants and develop relationships with churches seeking information, but the inability to host in-person gatherings during COVID-19 has limited some outreach activities. He plans to coordinate another virtual summit soon and wants to see in-person activities be a part of future programming.
Fleck, the church coalition's executive director, said she envisions such activities as well, although funding might limit what can be done.
Onuorah, who is senior director of prevention services with Oklahoma's Department of Mental Health and Substance Abuse Services, said his office has harm reduction items ready to distribute to churches involved with the outreach partnership.
The need is urgent, now more than ever, he said, as the opioid crisis has taken a daunting turn during the pandemic. In the last two years, the presence of fentanyl — a potentially deadly drug — has increasingly been found in opioids and other drugs being peddled on the streets.
He said statistics show that there were 215 opioid deaths in Oklahoma in 2019, with 47 related to fentanyl. This is compared with 266 opioid deaths in 2020, with 127 related to fentanyl. The state's numbers align with national trends that show increased drug use and overdoses across the country during the pandemic.
Onuorah and his colleagues would like to support faith community members hoping to combat overdose deaths by getting supplies to them, including naloxone and Narcan, plus medication disposal pouches for individuals to safely dispose of prescription medications. They would also like to distribute fentanyl test strips designed to help identify the drug's presence.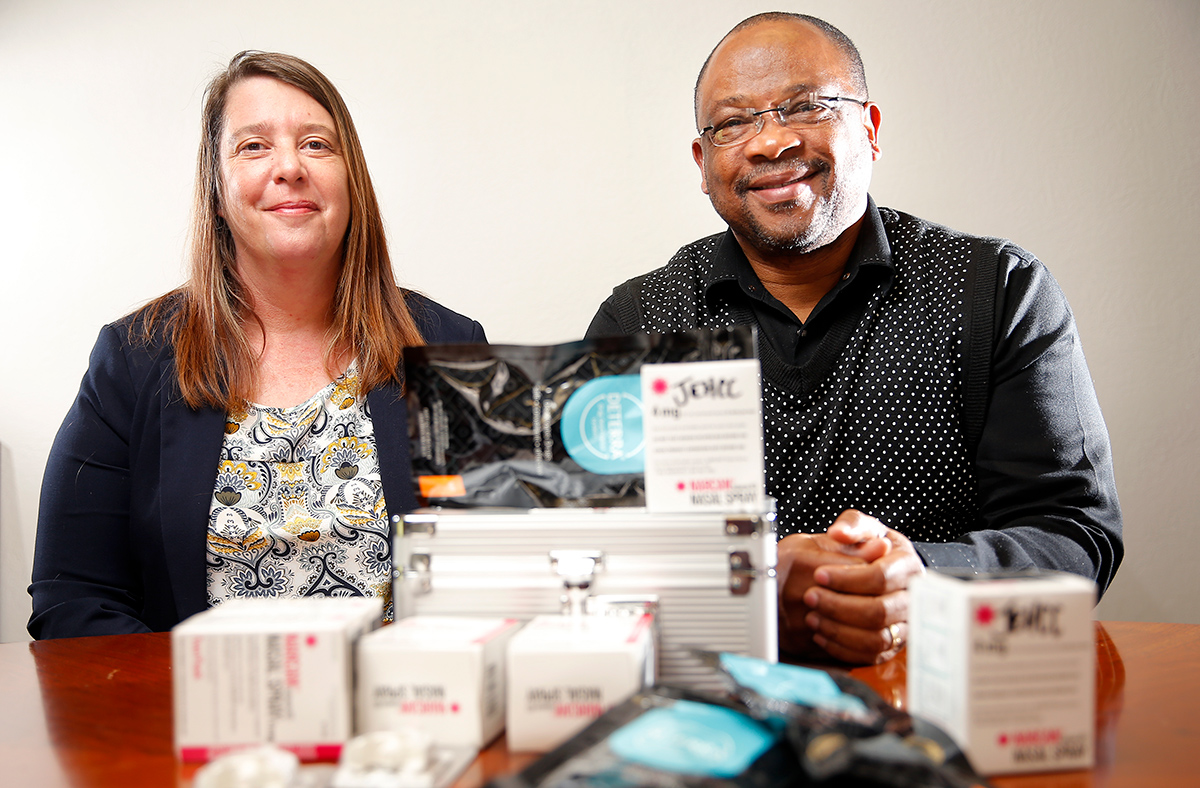 He's optimistic that programs like the Opioid and Stimulant Outreach will be effective in Oklahoma.
"I think the faith communities are beginning to understand that it takes all of us," he said. "They are beginning to understand that it takes a collective effort."
Patterson, the Oklahoma City treatment provider, said that the impact of the pandemic makes these efforts even more critical. People became more isolated during the COVID-19 crisis, and their access to networks of support was limited or they became disconnected altogether.
"There's been a perfect storm, in my mind," Patterson said. "We're probably busier now than we've been in the last 10 years."
Creating robust partnerships
Brett McCarty, a theological ethicist, remembers waiting to hear the health status of a person who had overdosed.
McCarty is associate director of Duke Divinity School's Theology, Medicine and Culture Initiative, and he holds a joint appointment in the Duke School of Medicine's Department of Population Health Sciences.
He said his work lends itself to questions about the intersection of faith and medicine as it relates to substance-use disorder. However, there is a personal connection that has fueled his research projects on the topic.
He is currently focused on the opioid crisis and the response from religious communities, including through his leadership of the Churches Promoting Recovery project. Apart from the intellectual aspect, his interest in the issue was kindled when an extended family member overdosed.
The situation was complex.
"It was just — a lot of what you read about [as] the historical causes of the opioid crisis were present in this person's life," he said. "When I was sitting in the waiting room, I like to fix things, and I had no clue how to begin to really imagine a path forward that could really help."
McCarty soon launched a research project based on his observation that Christian communities in particular seem to struggle with how to respond to people with substance-use disorder.
In his research, he found that when faith communities "attend well" to individuals with substance-use disorder, the religious groups can rediscover their sense of purpose and calling "as they meet Jesus and follow Jesus in the margins."
"It's in those spaces that churches and religious folks' lives can be claimed in ways that reorder themselves toward a deeper sense of purpose, one that society at large doesn't give us, but is deeply important and faithful," McCarty said.
North Carolina communities became a focus of his research, which included listening sessions with clergy and a needs assessment. McCarty and other researchers are writing up their findings on the needs of clergy who are responding to the opioid crisis. Information gleaned from their research indicates that the work of ecumenical agencies like those in North Carolina and Oklahoma is both needed and welcome.
That's good news for government agencies seeking to partner with such groups.
"I would say clergy and faith leaders are eager to partner and to respond well," he said. "They recognize their limits, but they want to be respected as partners."
How might your faith community engage in unexpected partnership with governmental and public health organizations in your area?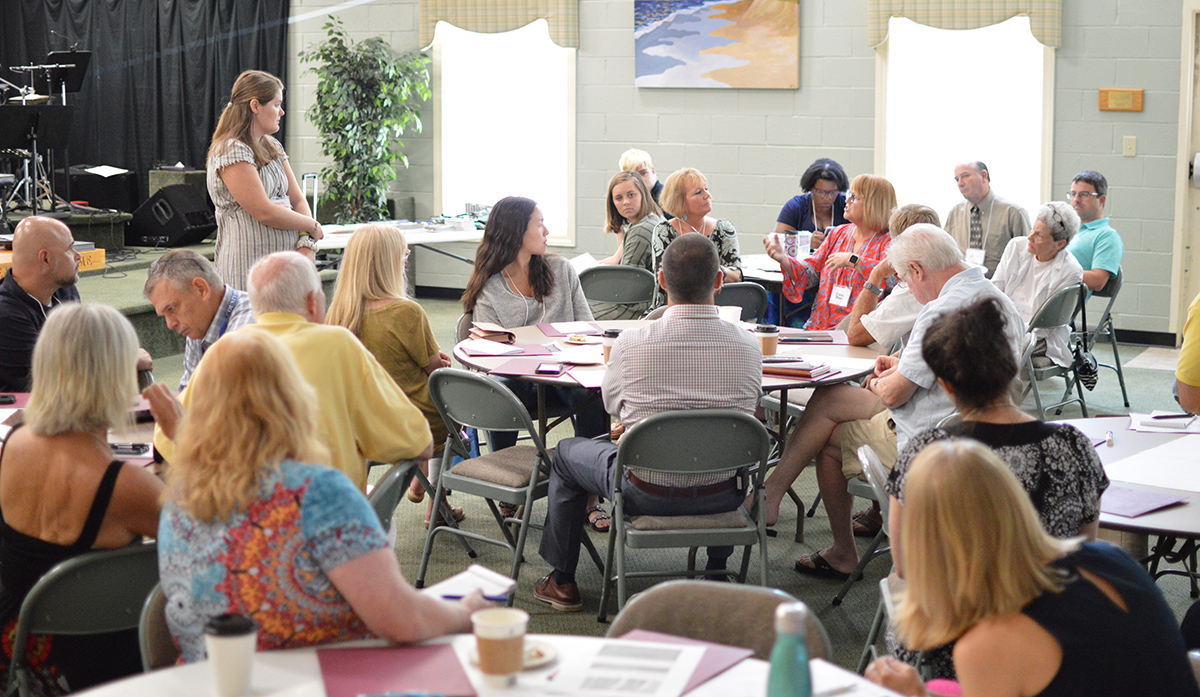 McCarty said he recommends that government health agencies view faith communities not just as modes of access to distribute information to the community but as partners whose voices are respected.
"There are ways to respect the integrity of a faith community's traditions and how they see the seeking of public health as bound up with their religious identity and purpose without necessarily endorsing any particular one but giving space for folks to be more true partners in that effort," he said.
"When they get that space and they really get activated in that way, you're going to have much more robust and deeper community allies and advocates than you would if you're just seeking communities to disseminate your information."
Questions to consider
How are faith leaders uniquely situated to reframe substance-use disorder from a moral issue to a medical issue?
What is the prevalence of substance-use disorder in your community? How are members of your congregation and surrounding community affected by it?
How might confronting the shame and stigma of addiction from the pulpit and in congregational life open up new ways of meeting and following Jesus for every member?
How might your faith community engage in unexpected partnership with governmental and public health organizations in your area?