When John Gasangwa first visited the remote western region of Rwanda nearly a decade ago, the sight was at once beautiful and sobering.
The hills rising from the shoreline of Lake Kivu offered an expansive view of the verdant rural landscape, teeming with coffee trees and cassava plants. Yet the clear lack of infrastructure, coupled with the region's scant educational opportunities and health care, rendered it a place of deep isolation and poverty.
It appeared to Gasangwa that the Boneza region was still in a suspended state of shock and paralysis more than 15 years after the horror of Rwanda's 1994 genocide.
His original plan was to remain in the scenic yet hardscrabble area just long enough to establish dependable relationships with local coffee farmers; Gasangwa needed suppliers for his nascent business venture roasting and distributing coffee from Rwanda's capital city of Kigali, a four-hour drive to the east.
That plan quickly changed.
"I had come to Boneza to look for coffee, because they grow some of the best coffee in Rwanda," Gasangwa said. "But after meeting with the farmers, on the last evening of my visit there, I asked the women of the village where they were getting their water. They took me on a long walk to a broken water pipe where women by the hundreds would wait for hours in line to get water. God broke my heart at that broken water pipe."
Where has God broken your heart? What ministry might come of it?
Gasangwa had arrived in Boneza with a freshly minted MBA from Colorado State University and experience in microfinance work in Rwanda at two faith-based global development organizations, World Vision and Opportunity International.
"When I saw what was going on in Boneza -- no access to clean water, no education system, no roads, no banks, no trust, no hope -- well, God reminded me of the promise I had made to serve the poor back when I was growing up a refugee boy."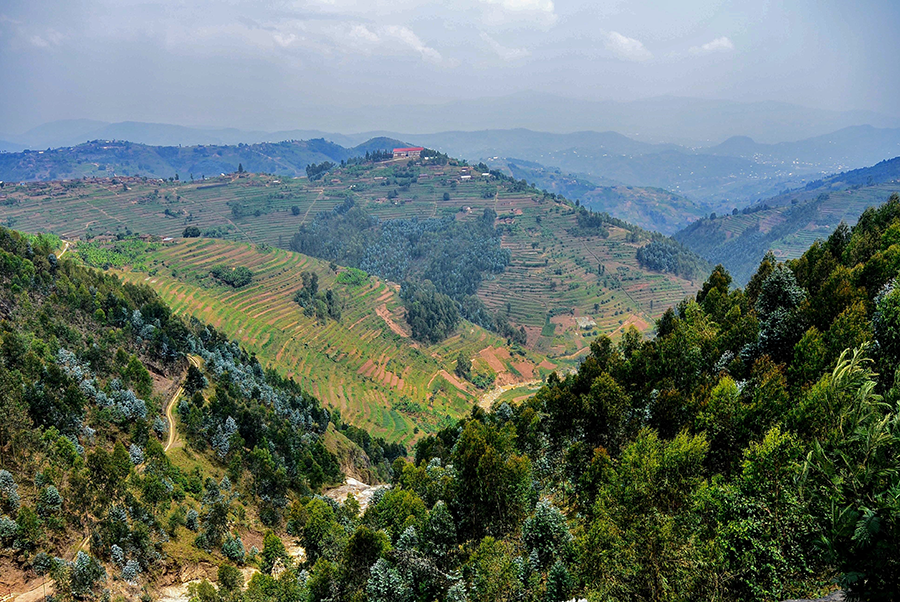 Gasangwa had made the vow when he was living a precarious existence in a refugee camp in Uganda. His parents had fled Rwanda in 1960, before he was born, to escape the ethnic strife pitting Hutus against Tutsis.
When he reached the fifth grade, his parents could no longer afford the cost of his schooling. At that point, Gasangwa said, he prayed for a miracle that would allow him to continue his education. Soon thereafter, he was selected for sponsorship by the Christian humanitarian organization World Vision, which covered his tuition.
"I had told my mom that if I could stay in school and get a good education, I would repay God for the rest of my life by serving the poor," he said. "It was a sacred promise."
'Arise, shine, for your light has come'
Gasangwa recalled that childhood promise during the sleepless night after he accompanied the women to the water pipe.
As morning dawned, he resolved to drop his plan for an urban coffee business and move to Boneza to launch a faith-based development organization. He called it Arise Rwanda Ministries, inspired by the opening verse of Isaiah 60: "Arise, shine, for your light has come, and the glory of the Lord rises upon you" (NIV).
Gasangwa's vision was to use his expertise in entrepreneurship and sustainable enterprise to bring dignity and shalom to the Boneza region's 25,000 residents scattered in villages clinging to the hillsides.
What expertise do you have that could address the problems of the world in unexpected ways?
"The No. 1 solution to poverty is a paycheck," Gasangwa said. "The best way to a paycheck is through job creation and starting businesses. We don't need aid; we need trade."
"I've had the opportunity to have the best education in the world," he said. "I use my business background as a way to do ministry and preach the gospel. … Business is the calling God has ordained for me to do."
Gasangwa eventually fulfilled his original purpose of establishing a supply base among Boneza's coffee farmers for growing, harvesting and washing their beans for roasting and export. But that turned out to be only one of many entrepreneurial and educational initiatives in the portfolio of Arise Rwanda's programs.
What basic needs do you need to address with your clients/constituents/members before you can minister to them in other ways?
"When Arise Rwanda began," Gasangwa said, "we asked ourselves a big question right away: How do you do business with the poor when they don't have water, education or medical care? We needed to begin with finding clean water, with educational efforts, with microfinance outreach, before focusing on agribusiness development."
As it approaches its 10-year anniversary, Arise Rwanda has helped transform the Boneza region with exciting new avenues of progress and transformation:
The coffee business is steadily growing, providing economic gains for farmers.
The educational opportunities for the community's children have dramatically increased, with seven preschool academies now scattered throughout the region and a technical high school, Kivu Hills Academy, established in 2016, now enrolling more than 200 students for studies in computer systems, masonry, carpentry, agriculture and tourism, as well as coursework toward their national exams.
Arise Rwanda has coordinated engineering and technical support for vast improvements in Boneza's wells, providing reasonable access to water within a half-hour's walk for more than 60% of the population.
The organization's "Have a Cow" program is raising funds to purchase cows for local families, generating milk to consume and sell, as well as manure to use for fertilizer. Hundreds of cows have been sponsored for Boneza families by Arise Rwanda's partner churches in the U.S.
More than 3,000 local women have joined microfinancing trust groups established by the organization, spurring entrepreneurial ventures and economic development.
"We now have women in groups of 50-75 get together and vote on a loan every week for the best ideas," Gasangwa said. "Some are raising pigs; some are fishing in Lake Kivu. Some want to do a restaurant. Some are sewing beautiful bags and clothes. Some are raising cows and chickens, selling eggs."
Peter Habyarimana, who, like Gasangwa, grew up in Uganda and Rwanda, is on the U.S. board of Arise Rwanda Ministries and has watched the program develop from its inception.
"John comes from a world of absolute poverty, but somehow he managed to survive and to achieve what doesn't seem humanly achievable," said Habyarimana, who now works as a development and marketing manager for a Charlotte, North Carolina, real estate firm.
"He grew up in a country that wasn't his own. He sees the potential in everyone. He's a survivor, and that's a big part of his life. He knows that if he had not been helped as a kid, he never would have made it. That's a big motivator for John and for his vision of Arise Rwanda."
A childhood of poverty and war
Gasangwa knows well the ravages of poverty. During his childhood in the refugee camp, he lost two sisters to starvation and dehydration. His grandparents succumbed to disease while they were in exile in neighboring Burundi.
And then, at age 13, Gasangwa made the decision to leave the refugee camp and head home to Rwanda to join the resistance against the extremists who were exterminating Tutsis and Hutu moderates. There he learned that his father – who had returned earlier -- had perished in the genocide.
How does your own story shape your vision of ministry? What sacred promises have you made?
"When I reached the border," Gasangwa said, "the darkness was everywhere. There was silence. There was blood. There were bones. There were widows and orphans. There was no country; it was deserted. No one had hope. No one knew what would happen tomorrow. I was numb."
He ended up in an orphanage in the eastern part of Rwanda, where he lived for three years, "a refugee now in my own country," he said.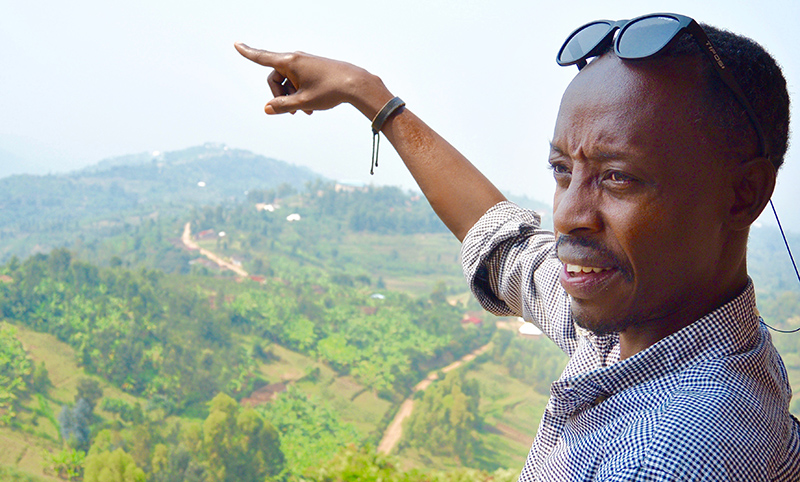 Yet he managed to put himself through high school, and he went on to earn a business degree from the National University of Rwanda.
Over the next several years, Gasangwa joined the Rwandan staff of World Vision and then Opportunity International, working in both to develop microlending opportunities in the country. He then was awarded a full graduate scholarship at Colorado State University, where he earned an MBA in global social and sustainable enterprise.
'Lives are being changed'
David Knibbe, a member of Arise Rwanda's U.S. board, has known Gasangwa for more than a dozen years. They worked together at World Vision and Opportunity International, where Knibbe was an executive in the U.S. headquarters for both organizations.
"John was intrigued by the microfinancing model and how that might be a catalyst for his country," Knibbe said. "He was eager to get after poverty through developing small businesses."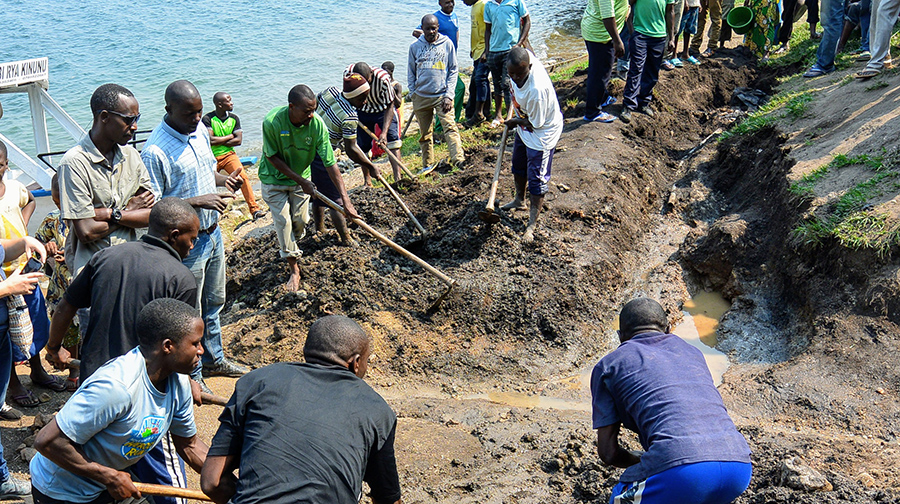 Knibbe introduced Gasangwa to Tim Volkema, the owner of Schuil Coffee in Grand Rapids, Michigan, a roaster and distributor of specialty coffees from around the globe.
As a result of that introduction, Volkema has added Kivu Hills branded coffee from Boneza farmers to his online offerings.
"John's heart is in the right spot," Volkema said. "We agree that good coffee and paying a fair price for it leads to better lives for the farmers who do the hard work in the fields. That's an approach to business and economic equity that we both believe in passionately."
Sharon Mutoni, who first encountered Gasangwa when he was her instructor in entrepreneurship at the University of Rwanda's College of Business and Economics in Kigali, has joined the Arise Rwanda team as mission coordinator, managing logistics for visits from North American church groups partnering with the program.
"Kids are going to school and being shaped into great men and women who will participate in the development of the country; pastors are being trained and given opportunity to study the word of God together; widows and genocide survivors are being given microloans and given hope to see a new day," Mutoni said. "There is just a cycle of good things happening, and lives are being changed."
Questions to consider
Questions to consider
John Gasangwa said he was inspired to pivot to ministry because "God broke my heart" at the sight of a broken water pipe. Where has God broken your heart? What ministry might come of it?
Gasangwa had expected to use his business training to start a for-profit enterprise. What expertise do you have that could address the problems of the world in unexpected ways?
Arise Rwanda Ministries addresses basic needs like water and education before developing agribusinesses with people living in poverty. What needs do you need to address with your clients/constituents/members before you can minister to them in other ways?
A colleague noted that a "big motivator" for Gasangwa was the help he received in overcoming a childhood of poverty and war. Indeed, Gasangwa said he'd made a "sacred promise" to repay that help by serving the poor. How does your own story shape your vision of ministry? What sacred promises have you made?