Advent
Justin Coleman: Stories of hope and second chances can inspire during Advent
In his Advent study resource called "Home for Christmas," a pastor shares stories of people struggling to escape gangs, homelessness and drug addiction -- stories that offer hope, love, joy and peace.
Bodega Advent Project in New York uses art to connect two congregations with neighborhood stores
Twenty-four mostly small-scale grocers in Brooklyn and Queens post art in their store windows in a series of displays modeled on an Advent calendar.
Kenneth L. Carder: Advent, and the longing for home
Serving as chaplain at a memory care facility, a retired UMC bishop learns that the longing for home is an innate hunger, buried deeper than our memories or imaginings. And it lies at the heart of Advent.
Thea L. Racelis: Puerto Rican Christmas means asopao and resistance
A pastor shares the traditions of her native island, where big parties with steaming bowls of delicious soup called asopao symbolize abundance, hope and resistance.
Jan Richardson: Places where words alone cannot take us
Moving from darkness to light is part of the Advent journey for an artist, writer and minister who uses the arts to encourage contemplation during the season.
Samuel Wells: Never mind the width
In Advent, dare to feel the depth. Never mind the width. If you're tired of waiting, go deeper, says the noted preacher.
Alaina Kleinbeck: Advent watchfulness is a call to participate in the in-breaking of the Kingdom
We must transform the workplace, the home and the play place into spaces that care for the vulnerable, for Christ himself.
Kyle Childress: Old pickups and Advent
At this time of year, a Texas pastor sees much more in his 1977 F-100 than a cantankerous truck and memories of the grandfather he loved. Is an old pickup preparing him for Advent?
Catherine A. Caimano: Why Advent is the hardest of times for faithful Christians
To put on the joy of the Christmas season, first there are things we have to take off, says an Episcopal priest.
Nancy S. Taylor: Magnify
Mary's Song is a reminder to all Christians that in saying yes to God, Mary also said no to all that is ungodly, says the senior minister and CEO of Old South Church in Boston.
Michael Pasquarello: An impossibly pregnant church
Like Mary, we have been called to be fertile, to be a church from which the Spirit brings forth much fruitfulness and life, says the professor of preaching at Asbury Theological Seminary.
Beth Felker Jones: On a collision course at Advent
December is a time for the familiar cycle of work deadlines and family obligations for a professor at Wheaton College. But Advent overrides these obligations with its season of expectation and hope.
Christine Parton Burkett: Advent aloud
Scripture is astonishing and exciting. So read it that way, says speech coach Christine Parton Burkett. She offers practical advice on how to avoid "stained-glass voice" when delivering familiar Christmas texts year after year.
Andrew Root: Just wait
Youth ministry isn't about helping young people create a successful future but about standing with them, waiting for the fullness of God's action. A youth ministry scholar and author of "The Relational Pastor" reflects on Advent, eschatology and young people.
Allison Backous: Bent to wonder
After recalling the frenetic pace of past Christmas seasons, a writer commits to celebrate Advent as it should be -- a time to embrace desire and hope -- and journeys toward the nativity in a different way than she has before.
William H. Lamar IV: The power of yes and no
On the fourth Sunday of Advent, the story of Mary and Joseph shows the importance of saying yes to God. The right yes is necessary if God is to partner with us in the economy of salvation.
Charlene Brown: Impatiently waiting
The search for a church committed to racial reconciliation didn't go quickly. But the waiting for it, like the waiting of Advent, was a time to learn to love God and neighbor and find miracles in small and surprising places.
Christmas
Gretchen E. Ziegenhals: How do we make a lasting impact in a culture of instant gratification?
This Christmas, what are we as church leaders painting, praying, preaching, proclaiming or prophesying that will endure for another 500 years? Are we conveying the hope of the Christ child that keeps us alive despite the darkness that threatens to overwhelm us?
The joy and mess of incarnational ministry at Triune Mercy Center
More than just a ministry to people who are homeless, Triune Mercy Center in Greenville, South Carolina, is a vibrant -- and sometimes messy -- church where rich, poor and those in between worship and serve together.
Greg Moore: Christmas Eve in a barn
A pastor reluctantly becomes a field preacher when his congregation decides to celebrate Christmas Eve as the holy family did -- outside. But he learns to love it, both as spectacle and as sacrament.
In the midst of imperfection, Jesus appeared
A spur-of-the-moment event with a wide variety of participants, the annual Christmas pageant at Church Street UMC in Knoxville, Tennessee, is a celebration filled with grace, imperfection and joy.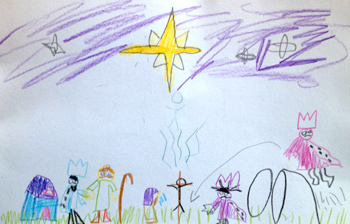 Catherine Maresca: The nativity isn't cute
The stories of Jesus' birth deserve more attention than a pageant. Take time with these stories this Christmas and ponder the mystery of our faith.
Ed Moore: Did Jesus wear his halo to school?
This is the season when the gravitational field of the Madonna and Holy Child as imaged by Renaissance masters is almost overwhelming. But this perfect picture denies the flesh-and-blood Jesus.
Gretchen E. Ziegenhals: Three Christmas gifts
How do you live out your Christian values during the holiday buying frenzy? For one family, the practice of limiting gift giving to three presents has brought a needed discipline to Christmas.
C. Kavin Rowe: Why Christmas needs Easter
The glad tidings of Gabriel, the angels, the prophet Simeon and the others are glad precisely because the death of Jesus was not their end, writes the New Testament scholar.
William H. Lamar IV: Watch Night
In this pastor's family, Watch Night means singing and praying out the old year and welcoming with joy the new year. Whether at church or at home, they gather and God visits.