Micah Lacher pauses to get the details just right.
He's speaking of growing up in a "working poor" family in Memphis, one of five kids. His dad was in and out of a job. His mother took the night shift to be home in the afternoons, but without a college education, her earning potential was limited. What she did have was faith.
"When we were in times that we could not make ends meet, we would pray for our needs, and someone would just drop money in the mailbox or show up for us out of nowhere," said Lacher, now 41. "As kids, we always believed that God gave us that money. We needed it, and he provided."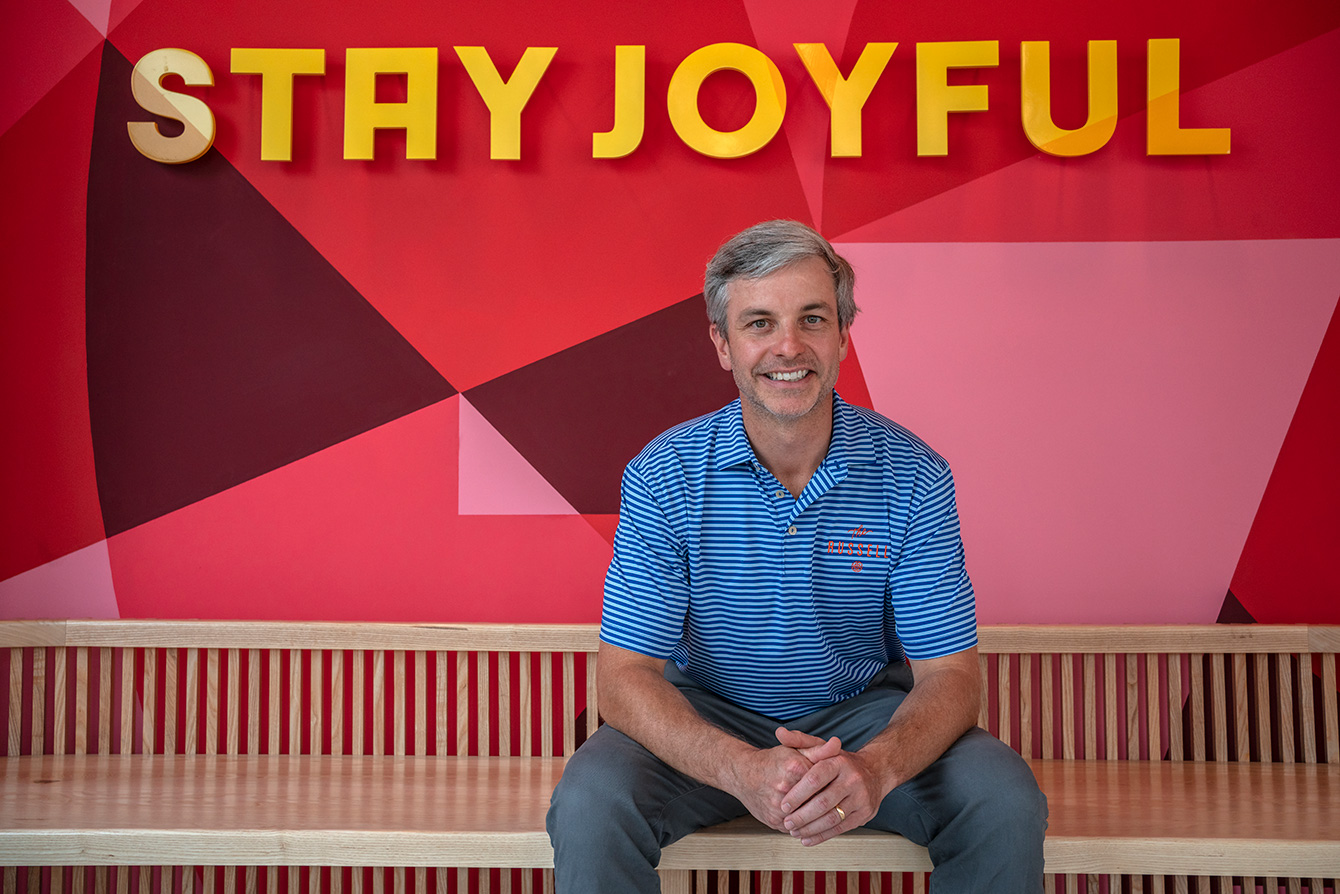 These days, as president of Anchor Investments, a Nashville, Tennessee-based real estate investment company, getting the details right is always top of mind.
Those details are focused on ensuring that others feel valued, supported and welcome. And that means everyone — whether a guest at one of the boutique hotels his company has developed or a person experiencing homelessness.
Anchor Investments, under its Mission Hotels division, donates more than 50% of profits from its three Nashville hotels to organizations making a tangible impact on the city.
To date, that has translated into more than 100,000 showers, meals and beds through ministry partners such as Nashville Rescue Mission, Room in the Inn, ShowerUp and People Loving Nashville.
It has also taken the form of substantial gifts to YoungLives, a teen mom ministry and Maple Built, a woodworking apprenticeship and mentoring program for young men.
More organizations are being added, Lacher said, as the effort becomes more recognized and profitable and there's more to give away.
Two of the company's three hotels are in renovated church buildings. As these unique properties have continued to gain attention, the hospitality side of the business has continued to grow. Lacher decided to go all-in with the hotels as an economic engine for ministry, expanding it "as much as the Lord will allow."
"I do like the connection of meeting physical needs here at the hotels with showers and beds, and meeting those same needs at local homeless ministries through our nonprofit partners," he said.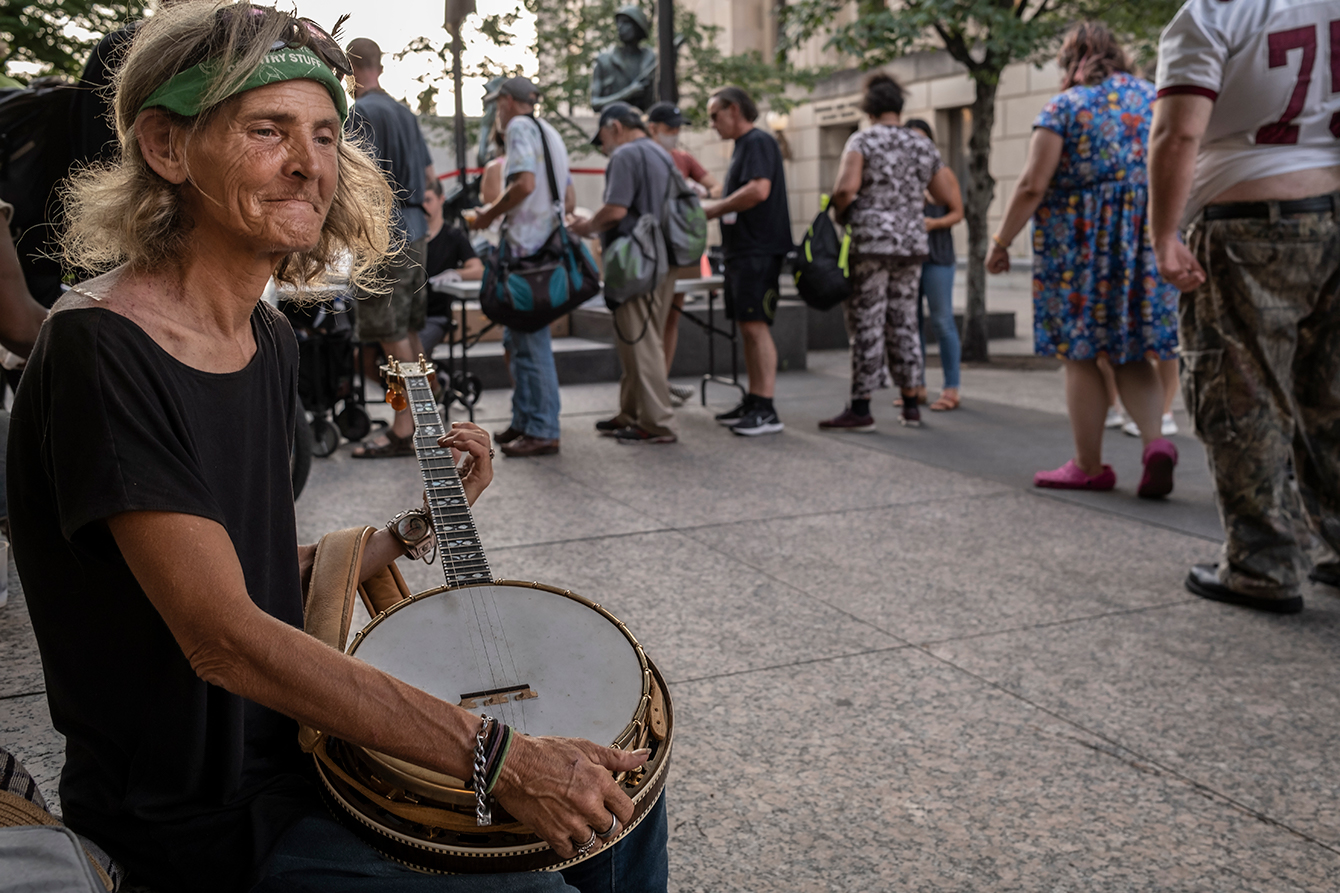 Lacher believes that Mission Hotels is the only brand in America taking its nonprofit donations to this degree; he hasn't been able to find another hotel brand that does anything similar.
"Most people think we're crazy," Lacher said. "But the commercial side of the business is profitable enough that the hotels can be a ministry. I feel like God has gifted me with business acumen, and this is my opportunity to use it."
This is not the first time that church buildings have been turned into restaurants, personal homes and other spaces, said Joel Gilland, the president and CEO of Wesley Community Development, a North Carolina nonprofit that helps the United Methodist Church develop or repurpose real estate.
"But what I think we are seeing now is a change that keeps the ministry, just with a different face, a different approach," he said. Gilland's organization is converting campuses into shelters, affordable housing, market-rate townhomes and mixed-use developments.
"In each case, there is a ministry embedded," he said. "There has been a release of creativity that can, if those involved keep the mission of the church at the forefront, transform the church as we know it."
'Rooms for Rooms'
Anchor Investments — which gets its name from Hebrews 6:19 — focuses largely on redeveloping underutilized shopping centers. It also supports nonprofit efforts in the communities where those centers are located.
But with the company's hotels, proceeds from bookings are donated, as much as possible.
Lacher credits this model to many mentors and a strong team, as well as guidance from the Halftime Institute in growing the business with an emphasis on stewardship.
The idea took root a handful of years back, when Lacher heard from a friend about Homes for Homes, in which real estate professionals commit to making a donation toward homes for poeple living in poverty.
In 2016, when Anchor Investments opened its first hotel, 506 Lofts, in downtown Nashville, it informally adapted the Homes for Homes model to Rooms for Rooms.
Located in a space built in 1880 as a dry goods store, the well-appointed hotel mixes modern elements and history. Over the years, bookings there have provided the funding for tens of thousands of overnight stays at Nashville Rescue Mission, a shelter and service provider.
The Russell came next, in mid-2019. Housed in a century-old church in the trendy East Nashville district, the property has a storied history of community outreach and service. But the church's congregation had dwindled, and a 1998 tornado caused more damage than its insurance could fix.
How does Mission Hotels' commitment to excellent hospitality inspire a vision for hospitality in your church and community?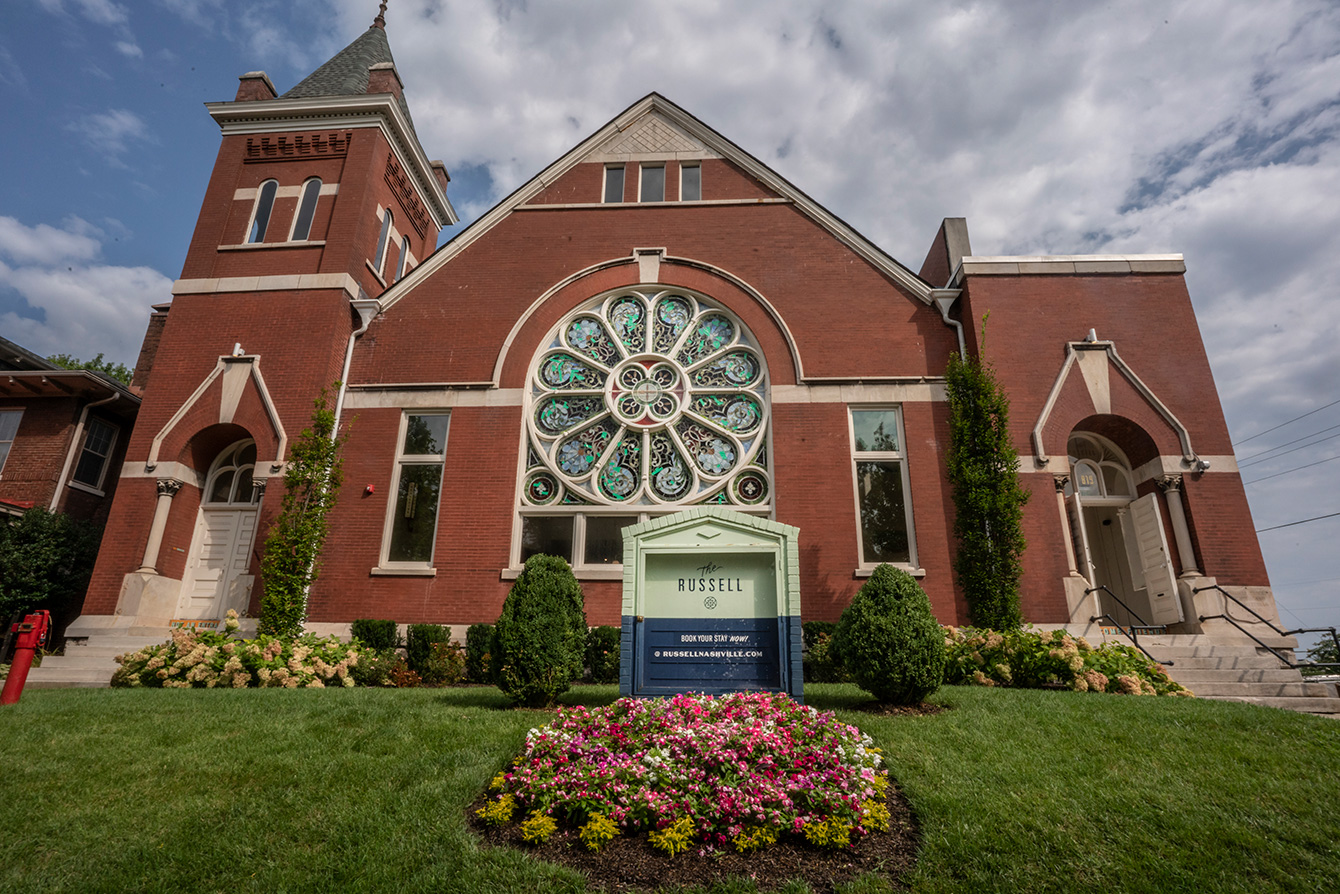 Under Anchor Investments' care, the building now features a restored stained-glass window and sacred design elements throughout, such as wooden pews from the original sanctuary repurposed as headboards.
"I believe the Lord calls us to work for him — Colossians 3:23 — in all areas of our life," said Lacher, father to three young children with his wife, Brit, and a member of a nondenominational congregation.
He came to Nashville and took a job in commercial real estate after working his way through the University of Tennessee. Lacher grew up Southern Baptist but said he came to know God through the student ministry Young Life.
"Whether it be at work, volunteering, helping friends, raising kids — [God] calls us to strive for excellence and give it our all," Lacher said.
In the same way, Mission Hotels allows the buildings to give their all. The Gallatin hotel, like The Russell, is in a renovated church building, and a fourth hotel (also in a historic church) is in the works.
Lacher sees it as a way of continuing the mission of the properties, expanding ideas of community and creatively meeting needs — especially for those experiencing homelessness.
"If we're going to do it, we're going to do it right," he said. "God calls us to be good stewards, and this is a way to honor him."
The Gallatin
When The Gallatin hotel opened in May 2021, it offered an opportunity to share a dose of hope and playful happiness to a world much in need.
In the Instagram-worthy courtyard outside, chairs and tables are bright blue, yellow, red and green, with playful squares in shades from pink to purple along a walkway nearby. One painted wall encourages guests to "stay joyful"; another reads, "welcome friends"; and yet another, "you are awesome." Other unique touches further differentiate it from other hotels.
Michelle "Bella" Williams, traveling through Nashville in July with her 4-year-old son, happened upon The Gallatin when she arrived in town. Its mission resonated with her immediately, and she enjoyed looking at the photos of people supported by the various ministry partners and those from previous congregations displayed in the rooms and hallways. But that's not all.
The details made her feel special. The purple refrigerator. The high-end Dyson hair dryer. The fun bunk bed, coffee station, photo booth and luggage lift. And, as a singer-songwriter herself, the artwork of Jimi Hendrix.
"It was all amazing," she said. "And super clean. It was detail oriented and made us feel pampered."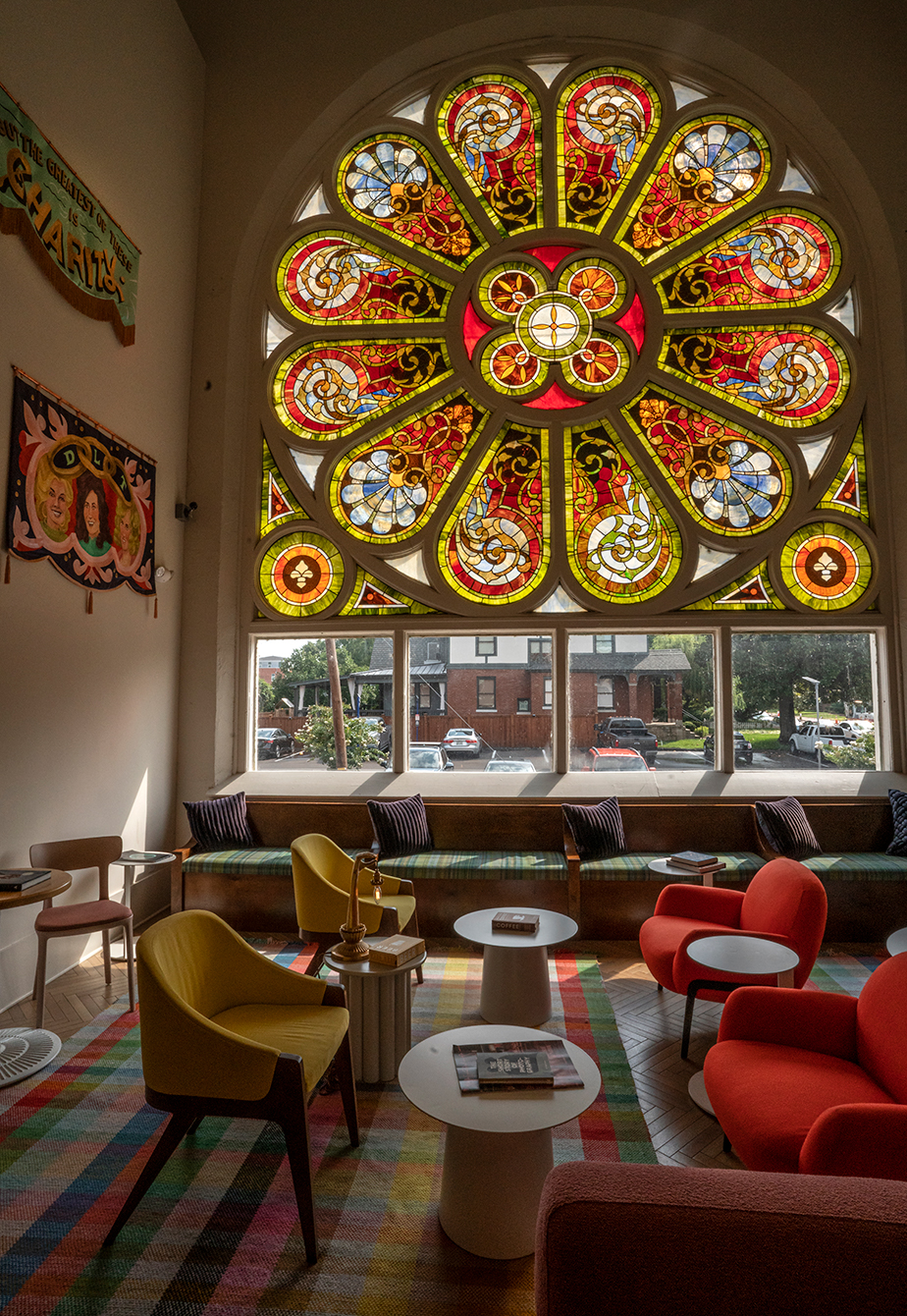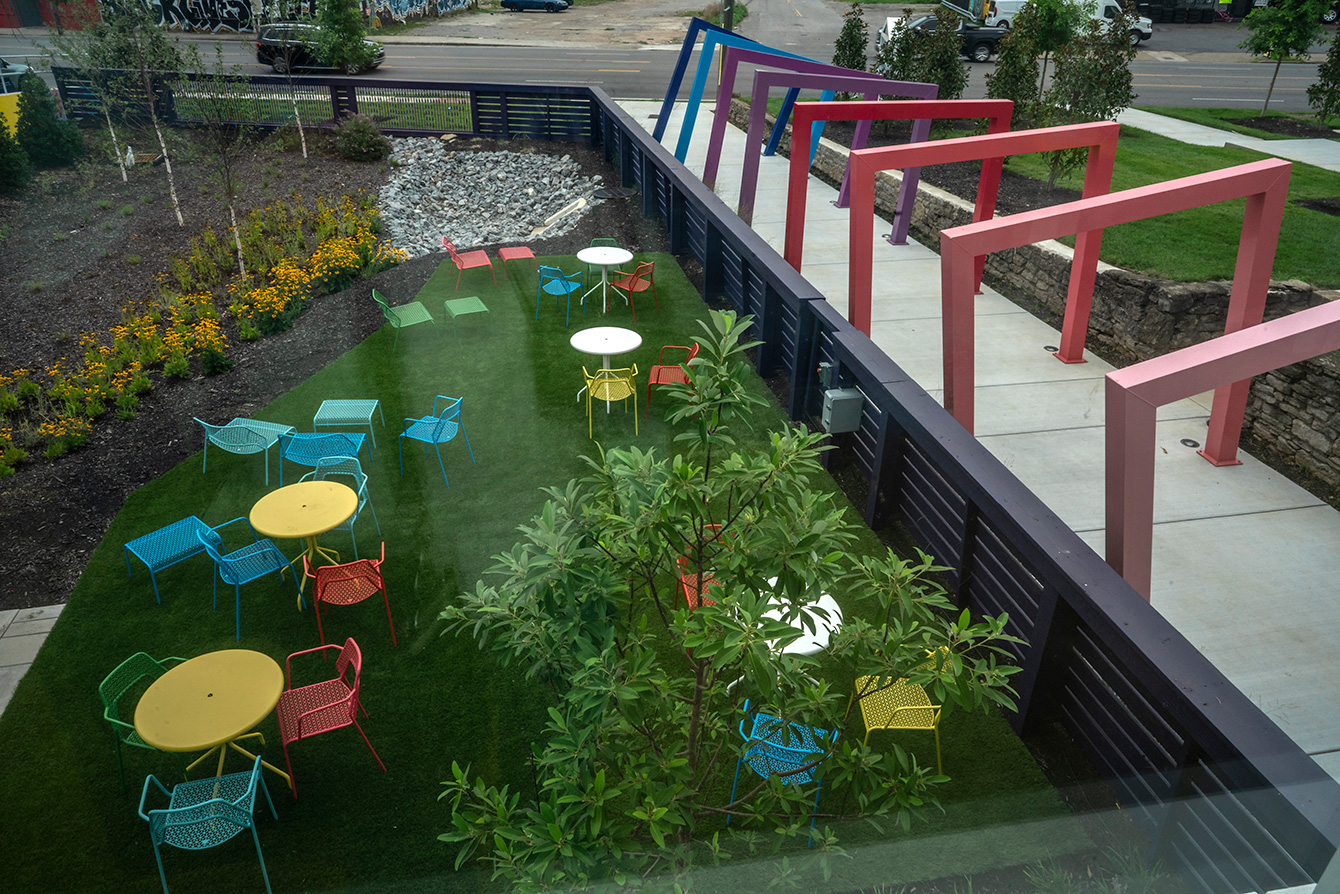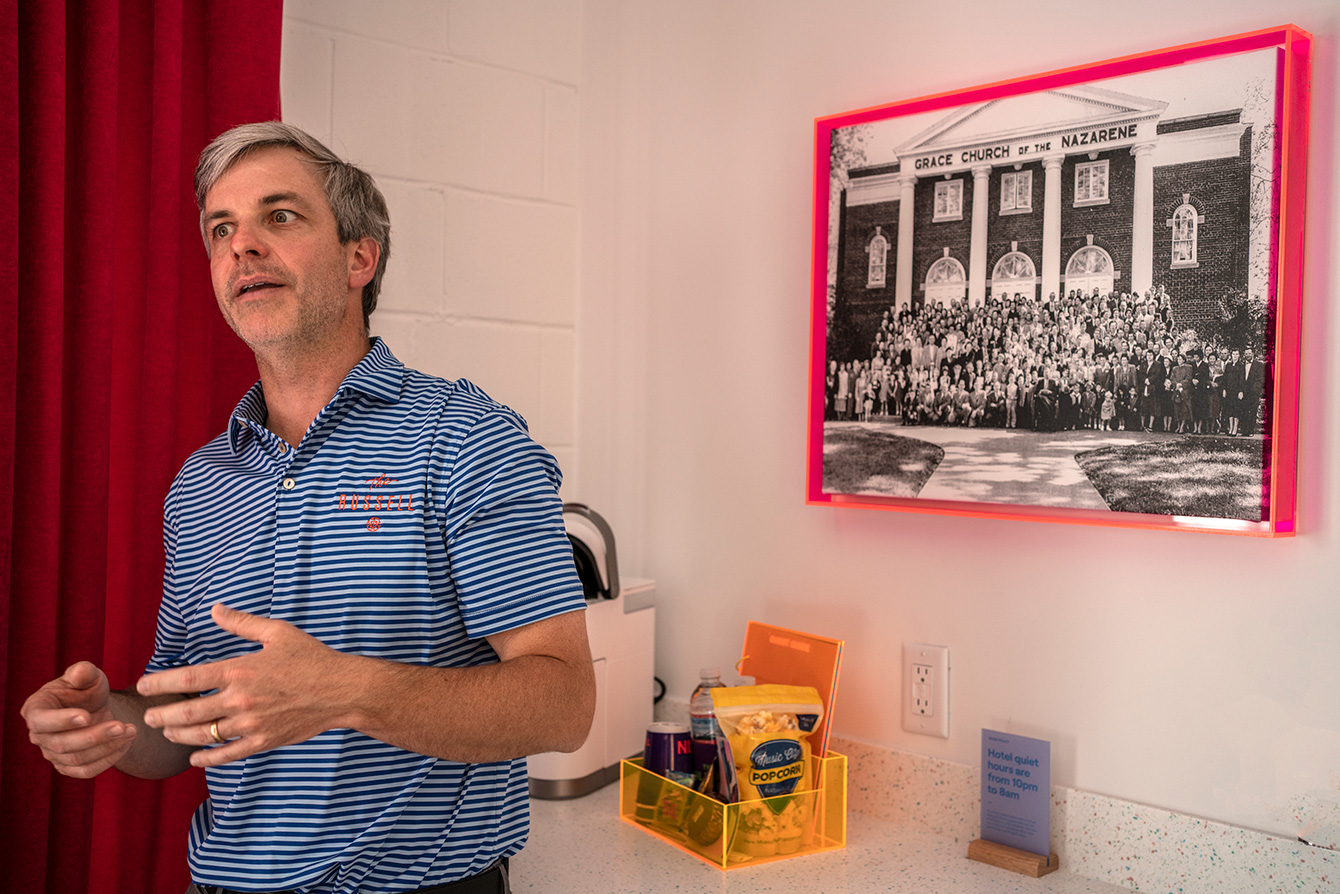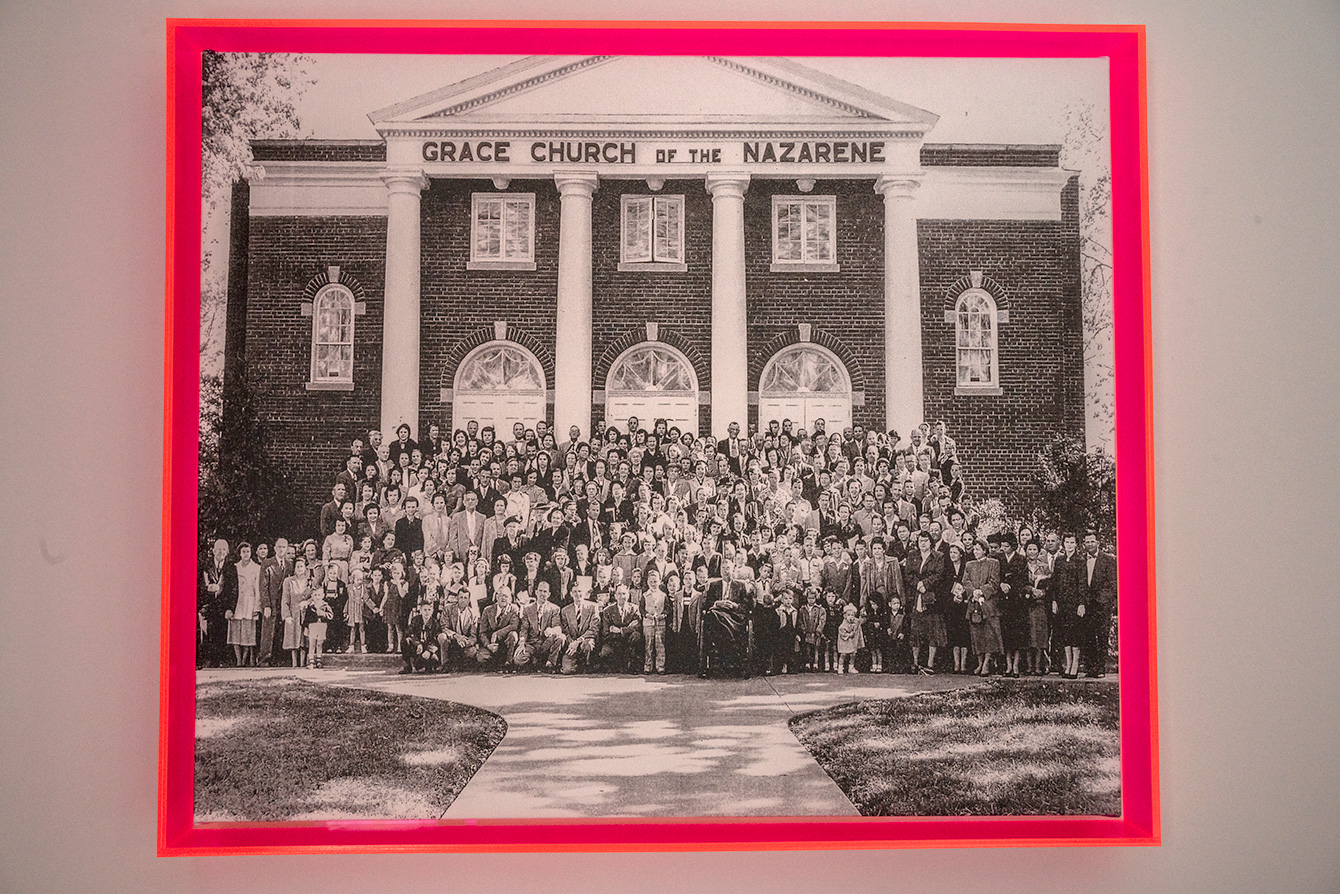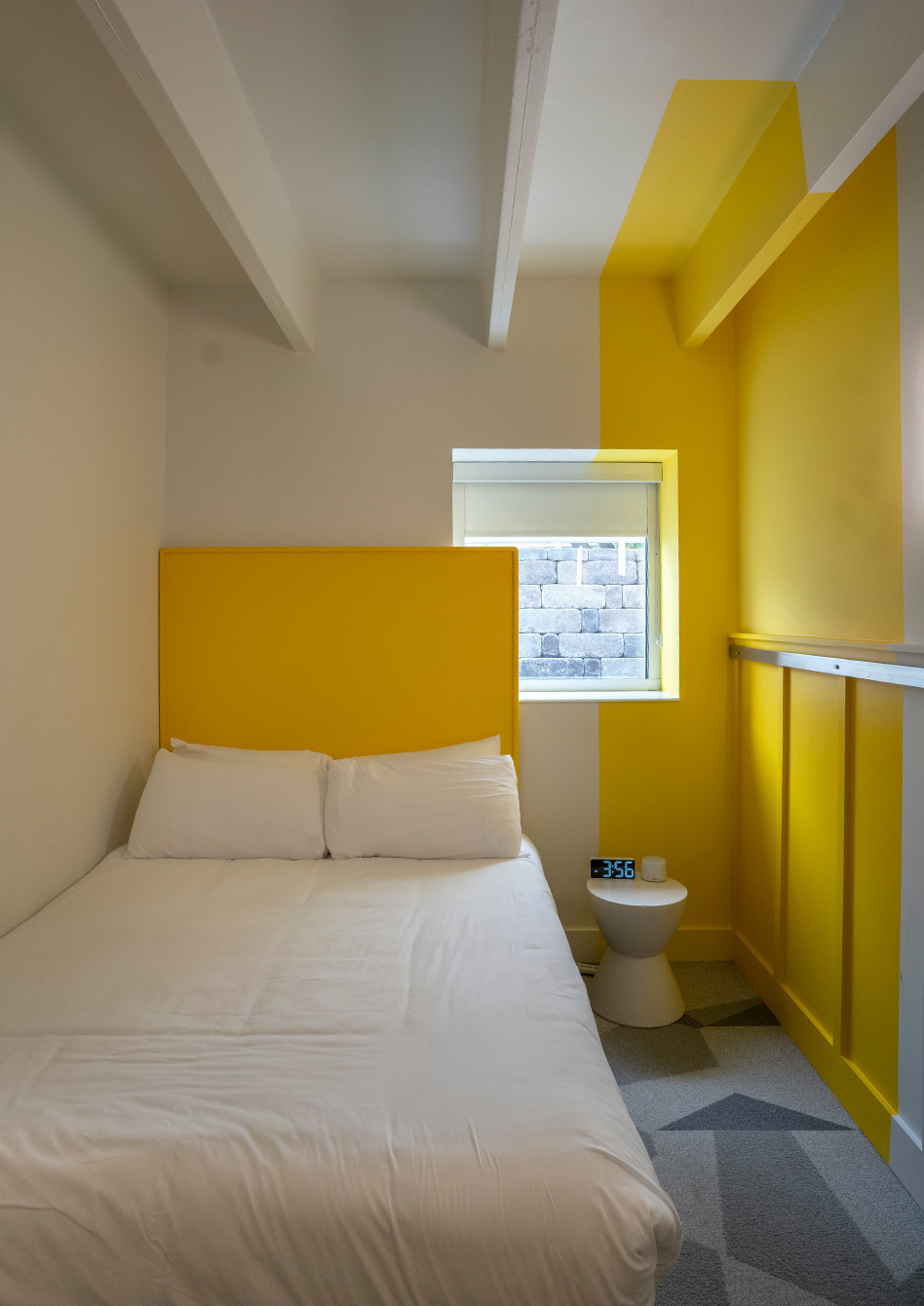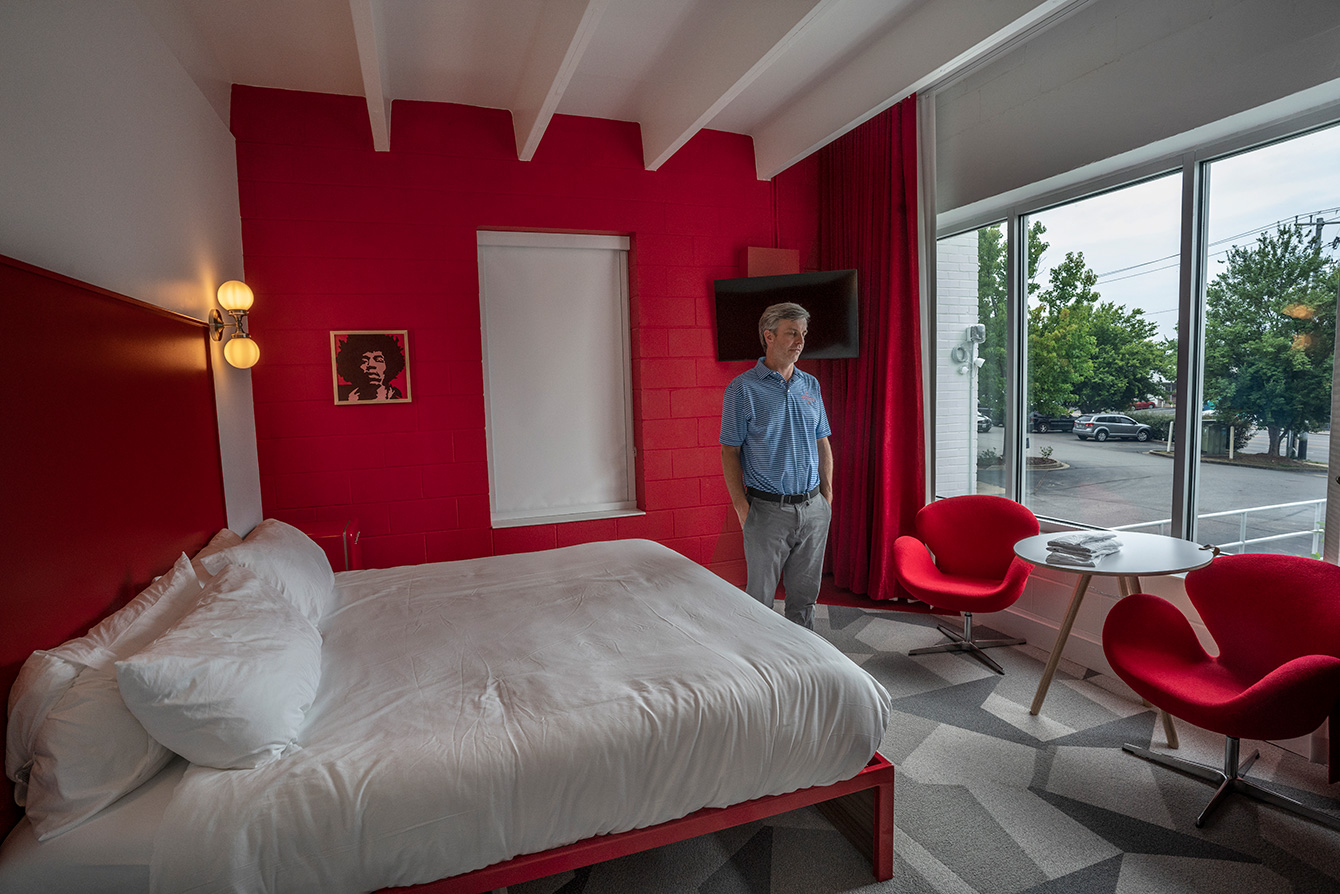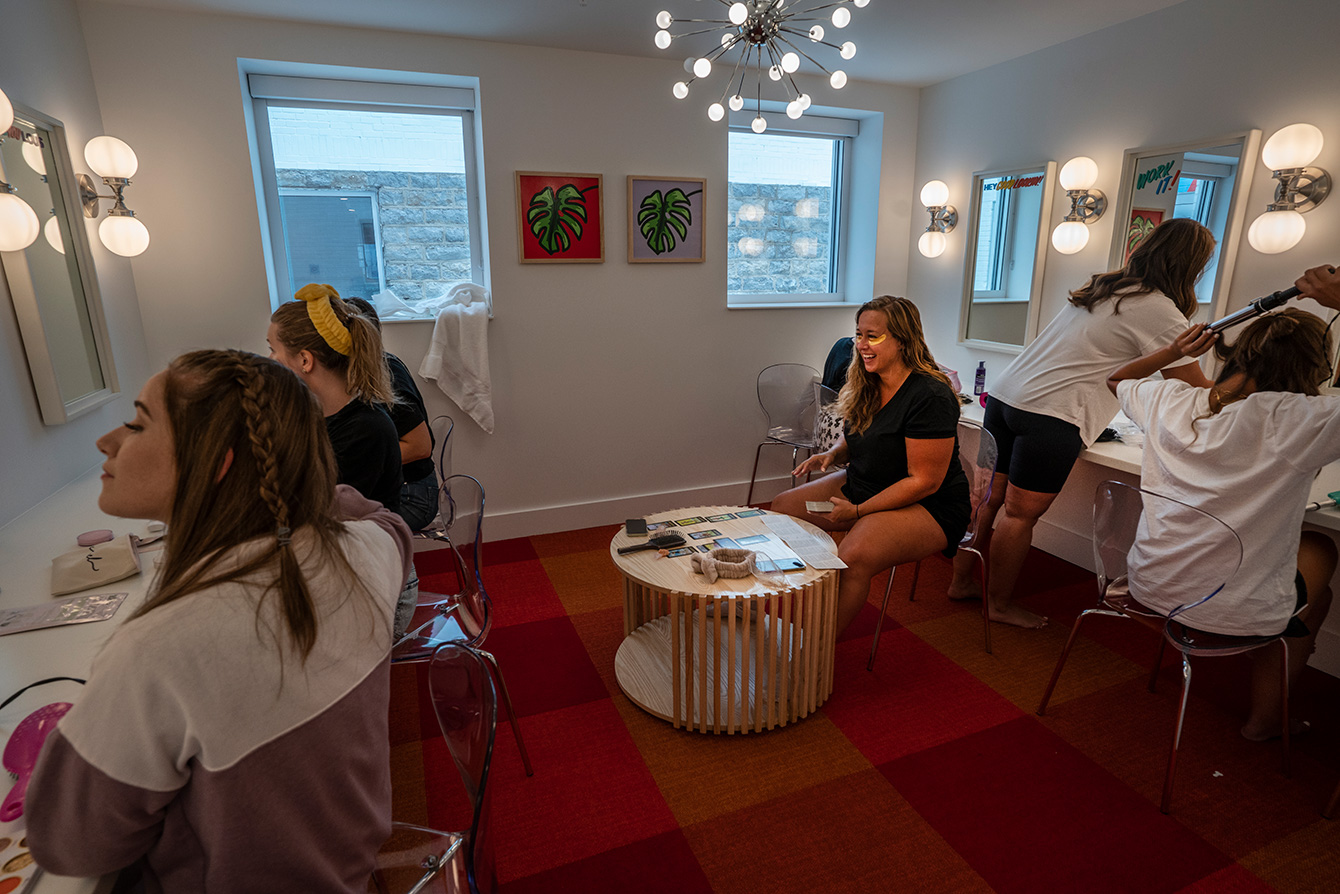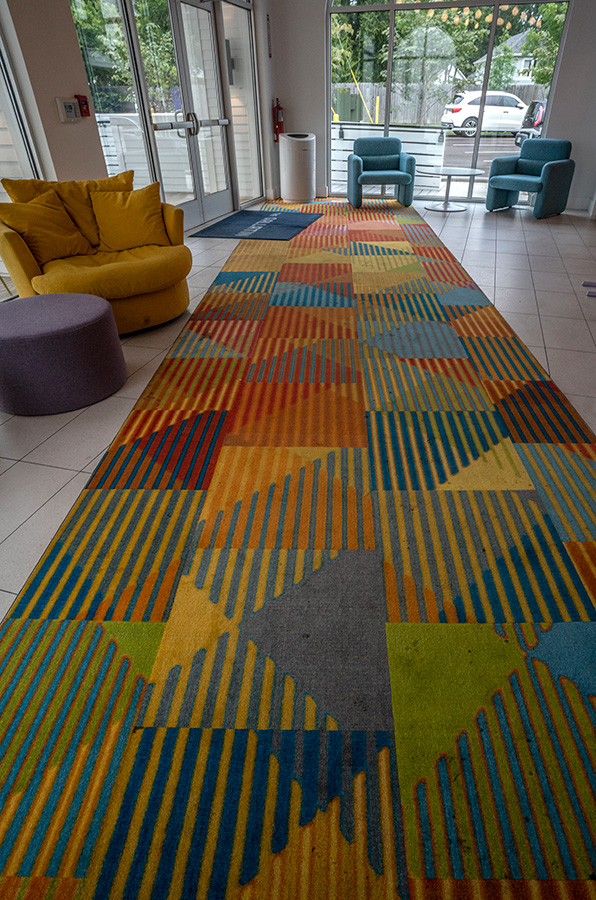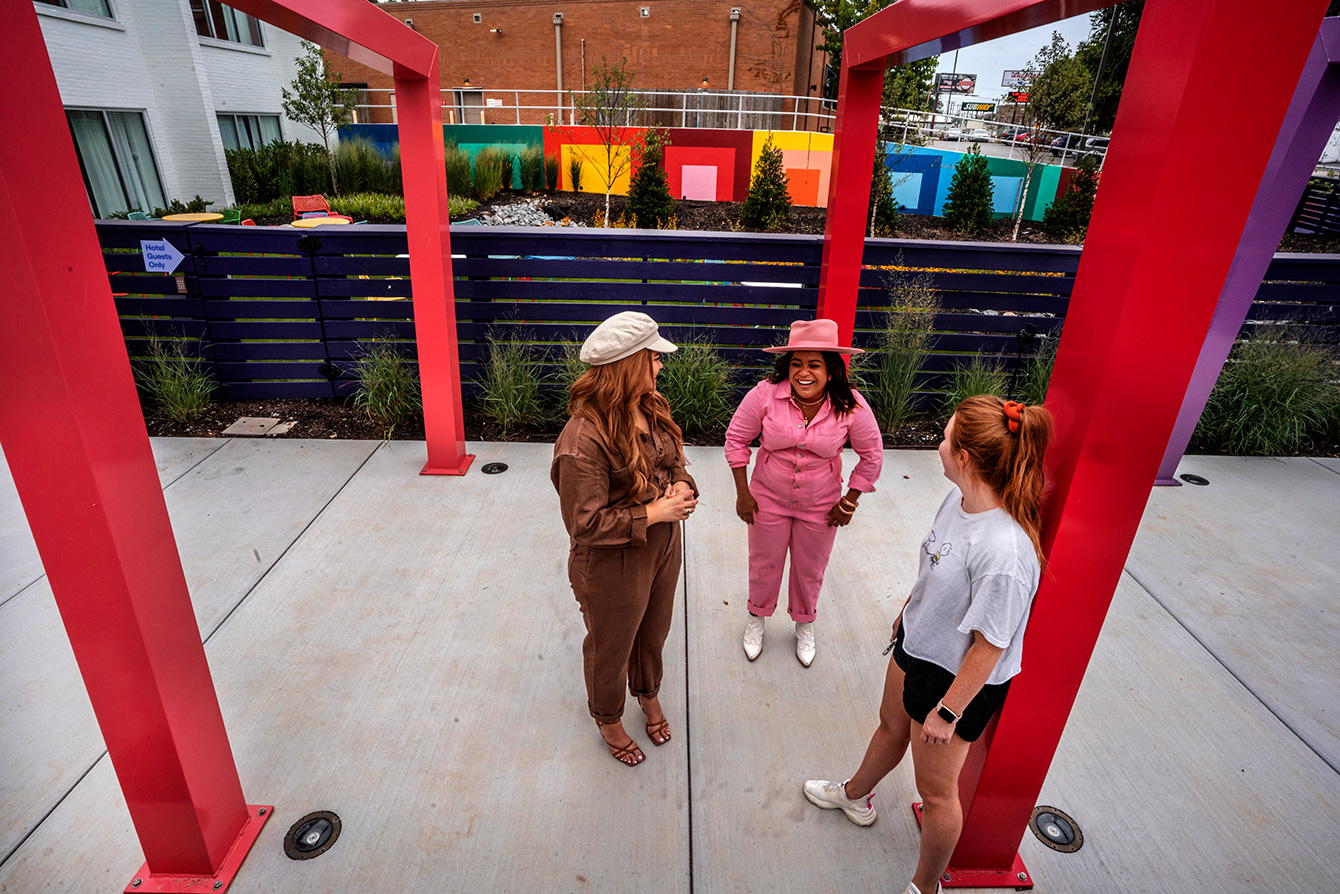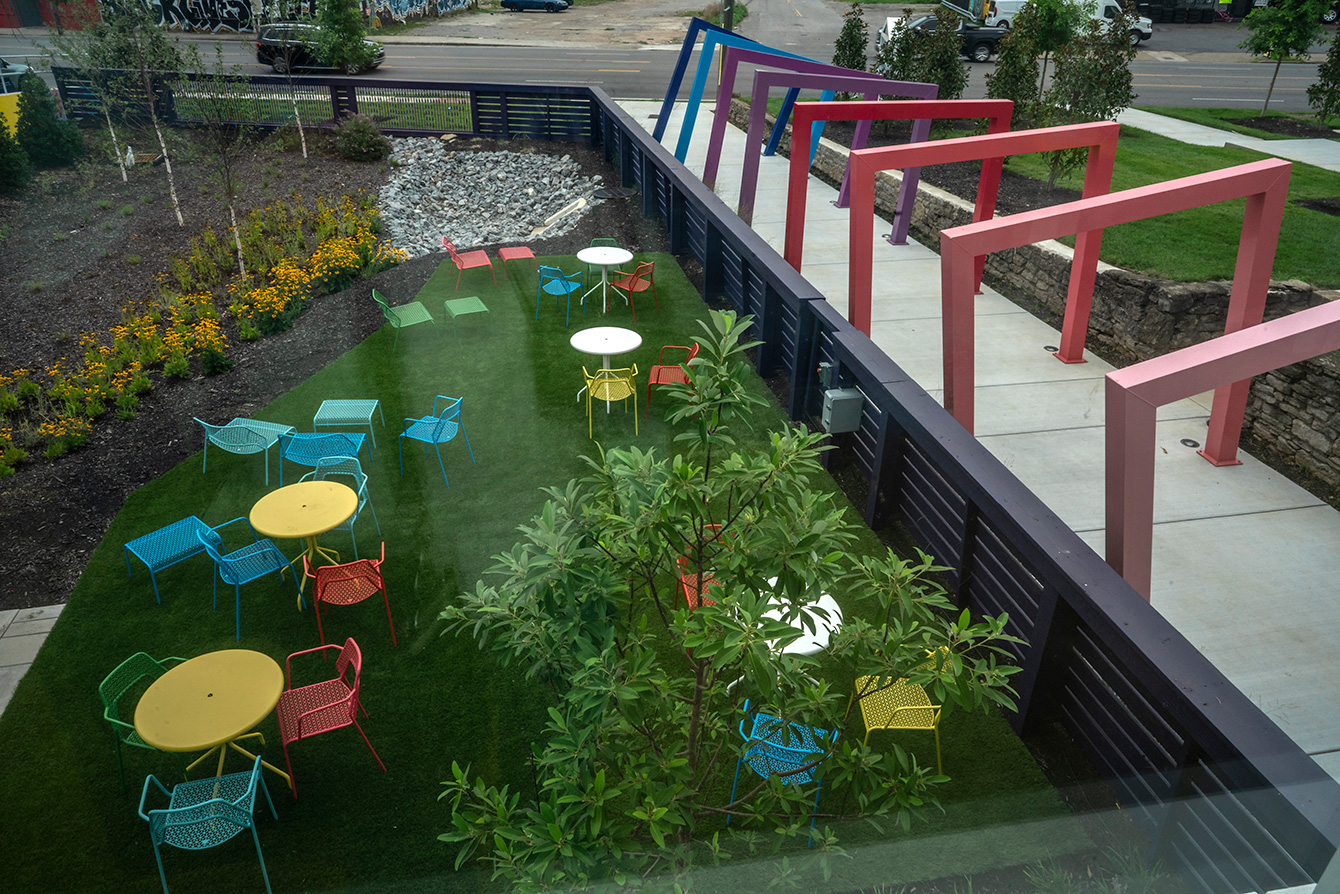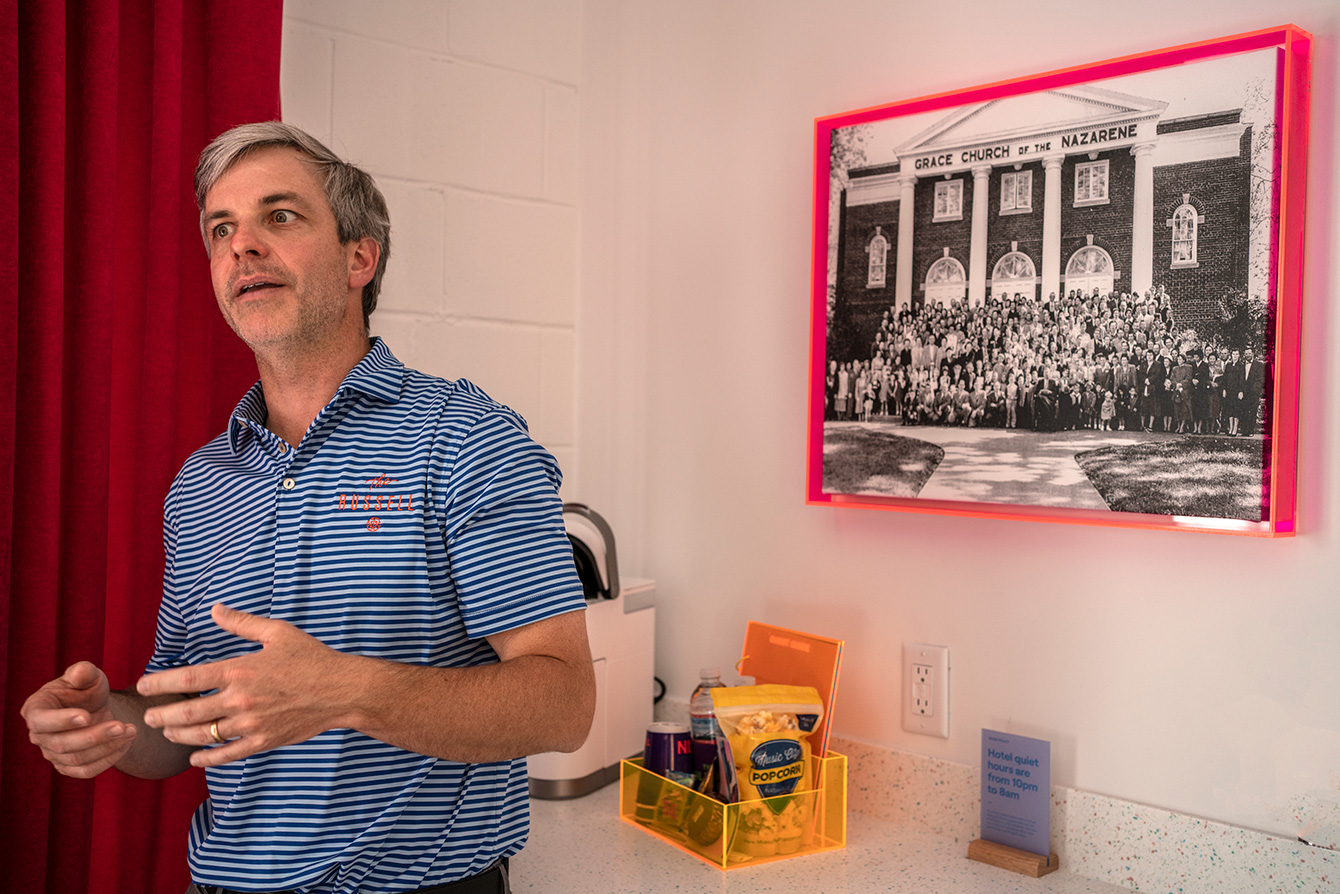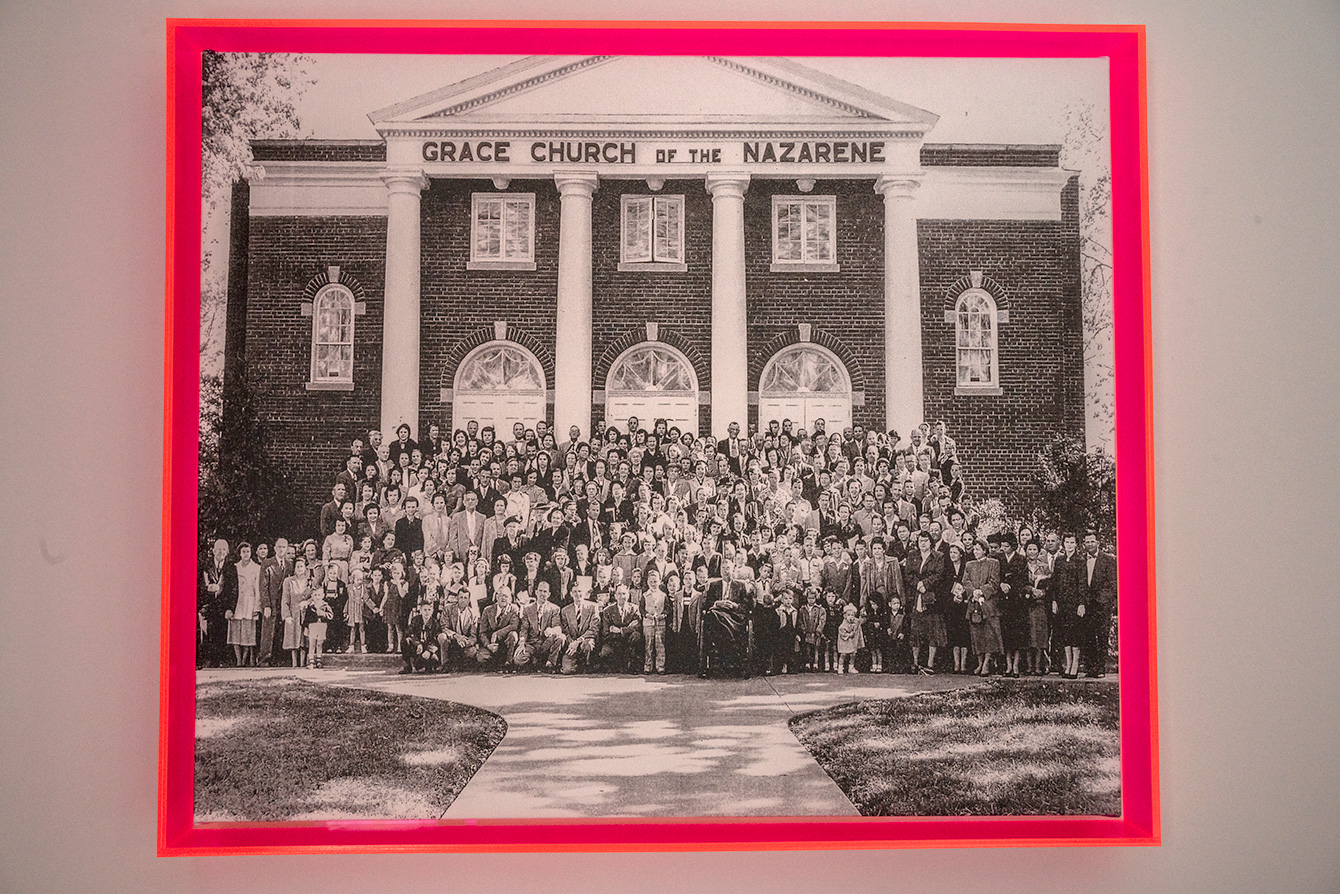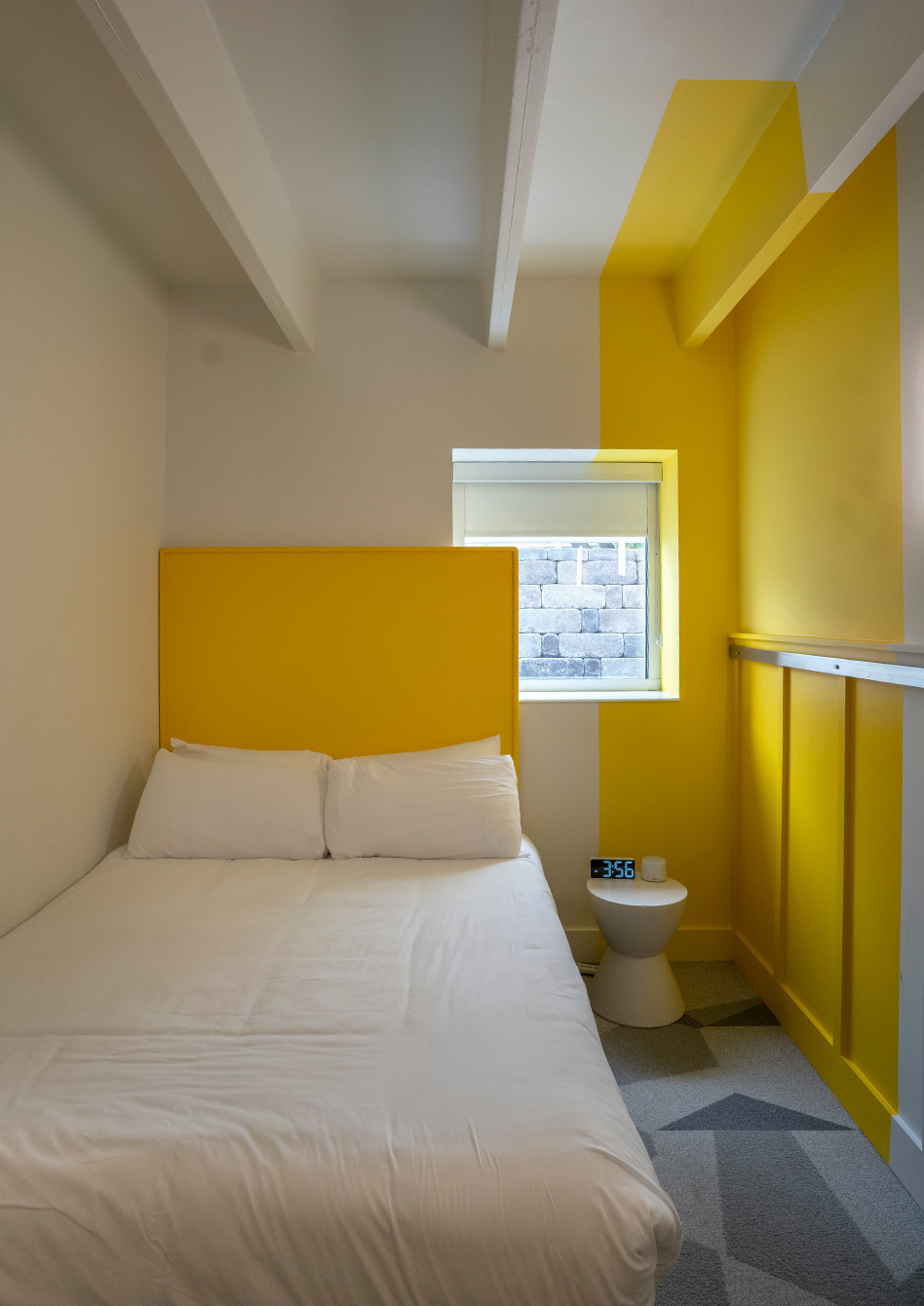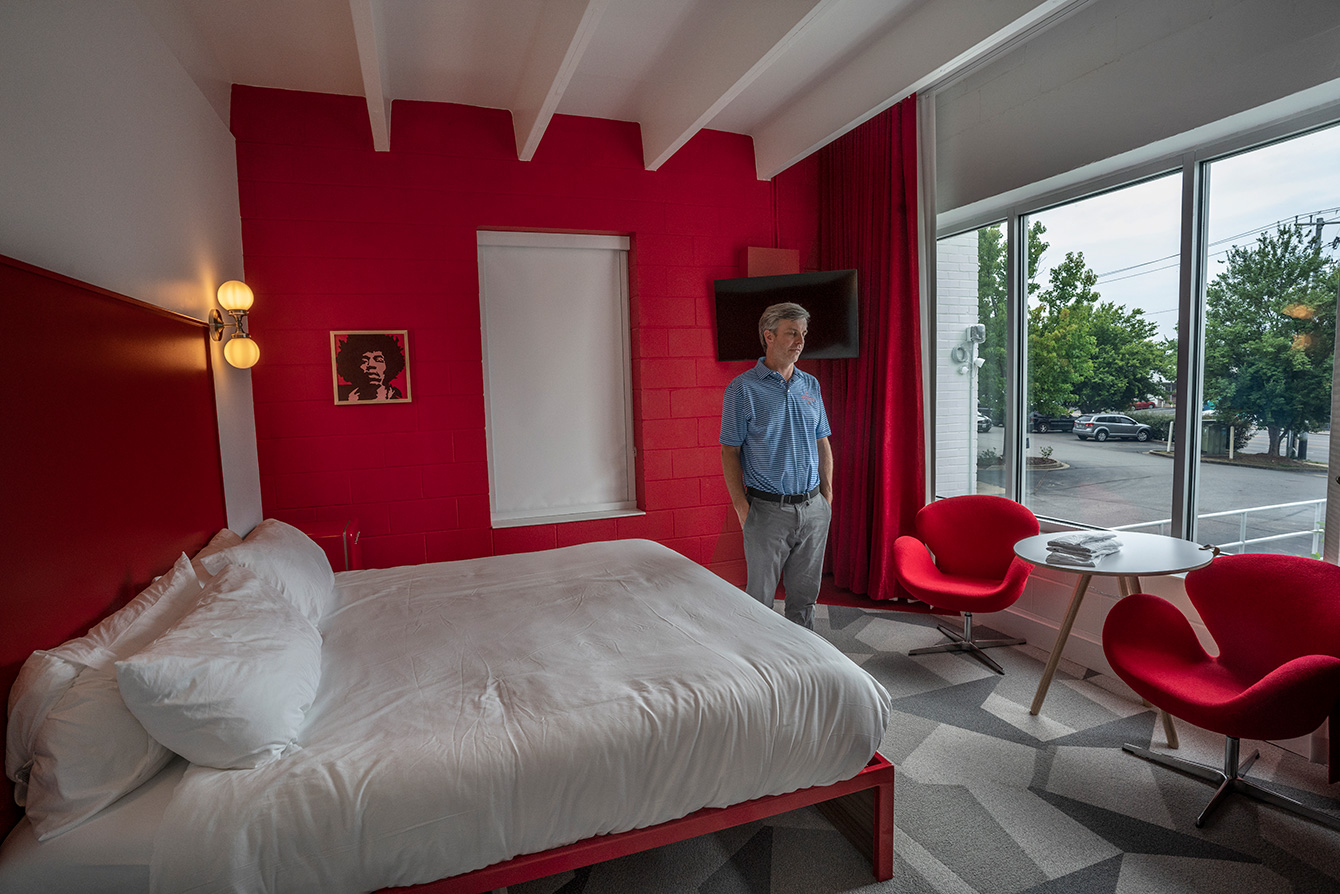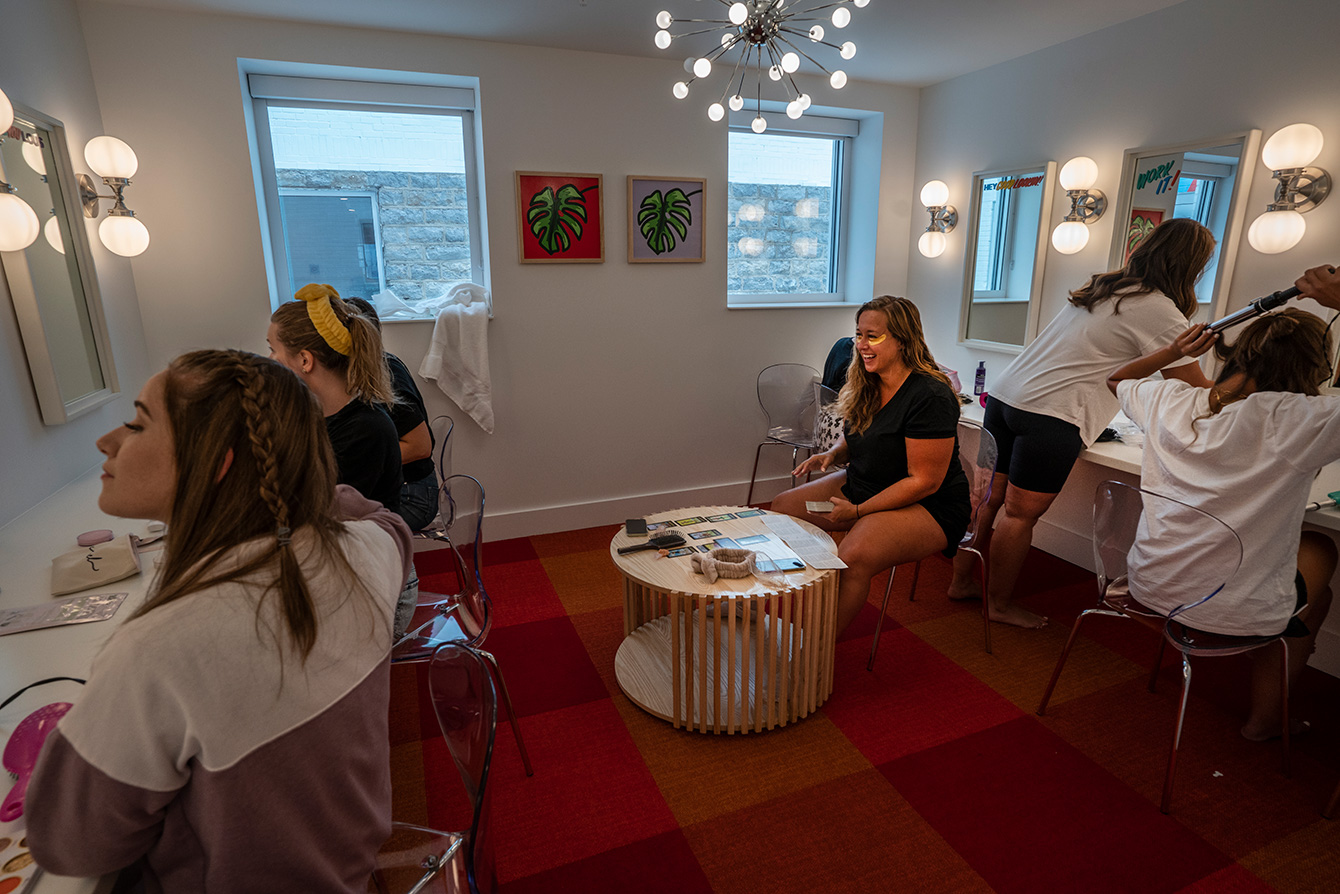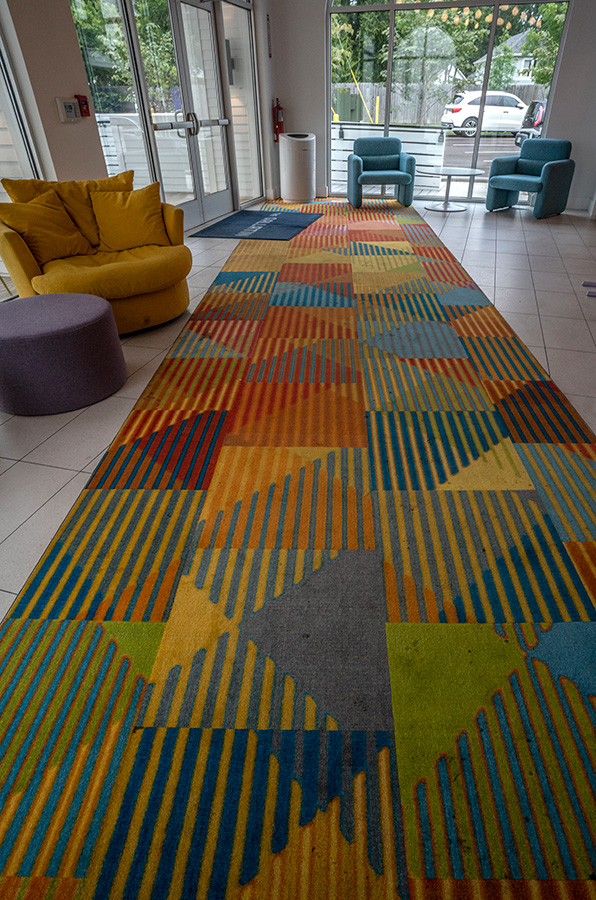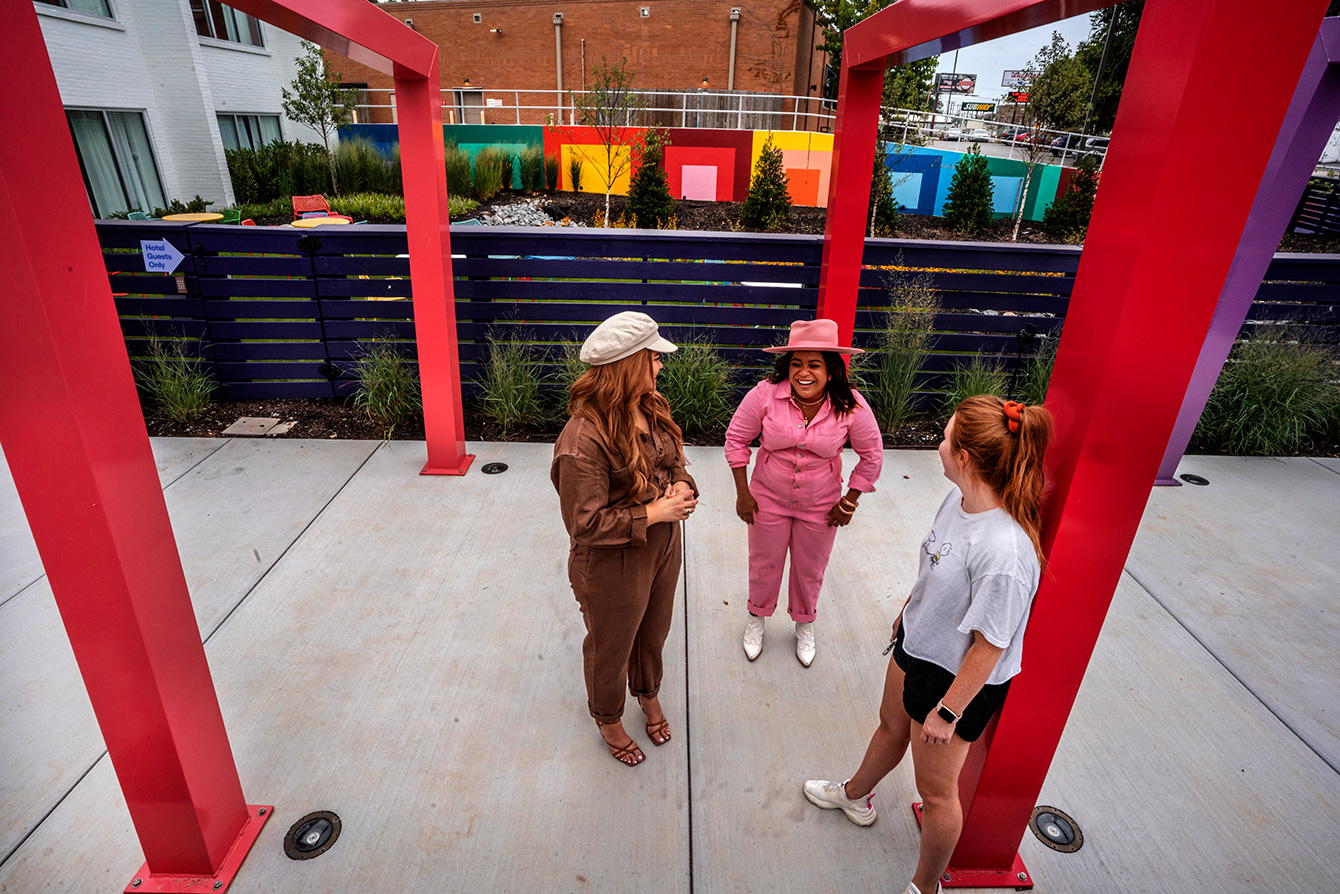 At one time, the campus housed the vibrant congregation of Grace Church of the Nazarene. They built the sanctuary — currently being turned into a wedding/event space — in 1925. The education building — which now houses the hotel — was added in 1961.
William Gentry, 79, remembers teaching Sunday school in that building. At one point, 50 members of his family attended the church. Over the years, he has been involved as a board member, trustee and choir member, and has worked with compassionate ministries. He's anxious to see the inside of the hotel.
"There are just so many memories," he said. "That's where I was saved as a young kid. And it's tremendous to know that the word is still being spread through outreach."
When Grace Church of the Nazarene moved to a new property outside downtown, Gentry went with it.
Eastside Church of Christ acquired the 1.23-acre campus in 1985, according to city records, and an LLC affiliated with Anchor Investments purchased the property from the congregation for $3 million in 2019.
Daniels & Chandler Architects handled the redesign.
"Micah's mindset is, 'How do we adapt an existing building and not lose the heart and soul of the building, so that it can start giving back to the community again?'" said Blake Daniels, a principal with the firm. Lacher, he said, has been as much a mentor as a client.
Compared with the ornamental Russell property — designed by a different architect — The Gallatin structure was more austere. The upside, Daniels said, was that it offered a "simple and clean" start. Seventeen colors now add intrigue and movement, and each of the 25 rooms is different.
Halie Chandler, also a principal with Daniels & Chandler, said she recently toured the property with a group of high school mentees. One parent tagging along had been a member of a previous congregation.
"And he was excited," she said, "that someone was loving it as much as he did."
A colorful symbol
In some ways, The Gallatin stands as a colorful symbol of what's to come. It's in the midst of a still-transitioning area on a road that was once a main city corridor.
Nashville Metro Council representative Brett Withers noted that other parts of Gallatin Avenue have more of a historic neighborhood feel. There are trendy vintage shops, restaurants and other businesses springing up nearby, "but this is in a middle ground," Withers said, where there's still room for rebirth and renewal.
He enjoys the visual interest The Gallatin brings, and the fact that a local craft brewery will soon open a taproom on-site.
Who is offering radical hospitality for the unhoused in your community? How can you learn from them? Partner with them?
"It will really help to bring some vitality to Gallatin Avenue," Withers said, "which is neat."
Nashville has seen explosive growth; the population expanded by 19% from 2010 to 2020, to reach 1.96 million residents. It consistently ranks as a top tourist destination, and local construction is off the charts. The city saw a record $4.6 billion in construction permits from 2020 to 2021.
But change isn't good for all. Rising prices in the city have contributed to a significant crisis in housing. Interfaith homeless outreach nonprofit Open Table Nashville estimates that more than 20,000 of the city's residents — including 8,000 children — are living in cars, shelters, camps, hospitals or the streets or have doubled up with family or friends.
As the city grapples with gentrification, Mission Hotels helps address one of the consequences. Rooms at The Gallatin, from suites to "cozies" for solo travelers, run $125-$500 weekdays and $175-$700 weekends — with each average weekend stay generating a donation that covers about 16 nights in a shelter bed, 100 free showers or 30 free meals through one of the ministry partners.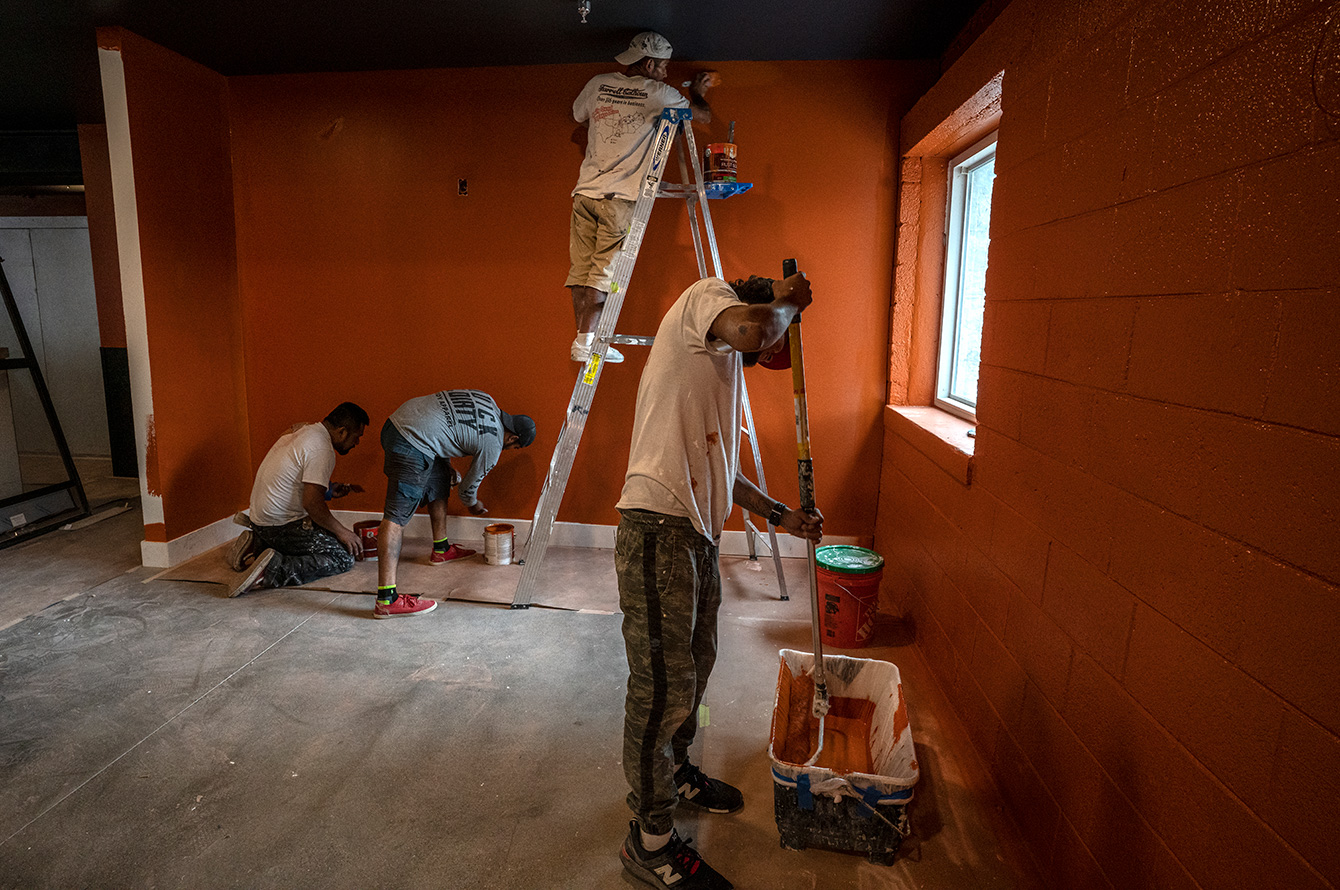 Standing in awe
On a recent Monday, a few miles from The Gallatin, staff and volunteers of People Loving Nashville prepare for a weekly gathering that's as much block party as ministry opportunity.
They pack up shepherd's pie and sort through clothing to take to War Memorial Plaza downtown. A crowd of people is already waiting, despite the 95-degree heat and humidity.
Other ministries are there, too: ShowerUp, with a mobile shower truck, and The Street Dog Coalition, with free veterinary care. Nashville Street Barbers, offering free haircuts, is another regular, as is Hope Clinic for Women.
"We don't do this alone, and we don't want to," said Ryan Lampa, who started People Loving Nashville 13 years ago. PLN's friends may be housed, unhoused, living in their cars, passing through — it doesn't matter, he said. It matters only that they find relief, community and connection.
What began as a holiday meal for five has grown to roughly 300 dinners every Monday, in addition to a variety of other services throughout the week.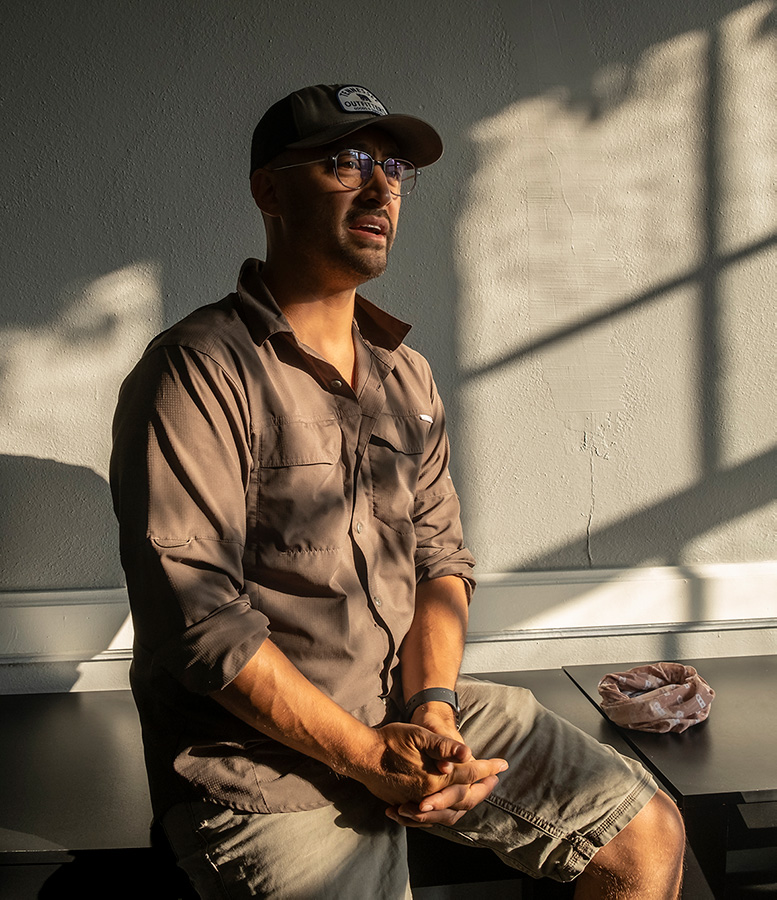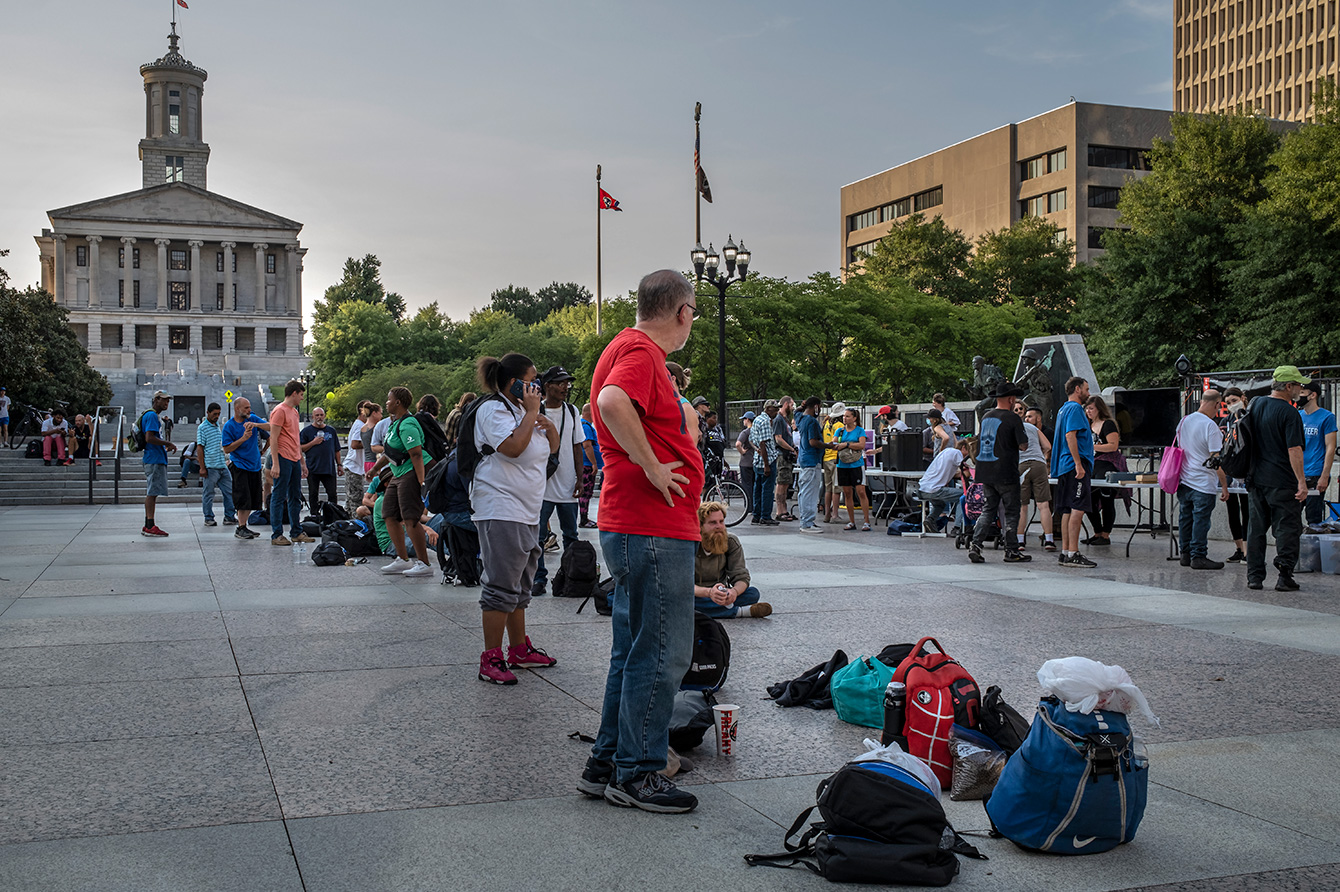 When the volunteers arrive at War Memorial Plaza, in the shadow of the state Capitol, I.Q. Harris Jr. is already there. At 67, he's been a regular at the Monday night gatherings for "five … 10 years."
He and Christian Williams, PLN's director of communications and partnerships, rib and tease each other like family as he sits on a low wall, cane in hand.
"I enjoy being around people," Harris said. And he likes to help. A former waste management company employee, he had a stroke in 2010 and was no longer able to work. He speaks of the meals at the gathering — Polish sausage, cheeseburgers, cookies — but also of the importance of putting God first.
"My grandad was a preacher. He said, 'Be kind to people, and good things will happen to you,'" Harris said.
Paul Schmitz, meanwhile, co-founder and executive director of ShowerUp, is chatting with other friends in front of the mobile shower unit parked a few steps away.
Anchor Investments funded ShowerUp's fourth trailer (a $40,000-$50,000 expense), allowing the organization to deploy immediately after tornadoes hit Nashville in early 2020, as well as throughout the COVID-19 crisis.
Since its founding in 2016, ShowerUp has provided more than 10,000 showers in the Nashville area and now attends roughly 40 events every month, including Monday nights with People Loving Nashville.
What is the theological imagination that informs your church's stewardship of buildings and other assets?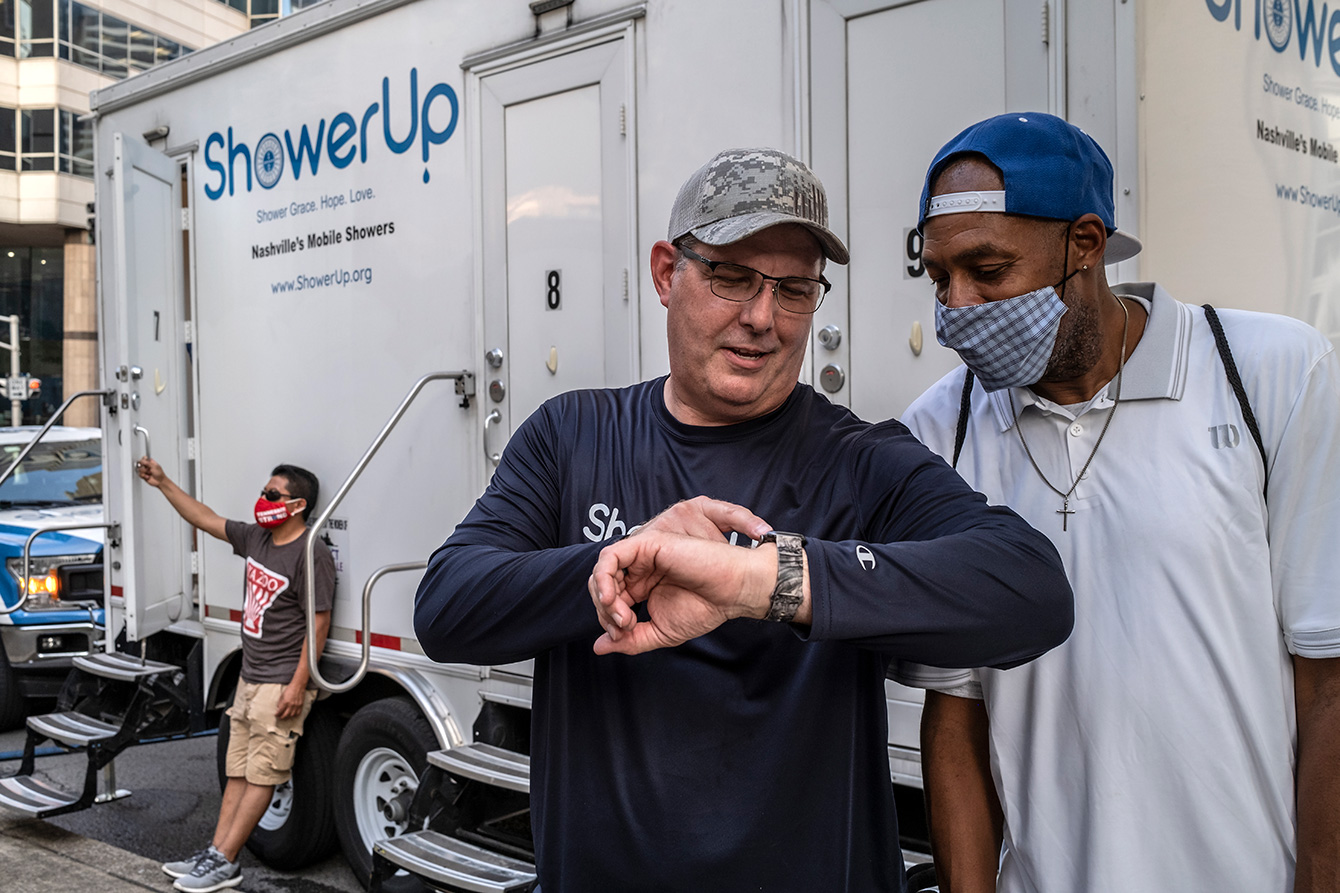 "What I didn't expect was how much our employed, unhoused friends would rely on us," Schmitz said. "We have a number of people who may live in a tent or in a car, but they are working full-time jobs, and counting on us for basic hygiene."
Here, too, the details are important. There are three large, private showers in each unit. There are doors that lock, and there's a sink, a bench, a mirror and air conditioning.
"People ask me how long we give people to take a shower," he said. "I say, 'However long they need.' If you were a guest in my house, I wouldn't put a time limit on your shower."
There's also no talk of "cleaning up after" someone. There's only preparing for the next guest.
And that's something Lacher — like Schmitz — clearly understands.
"Micah is one of few people that I know who has been able to articulate excellence in serving through ministry," Schmitz said. "I love that he does that. … There are always little surprises along the way."
How can the church cultivate a theological imagination in its members that inspires them to see new possibilities in the resources they have?
Questions to consider
How does Mission Hotels' commitment to excellent hospitality inspire a vision for hospitality in your church and community?
What resources does your faith community have to offer the surrounding neighborhood?
Who is offering radical hospitality for the unhoused in your community? How can you learn from them? Partner with them?
What is the theological imagination that informs your church's stewardship of buildings and other assets?
How can the church cultivate a theological imagination in its members that inspires them to see new possibilities in the resources they have?