"I heard that you speak beautiful Spanish, right?" Becca Stevens asks Hannah.
The two are talking on the second floor of a warehouse in west Nashville as Hannah works in the Global Partners division of Thistle Farms. How she perfected a second language, how she came to be having this conversation at all are part of a harrowing personal history that Hannah is working her way out of.
Stevens, an Episcopal priest, founded Thistle Farms 20 years ago as a social enterprise to provide a pathway to healing for women caught in cycles of sex trafficking, prostitution and addiction. It offers a two-year residential program with a safe home, job training, health care, case management and employment for women with experiences like Hannah's, all free of charge.
Hannah (whose last name is being withheld to protect her privacy) became fluent in Spanish while entangled in prostitution and drug use in Mexico. She recounts two horrific years there and how she can't believe she made it out alive.
"On a daily basis, people would ask me, 'What are you doing here?' and all I could say was, 'I'm lost.' That was my best answer. I was so, so lost," Hannah says, choking back tears.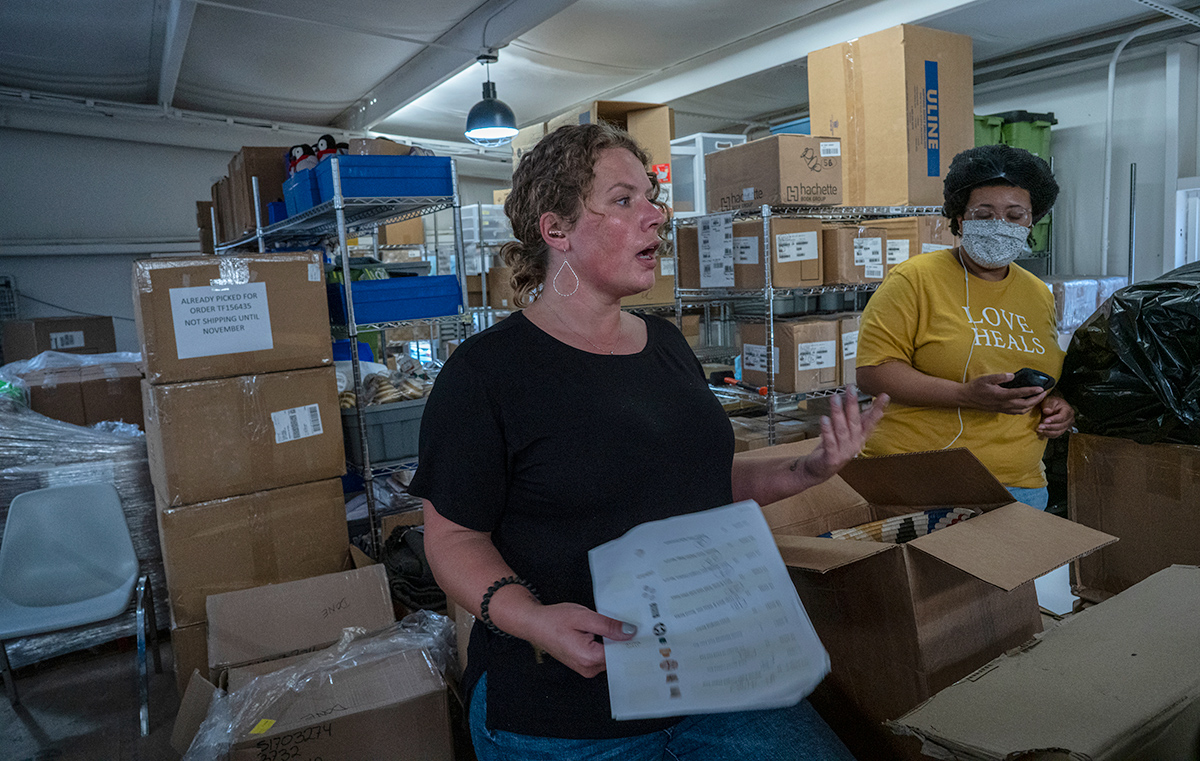 Cycle of injustice
Stevens isn't surprised by what Hannah shared during their conversation — things like first being trafficked by her own mother. But unsurprised doesn't mean unaffected.
"At Thistle Farms, we don't ask, 'What did you do?' We ask, 'What happened to you?'" she said later in an interview.
Among the lessons Stevens has learned over the last two decades is that parents battling addiction often do whatever is necessary to feed their habit. For Hannah, as for the majority of Thistle Farms graduates, trauma began early. Abused young girls may turn to substances to numb the pain, then to prostitution to support the addiction.
Stevens has survived her own trauma. Her father, also a Nashville priest, was killed by a drunk driver when she was 5. A lay leader in the church sexually abused her years later.
How does your church or organization explore the deeper causes of need in your community?
Most of the women at Thistle Farms first experienced sexual abuse between the ages of 7 and 11, and began using alcohol or drugs by 13. Many first received payment for sex between the ages of 14 and 16. Most became victims of systems that commoditize, criminalize and abuse them, profiting off their vulnerability.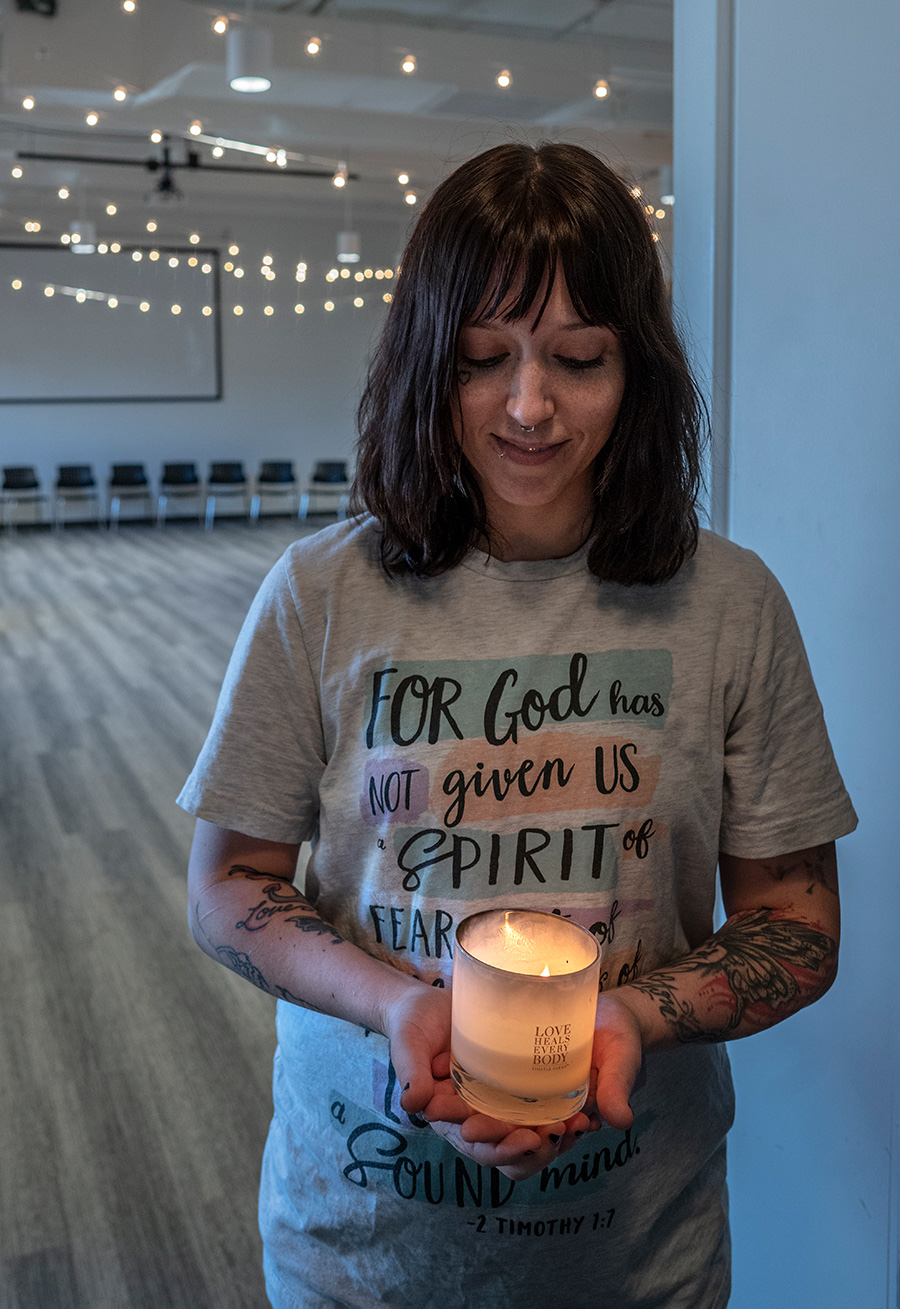 Sexual trafficking is a reality in big cities as well as small rural communities across the country and around the world. In the U.S., some 4,312 victims and survivors contacted the National Human Trafficking Hotline in 2019, up 20% from the prior year and part of an upward trend over time. These numbers are notoriously underreported and hard to track, according to Polaris, a nonprofit that operates the hotline and monitors national data on sexual and human trafficking.
It has been a long road for Hannah; this marks her return to Thistle Farms. While 75% of Thistle Farms' residential program participants are leading healthy, financially independent lives five years after graduation, Hannah lasted only six months after her initial stay 10 years ago.
"But you're back now, and that's because they loved you. Shelia loves you," Stevens told her, speaking of Shelia Simpkins-McClain, Thistle Farms' residential program director and a 2007 program graduate.
"Shelia never gave up on you. And you know, it's crazy — our newest global partner is there in Oaxaca, right where you were," Stevens said.
"Your language skill is a gift. You are going with us next time."
Love, light and hope
The message of Thistle Farms, along with the theology that undergirds it, is elegantly simple: "Love Heals." The words are on T-shirts worn by Thistle Farms graduates and on the labels of candleholders that current residents fill with aromatic melted wax.
In the manufacturing arm of the social enterprise, these women produce some 100,000 candles annually, as well as lavender- and citrus-scented body lotions, essential oils, linen sprays, and other products for body and home. The proceeds fund 65% of the nonprofit's operating costs. The workroom looks like a sterile, stainless steel industrial space, but it smells like a luxury spa.
What is the underlying message your ministry shares with the world?
In the shipping department, the finished candles and other goods as well as Thistle Farms' global artisan products are packaged in gift boxes imprinted with "Love is the most powerful force for change in the world."
Stevens and her team light one of these candles in their weekly group circle and staff meeting.
"It symbolizes sanctuary and hope," Stevens said. "We are lighting the way home for women coming off the streets." She first launched the project as an outreach of St. Augustine's Episcopal Chapel at Vanderbilt University, where she has served as chaplain since 1994.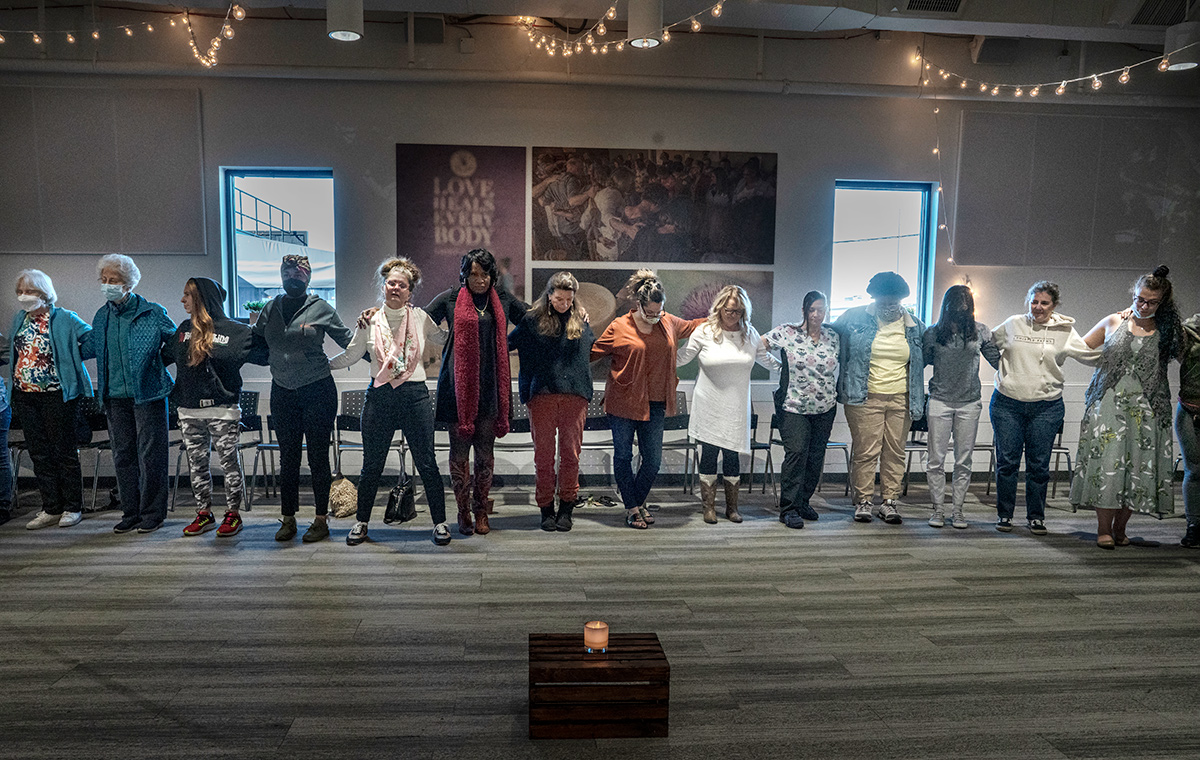 "This has been my first and only pastoral job," said Stevens, who graduated from Vanderbilt's Divinity School in 1990. "I mean, who remains a chaplain for almost 30 years? Almost nobody!"
But the low-pressure, high-autonomy position was a perfect fit.
"I knew from the get-go that what I needed was time and space to learn how to live into my calling," she said.
"The gift of chaplaincy was that it came with a health insurance package and no one looking over my shoulder. Sometimes a blank slate is the biggest gift you can give someone."
Stevens' slate wasn't blank for long. It helped that her congregation was small, numbering only 12 or so members when she began.
"So I knew I had the freedom to start Thistle Farms. Who can't pastor a dozen people and still open a house for five women? That isn't that hard!"
Stevens, who prefers preaching in bare feet and baptizing babies outdoors in creeks and rivers, did just that, opening the first residential home in east Nashville in 1997.
That site offered women a clean, safe place and a sense of freedom, with their own keys to come and go as they pleased.
Given a blank slate and the freedom to pursue any ministry you felt called to, what would you do?
After a few years, Stevens realized that meaningful employment and financial stability were also critical to full independence.
In 2001, she and the women began a makeshift candle-making operation, pouring wax from Kool-Aid pitchers and buckets in the chapel's basement. Their brand was named for the resilient, deep-rooted thistle — often considered a weed despite healing properties — which flowers in the harsh conditions of back alleys and streets.
Today, St. Augustine's has long outgrown its small A-frame chapel; its vibrant congregation primarily worships in Vanderbilt's main sanctuary. Stevens remains chaplain but has been joined by a full staff.
And Thistle Farms now operates six residential houses in Nashville, three social enterprises, including Home & Body, Global Shared Trade and The Cafe at Thistle Farms — a popular breakfast and lunch spot in the front of the nonprofit's main offices, adjacent to the manufacturing warehouse.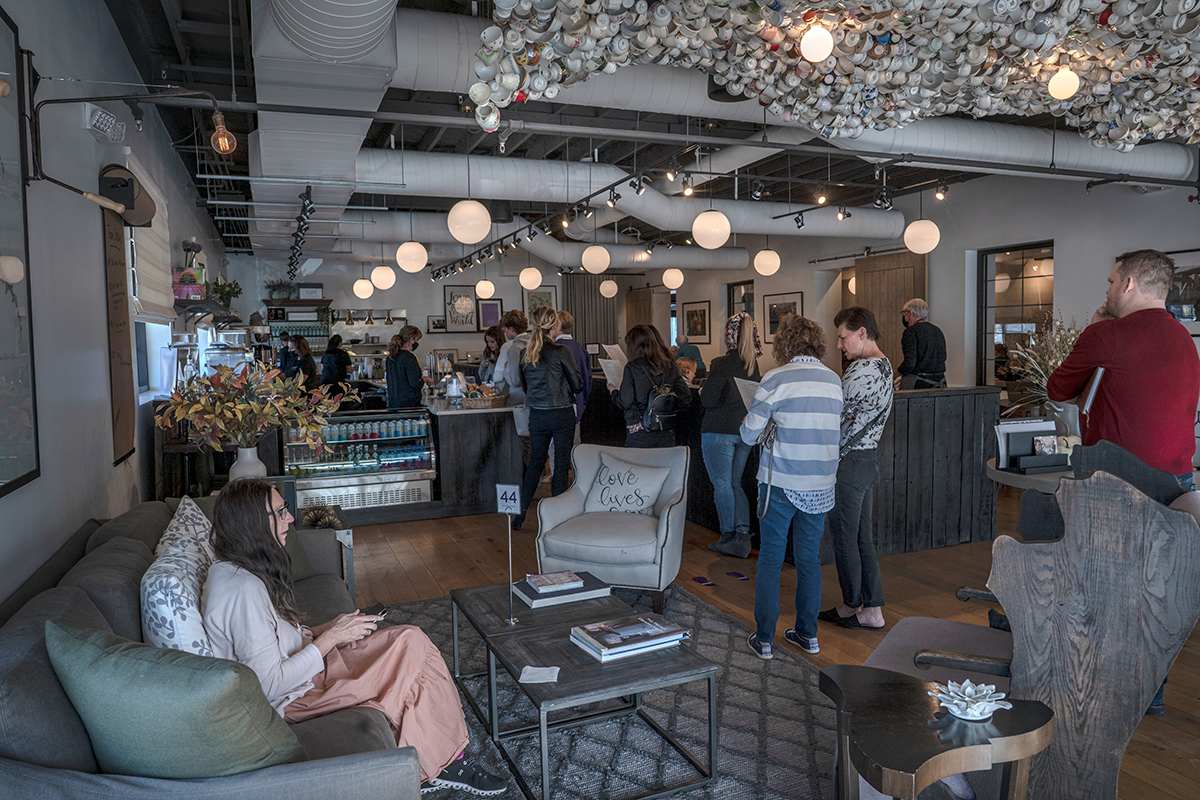 Beyond Nashville, Thistle Farms oversees a national network of aligned sister organizations offering more than 500 beds for women survivors across the country. It also hosts an annual conference, along with ongoing training, workshops and resources for partner organizations.
According to Sarah Suiter, associate professor of the practice of human and organizational development at Vanderbilt University's Peabody College, a key component of the organization's success has been its clarity of mission.
"One thing we know about nonprofits, it's critical that they understand their mission, and Thistle Farms has been crystal clear about theirs, and completely true to it. They don't get distracted," said Suiter, who volunteered there during her doctoral research and wrote her dissertation on the women of Thistle Farms.
"Becca has also been brilliant at creating a strong and open community, so the relational infrastructure exists such that people will speak up if they're off mission and need to course-correct," she said.
What would it take for you to build clarity of mission and relational infrastructure that supports sustainability?
Another aspect of the organization's sustainability is that "they grow according to what's needed, and that's determined by the women they serve," Suiter said.
For example, the social enterprise aspect evolved from the need for the women to have economic security.
"It was demoralizing when they would go apply for jobs. So they brought the jobs to them," Suiter said.
"They're good at listening and honoring the expertise of the women they serve. From the earliest days, Becca created a culture where everyone, from major donors to volunteers to the residents, feels valued for what they contribute, and that makes people want to get involved. I remember one of the first things she told me: 'Everyone takes out the trash' — which means everyone feels equally valued. No one is above taking out the trash."
Stevens still serves as Thistle Farms president, but in 2015 she and the board brought on Hal Cato, a seasoned nonprofit leader, to serve as CEO. Under Cato's leadership, the nonprofit's annual budget has grown from $1 million when he arrived to $8.8 million in 2021. They plan to move into a new manufacturing facility in March, more than doubling production capacity.
'The next right step'
Despite such dramatic growth, Stevens has not felt tension between the demands of pastoral ministry and nurturing a nonprofit.
"I've found that when I have focused on the justice work, everything else falls in place for the church work. The evangelism, the finances, the preaching, the worship — it all follows suit, the way form follows function," she said.
Rather than thinking in terms of balancing 20 hours of justice work with 20 hours of ministry, she instead has focused on trying to "take the next right step."
"Every example in Scripture is of people surrendering to the day. We see disciples dropping their net to go hear Jesus. They're getting on a boat, going to sit on the hillside and hear what he has to say. It's not always about long strategy sessions and endless committee meetings. Sometimes it's just a matter of doing the next right thing. And being willing to make mistakes," Stevens said.
While Thistle Farms grew out of Stevens' ministry at St. Augustine's, the two expanded and evolved together. "The congregation formed around the justice work," Stevens said. "People came in droves because we were practical, we were relevant, we were deeply spiritual. They wanted to come see what this was about, to worship with us, to give financially to grow the ministry. I think if pastors claim the freedom to do their hearts' calling, then the ministry forms around that in a healthy way."
What could be the next right step for your church or organization or for you?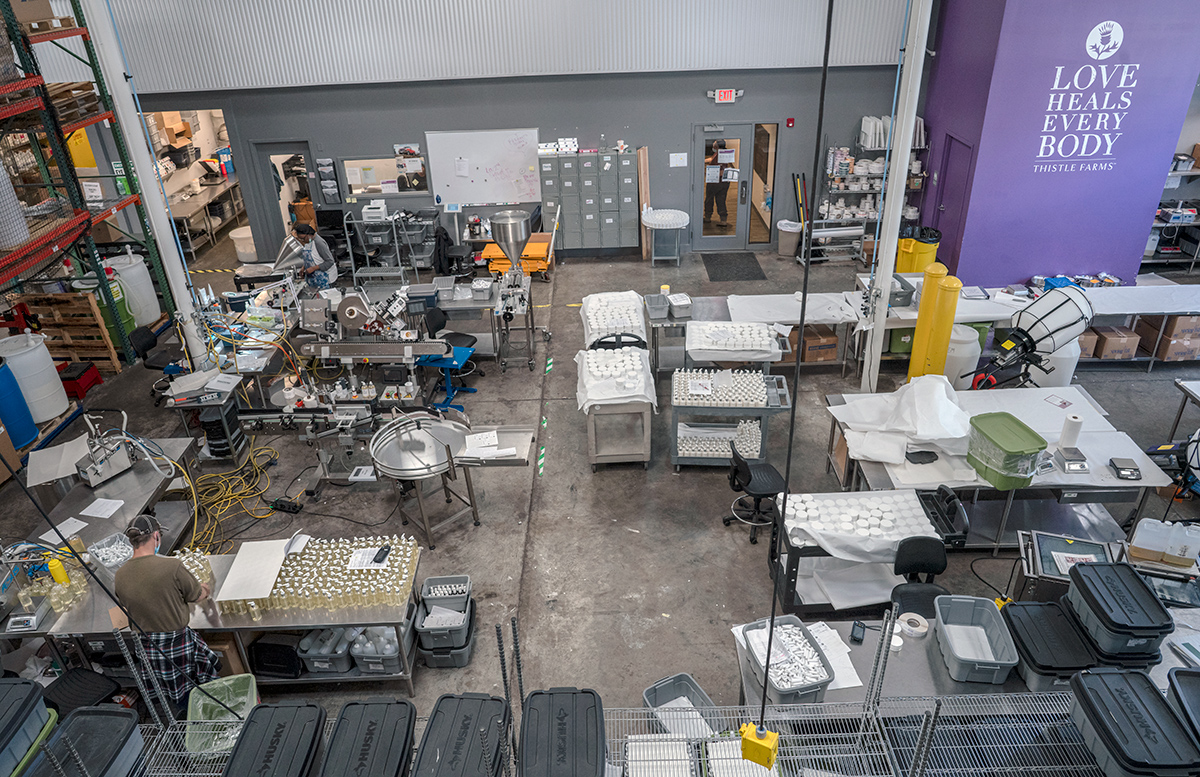 Love as a business model
Over time, Stevens recognized her limits and realized that to scale and manage growth, she would need to bring in experts to help. In addition to Cato, there's now a senior leadership team of 16, with 105 employees total — 70% of whom are survivors. Similarly, St. Augustine's Chapel now has four priests and a full program staff. While the chapel remains a major supporter of Thistle Farms, the two are independent entities.
"You have to give responsibility and leadership. For many people who start things, it's hard to let it go. I've always been grateful to let stuff go," Stevens said. "I mean, I started this cafe where we're sitting right now, but I have no idea how to run it."
What Stevens does understand is the theological grounding behind the cafe and behind providing safety for traumatized women.
"I don't know anything about food service, but I do know that hospitality is a big deal. I learned that in divinity school; it's paramount in the gospel," she said. "So I didn't start with food. I started with hospitality."
At the cafe's entrance, a chandelier art installation of suspended teacups underscores one of the nonprofit's founding principles — "that everyone has a story, and there's a story in every cup," Stevens said. "That everybody's welcome here. Then the rest grew out of that."
For example, Stevens said, when Nashville's foodies first discovered a menu of warmed-up sandwiches, they said "no, no, no" and advised the fledging cafe on what farm-to-table menu items to serve, what equipment to buy.
Eight years later, the cafe is bustling, providing healthy meals for guests, the tranquility and healing of tea, "a space for those who hunger for justice," as the website says, and jobs that offer hope, dignity and economic freedom for Thistle Farms residents, graduates and other survivors.
"I think if pastors trusted that our theological grounding could grow powerful businesses, we would do it more often," Stevens said. "Love is a good business model. Love challenges markets; it can change old systems. If we're talking about economics and women's freedom, that is healing work! That's pastoral care."
Healing in community
As Thistle Farms celebrates its 20th anniversary by opening its newest residential house and moving into an expanded manufacturing warehouse, Cato envisions slowing down a bit to focus on solidifying the services and support the organization offers its national network.
"The demand is there. Every time we offer a workshop, it immediately sells out," Cato said. Thistle Farms does not charge any fees or dues for sister organizations to join the network. It's simply part of the organization's mission.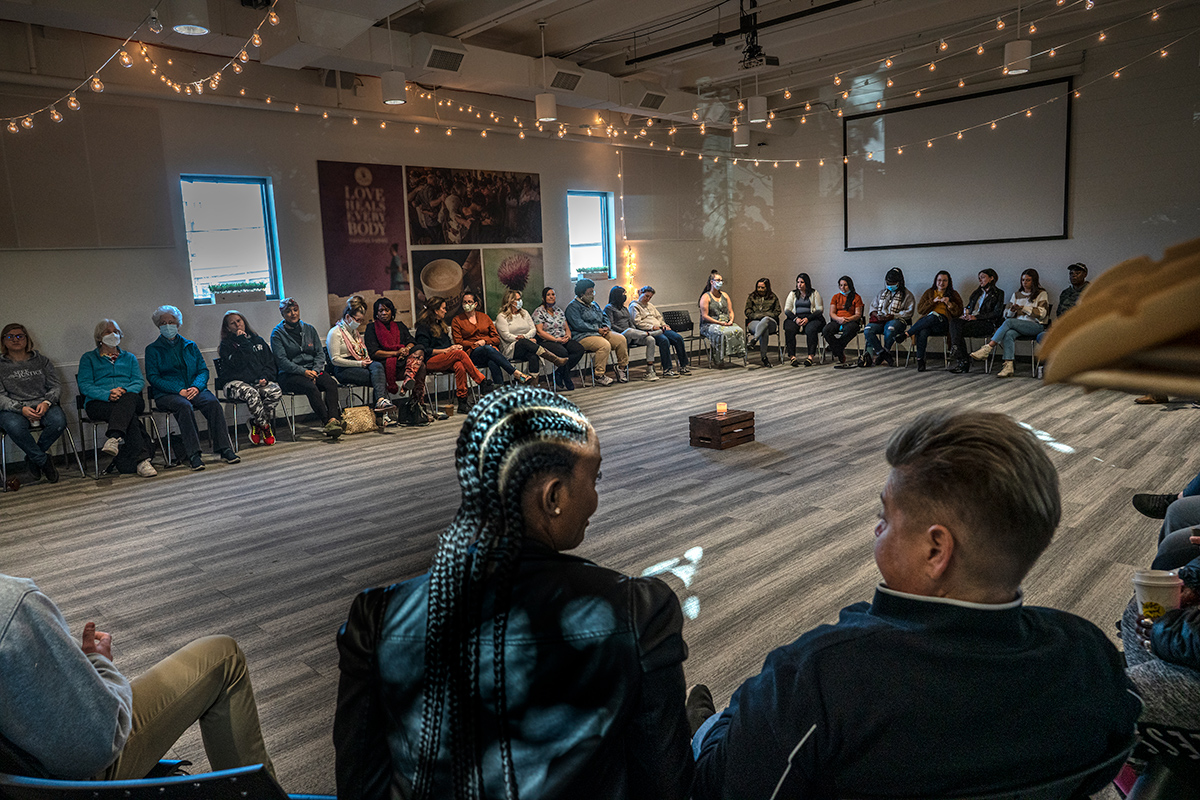 "We want to do everything we can to be part of the learning curve," he said. "We are happy to share the mistakes we've made and learned from, the best practices we've adopted."
A fundamental best practice is proclaiming the healing power of love without tying that to what might traditionally be called a faith-based mission. Instead, Cato said, the Thistle Farms community has faith in each other and in everyone's inherent goodness and value.
"That's everything here," he said.
"We aren't here to rescue or save. We don't do either one," he said. "We create the space for women to save and heal themselves.
"We know that people heal in community. We're really, really good at creating and holding a space for them."
For Hannah, sorting items in the Global Partners inventory department at the warehouse, that healing space has been what she has needed to start over. At this moment, she sorts colorful breadbaskets from Uganda and napkin rings handcrafted by women survivors in Rwanda and Ghana. They are among 39 artisan groups that Thistle Farms partners with worldwide.
"I didn't apply to work in Global because I want to sit here and put tags on things, though I do it with pride," Hannah says. "I did it because I believe in the mission. I love how the global division is helping other women who've had similar experiences to mine. Those women I met in Mexico and others like them, economically and in many other ways, they are way worse off than I was."
Hannah asks Stevens what it feels like to touch so many lives.
"Honestly, I'm so grateful there's still a space for me here," Stevens says. "So many capable people have come through and made Thistle Farms what it is.
"You know, if it had been left up to me, we'd still be in a chapel basement at Vanderbilt pouring candles out of a bucket. I'm pretty clear that this is love at work, not me."
---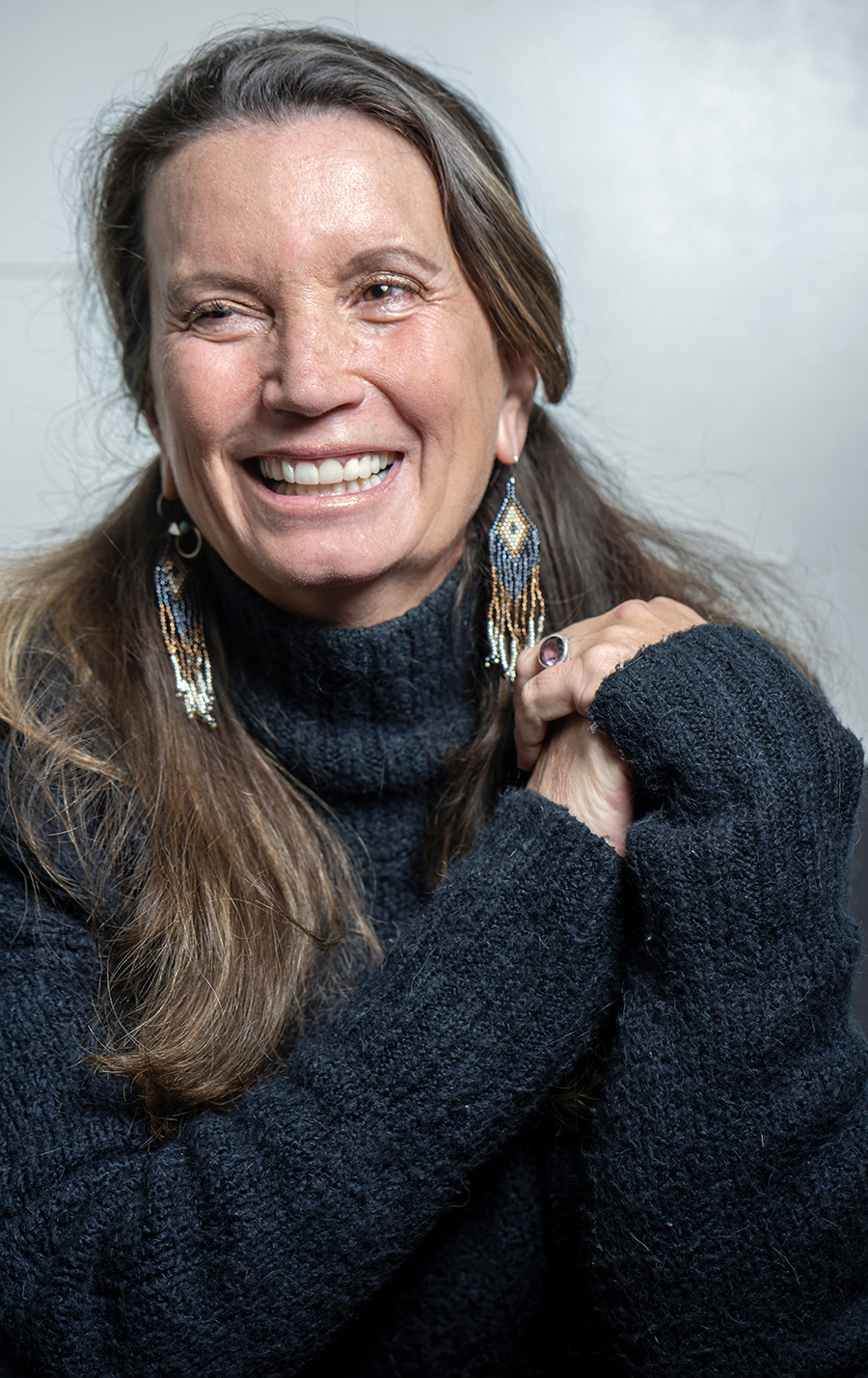 "Practically Divine"
Becca Stevens has a gift for putting people at ease, perhaps because she doesn't get caught up in pretense or in aspirations to perfection.
"When the shiny vest of perfection is peeled off, talk is truth, and we all breathe deeper," she writes in her newest book, "Practically Divine."
About the Japanese concept of wabi-sabi — finding beauty within the flaws and faults — she writes, "This is some of the best news in the whole world, that our imperfections are where divine freedom lives."
Theologically, this makes way for grace and healing, which Stevens knows well after 25-plus years ministering to women traumatized by sexual trafficking, addiction and abuse. As she illustrates in story after story, letting go of illusions of perfection also frees us to harness our creativity and thrive in community.
The book is part ode to Stevens' resilient, practical mother, widowed with five young children to raise, and is framed around favorite phrases she frequently repeated that Stevens still hears echoing in her own head "like sitcom theme song lyrics."
It's also a celebration of small, tangible practices that Stevens believes create room for the sacred: rituals of preparing tea, knitting, walking in the woods. Woven throughout are tales of the women of Thistle Farms, and of Stevens' own journey as a survivor of sexual abuse.
"Our job is to learn to love the world," she writes. "Experience is nine-tenths of love."
It is the doing, the creating with one's hands, that can open up the heart and imagination, finding the divine in simple, practical, imperfect ways.
Questions to consider
How does your church or organization explore the deeper causes of need in your community?
What is the underlying message your ministry shares with the world?
Given a blank slate and the freedom to pursue any ministry you felt called to, what would you do?
What would it take for you to build clarity of mission and relational infrastructure that supports sustainability?
What could be the next right step for your church or organization or for you?