It's a cold, blustery Thursday, but the chili in the fellowship hall is hot, and the bingo game is lively. Mary Hancock, Joanne Mitchell and Judy Burton — a trio of regulars settled in one corner — are as intent on the numbers being called as they had been on the study of Nicodemus visiting Jesus just before. Among the half-dozen folks gathered, the Scriptures expanded into a free-flowing discussion on love versus judgment and how relationship with God affects our daily lives.
The door from the parking lot opens, and two of the residents who live down the hill arrive. Daryl Epling and another man grab bingo cards and chili as they talk, with Epling setting things in place for his visually impaired friend.
Their stories are different from those of others gathered, but in this room at Glencliff United Methodist Church, they share the same table.
The Nashville congregation of roughly 50 mostly senior people shares its property with a tiny home community known as The Village at Glencliff. The semicircle of 12 brightly colored buildings curves around a garden and community space, offering medical respite for those experiencing homelessness. Here people can rest and recover after a hospital visit instead of risking the uncertainties and dangers of the street. The effort is still in its infancy, but the heart behind it is deeply rooted.
"I'm thankful we have these houses where they can stay," said Hancock, a member of the congregation since 1957. "It's what we're supposed to do: make the lives of others better, if we can."
New lessons every day
The road to The Village at Glencliff has had its rough patches. There was initial pushback from the community. A court battle over rights to build it. Unexpected site prep and expenses. And COVID. After years of planning and legwork, the dozen 200- to 400-square-foot homes opened to residents in 2021. New lessons continue to be learned daily.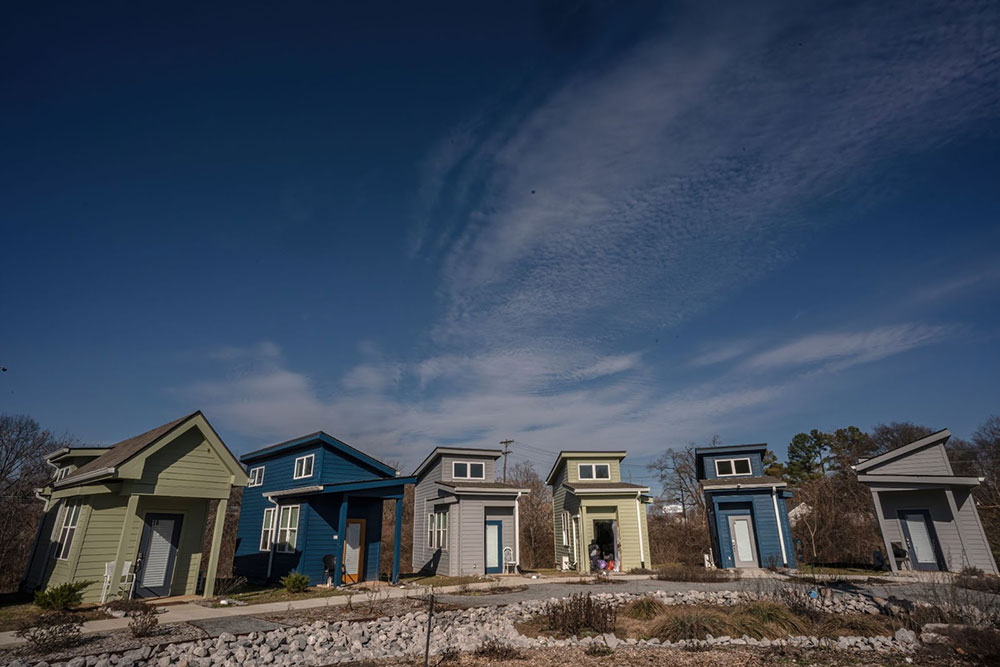 "We've said we want to be careful," said Julia Sutherland, the effort's executive director. "We don't want to set this up as an experiment with people's lives. On the other hand, it is very much a necessary experiment. It's a pilot.
"There were things we were certain of: housing reduces hospital costs; it reduces repeat ER visits; it promotes healing. We knew there would be community, which statistics show is integral to better health. But we didn't know how that community would manifest. It's been beautiful."
Medical respite — acute and post-acute care for those experiencing homelessness who aren't ill enough to stay in a hospital but are too ill to recover on the streets — has been around for decades. COVID, however, brought the visibility and health concerns of those who are unhoused to the forefront.
There are now more than 130 medical respite programs in 38 states and territories, with 15 new programs in 2020 and six more in 2021. The Village at Glencliff, though, is unique. Respite programs are typically short-term solutions, with access to a bed, transportation to medical appointments, care coordination, meals and daily wellness check-in. The Village, however, incorporates the Substance Abuse and Mental Health Services Administration's SOAR model, an effort to increase access to disability income for those who are unhoused or at risk of it while also experiencing complicating health issues. The goal is not just to help residents recover physically; it's also to move them from The Village into long-term, stable housing.
Easier said than done. Nashville, among the top 10 fastest-growing cities nationwide, is 50,000 units short on affordable housing, said the Rev. Ingrid McIntyre, the founder of The Village at Glencliff.
"There's always a long waiting list for housing," she said. "There's no place for people to go."
Adding to the challenges, Tennessee hasn't expanded Medicaid coverage as allowed under the Affordable Care Act. That translates to roughly 118,000 residents in the gap between eligibility for Medicaid and for premium subsidies in the exchange. And disability benefits are rarely granted on the first attempt. The original plan was that Village residents would stay for up to 90 days. Some residents have been on-site for more than a year.
One of those residents, who is not named for privacy reasons, beams as he remembers the first time he heard one of the staff say, "Let's go to your house." He knew from the start, he said, that he was in a "good place" with "good people."
After being shuttled between the hospital and other agencies that couldn't provide the care he needed, he landed at The Village. He has since received clothing, food, shelter, transportation to medical appointments, Bible study, encouragement and community.
"This has been a blessing from God," he said. "Without this place, this staff, I would be dead on the street. They want us to stay healthy and safe, and to get back on our feet to do the things we love to do. … None of us will forget that."
'Housing is health care'
McIntyre, who also helped found the interfaith homeless outreach nonprofit Open Table Nashville after the historic 2010 Nashville floods washed away encampments, said the idea for The Village percolated for about five years in her brain.
In an ideal world, hospitals will fully support and refer residents with the understanding that it will reduce readmissions and complications, she said. That's happening; it's just not yet a "fluid" process.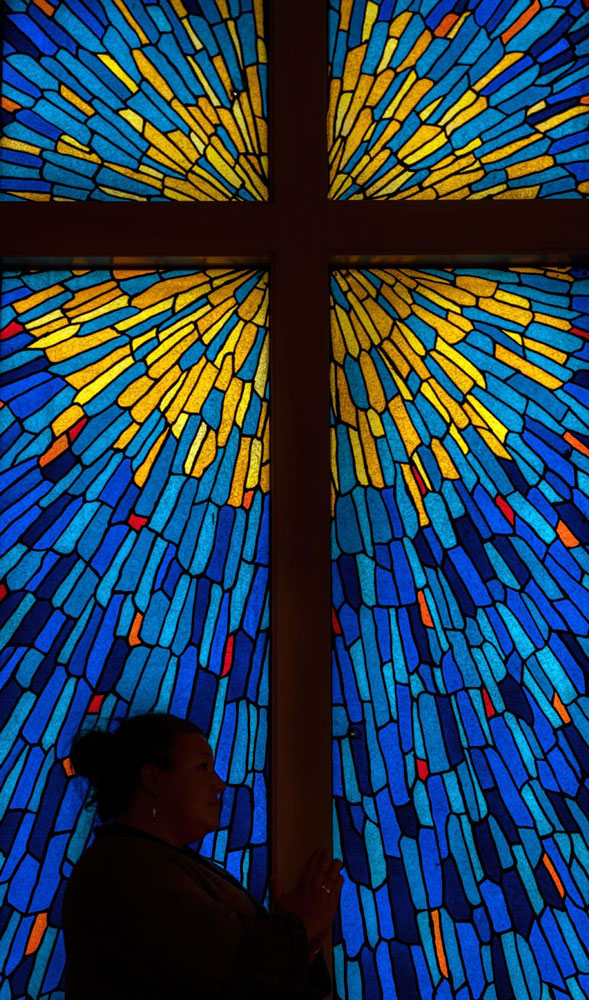 "Housing is health care," she said. "None of our folks are going to heal under bridges or on benches."
The Village hopes to gather enough data to prove that the model works, which will assist with funding, planning and expanding. There's room on the 6-acre property for 10 more homes. But that's further down the road.
McIntyre knew it would be a slog. She also knew that even if the village sits on church property, "passing the Jesus test" would never be a requirement for access. Here, faith is a personal conviction and throughline but not necessarily the driving force. Social justice, empathy, equity and empowerment are top of mind.
"People often find themselves in these situations through broken systems," McIntyre said. "Society will look at them and say, 'What did they do?' or, 'What's wrong with them?' No. What's wrong with us that we can't take care of our own?"
McIntyre said the church "wanted their community to be an embodiment of faith in the world." The relationship developed as Glencliff UMC provided space in its basement for Open Table Nashville's offices.
McIntyre had been appointed to the streets of Nashville by the United Methodist Church, and she had connected with other pastors about opportunities. The Glencliff congregation heard a proposal for The Village plan, and they were inspired. Others in the neighborhood, however, still needed convincing.
What "tests" does your organization require people to pass in order to receive services?
Architectural renderings and community discussions helped ease minds. And once The Village became tangible, some original naysayers came around with apologies and appreciation.
"It's not the giant things that make the difference," said McIntyre, who later became pastor of Glencliff UMC and another congregation. "It's not the homes, although the homes are great. It's the mutual relationship, seeing the humanity and dignity in each other even though we have different experiences. That has been rich, knowing that people in our congregation had not been in relationship with people who were experiencing housing insecurity.
"It's been an opportunity for us all to learn from each other. We're all a gift to each other. … We're all children of God. And when you're in proximity with folks who are different from you, you learn so much more. It changes you in a way that's different than just reading an article or making a donation."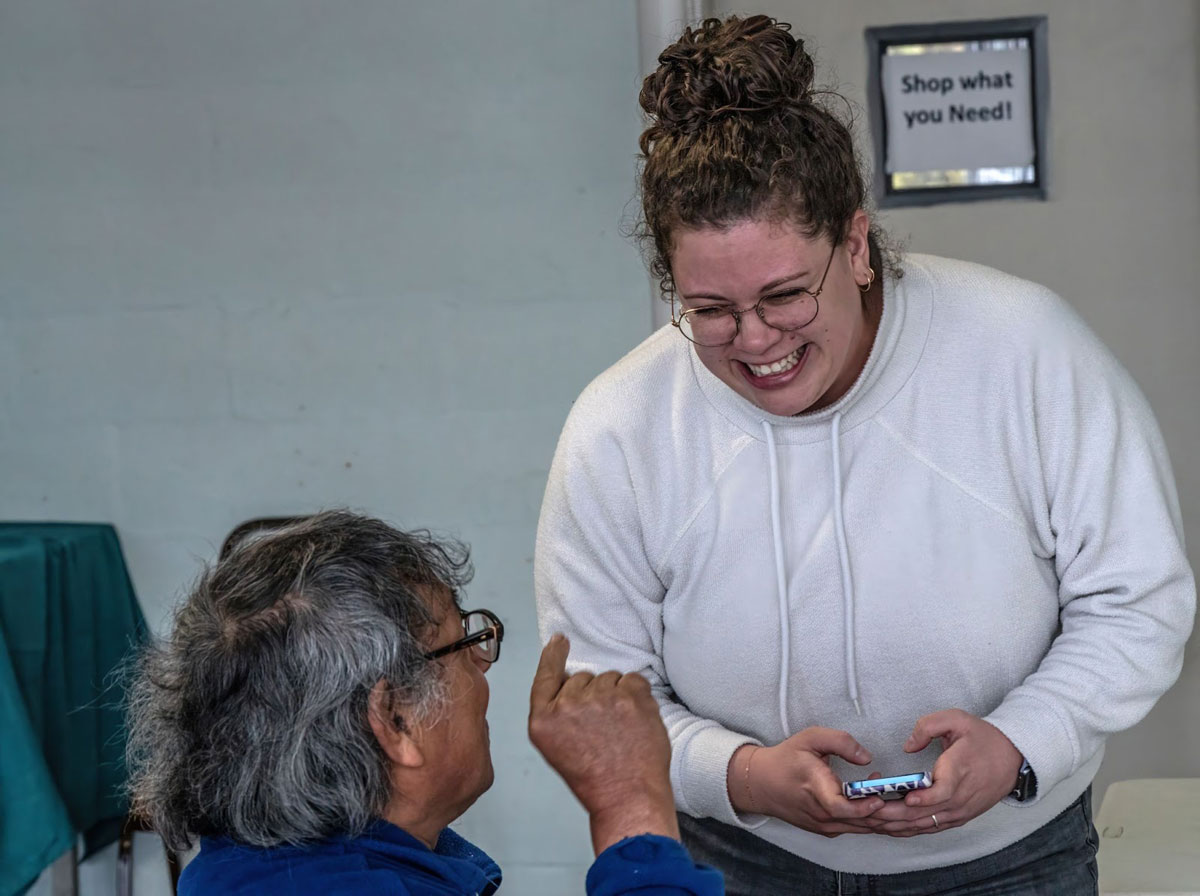 What would it look like for your church to be an embodiment of faith in the world?
McIntyre and Sutherland both believe there's room for deeper relationships and opportunities. "Most of the congregation has had some sort of experience with the residents," McIntyre said. "There are still a lot of things to learn. This isn't about how many people come to Jesus but how we can live out our best lives as disciples."
In addition to private donations, initial funding for The Village came in part from a $270,000 grant from the Centers for Disease Control Foundation and the National Institute for Medical Respite Care (NIMRC), an initiative of the National Health Care for the Homeless Council. The grant supported a few of the units, medical equipment, staffing and operational expenses, as well as two years of technical assistance from the NIMRC, which happens also to be in Nashville.
What opportunities do people in your congregation have to live out their best lives as disciples?
Partnering for services
Bobby Watts, the CEO of the National Health Care for the Homeless Council and director of the NIMRC initiative, said people "don't fully understand the interplay between health and homelessness."
The NIMRC helps close the gap with training, toolkits, resources and standards. Poor health care can contribute to homelessness, Watts said, as it can affect people's ability to complete higher education and hold employment. In addition, researchers found in 2019 that medical issues contribute to 66.5% of personal bankruptcies.
On the other side of the coin, a lack of sustainable housing can make any medical condition harder to treat, aside from being able to get to doctor's visits, afford copays, and practice hygiene and wound care, Watts said.
"If your treatment plan says to get rest, how will you do that if the shelter is only open overnight? How will you take medicine with meals three times a day? What if your medicine needs to be refrigerated?"
The Village doesn't provide clinical care yet, but it does offer transportation to physical and mental health support, creative programming, opportunities for connection such as weekly bingo, and a community garden.
It also collaborates with a variety of partners for services, including the Nashville Food Project for meals. The Village does not receive government funding.
"It would take a full-time person to handle government money," McIntyre said. "The government would also tell us who we could or couldn't serve, and I'm not interested in that."
Annie Slaughter, the community meals partnership manager at the Nashville Food Project, said the organizations have collaborated since August 2021, with the Nashville Food Project providing from-scratch frozen meals for residents to prepare in their kitchens. More recently, there's also been a weekly hot food drop-off. The partnership, she said, has opened her eyes to the complexities of being unhoused. It also has deepened her appreciation for feedback on what works and what doesn't — such as avoiding raw apples for those who may not have had consistent dental care.
"From everything I've seen, they're there with the residents, rather than being above them or just telling them what they need. They definitely are in community, and when you see them all together, there's no hierarchy or feeling of, 'I'm helping you.' It's more, 'We're all one.'"
When the weather's good, residents, staff, volunteers and others might gather around the outdoor furniture in the garden. Epling might bring out his guitar.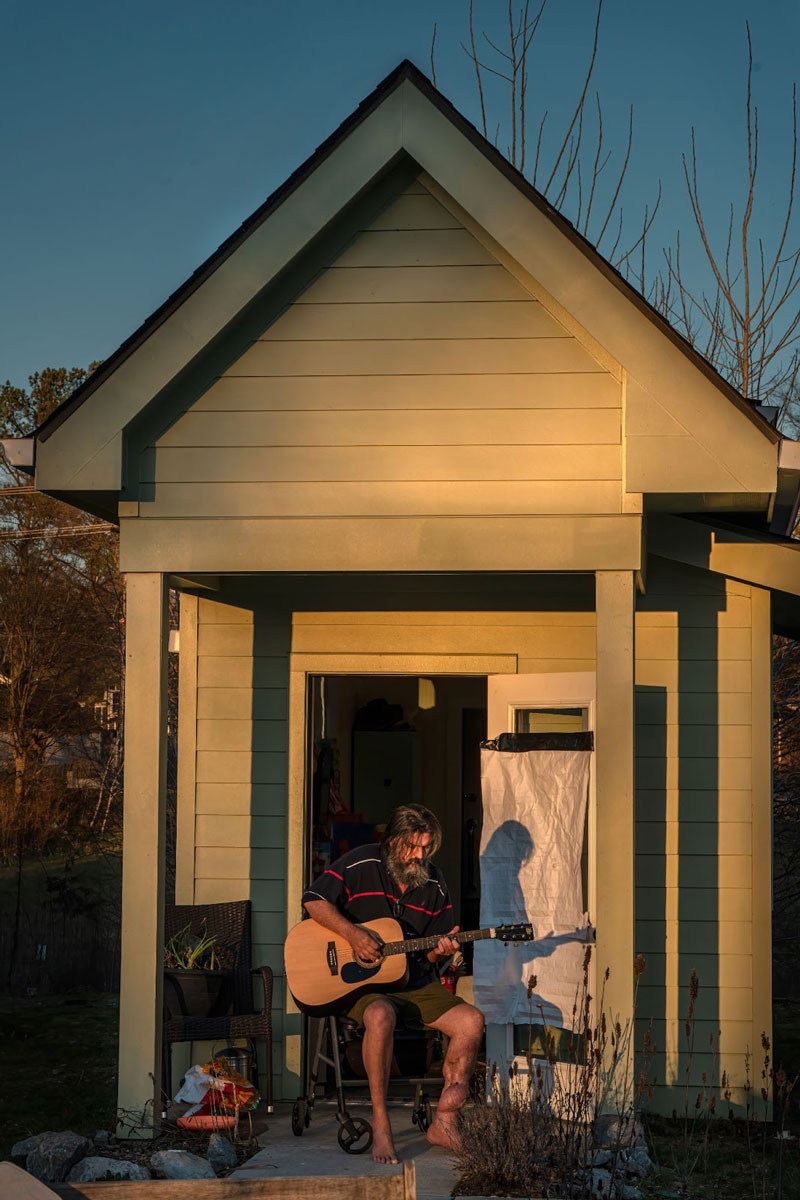 There have been more than 20 residents so far, with ailments such as diabetes, chronic obstructive pulmonary disease and cancer. Some are post-surgery. And several — like the 48-year-old Epling — arrived after being hit by a car.
He ended up on the street after a failed relationship and woke up in the hospital with a rod in his leg and no idea what had happened. A MRSA infection followed. Someone at the hospital referred him to The Village at Glencliff, and he came in March 2022. He's still hoping for disability benefits to come through. Until then, he said, he's grateful to be in a place where people are kind and smiling. He knows they care.
"This is about being able to treat people with dignity, helping them reconnect to the lives they once imagined, now that they're no longer in survival mode," said KeiAndrea "Zoey" Caldwell, the volunteer/programming coordinator at The Village.
She collaborates with area nonprofits and charitable organizations to provide opportunities like music therapy, art classes, meditation and chair yoga, surveying residents to discover interests. Members of the community and congregation are also welcome to attend the programming.
"After being here for a week, residents might ask, 'When are you going to put me out?'" she said. "We can say, 'We won't. We'll find a home for you.' Knowing that we're setting an example of how we can end this epidemic is like watching my faith unfold."
How do you ensure that there is dignity in all the ways you are serving with your community?
Caldwell is hopeful that The Village's example will lead to more idle spaces being used to help those who are unhoused — especially in churches.
A place to heal
In the meantime, Michael Durham, The Village board president and a longtime "abolitionist theologian for housing justice," is focused on doubling the board, planning strategy and working through the tactical issues of being a startup.
"My priority is really to get our ducks in a row before we think about expanding," he said. Providing a safe environment for people to heal creates a platform for finding stability in other areas of their life as well. Every social issue he cares about comes back to housing in some way, he said; those who experience homelessness are all too often "dehumanized."
"What needs to be said is that The Village at Glencliff is not meant to be the answer to homelessness," Durham said. "We lament that we even have to do this in the first place. People deserve something more substantial than tiny homes. They deserve stability and agency in where they live, in their access to food and to schools. They deserve so much more than we can offer.
"The Village is an example of community. God bless the people at Glencliff saying, 'We've got land, and if the federal and state governments aren't going to act, we'll leverage all we have.' We certainly need more communities to do that."
Judith Tackett, former director of Nashville's Metro Homeless Impact Division and the city's Metropolitan Homelessness Commission, will work as a consultant to The Village. She comes to the role not as a faith leader but as someone who would like to see more faith leaders involved.
During COVID, she saw congregations create temporary housing opportunities; she'd like to see that extend toward permanent housing as well.
"There's been a conversation about whether we need housing or services. Why just one of them? We need both," she said.
Too often, the population of homeless people is imagined as those with shopping carts or living in tents, she said. "But we forget about the seniors who can't live off Social Security or have lost their pensions. And children in motels. Young people who have been kicked out because they've identified as LGBTQ," she said.
"There are so many subpopulations that are invisible and vulnerable. The stability of housing allows people to achieve other things, such as income or education. How can you pull yourself up by your bootstraps if you don't have boots?"
What would it look like for your organization to leverage all it has for its neighbors?
Questions to consider
What "tests" does your organization require people to pass in order to receive services?
What would it look like for your church to be an embodiment of faith in the world?
What opportunities do people in your congregation have to live out their best lives as disciples?
How do you ensure that there is dignity in all the ways you are serving with your community?
What would it look like for your organization to leverage all it has for its neighbors?