What does it mean for young people to learn the art of repairing and restoring?
One morning last July, on a tiny slice of land between Kodiak Island and the Alaska Peninsula, I made my way out of my sleeping quarters to be greeted by the breathtaking sight of the ocean ringed by mountains. On the grass above the beach of mile-long Harvester Island, young people were mending nets.
These were large salmon nets, some 50 feet wide and 600 feet long, draped over a series of scaffolds that stretched along the grass. This fish camp -- owned for decades by Duncan and Leslie Fields -- relies on the efforts of the couple, their six children and other young people who come from around the world each summer to work here. On that morning, two of their teenage sons and their adult daughter were seated in chairs, looking sleepy yet focused as they combed through the nets. They were picking out globs of jellyfish while searching for holes ripped by sea lions, seals or propellers.
Leslie Fields describes the tools needed to mend these nets in her book "Crossing the Waters: Following Jesus Through the Storms, the Fish, the Doubt, and the Seas": "Scissors that hang from twine around my neck -- to cut out the ragged meshes. A white plastic needle about five inches long for my right hand, wound with green twine for sewing the torn meshes. And a flask of glue hung from a string that I'll hook onto my belt."
Duncan explained to me that every so often, when the officials who regulate the salmon-fishing industry give the word, all the camps have to pull their nets out of the ocean and give the fish time to repopulate. These regulations help keep the industry sustainable. Rather than getting a break from their grueling schedules, however, the fishers use those days to mend their nets -- backbreaking, repetitive yet necessary work.
I've always loved Jesus' words to Simon and his fishing crew, "Put out into the deep and let down your nets for a catch" (Luke 5:4 ESV), because of the way those words invite us into a life teeming with the fish of possibility. And during my stay on Harvester Island, embedded in a family fish camp for the week, I had a chance to be out in the skiffs, see the full nets, "pick" the salmon from the netting and hold their cold, slippery, silvery bodies.
But I never thought much about the need to repair the nets until I witnessed these young people engaged in the process. Banned temporarily from fishing, they work 12-hour days, hunched over the nets, mending quickly and efficiently, because they never know how soon they will be cleared to get back on the water -- usually, after a couple of days.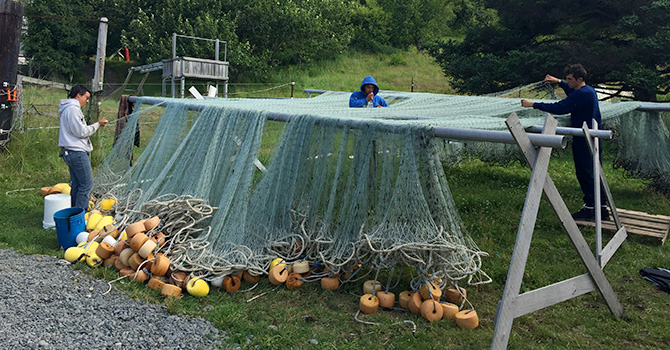 Ever since witnessing their mending work, I've been mulling over a question: What does it mean for young people picking the nets three times a day, seven days a week at a summer fish camp to learn early on in their lives the art of mending?
Having seen firsthand the nets' progressive damage, not only are they learning how to repair and restore, but they're learning that this mending is not an extra skill. It is an art that is vital to their livelihood.
Repairing nets is arduous and repetitive and can last for days. The workers distract themselves by listening to music or stories or engaging in conversation, but their hands are practiced in the art of mending. They have the muscle memory to seek out the holes, even as their minds are otherwise occupied.
For those of us who don't fish for a living, what do we regularly repair and restore? How do we practice mending? Do we recognize the little kindnesses that mend? After all, we can't repair the big things if we haven't mended the small.
And how can we teach the practice of mending to our young people so that they can develop skillful hands? How can repairing and restoring become vital to their livelihoods and communal lives?
I've tried to teach all four of my children to mend a simple tear in fabric and to sew on a button. Their early attempts were not beautiful, but with practice they have all learned to do it. In the same way, there are aspects of mending in the formation of a Christian life that need teaching and practicing: confession, forgiveness, repentance, restoration, renewal -- all crucial to our lives in Christian community.
Leslie Fields, reflecting on another of Jesus' teachings -- the parable of the net and the sorting of the fish (Matthew 13:47-50) -- writes about her own work of repair: "Before this net can be mended and whole again, the edges must be squared. All the tattered and trailing pieces must be cut out first. It's impossible to sew new webbing into shredded holes. I see it. Judgment must come, the final end to oppression, self-centeredness, and every form of destruction before it can begin, the full rule of the Messiah over his creation and his people. All cannot be restored and renewed without it. With our selfish choices, we rend the world; God's judgment will mend the world."
Lately, good news has come in the form of young people who are themselves teaching the art of repair as they attempt to mend the rips and tears in their communities and in the world:
Greta Thunberg, the Swedish climate activist who, at 15, began inspiring school climate strikes and climate awareness around the world.
Amariyanna Copeny, also known as Little Miss Flint, a 12-year-old activist who raises awareness about Flint's five-year water crisis and raises money to support children in her community and across the country.
Marley Dias, who launched a campaign in 2015 called #1000BlackGirlBooks because she was tired of reading primarily about white boys. Dias has collected and donated more than 10,000 books featuring black girls as the protagonist, helped develop a resource guide on how to find them, and now speaks with educators and legislators about how to increase the pipeline of such books.
Jesus knows about ripped nets. He knows in Luke 5 that a big catch will rip the nets of the disciples, and yet he encourages them to go for it. The passage continues: "And Simon answered, 'Master, we toiled all night and took nothing! But at your word I will let down the nets.' And when they had done this, they enclosed a large number of fish, and their nets were breaking" (Luke 5:5-6).
Nets broken, the disciples would have to practice the art of mending -- again and again.