When the Rev. Angela M. Redman left her 20-year legal career to serve as executive director of the United Methodist City Society, she did not expect so much of her time to be focused on real estate management and development. But she spends a good part of each day doing just that.
Located in upper Manhattan, the United Methodist City Society is a 185-year-old agency that provides support to United Methodist churches in the greater New York City area. A group of Methodist women started the organization to provide meals, education and shelter to children in economically impoverished neighborhoods. The society went on to build churches and spread the faith. Today, it still holds titles to churches throughout the area.
One of them was the Trinity-Morrisania United Methodist Church in the Bronx. But where that church once stood is now the Trinity-Rev. William M. James Senior Apartments, with 153 affordable housing units for low-income seniors. James had led a revitalization of the church as pastor there in the 1940s and '50s.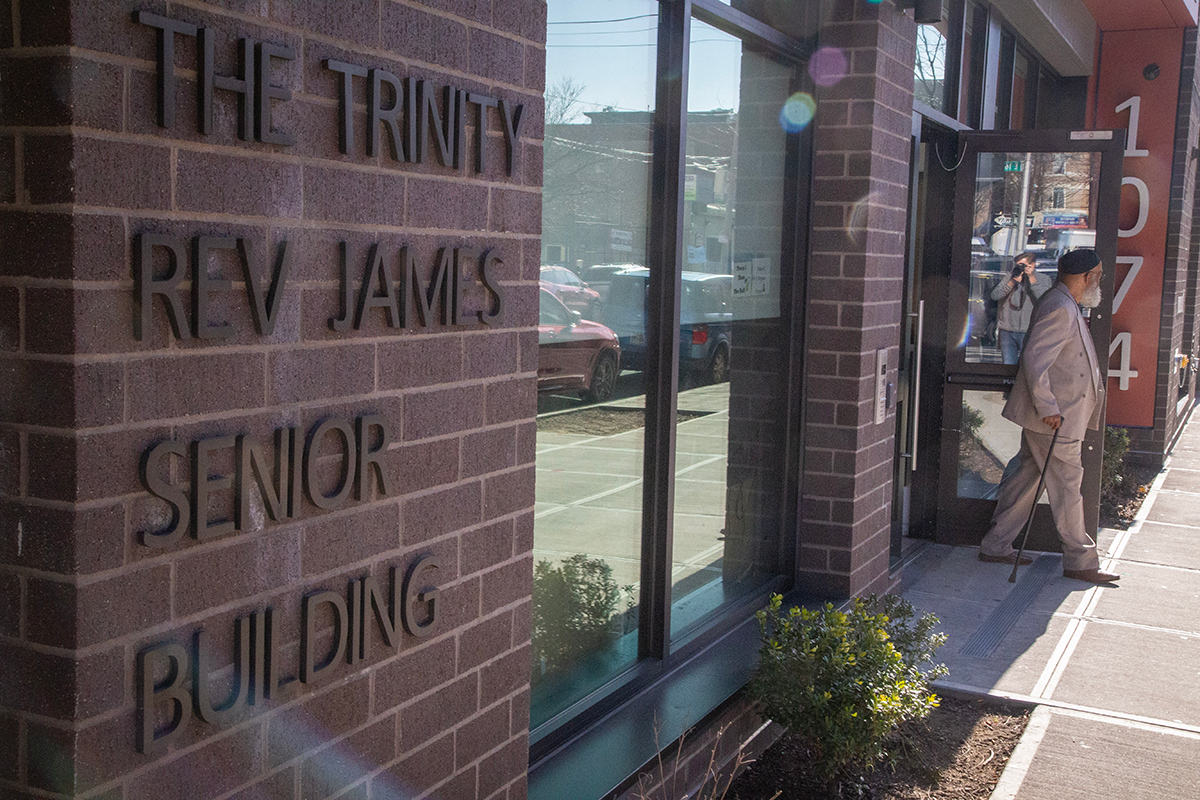 A joint venture between the United Methodist City Society and the Bronx Pro Group — a real estate development and management company focused on affordable housing — the Trinity Apartments began accepting tenants in late 2021. But the project's origin story goes back more than a decade, when the City Society's then executive director, the Rev. Dr. William Shillady, first visited the church in 2008.
"When I first got to City Society, I visited all the churches we held title to," Shillady said. A new apartment building had gone up across the street from Trinity-Morrisania, and the words emblazoned across the front door lintel caught his eye: "With God's Love All Things Are Possible."
That was Shillady's introduction to the Bronx Pro Group. He contacted the developer and got a tour of the property.
In 2016, when the 12 remaining congregants of Trinity-Morrisania decided it was time to close the church, Shillady contacted the developer, beginning the transformation from a 150-year-old church in ill repair to a modern 12-story apartment building for low-income seniors. To be eligible, tenants must meet an age requirement and earn no more than 60% of the area's median income.
The process was complicated, with intense negotiations between lawyers, Shillady recalled. Out of the eventual deal, City Society maintained a 25% share in the $88 million dollar development project, putting no money down, aside from the negotiating costs. Funded with tax-exempt bond financing, low-income housing tax credits and government subsidies, the project allows City Society to earn income — an estimated $50,000 to $75,000 annually — to fund additional mission work.
A developer with a mission
Since shifting its focus to affordable housing in 1998, the Bronx Pro Group has built more than 2,900 affordable units. Developing quality housing for low-income New Yorkers is integral to the mission of the firm, which was started by Peter Magistro, then a real estate developer and property manager, now retired. Aligning with his passion to cook for and feed the unhoused, according to his daughter, Samantha, he discovered he had a knack for affordable housing. After he completed his first such project in 2000, the company's aspirational nod to Matthew 19:26 — "With God's Love All Things Are Possible" — went over the door. It continues to grace many of the buildings that Bronx Pro develops and manages.
Samantha Magistro, now the company's CEO, said this kind of work takes effort and faith. The project with City Society was no exception.
Although Bronx Pro had repurposed a vacant church before, this was the first time they were taking down a building with architecturally historic significance, and working with a partner who wanted to collaborate every step of the way.
"All things being equal, from a business perspective, it's better to have fewer hurdles," Samantha Magistro said. "But business is not the only driving factor."
For example, it was important to Shillady that the new building incorporate elements of the old church. Walking through the lobby and the public spaces, you can see reminders: in the wooden arches built into a ground floor common room, in the restored stained-glass windows above the mailboxes and the restored pews, where residents can relax on their way in or out of the building.
How can your mission create community that sustains your organization's purpose?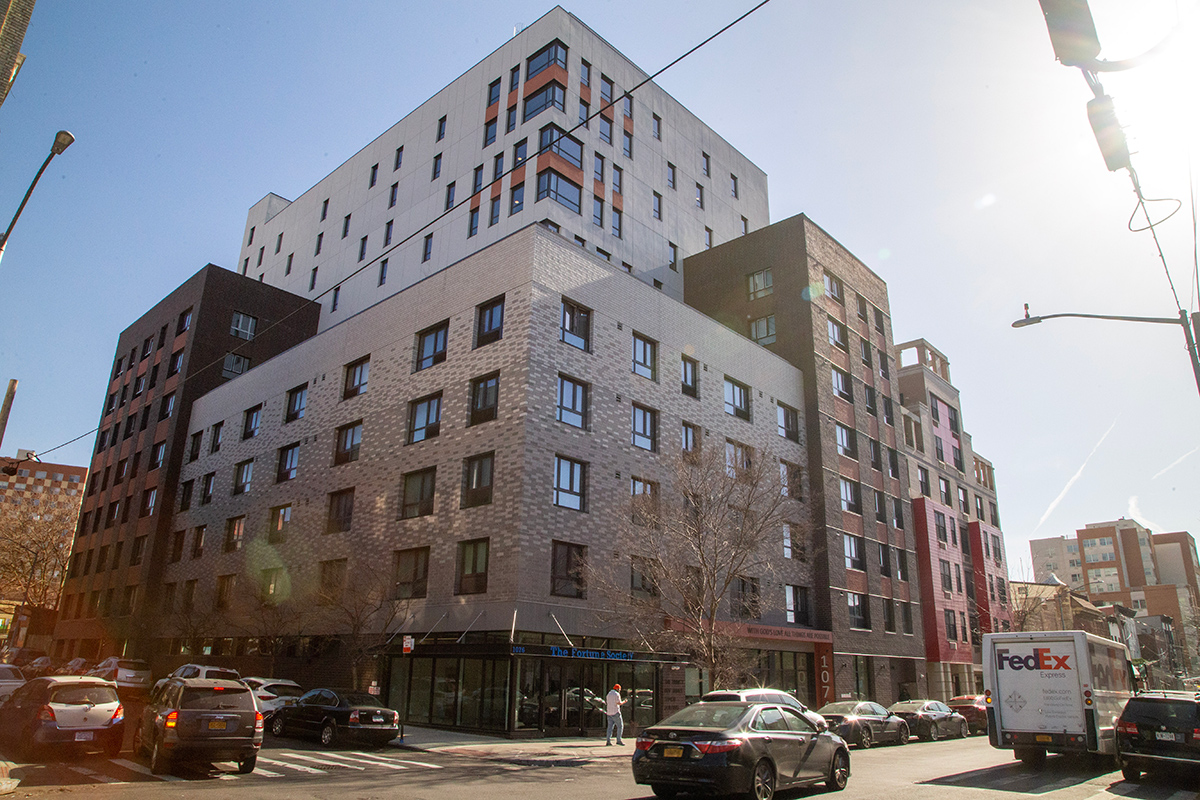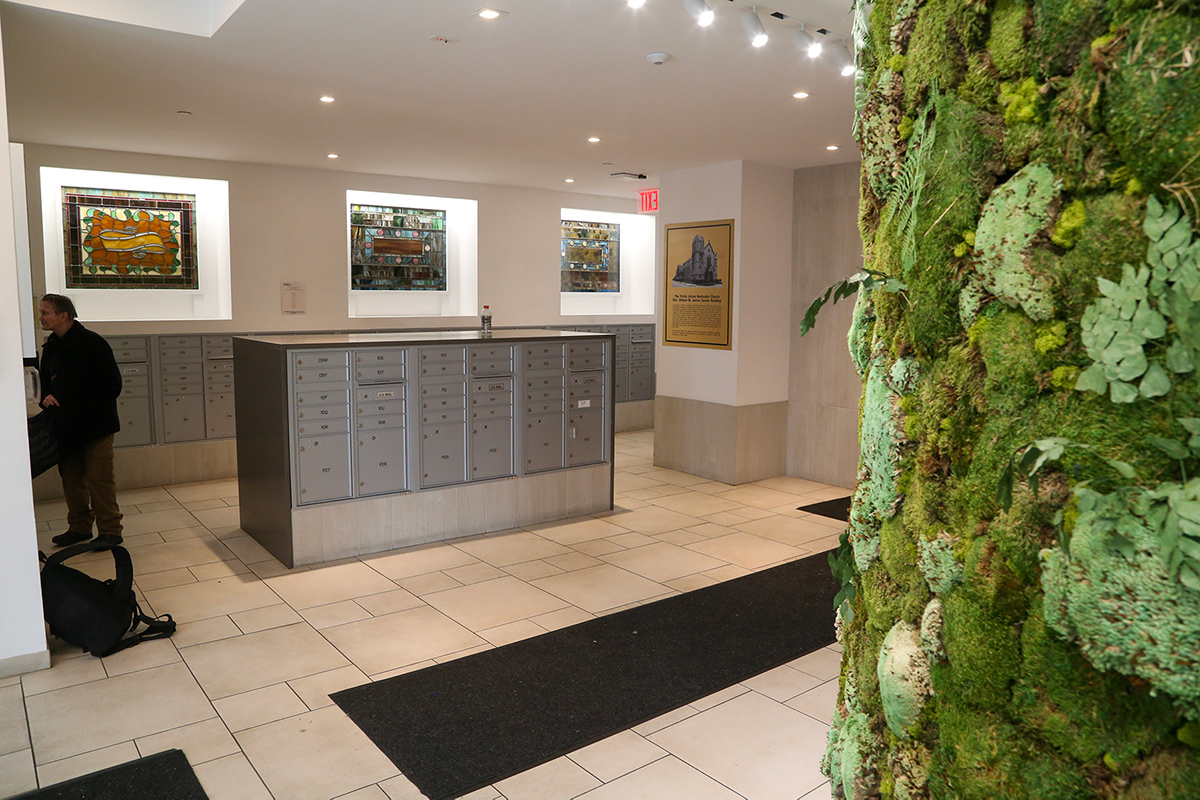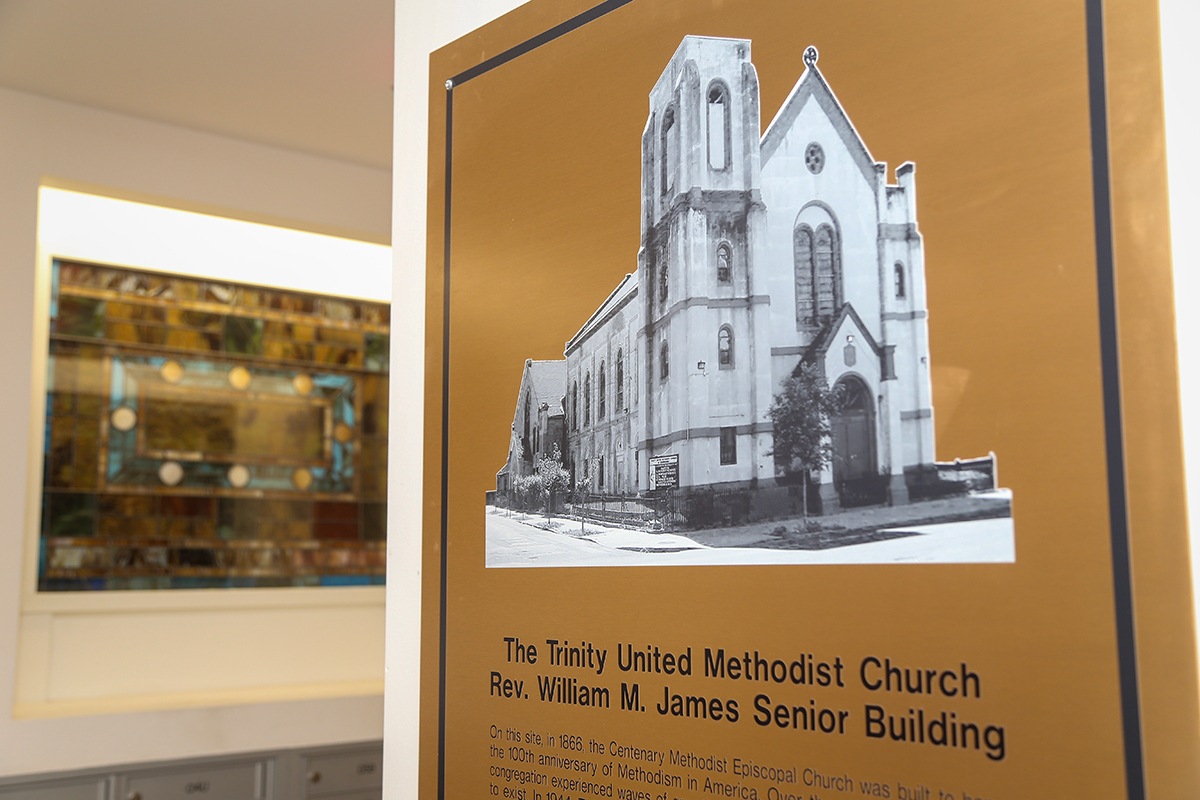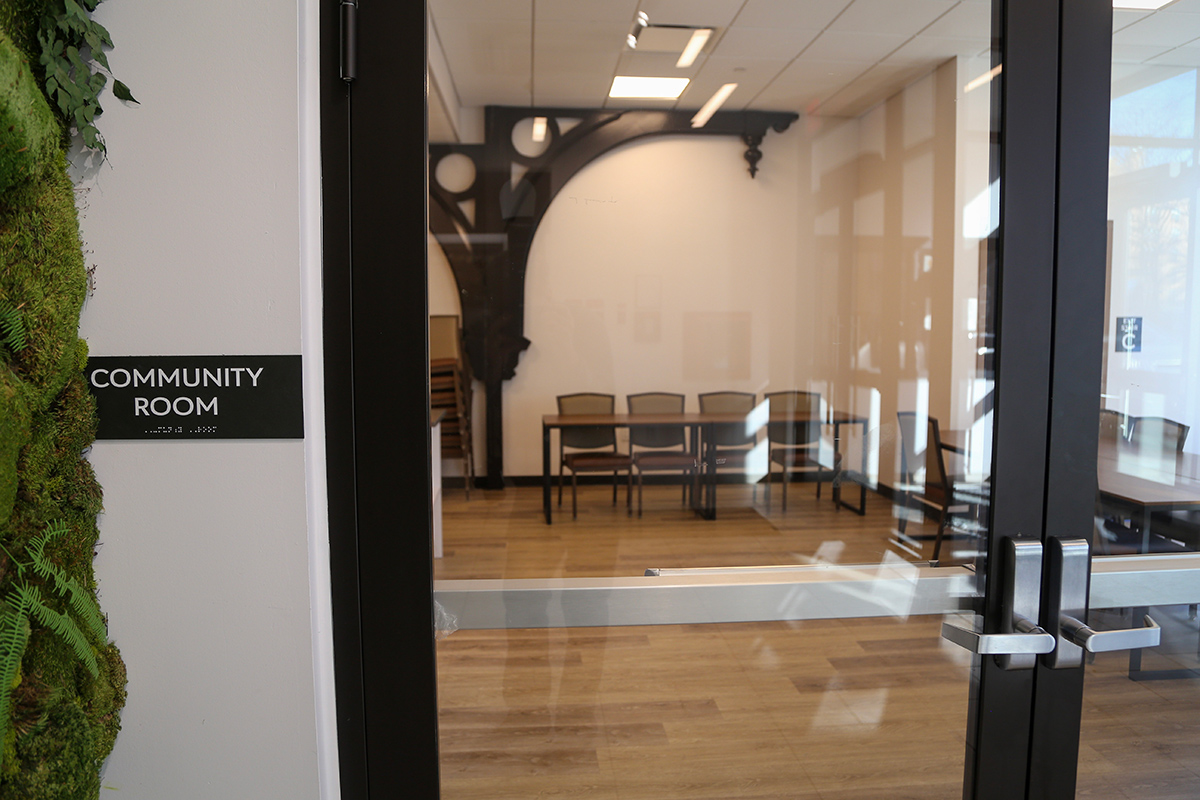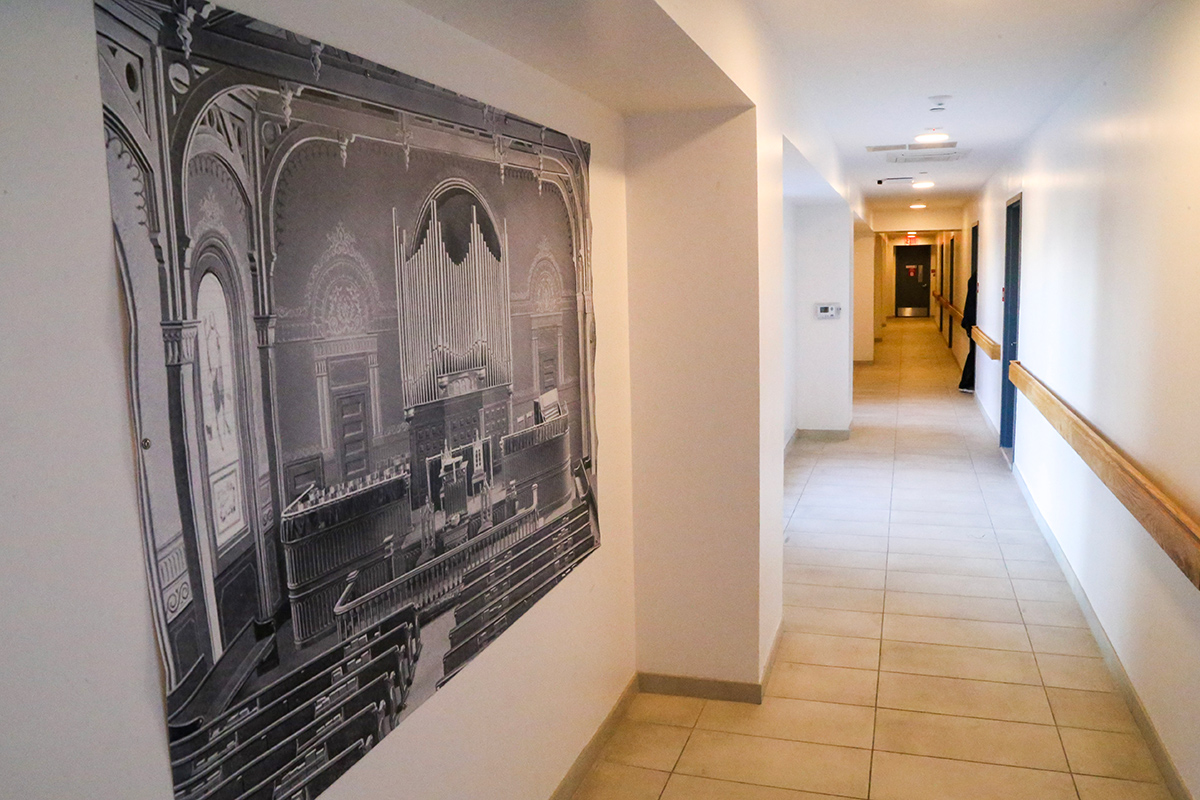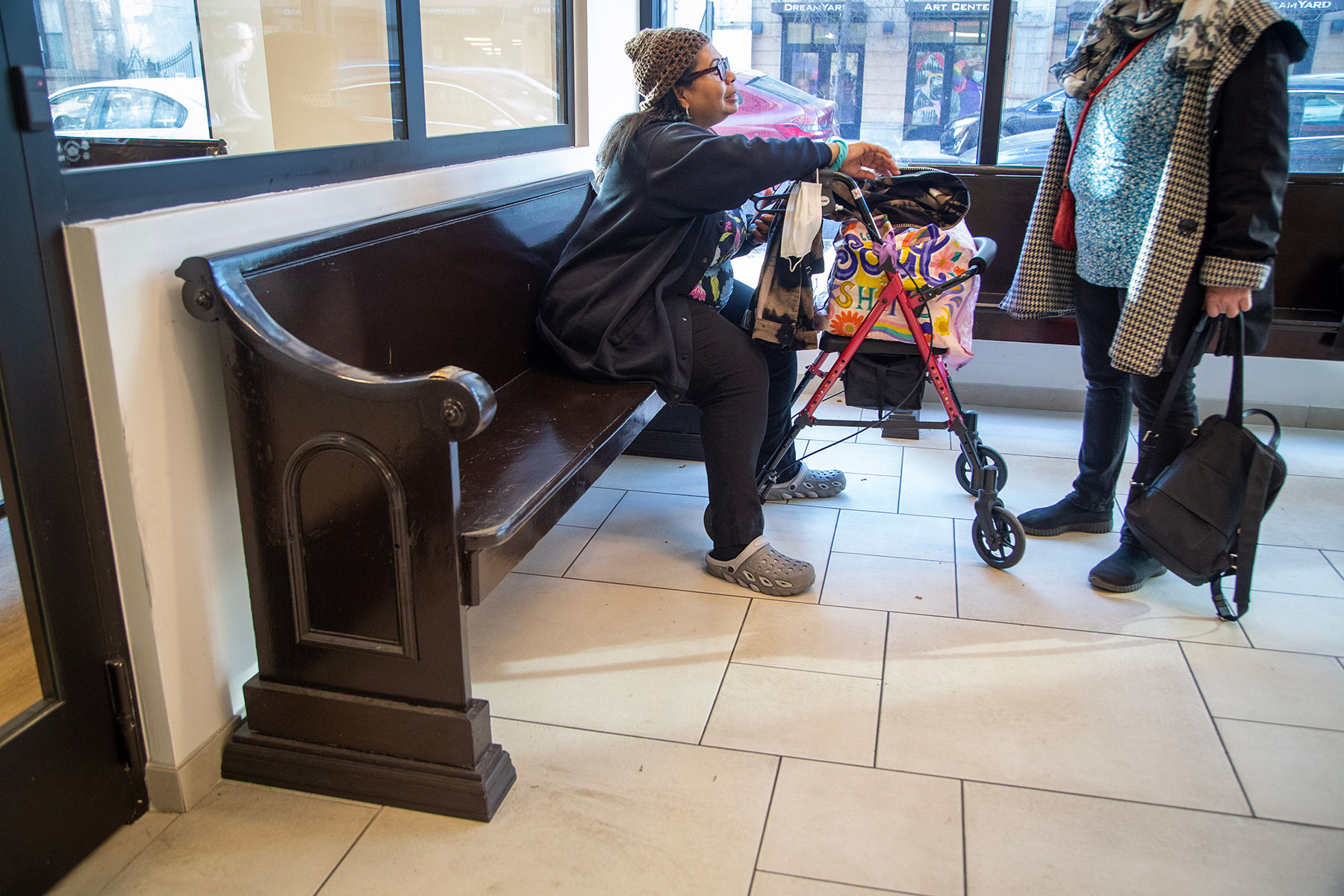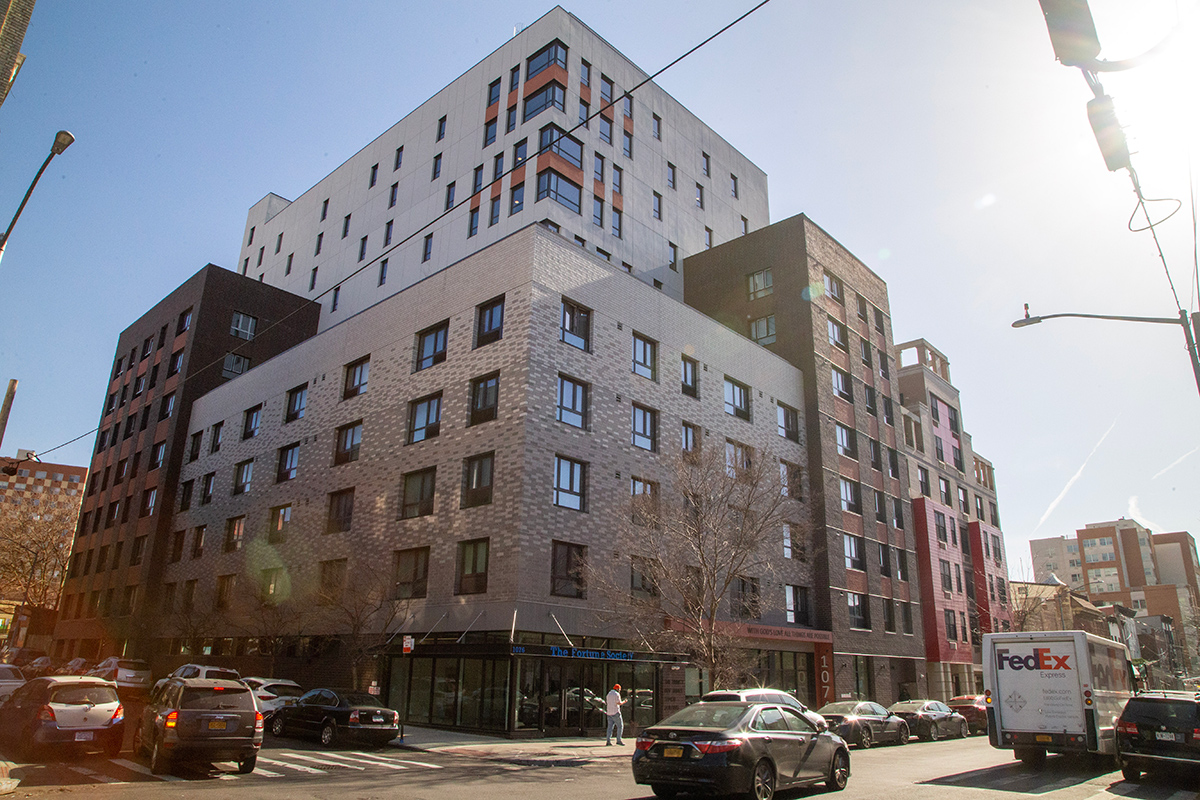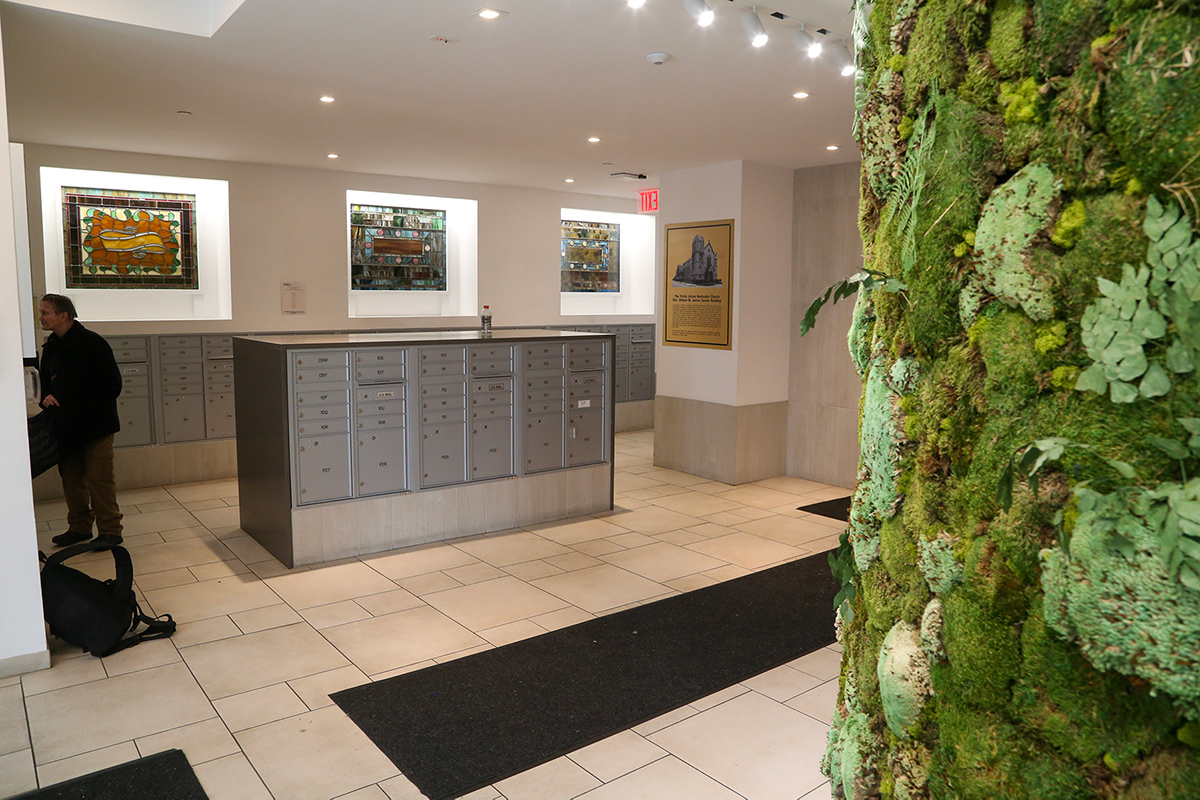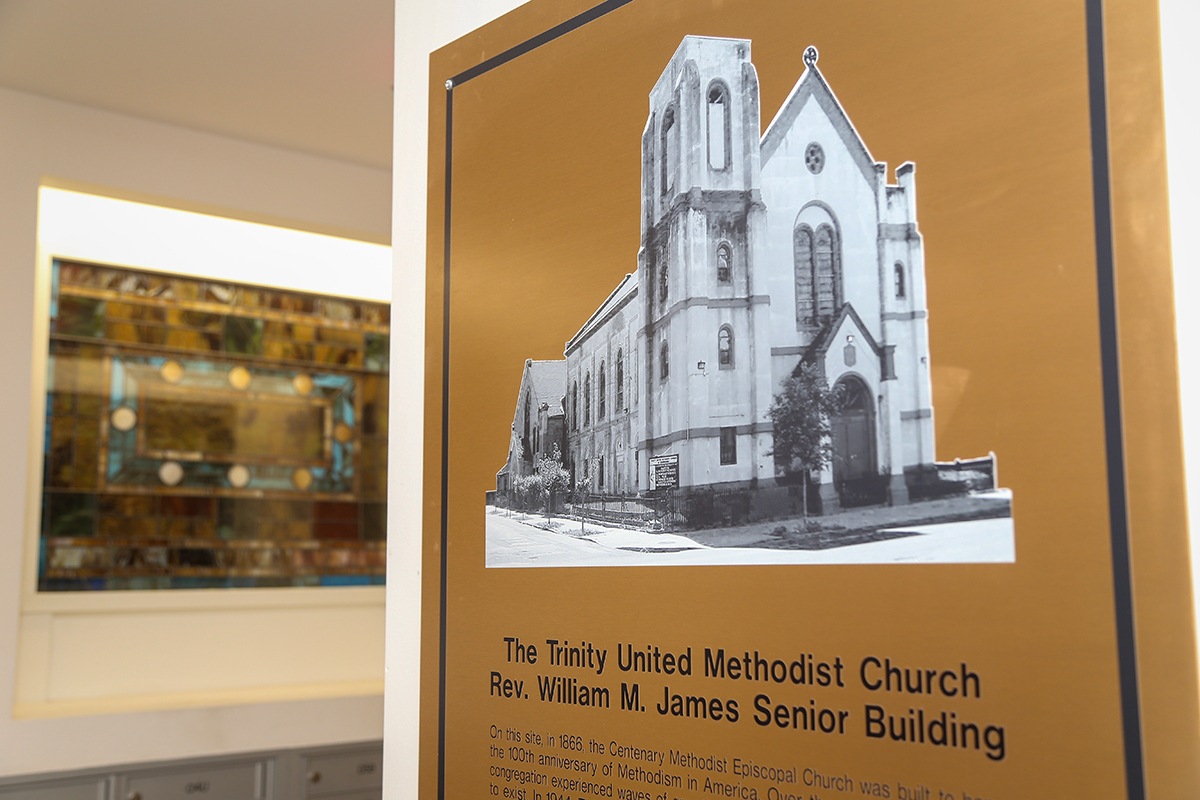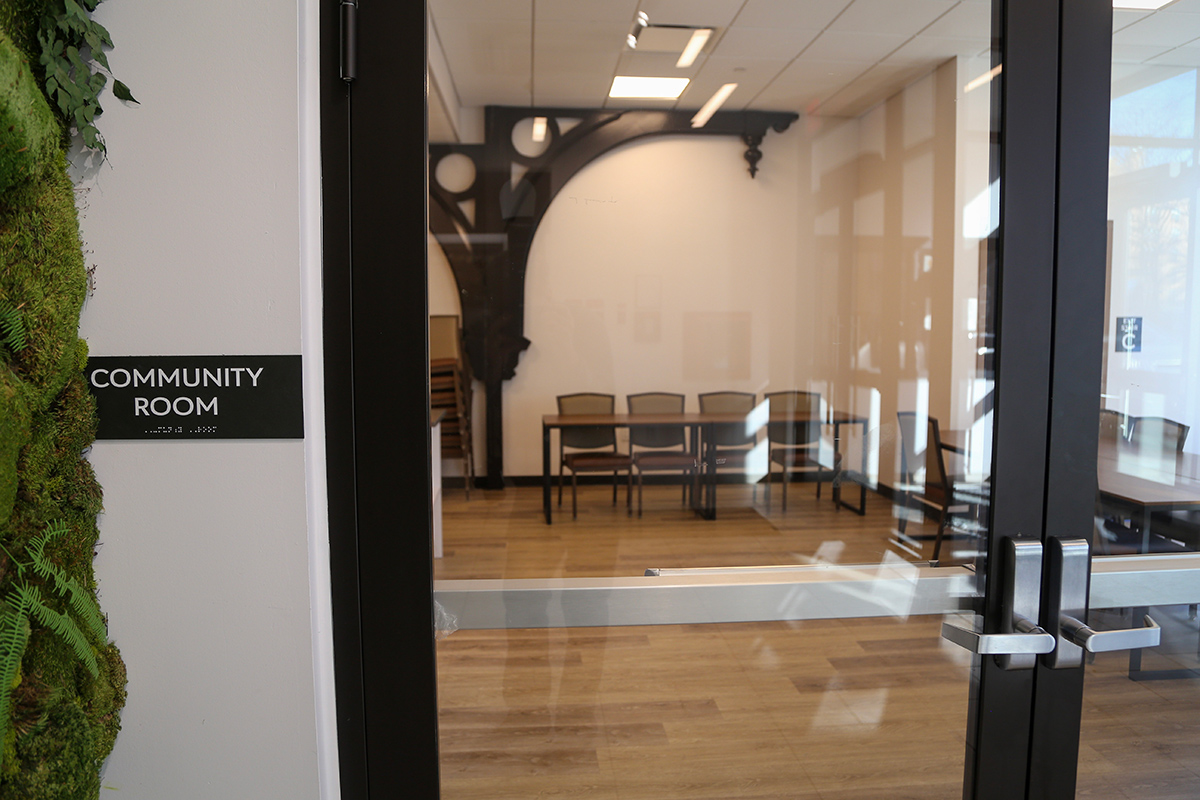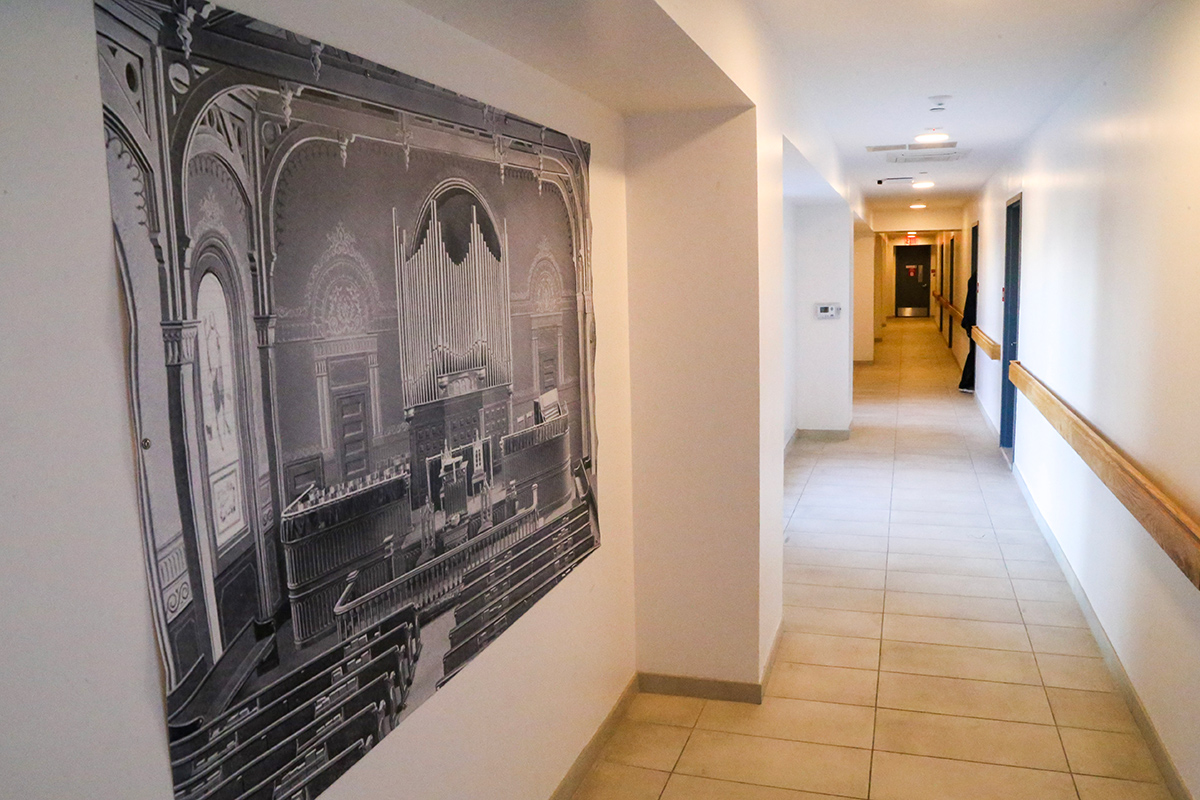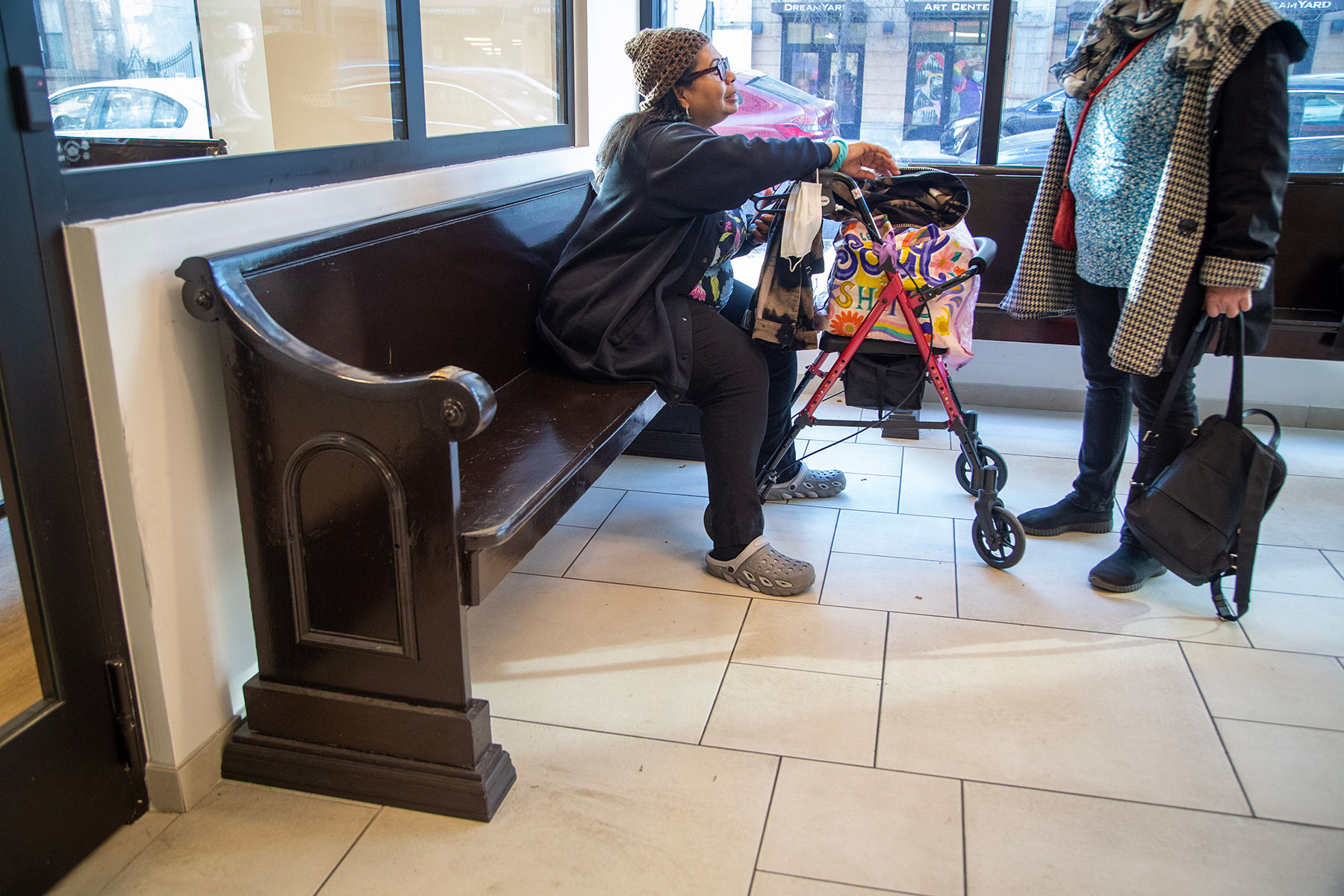 "Bill [Shillady] wanted to keep the mission alive, and it gave a richness to the experience of developing this project," Samantha Magistro said. "This work is hard, so you have to be fulfilled from it."
The church may be gone, but the mission work of the United Methodist City Society is very much present.
"Affordable housing is mission, by bringing the marginalized into beloved community," Shillady said.
In the case of the Trinity Apartments, not only are they providing sustainable housing to low-income seniors, but the property also dedicates more than a third of the apartments to supported housing, reserved for formerly incarcerated seniors.
Since his release from prison in 2019, 70-year-old Ruhullah Hizbullah had been shuttled among various New York City homeless shelters. He was in a shelter in the Woodlawn section of the Bronx when his name was picked in a housing lottery.
"They told me to pack my bags," Hizbullah said, holding his dog, Duke, in his cozy studio apartment. "I signed the papers and got the keys the same day. Now I feel free."
How can your property be reimagined for mission-driven development?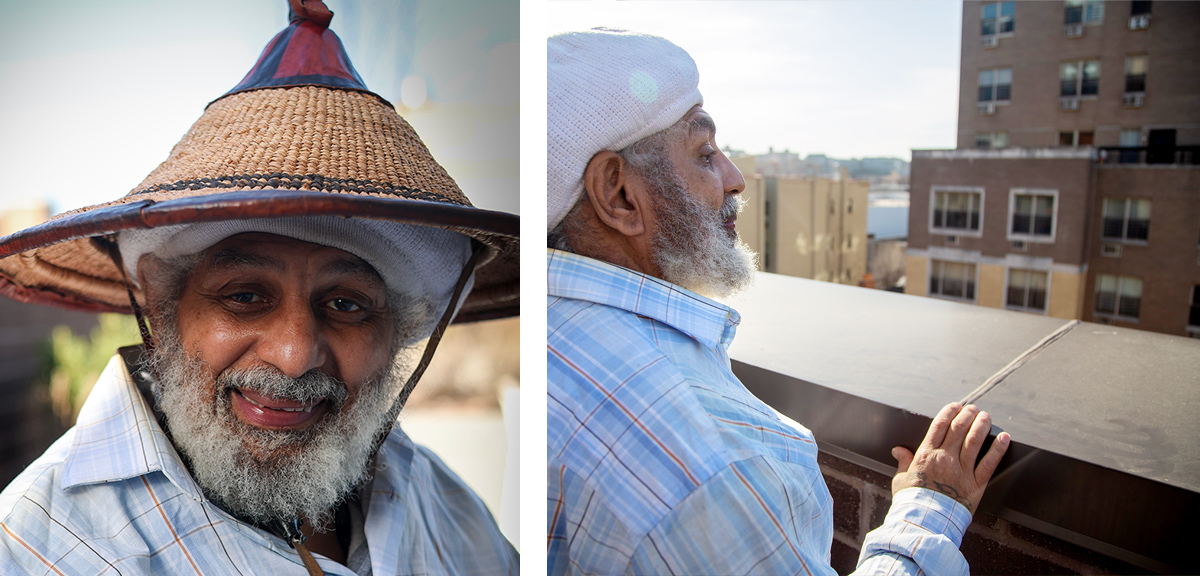 The apartment was move-in ready: fully furnished, with linens and a kitchen stocked with pots and pans. Like the other tenants in the building, Hizbullah pays 30% of his monthly income in rent. State and city subsidies cover the remainder.
Another benefit for supported housing residents like Hizbullah are the wraparound services provided on-site by the Fortune Society, a New York-based nonprofit that has been helping people released from prison successfully reenter the community since 1967. Fortune Society rents office space in the building to support the organization's broader mission in New York City. Among those working from the building are the case managers and staff who cater directly to the Trinity residents.
Providing a variety of services
"Each tenant has a case manager to talk with them individually to see what they want to work on," said Carolyn Slade, who directs the senior housing program at the Trinity Apartments. Many of the resident have a history of homelessness and involvement in the criminal justice system.
"We try to help them integrate into the community," she said.
That could mean addressing mental health issues and substance use. Ongoing services include training in budget management so that residents know how to be financially responsible. And an important part of Fortune Society's support is making sure residents are accessing the benefits to which they are entitled.
"We want to make sure they have the income and the means to take care of things, like rent," Slade said. The aim is to prevent these residents from experiencing homelessness again.
Fortune has a nurse on-site to help manage mobility issues, high blood pressure, diabetes. A lack of access to primary care means many tenants have unaddressed health concerns.
Tenants receive support to connect with primary care physicians and assistance with transportation to their medical appointments. Fortune also works with an agency that helps tenants access home health care workers to assist with cleaning, food preparation or shopping if they need it.
But among the most important services Fortune Society provides — not just for the formerly incarcerated but for all the residents — is building a sense of community.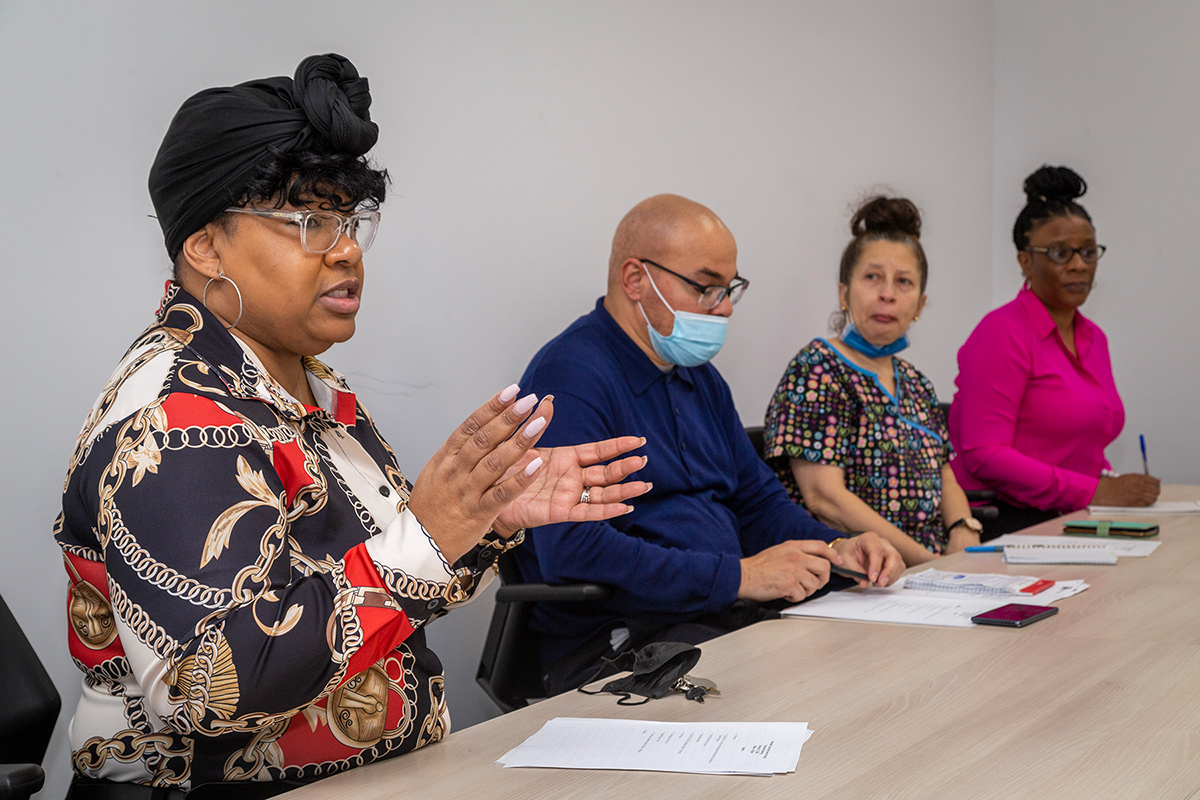 That took time, said senior case manager Stalin Hunt, a Fortune Society employee for 20 years.
"When we first opened the building, the affordable housing tenants said, 'I don't want people like that here,'" Hunt said, referring to the other tenants' concerns about the apartments reserved for the formerly incarcerated. "They were worried they would not feel safe or that their belongings would get stolen."
But nothing like that happened, and the tensions began to subside.
The Fortune Society fosters community through events — such as a Valentine's Day party and other holiday celebrations.
"You can really see people coming together as a community," Hunt said. "People look out for each other."
Resident William Muhamad Green, 63, said he also had spent a lot of time moving between the city's homeless shelters after he was released from being incarcerated. He eventually became one of Trinity's first residents and now experiences the type of community that builds friendships, like his with Hizbullah. He even takes turns caring for Duke.
When people challenge a concept or plan, how do you listen and form a response?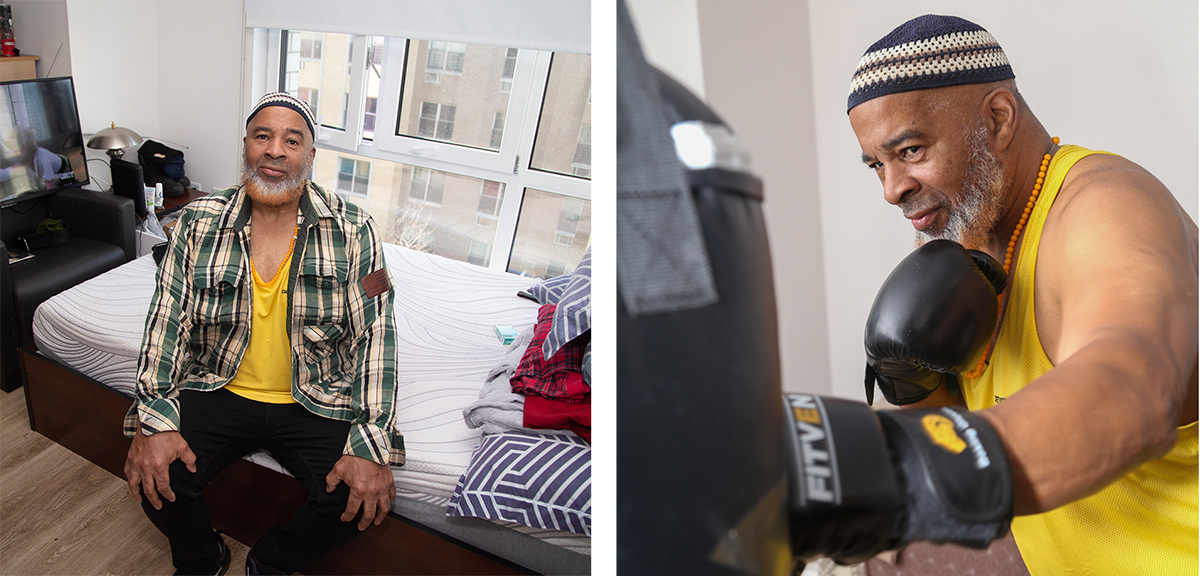 Fortune offers health, sports and cooking classes, as well as support groups. At a recent monthly tenants meeting, Fortune introduced a new member of the team, who would be coordinating other recreational activities, such as chess tournaments, bingo, nature walks and a talent show.
And there are plenty of spaces throughout the building where people can meet — like the sixth-floor terrace that offers a view of the Bronx skyline. On an unusually warm day in February, Hizbullah sat outside as the pigeons circled the coop on the neighboring rooftop.
"I like a place where I can meditate and read," he said. "To free my mind."
It may not look like a sanctuary, but the atmosphere is peaceful. A contemplative spot to call home.
Beyond serving congregations
"As church congregations are shrinking — and in some situations severely — the upkeep of the buildings is becoming too expensive for the congregations to manage," said Redman, the City Society executive director. It's important to explore how properties can be used differently to further ministry and generate income streams, she said.
This is not the first time City Society has been involved in affordable housing. Even in the early 20th century, the organization owned a number of buildings that offered housing to immigrants arriving in New York.
A later example is Grace United Methodist Church in Manhattan, which suffered a catastrophic fire in 1983. When City Society made plans to rebuild the church, the development project also included a 10-story building for low-income housing.
City Society owns that building outright. And while they hire a company for day-to-day management, maintaining the property is not for the faint of heart. Redman recently rattled off some of the reasons she spends so much time dealing with the property.
"We have five vacant apartments. That lowers the income stream. We have seven or eight tenants behind in rent. That lowers the income stream," Redman said. "We meet with a management team and have a real estate committee. This is a significant part of what I do as executive director."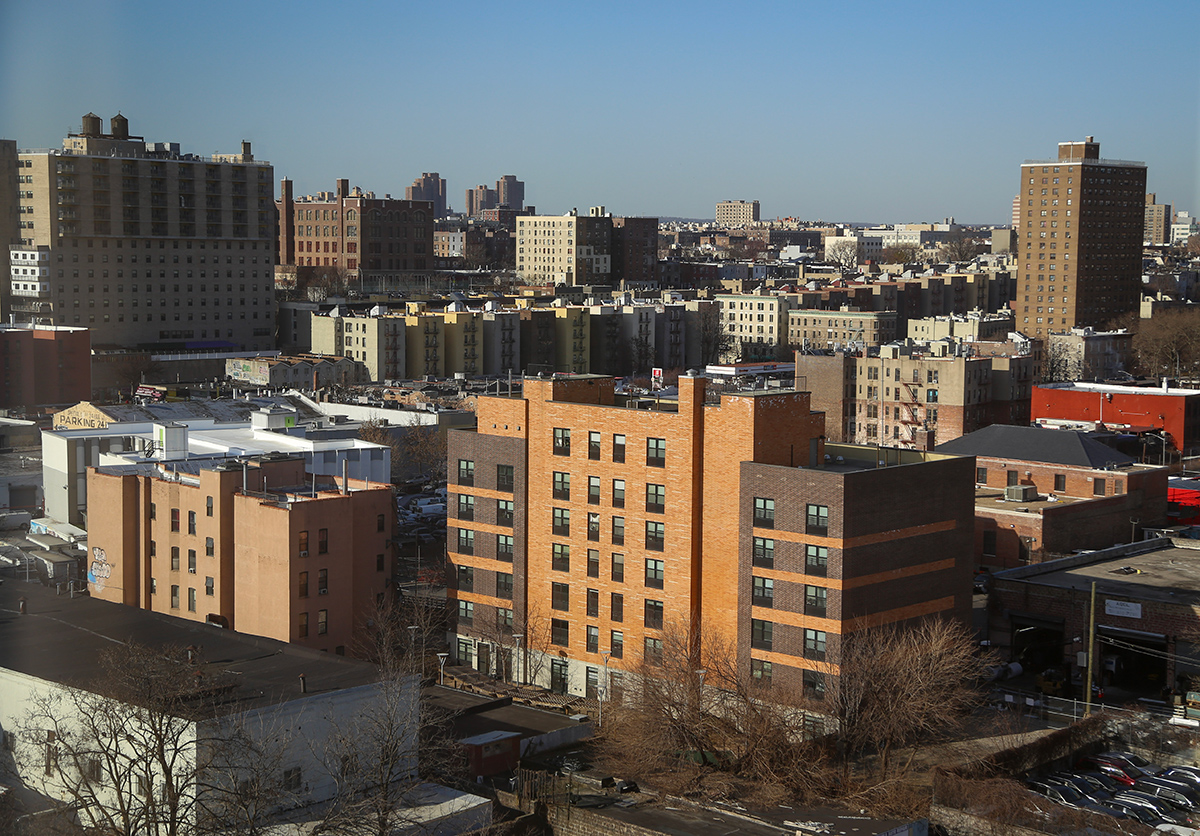 There are definite advantages, she pointed out, to the partnership model that City Society has with the Bronx Pro Group. They maintain partial ownership in the property but don't have to deal with all of those daily concerns.
But full ownership or a joint venture like the Trinity Apartments are just two possible models for churches. Since retiring in July 2022, after the official ribbon cutting at the Trinity Apartments, Shillady has invested his time in helping cash-strapped faith communities explore various ways to generate income.
"I'm really passionate about affordable housing and using church property for mission-driven development," said Shillady, who now consults with congregations about how they can repurpose their properties. He also serves on the board of a New York City-based nonprofit called Bricks and Mortals, which helps faith-based communities utilize their properties in creative, sustainable ways.
One of the purposes of this member-based organization in bringing together religious leaders, lawyers, developers and brokers is to document the strategies religious institutions may use to sustain themselves and continue to provide essential services to New York City and surrounding areas.
There are a number of ways the thousands of religious properties in New York City can use their space to maximize mission. Among them are selling air rights to a developer or renting community space for theater or dance classes or educational groups, Shillady said.
"A church can sell its property and make a lot of money and walk away, whereas a church can negotiate a development where they could have new space in a mixed-used building to do missional work," he said. "That congregation gets a new facility, partial ownership, income stream and usually some funds up front. It is not walking away but finding a way to be missional."
Who are the community partners who should be at the table in developing strategies for sustainability?
Questions to consider
How can your mission create community that sustains your organization's purpose?
How can your property be reimagined for mission-driven development?
When people challenge a concept or plan, how do you listen and form a response?
Who are the community partners who should be at the table in developing strategies for sustainability?