St. Andrew's Episcopal Church resembles a chapel more than a church.
It sits on the main drag in the town of Haw River, North Carolina, sandwiched between a trailer park and a plastics fabrication plant.
Apart from its signature red door -- a telltale mark of many Episcopal churches -- the white frame building is not particularly distinctive. Built in the 1940s, with a fellowship hall added in the 1960s, it has no vestibule and no choir loft. Indeed, the church has no choir.
The stained-glass windows are generic. One depicts a robed, long-haired Jesus with his hands extended and the words "Come unto me." In another, Jesus stands beside a door with the words "Behold I stand at the door and knock."
Yet this modest rural church of nearly 70 members has become a model for a kind of community outreach that many larger, more-storied churches can only dream of.
On Tuesdays and Thursdays, the parish hall bustles with up to a dozen children and a handful of adult church volunteers, who help them with their homework in math and English.
North of town, a retired telephone marketer and church member has been baking cakes for every foster child in the county for the past 10 years.
Soon, the church will plow a 10,000-square-foot plot of land in the rear of the sanctuary to prepare the soil for next spring's planting season. Ten neighboring families will grow fruits and vegetables in the community garden as they have for the past three years.
Now, Advent is beginning, and the church will adopt several needy families and shower them with gifts on Christmas.
"This is a community of less than 70 people, and they're doing more than churches with 200 people," said Bishop Michael Curry of the Episcopal Diocese of North Carolina. "They don't tell people what they do. They just love Jesus, and they love people."
While the number of Americans worshipping in rural churches is declining, congregations such as St. Andrew's can offer valuable lessons for living out Jesus' mandate to love thy neighbor.
Those lessons are not about state-of-the-art programming or motivational techniques to recruit volunteers but about a congregation's ability -- regardless of size -- to take simple actions that can make a difference in the lives of others.
"The strength of the rural churches is their ability to love one another," said Robb Webb, the director of the Rural Church program area at The Duke Endowment. "A church that takes that love into the community can have tremendous impact."
After-school program
On a recent Thursday afternoon, eight children fanned out in groups of twos and threes across the St. Andrew's social hall, hoisting their heavy backpacks onto round plastic tables.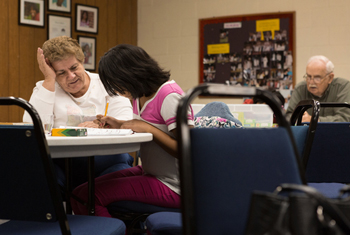 Out spilled math textbooks, folders, loose papers with typed instructions, stickers and art projects.
Maria, who is 9, needed help with math. Linda Duvall, the church treasurer, was there to assist.
"How many times does 3 go into 12?" she asked Maria.
As the two worked on the answer, 5-year-old Edith drew an owl in a coloring book.
Maria and Edith -- as well as Yadhira, Mariela, Irma and a handful of others -- are children of Hispanic immigrants navigating a new life in a strange land.
St. Andrew's began offering the after-school program this fall as a way to help its neighbors -- literally. Most of the children who take advantage of the program live in the trailer park next to the church.
During the first three months of the school year, the children and volunteers sat outside at the picnic tables behind the church, so parents could keep an eye on the goings-on.
"It's important that they see we aren't proselytizing or converting their children," said Paul McCue, one of the church volunteers. "Hopefully, we're doing it out of love and kindness."
When the weather turned brisk, the program moved indoors. Soon, children weren't the only ones seeking the church's help.
Jorge, one of the children's grandparents, popped in, too.
"He said, 'I want to learn how to take the citizenship test,'" said church volunteer Norine McArthur. The two sat down over the course of several afternoons to test his knowledge of American history and government.
Jorge was followed by Margarita, a mother of two girls, who asked for tutoring in English. Jane Gould, a church member and a teacher of English as a second language, happily accommodated.
For church volunteers, the program is a natural way to reach out to a community in need. Haw River, a former mill town and once the largest producer of corduroy in the world, has stalled in recent years. The mills lie shuttered, and the old high school has long since closed. The town of 2,300 residents has a median household income of $38,000, well below the national average of $53,000.
But for McArthur, a 72-year-old retiree, who helped Jorge with his citizenship test, it was not economics that drove her to volunteer but faith.
"Isn't all this about love?" she said. "You're doing what God asks you to do. Your job is to make this place better because we were here."
The cake lady
Holy Eucharist services at St. Andrew's typically draw between 30 and 35 people. On many Sundays, Sharon Ranew isn't among them. A member for the past 12 years, Ranew follows Jesus in her own way.
For more than a decade, Ranew has baked a birthday cake for every foster child in Alamance County. The white or yellow cakes with cream cheese frosting, brightly colored sprinkles and a "Happy Birthday" inscription are a gift from Ranew and St. Andrew's to an all-but-invisible segment of the population in need.
"I've always thought foster children need people to be in their corner," said Ranew, 67. "I could see things they didn't have and couldn't get. They need people to care for them."
On a recent weekday, she decorated a cake for a 4-year-old girl, whose name and birthday were provided to Ranew by the N.C. Division of Social Services. On a nearby counter lay a notebook with the names and dates of eight other foster children with November birthdays.
Ranew bakes between 80 and 100 cakes a year, which her husband, Larry, drops off at the Burlington social services office on each child's birthday.
St. Andrew's supports the ministry with $2,000 annually to pay for flour, sugar, butter and eggs. The money also pays for each child to receive a card, a picture frame and enough candles to stick on top of the cake.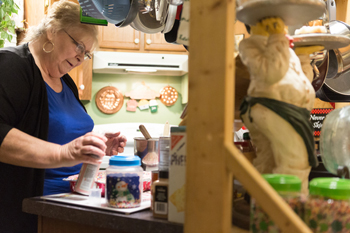 Ranew, who is known throughout town as "the cake lady," says she began daydreaming about the project when she was still working as a marketer for a telephone company.
When she asked the church vicar about it, he smiled and said, "Can I give you a hug?"
That was all she needed.
"Smaller churches can be more nimble," said Brad Thie, the director of Thriving Rural Communities, a partnership of Duke Divinity School, the North Carolina and Western North Carolina conferences of the United Methodist Church, and The Duke Endowment. "They don't have large committee structures to slow things down. They can make decisions quickly."
At St. Andrew's, it's the laypeople who come up with the outreach programs, and the leadership follows. A few years back, the bishop awarded Ranew with a prize he gives annually to a person, congregation or ministry that inspires and touches lives.
The work the cake lady does is a classic example of the way rural churches can transform communities, said Thie.
"If a church does nothing more than bake a cake for foster children -- that's enough," Thie said. "That's a miraculous way people experience the grace of Jesus Christ."
The kingdom is here
On a recent Sunday, the Rev. Miriam Saxon, the church's new part-time vicar, gave a homily in which she talked about waiting for Jesus.
Many Christians, she said, wonder what they're supposed to do in the interval before the second coming. This, she said, is misguided, because the kingdom of God is already here, even if it is incomplete.
The work of Christians is simply to serve -- "to live our lives as Jesus taught and modeled for us," she said.
It's a lesson the people of St. Andrew's take to heart, using it to inspire and guide their many ministries to the community. It was this same concern that led the church to create a community garden four years ago.
Dick Ling, a longtime church member, said a man who lived in the trailer park came to him asking whether he could rent some of the land in the back of the church for a garden.
Instead of renting the land, the church decided to let the man and his neighbors plant gardens for free. A year later, the church applied for and received a small grant to install an aboveground irrigation system.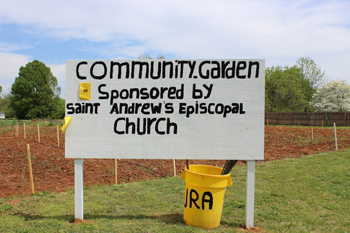 Each spring, 10 families are each awarded a 100-by-20-foot plot, where they plant tomatoes, peppers, squash and watermelon.
The church's willingness to tackle small, practical problems reminds Curry, the bishop, of the story of Gideon's army.
The biblical hero was ready to fight the Midianites and the Amalekites with 32,000 volunteer soldiers, but God had him winnow them down to 300.
The lesson here, he said, is that "numbers don't matter."
"You can have thousands of people, but if they're not participating, it won't do any good," he said.
The people of St. Andrew's want to do some good. And that, he said, can change everything.
Questions to consider
Questions to consider:
What makes your church distinctive, not in architecture or design, but in its ministry?
Where and how is your church making a difference in the lives of others? How would you assess that impact on a "per member" basis?
Who are the "all-but-invisible" people who need you in their corner? How can you help your congregation see them?
How nimble is your church? Does your organizational structure help or hinder ministry? How can it be improved?
Is it true that "numbers don't matter" in ministry? Why or why not?
What new ministries could your church launch if it was larger? Why can't you do them anyway?