Why should Christians care about the arts?
To Japanese painter Makoto Fujimura, "The arts are a cup that will carry the water of life to the thirsty."
Theologian and pianist Jeremy S. Begbie says that "Art can show us the possibility of transformation through the interplay of tradition and innovation and of order and disorder."
Writer, musician and filmmaker Andy Crouch contends that "the only way to change culture is to create more of it."
Engage in these questions with artists Marilynne Robinson, Seth Avett, Anne Lamott and Elizabeth Alexander; as well as theologians and thinkers Jeremy S. Begbie, Richard B. Hays, Samuel Wells, Andy Crouch and Ellen F. Davis.
Engaging theology in -- and through -- the arts
Jeremy Begbie: Theology through the arts
A theologian and professionally trained pianist demonstrates how music can help unlock the truths of the Christian gospel.
Richard B. Hays: Why should we care about the arts?
Christians should be attentive to the ways in which the character of our community is shaped by the imaginative spaces we inhabit, says the dean of Duke Divinity School.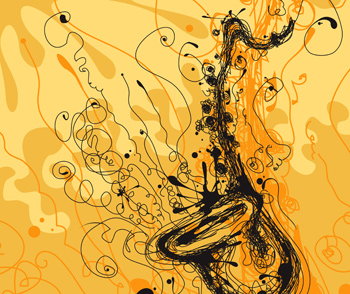 Ross Kane: Tension gives it groove
Jazz improvisation offers a metaphor for resolving conflict not by eliminating it, but by using it to create something beautiful, says an Episcopal priest and jazz musician.
Bruce Herman answers: Why is it important for Christians to make art?
Christian artists work from a deep place of faith, a place of engagement with the Creator of the entire visible universe, says a painter and art professor.
Makoto Fujimura: The function of art
The church needs the arts, not so there will be opportunities for more artists in churches, but for the sake of the gospel, says the artist and founder of the International Arts Movement.
Richard J. Mouw: Engaging both high and low culture
Do we have to choose between highbrow and lowbrow when promoting the life and mission of the church?
Samuel Wells: Turning all into alleluia
Theologian John Calvin described the ministry of Christ as a threefold office: prophet, priest and king. The former dean of Duke University Chapel explores what it might mean for an artist to exercise these three roles and fundamentally construct acts of worship.
Creativity and artistic process
Andy Crouch: Love and the risk of innovation
Real innovation requires risk, which requires trust, says the journalist and author. And trust, he adds, doesn't happen without love.
Anne Lamott: The habit of practice
What do you do when perfectionism, vanity, self-loathing and projecting are wearing you down? The writer talks about what she has learned from tennis, faith and writing to deal with these "demons."
Music and dance
Melvin Butler: Crossing boundaries with music
The body of Christ is an extraordinarily diverse place, and music has great potential to reach people in the midst of their differences, says the ethnomusicologist and jazz saxophonist.
Jeremy Begbie: What can we learn about the gospel from music?
One of the foremost experts on theology and the arts talks about why "Do I like this?" is not the first question we should ask about works of art, and why sometimes silence is preferable to music.
Seth Avett: Message of light
Grunge grass musician Seth Avett talks about growing up in the UMC and how it influenced the Avett Brothers' music.
Carrie Newcomer: Writing from the spiritual well
The singer-songwriter says there is a spiritual component to her work because there is a spiritual component to her life.
Cynthia Wilson: Building community through song
Throughout African-American history, music has functioned as a medium for tearing down walls and building a sense of belonging, says Cynthia Wilson, a musician and music scholar.
Sing praises to God
Charles Pettee and FolkPsalm perform psalms and other Old Testament Scripture set to folk and bluegrass music. In this video, Pettee talks about his spiritual journey and the creative process of presenting old texts in a new way.
Hip-hop mosaic
Efrem Smith uses hip-hop music in church, but it's not a marketing gimmick. For this pastor in the Evangelical Covenant Church, embracing hip-hop culture is an expression of his theology and a means of achieving the goal of his ministry: a church that's a mosaic of all kinds of people.
Learning to surrender
Artist Ronya-Lee LaVaune Anderson Thompson feels closest to God when she's dancing. Her calling is to dance and to help others experience God through movement.
When the spirit says sing
Sweet Honey in the Rock creates music. Both sacred and secular songs come out of the rich textures of the African-American tradition.
Fiction and storytelling
Marilynne Robinson: Prevenient courage
The author of the Pulitzer Prize-winning novel "Gilead" says mainline churches remain radical institutions at their core but lost their courage after the Civil War.
Will Willimon: The incarnational quality of fiction
The theologian and bishop has written a novel he calls an "affectionate but truthful" rendering of the mundane and the majestic in church life.
Lee Smith: A lifetime of paying attention
How does Southern author Lee Smith decide what to write about? She pays attention. It not only influences her writing and teaching, she says, it enhances her life.
Clyde Edgerton: Storytelling and story listening
Storytelling assumes uncertainty. The Southern writer talks about how teachers, preachers and leaders can use storytelling to engage their audiences -- and why he has returned to church.
Fictional preachers offer perspective on vocation
From Hazel Motes to John Ames, fictional pastors can coax and even shock Christian leaders to fresh perceptions, writes G. Lee Ramsey.
The weight of stories
As a pediatrician and writer, Brian Volck hears many stories and understands the power they have to inform, delight, mystify -- even to change lives.
Poetry
Ellen F. Davis: The holiness of place
Both the contemporary poet Wendell Berry and the Iron-Age writers of the psalms evoke the sacredness of ordinary space and of ordinary work, writes Ellen F. Davis.
Roger Lundin: The poetic language of leadership
The Blanchard Professor of English at Wheaton College reconciles the modern age with evangelicalism through the poetry of Emily Dickinson.
Malcolm Guite: Church with poetry enshrined at the heart
Poetry opens up imaginative possibilities and offers "phrases that feed the soul."
Allison Backous Troy: Poetry and presence
Poetry can help us recover a sacramental sense of presence in the world around us, says a writer and teacher.
Joseph Bathanti: Writing as a sacred office
Growing up an Italian Catholic in Pittsburgh had a lasting impact on the recently named poet laureate of North Carolina.
Elizabeth Alexander: 'I wanted to talk about love'
The inaugural poet describes how she found artistic liberation within the confines of a ceremonial occasion and why the word "Obama" does not appear in her poem.
Visual arts and architecture
Illuminating the word of God
The Saint John's Bible combines captivating, original art and hand-inked Scripture to create a Bible that engages readers in a deep way.
Walk into the Bible
A church tells the oldest stories in a new way. A bold, one-of-a-kind mural project enriches children's ministry and helps heal wounds at Trinity Baptist Church in San Antonio, Texas.
Audio slideshow: For the glory of God
The process of making an icon is a contemplative practice, done in prayer, says painter Kathryn Carrington. Listen to her describe her work as she writes "Christ in Glory."
A pastor seeks to revive Houston's memory with art
Christian leader Marlon Hall and members of his Awakenings Movement have created a public art project called "Amnesia Therapy," which is designed to help people in downtrodden neighborhoods remember their past.
David Greusel: Create places where people can flourish
All Christians should care about the built environment, the buildings where people live, work, pray and gather, says a noted architect. It is part of our duty as stewards of creation.